Cum sa alegi intre cinci bucatari, priceputi intr-ale gatitului la resou sau mancare indiana? Raspunsul e simplu: n-o faci, pentru ca ei vin la pachet. A ramas mai putin de o saptamana pana cand ii poti vedea pe inteleptii de la Foodwise transformand cafeaua intr-un super ingredient de gatit la Cupa Agentiilor la Gatit by Lidl, gazduita de Chef Parade.
Ce asteptari au de la competitie, cum nu-i sperie concurenta, ba din contra, ii motiveaza si ce se pricep ei mai bine sa gateasca, in bucatarie sau la job, va spun chiar ei: 
Saga formarii echipei
Echipa s-a format foarte repede. Intr-o zi, stateam pe terasa la cafeaua de dimineata, iar Gabi, colega de la PR, statea cu telefonul in mana si a strigat dintr-o data "Mergem sa gatiiim la Cupa Agentiilooor!" Apoi, adunarea s-a facut rapid.
Gabriela Bumb este PR-ul cu capu' roz, care ii bate la cap pe colegii ei. In timpul liber merge cu bicicleta.
Stefan este copywriterul nostru, care in timpul liber sta in trafic.
Andrei spune ca are cea mai trista abreviere: SAD, Senior Art Director.
Alex DTPist-ul biciclist. Doar cand se aliniaza planetele nepotrivit vine fara bicicleta la birou.
Cristina este cel mai simpatic si energic Account Manager, mare iubitoare de piton.

Numele echipei
The Foodwisers a venit natural, ne cheama Foodwise :) Plus ca suntem din poveste.

Logo-ul echipei
Logo-ul sta la baza numele nostru, The Foodwisers, sugar, spice and everything nice. Pentru ca suntem dulci, picanti si plini de arome bune.

Ingredientul secret
Am ales cafeaua pentru ca nu te astepti sa o gasesti ca ingredient intr-un fel principal de mancare si pentru ca cere combinatii smart.

Experienta intr-ale gatitului
Gabi este specializata in deserturi, Stefan este expert in prepararea pastelor, Alex este chef la gatitul la resou, iar Andrei face o lasagna la cuptorul cu microunde de sta mata-n coada. Iar cand mananci mancare indiana facuta de Cristina, ai putea sa juri ca ai aterizat in Kerala.
Ca echipa, suntem experti in comandarea pranzului. Pana acum am obtinut timp record la pizza, de 15 minute, 30 de minute la chinezi si multiple discount-uri la cele de proximitate.

O intamplare dezastruoasa in bucatarie
In toiul unei ierni geroase, Andrei si prietenii sai au gatit hamsii, doar ca geamul de la aragaz s-a incins foarte tare, iar cineva a aruncat din greseala apa rece peste el, moment in care pestii s-au innecat in cioburi. Asa ca, in ziua aia s-a facut comanda la pizza.

Ce are publicitatea de invatat de la gatitul in echipa? 
Asculta-ti copywiter-ul, ai incredere in Art si pune-ti baza in DTPist-ul care livreaza platoul cald. La final, spera ca Account-ul nu va veni sa spuna ca nu este suficienta sare.

Un mesaj pentru adversari si unul pentru jurati
Le uram sa gateasca cel mai bine de pana acum, pentru ca ne place sa fim competitivi. Juriului, sa vina cu stomacul gol, ca va manca bine. :)

Un moment asteptat cu sufleul la gura si unul de temut
Asteptam cu nerabdare sa aprindem cuptorul si sa ne apucam de gatit. De ce ne temem? Hmm, ne temem sa nu inceapa un foodfight.

Bonus: o poza cu voi in bucatarie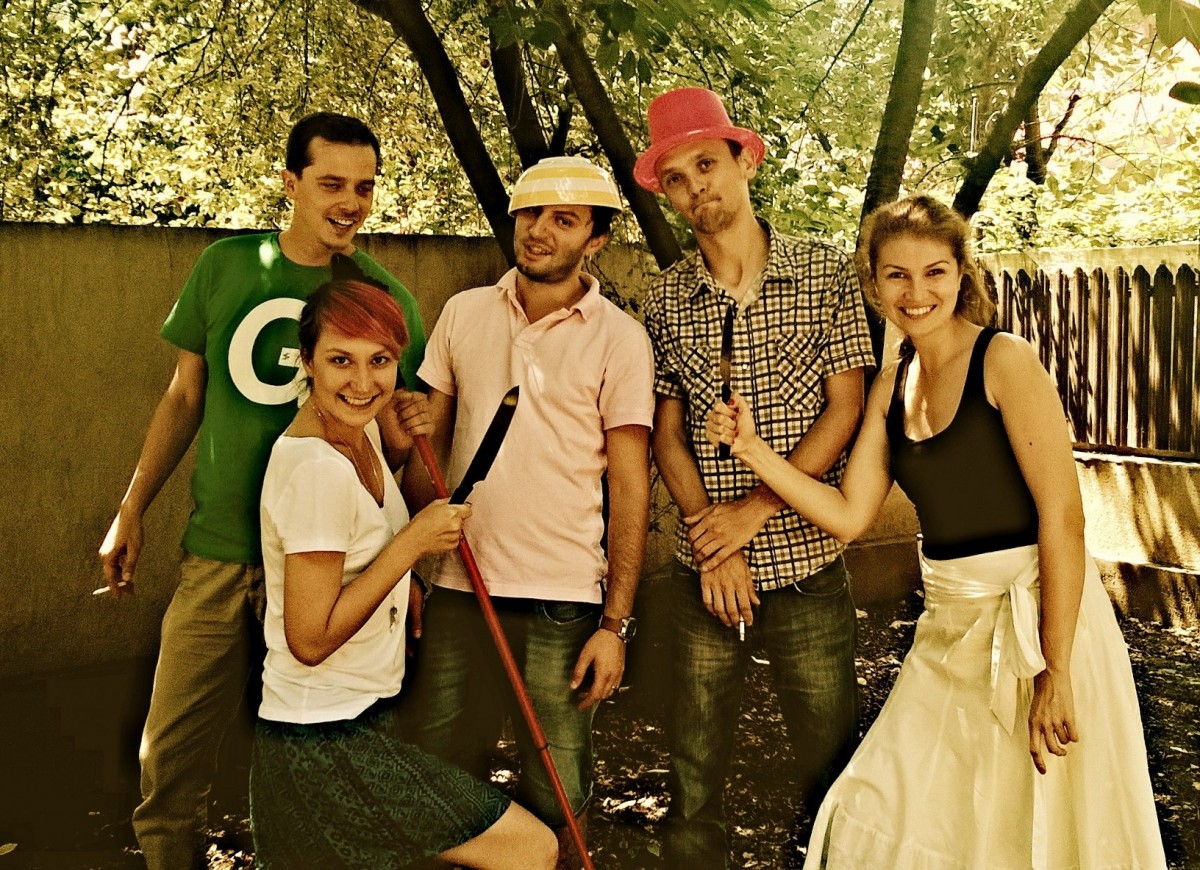 Foodwisers in bucataria lor de vara, folosind instrumentele de gatit pe post de accesorii

Despre Cupa Agentiilor la Gatit
Creativii ingredientelor, ai prezentarilor culinare si suporterii lor isi gasesc locul, pentru al treilea an consecutiv, la Cupa Agentiilor la Gatit. Aducem creativii in bucatarie din 2013 si starnim industria sa se infrunte in preparate. In 2015, Cupa Agentiilor by Lidl e gazduita de Chef Parade Cooking School, beneficiaza de tehnologie de la Electrolux, iar preparatele vor fi gatite sanatos cu Zepter. Participantii se vor juca cu Jacobs si vor degusta alta mancare de peste  de la Ocean Fish, in timp ce legumele vor fi rasfatate de Bonduelle. Promotionalele creative sunt asigurate de Samdam. 
Cupa Agentiilor la Gatit este un eveniment IQads, cu solutii de la AdProduction, tiparituri creative de la Grafica si Tipar, spectacol tehnic de la Five's si ajutoare de incredere de la Brigada de Voluntari, powered by KISS FM. Partenerii media sunt: Bucataras.ro, Gustos.ro, eCuisine.ro, Culinar.ro, Click! Pofta buna!, La Cucina, Mixtopia si Elevate.