Daca crezi ca ai idei bune, imaginatie si te consideri o persoana creativa, iti poti incerca puterile in cadrul celei mai inedite scoli de concept din Romania- Scoala ADC*RO. Inscrierile pentru cea de-a opta editie a scolii au loc in perioada 7 octombrie – 25 noiembrie 2015.
Cei care sunt interesati sa se inscrie la cursurile scolii o pot face online, rezolvand brief-ul de concurs propus de tutori. Participarea la concursul de admitere este gratuita, iar pentru a urma cursurile Scolii ADC*RO, studentii admisi vor avea de achitat o taxa de 500 de euro.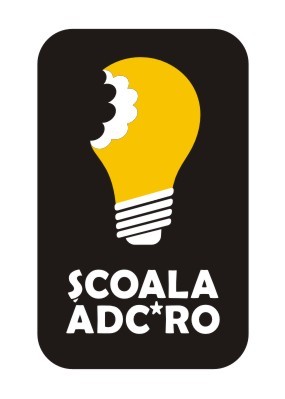 Pentru a veni ȋn sprijinul tinerilor creativi, Grolsch ofera si ȋn acest an o bursa care acopera integral costul scolii. Candidatii interesati de bursa oferita de Grolsch pentru cea de-a opta editie a Scolii ADC*RO trebuie sa realizeze un material video de maxim 2 minute, care sa raspunda provocarii: "How to - Make an online tutorial!".
Ȋnscrierea se face printr-un mail trimis pe adresa bursagrolsch@scoalaadc.ro, cu materialul video realizat ȋnsotit de un titlu si o scurta descriere ȋn romana si date de contact. Ȋnscrierile sunt deschise pana pe 15 noiembrie.
Dupa finalizarea ȋnscrierilor pentru bursa Grolsch, toate materialele video vor fi urcate pe canalul de YouTube ADC Romania, iar primele cinci cu cel mai mare numar de vizualizari stranse pana pe 25 noiembrie intra ȋn etapa finala, ȋn care tutorii scolii aleg castigatorul. Toate detaliile legate de bursa Grolsch sunt disponibile ȋn regulamentul dedicat provocarii.
Castigatorul bursei va fi anuntat in luna decembrie, odata cu lista celor admisi la cea de-a opta editie a Scolii ADC*RO. Pentru a castiga bursa Grolsch, candidatii trebuie sa completeze si testul de admitere de pe siteul scolii si sa fie declarati admisi dupa evaluarea facuta de tutorii scolii.
Cursurile vor incepe in luna ianuarie 2016 si vor dura patru luni, iar pe parcursul acestora, studentii vor dobandi aptitudini creative si vor putea patrunde in universul intortochiat al publicitatii.
Scoala cuprinde atat cursuri si tutorate, dar si vizite si intalniri in unele dintre cele mai relevante agentii de publicitate de la noi. La finalul scolii, acestia isi vor putea alcatui un portofoliu de lucrari, care va fi evaluat de catre tutorii scolii pentru stabilirea clasamentului final, iar cei mai buni studenti vor beneficia de internshipuri in agentii.
Scoala ADC*RO este o scoala de concept, dedicata tuturor tinerilor interesati de domeniul publicitatii, un proiect Art Directors Club Romania (ADC*RO), organizat de The Institute.
Art Directors Club Romania (ADC*RO) este o asociatie non-profit, al carei obiectiv este acela de a promova si de a recunoaste excelenta in creativitate, punand in legatura profesionistii din industria de comunicare vizuala din Romania.
The Institute este fondator al Romanian Design Week, AdPrint, Internetics, Institute, The Magazine si Noaptea Agentiilor, organizator al Effie Awards Romania, Scoala ADC*RO si ADC*RO Awards.