Geometry Global vine la Cupa Agentiilor la Gatit by Lidl '16 pentru a-si apara titlul de Agentia Anului la Gatit, castigat anul trecut.
Oala #CuDeToate primeste doi noi membri cu aceasta ocazie, Simona si Radu, cu superputeri de Pinterest si, respectiv, Reddit in bucatarie. Tradus in feluri de mancare, asta inseamna ca Simona stie sa faca supa de banane, iar Radu mixeaza fara emotii semintele in curry. Lor li se adauga in Oala veteranii Ludu, Ada si Avi, care s-au ocupat anii trecuti cu voia buna, paharele de vin pe timp de gatit, dezbaterile intraechipa si adaptabilitatea in conditii nu-chiar-ideale.
Impreuna, vor da valoare creativa ingredientului cafea la Chef Parade, pe 9-11 noiembrie. Cine face ce, vedem mai jos.
Geometry Global si Cupa la Gatit
Suntem veterani in ce priveste Cupa. Pentru noi, e ca atunci cand mergi in liceu la olimpiada si revezi in fiecare an aceiasi oameni. E mai mult despre oameni decat despre competitie. Anul trecut am pregatit o lasagna cu mamaliga. 
Anul acesta am ales cafeaua – nu stim altii cum sunt, dar noua ne plac ingredientele "tari".
Amintiri din 2015
Au existat multe discutii in jurul timpului de coacere a lava cake-ului din finala, in special intre Ada si Ludu. Dupa dezbateri intense, Ada a iesit castigatoare.
Am avut de-a face si cu accidente in bucatarie – degete strivite de sertare. Ne-am amuzat si improvizand ingrediente. Nu am avut chilli, asa ca a trebuit sa folosim ardei dintr-un ghiveci (de mare ajutor, de altfel).
Schimbari in echipa
Exista doi new comers – Simona & Radu.
Radu a participat si anul trecut – cine a gustat jeleul de sampanie cu sofran atunci o sa tina minte – iar anul acesta a ales sa vina in echipa noastra si sa faca "plating pentru farfurii zburatoare", orice ar insemna asta.
Cat despre rolul fiecaruia: Avi va fi chef-ul culorilor; Ludu – the meat man; Radu – the storyteller; Simona – degustatoarea; iar Ada va juca rolul de "sosiera".
Ramanem la numele si logo-ul care ne-au consacrat. Ne place sa fim consecventi. Odata ce iti castigi titlul cu un astfel de logo, il transformi in totem.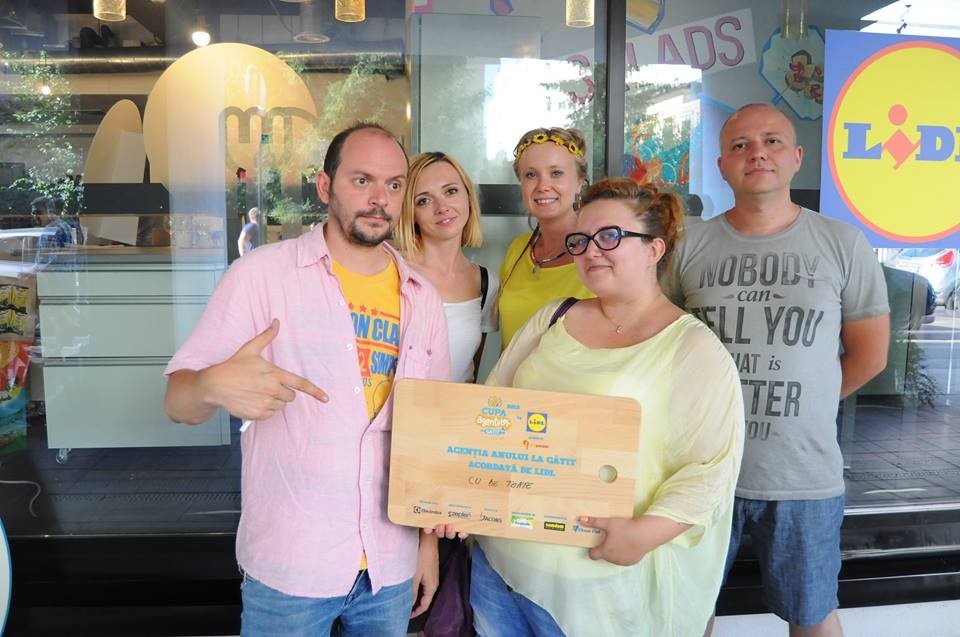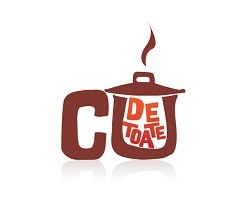 Gatiri recente
Ludu a gatit "hotdog fine dining". In ultima vreme, Avi s-a infruptat din bunatatile gatite de bunici. Ada avea prea multe mere si s-a hotarat sa le foloseasca pentru niste briose tomnatice.
Ultima gateala adevarata a lui Radu a fost un curry de seminte a la el - intrebati-l de reteta ;) Simona a pregatit supa de banana; un fel de 2in1 pentru cand nu ai timp sa savurezi o masa complete – si fel principal si desert.
Ultima oara, am gatit impreuna intr-unul din teambuilding-urile agentiei. Pentru saramura, in lipsa altor instrumente, am taiat pestele cu toporul. Apoi, am trecut la ciolan gatit cu bere.
Cine se lasa inspirat de cine
Avi studiaza bucataria moleculara pe YouTube. Ludu se inspira de la copiii lui si din Piata Obor.
Ada prefera Piata 16 Februarie pentru inspiratie. Radu recomanda reddit.com/r/eatsandwiches si reddit.com/r/foodporn - cu placere!
Simona da un search pe Pinterest pentru inspiratie si se aprovizioneaza din Piata Domenii, sau invers :)
Pregatiri pentru editia de acum
Bem multe cafele si mai scapam prin marinade si sosuri.