Cele mai puternice voci povestesc despre cat de profund se modifica publicitatea.
"Modul in care vindem, cumparam si ne raportam la branduri se schimba. Inspire or expire", spunea in cadrul conferintei IAA – Creativity can change the world, Bechara Mouzannar (Chief Creative Officer, Publicis Communications MEA).
Schimbarile despre care specialistii au vorbit in cadrul unor evenimente populare ca IM World sau IAA, afecteaza si piata promotionalelor, o industrie de milioane de euro.
The challenger nation pensioneaza banalul breloc
De peste zece ani, Today Advertising "vorbeste" limba cadourilor promotionale. Acest lucru inseamna ca echipa de la Today a adus in Romania produse inovatoare, obiecte utile, care rezolva nevoi adevarate si urgente si a transformat intregul proces prin care treci ca sa alegi un cadou personalizat, intr-o experienta pe care iti face placere sa o repeti iar si iar.
Agentia crede insa ca acesta a fost doar inceputul. In vara a lansat o platforma completa, dedicata promotionalelor. Pe noul site todayadvertising.ro alegi produsul potrivit pentru campania ta din peste 50 de mii de variante, afli informatii in timp real despre stoc, materiale si pret.
"Am vrut ca aceasta platforma sa simplifice modul in care publicitarii si brandurile isi aleg promotionalele si le integreaza in campaniile lor. Si cel mai important, am vrut ca aici sa gasesti promotionale cu adevarat WOW, pe care le-am testat in mod oficial bloggeri si vloggeri, fotografi si marketeri, vara aceasta."
Nadia Visan (Business Development Director)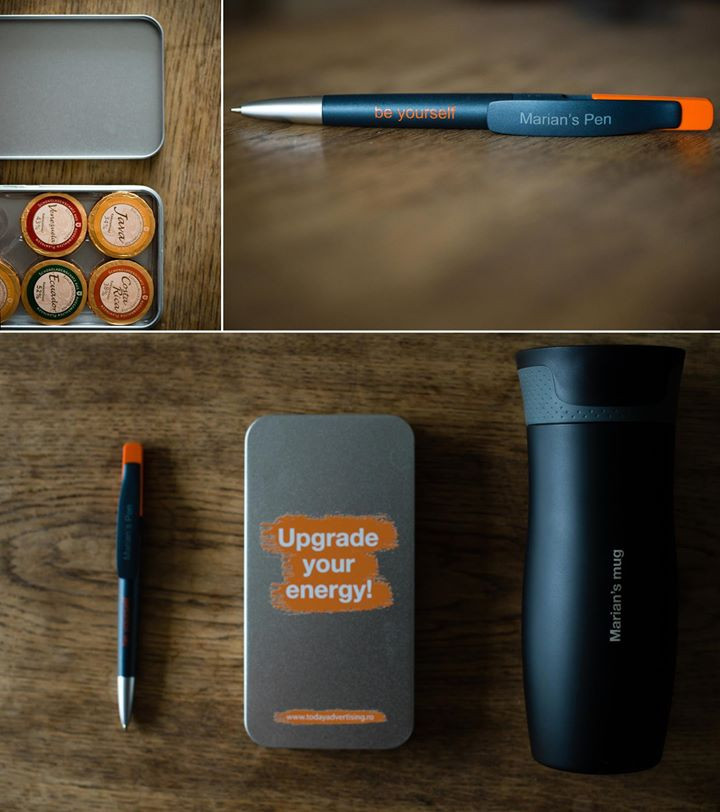 Today Advertising crede ca promotionalele raman unul dintre cele mai importante instrumente pe care un advertiser sau un brand le are la indemana pentru campanii cu rezultate vizibile, intr-o lume inundata de adwords, PPC si CRO.
Iata cateva argumente pentru asta:
promotionalele sunt produse tangibile, daruri utile, functionale, amuzante sau de-a dreptul uimitoare.
promotionalele permit dezvoltarea unei conexiuni intre brand, clienti si parteneri si creeaza experiente de brand memorabile.
88 % dintre cei care primesc un produs promotional isi amintesc apoi numele brandului, 85% dintre partenerii de afaceri incheie apoi contracte viitoare cu cei de la care au primit promotionale.
promotionalele au cel mai bun ROI.
Cu toate acestea, pentru banalul pix ori clasicul breloc a venit varsta pensionarii. In locul lor Today Advertising prezinta o linie speciala de promotionalele WOW, produse care stabilesc relatii profunde intre consumator si brand, care transforma modul in care daruim si primim si felul in care cream campanii de marketing.
Come see what the WOW is all about!
Pe 14 si 15 noiembrie Today Advertising te cheama sa testezi LIVE #promotionaleleToday la GPeC, cel mai important eveniment al anului din E-Commerce.
Vei regasi promotionale uimitoare pe care ai posibilitatea sa le testezi in fel si chip, sa afli pe pielea ta cat de rezistent este rucsacul antifurt, ce efecte benefice are un USB Aromatic sau cat de utila este un Smart Cup, atunci cand vrei sa transmiti un mesaj branduit catre clientii sau colaboratorii tai.
Pe langa toate acestea, vei avea ocazia sa lasi in cutia magica Today, dorinta ta. Aceasta va fi transformata in cel mai uimitor promotional.