S-a lasat un pic asteptat - dar, pana la urma, Mark s-a dat jos din pat, s-a schimbat de pijamale si a facut... unele clarificari, cum ar spune politicienii. Asa grait-a Zuckerthustra:
Sharuita si comentata la greu, postarea vine sa linisteasca apele si actiunile Facebook, iar fiecare dintre noi intelege ce vrea de-acolo. In principiu, Mark zice ca a inteles care-i baiu', nu suntem noi nebuni, si ca nu se va mai repeta chestia asta. Ba chiar, spune dumnealui, echipa sa luase masuri acum mai multi ani, pentru ca lucruri de-astea sa nu se intample; dar... ma rog, oamenii in ziua de azi chiar nu mai sunt de incredere & shit happens. Altfel era cand era el la Harvard. 
Mesajul este coerent, argumentat, cu liniuta de la capat, punctuatie perfecta. In el, Mark se arata uluit ca cei de la Cambridge Analytica "poate ca nu au sters datele, asa cum au spus". I-au tradat increderea naivului de Zuck. Si daca tot ne-am apucat de analiza pe text, sa remarcam si repetarea cuvantului "comunitate". Hashtag lol. Da, suntem cateva miliarde de oameni care ne dam binete si facem gratar impreuna, in fundul curtii. 
Probabil ca Facebook va trece si peste hopul asta - cu julituri, cu huo!, dar si cu useri mai putini. Pentru ca hashtagul #DeleteFacebook a inceput sa prinda tractiune si sa faca oameni de toate felurile sa se lase. La bere sau la cate-un colt de strada, deja se pot auzi conversatii de genul:
- Boss, dai si tu un like?
- N-am, frate, m-am lasat.
Deci haideti sa vedem care sunt acesti early quitters, care nu vor sa mai auda de internet... pardon, de Facebook.
Robert Scoble, blogger si antreprenor american cunoscut, meserias pe tehnologie.
Brian Acton, co-fondatorul aplicatiei WhatsApp, e mai putin nuantat decat colegul Robert.
It is time. #deletefacebook

— Brian Acton (@brianacton) March 20, 2018
Nu va lasati pacaliti de numele dragalas. Massive Attack nu stiu de gluma cand vine vorba de datele private ale fiecaruia. Si s-au lasat si ei de Facebook.
In light of FB's continued disregard for your privacy, their lack of transparency and disregard for accountability - Massive Attack will be temporarily withdrawing from FB

We sincerely hope they change their... https://t.co/DAxMVYSwff

— Massive Attack (@MassiveAttackUK) March 21, 2018
Daca nu v-ati consumat deja cele 3 articole pe luna de la NYT, oamenii vin cu un material interesant si cu o statistica si mai si.
The hashtag #DeleteFacebook appeared more than 10,000 times on Twitter within a 2-hour period on Wednesday https://t.co/31vEcn8Ibn

— The New York Times (@nytimes) March 22, 2018
Au fost si glumite.
Mark Zuckerberg's response to the Cambridge Analytica scandal and #DeleteFacebook is really something else... pic.twitter.com/fwz9VLVahs

— Morgan (@MorganBesmer) March 21, 2018
S-au facut si tutoriale de sters Facebook, pentru cei mai putin descurcareti.
If Mark Zuckerberg's new measures aren't enough, here's how you can #DeleteFacebook. pic.twitter.com/fFUTib6R5y

— CNET (@CNET) March 21, 2018
April Glaser de la Slate zice ca a-ti sterge contul de Facebook nu (mai) este suficient. INTRA SA VEZI CE MAMA NAIBII MAI VREA SA SPUNA SI ASTA
Don't #DeleteFacebook. That's not good enough: https://t.co/PGN5t7tl15 pic.twitter.com/CvBwNbrjdY

— Slate (@Slate) March 21, 2018
Via Utopia, glume cu manelisti si useri Facebook.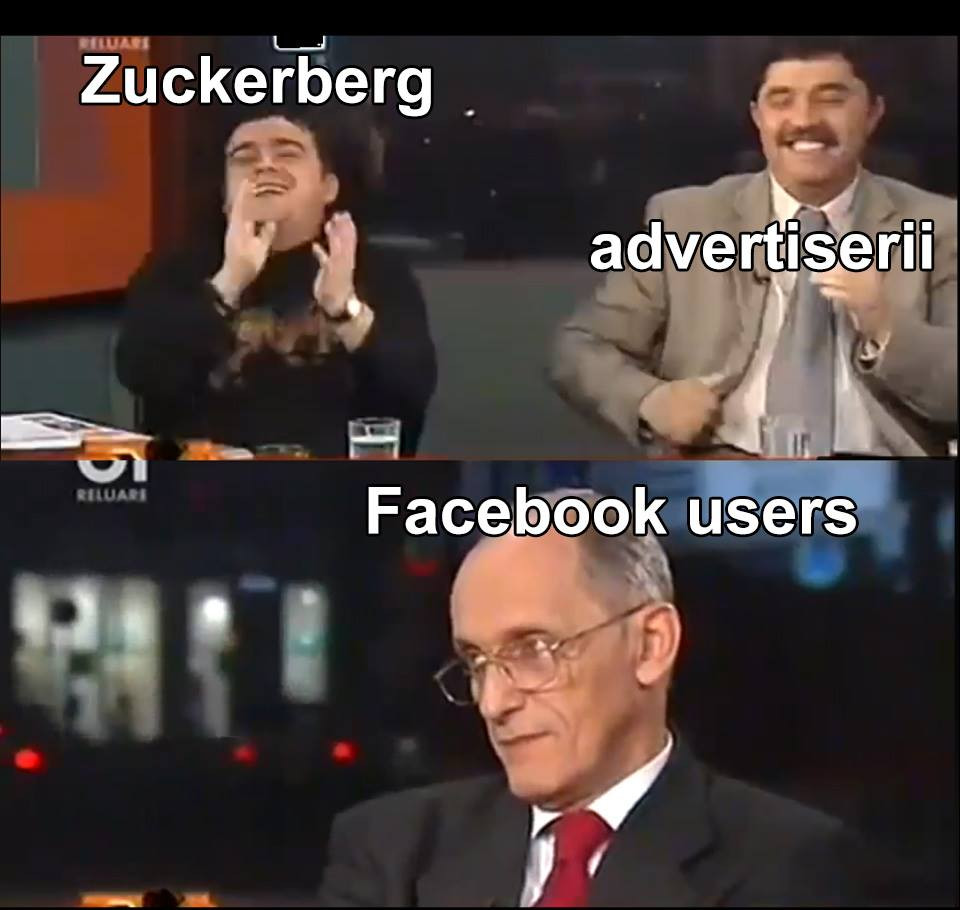 Din motive evidente, nu o sa comentam si apelurile la #DeleteFacebook care sunt facute pe Facebook. In schimb, dand scroll peste materialul de fata, putem observa o chestie: mult Twitter. Asta e bine. Ne puteti gasi si acolo, la @IQads.