Daca nu v-ati prins pana acum, vara e un complet alt taram care, ce fericire, vine negresit o data pe an. Si, odata cu caldura, se duc multe dintre incorsetarile pe care le mai acceptam (de nevoie) pe timp de toamna, iarna si primavara. Ne relaxam nu doar vestimentar; ne lasam dusi de val, de pofte, de trenuri, masini si avioane, de muzica, de gasca si tot asa. Eliberarea asta poate fi si trackuita; pentru asta, trebuie sa intram pe harta de vara a Romaniei, unde nucleele Neversea, Untold si Summer Well n-ar avea cum sa lipseasca. Sa vedem care au fost cateva dintre cele mai populare - si fotogenice - destinatii ale verii 2018, din interiorul acestor conglomerate festivaliere, activari puse la cale de Samsung Romania in calitate de partener oficial al evenimentelor sus-mentionate.
Un prim zoom pe harta verii festivalurilor ne duce direct intr-o oaza a serenitatii, fara loc de stres, in principal datorita leaganelor inflorate care te imbiau sa #DoEpicShots nu oricum, ci eventual in Super Slow-mo, pentru rezultate dintre cele mai fericite in like-uri si inimioare.
Ritmul vietii, setat de leaganele din The Oasis, era imposibil de perturbat - si merita inregistrat, macar pentru cei ramasi pe viteza normala, pe la diverse locuri de munca.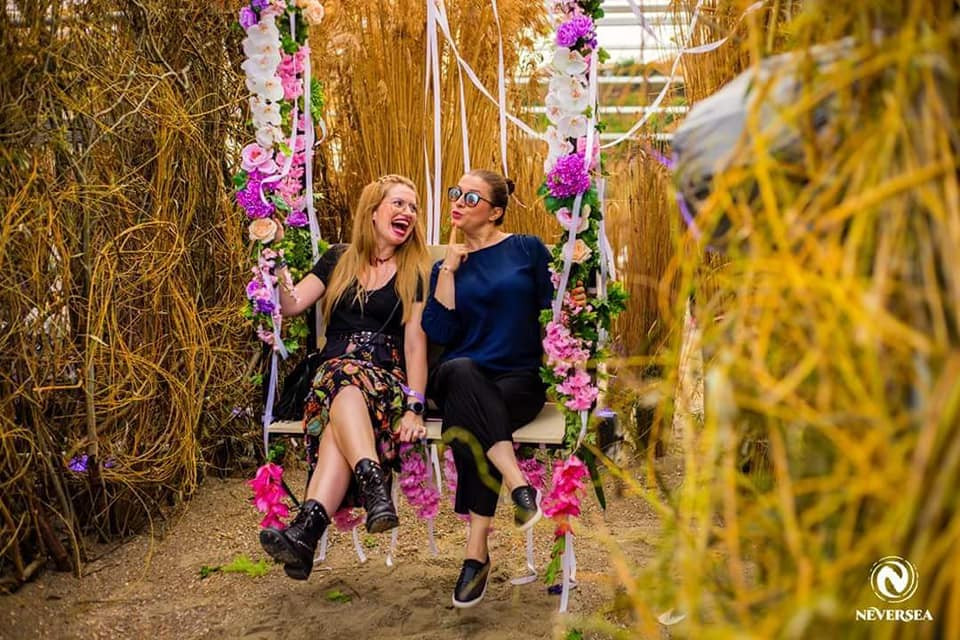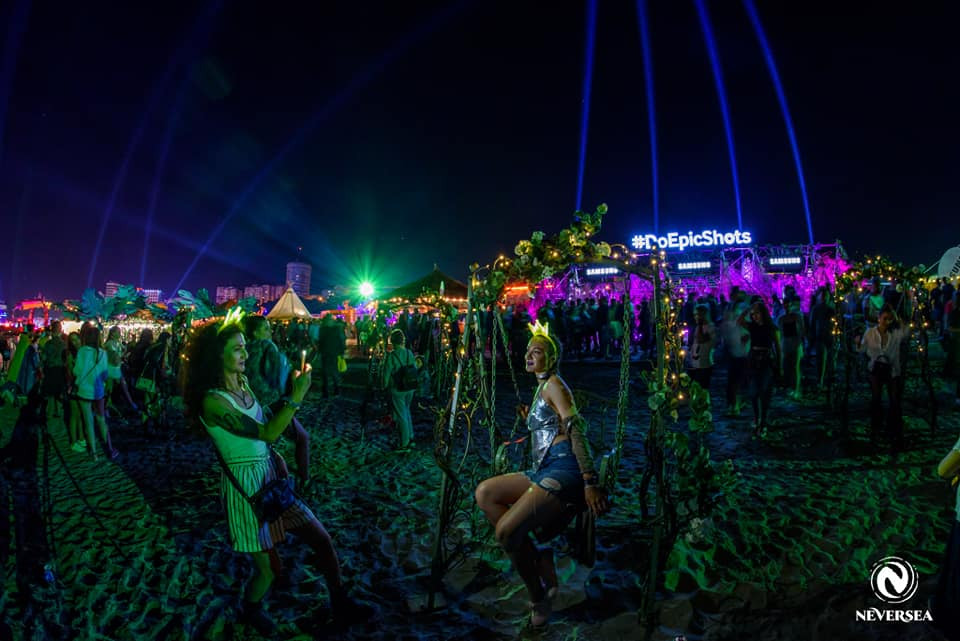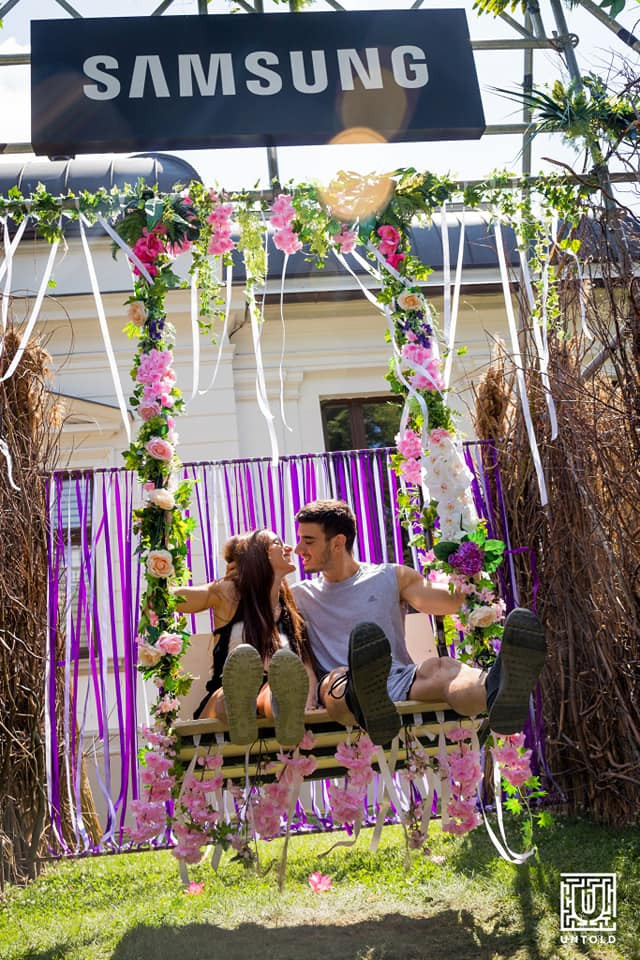 Nu de putine ori, noaptea devine unitatea de timp oficiala a verii. Asa incat, aflat intr-o misiune de a surprinde cele mai misto cadre de oriunde si oricand (cine n-are nevoie de provizii pentru restul anului?), trebuie sa fii pregatit.
O demonstratie de culoare si contrast a avut loc ori de cate ori cineva intra in The Forest, un cort low-light unde nu veneai cu mana goala, ci cu un S9 pus pe Super Low-light si trecut in prealabil pe la cortul Samsung Tattoos, unde te pictai dupa bunul plac in culori fosforescente. Care, fii fara grija, n-aveau sa te pateze decat pe o perioada strategica si limitata.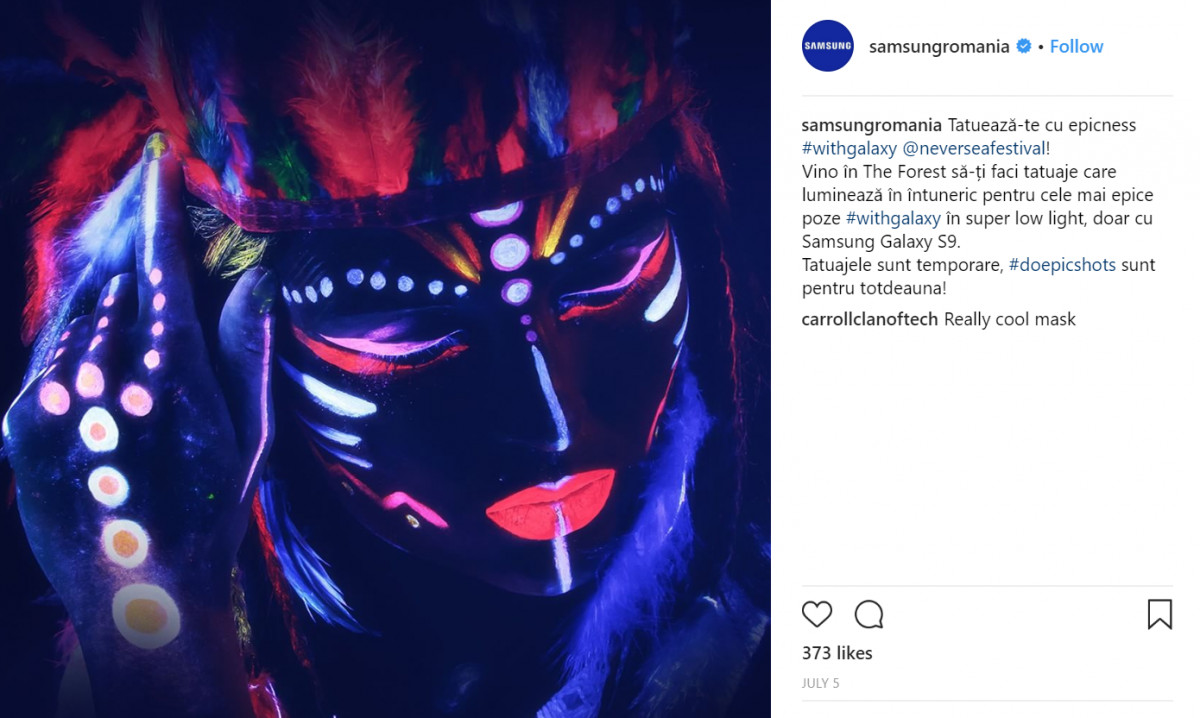 Ca si cum o padure cu accente fosforescente n-ar fi de ajuns, Samsung a adus la Untold-ul din acest an inca un univers paralel mijlocit de AR si VR. In zona The Parallel Universe, festivalierii care voiau sa exploreze ori sa paraseasca orbita pamanteana erau invitati sa-si puna castile VR.
Pulsar Chair-ul, de pilda, scotea pe oricine din ritmul lejer de festival cu o invitatie pe-un rollercoaster 4D, iar pentru cei mai "cinici", o experienta si mai intensa era fix dupa colt: un scaun VR Rocket Man care te amplasa, cu tot cu miscari, rasturnari si turbulente, intr-o excursie cu nava spatiala.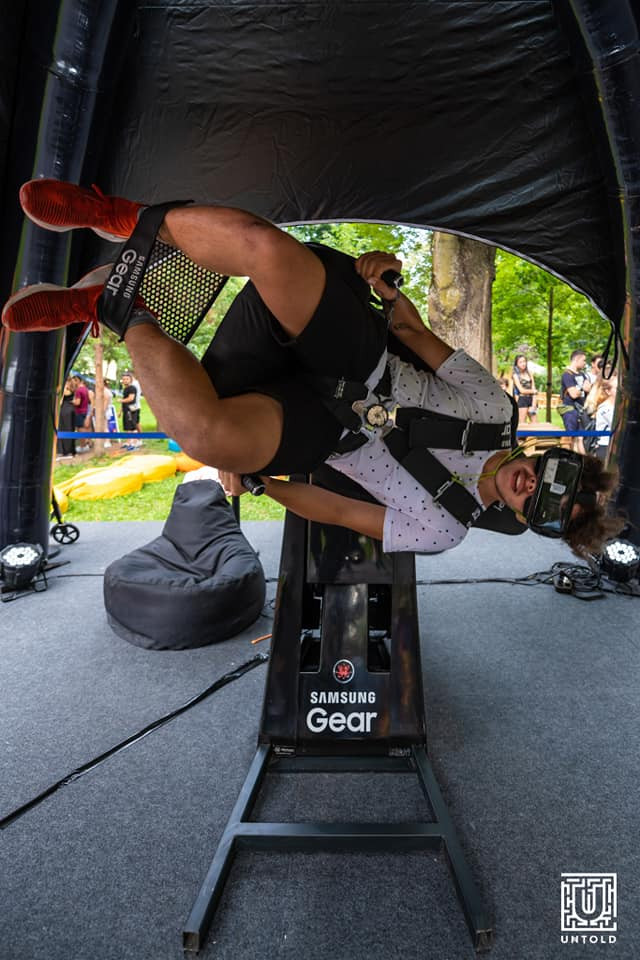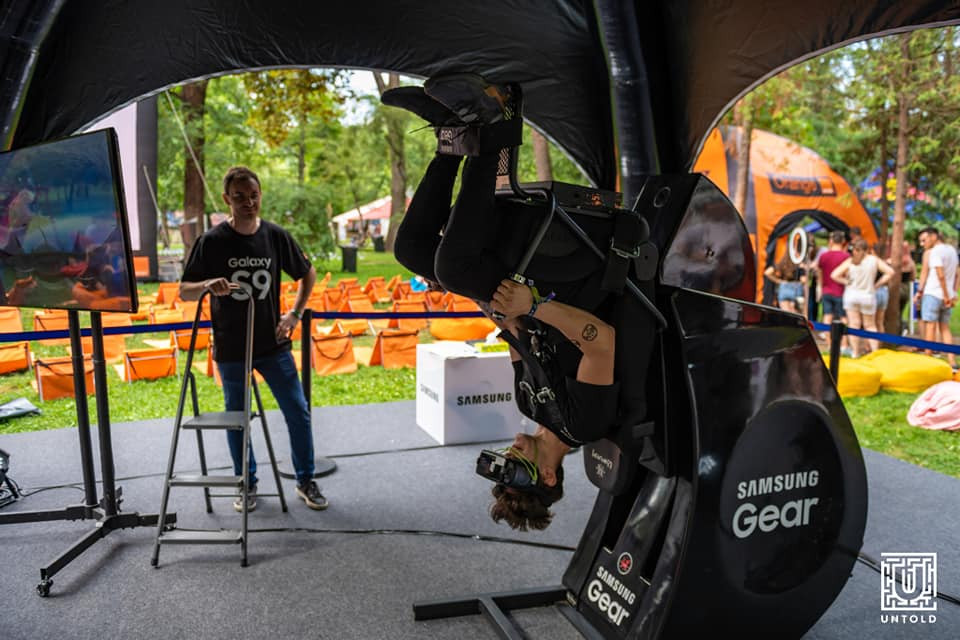 Pe tot parcursul evenimentelor, un lounge area de importanta maxima pe harta a fost The Energy Belt, destinata incarcarii bateriilor de orice fel. Statiile de incarcare erau incorporate literelor-gigant "Samsung" - care, apropo, nu dadeau deloc rau in fotografii.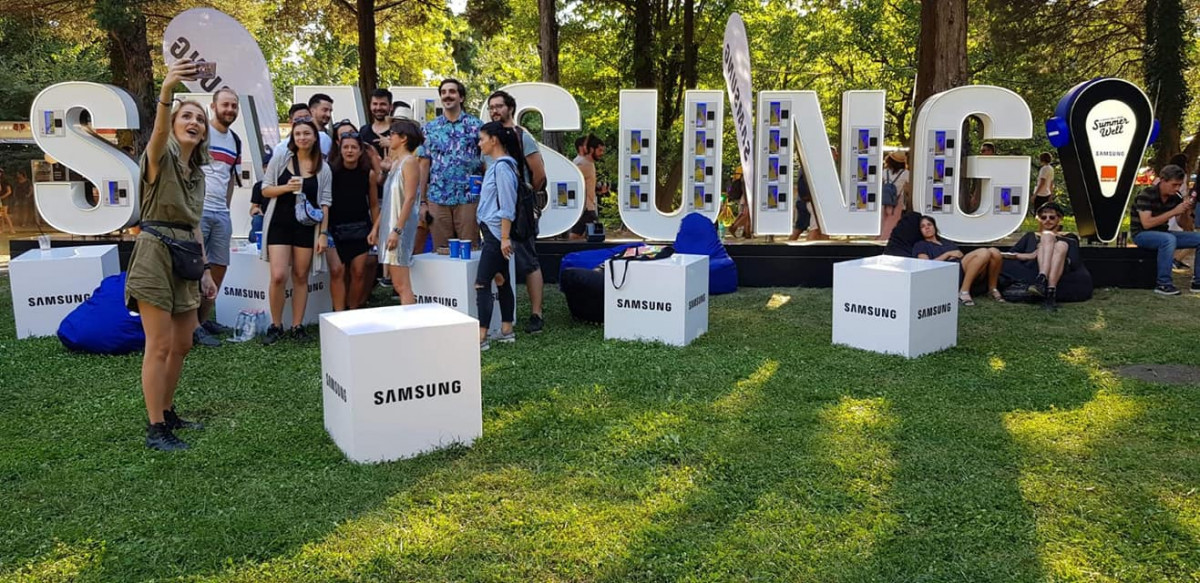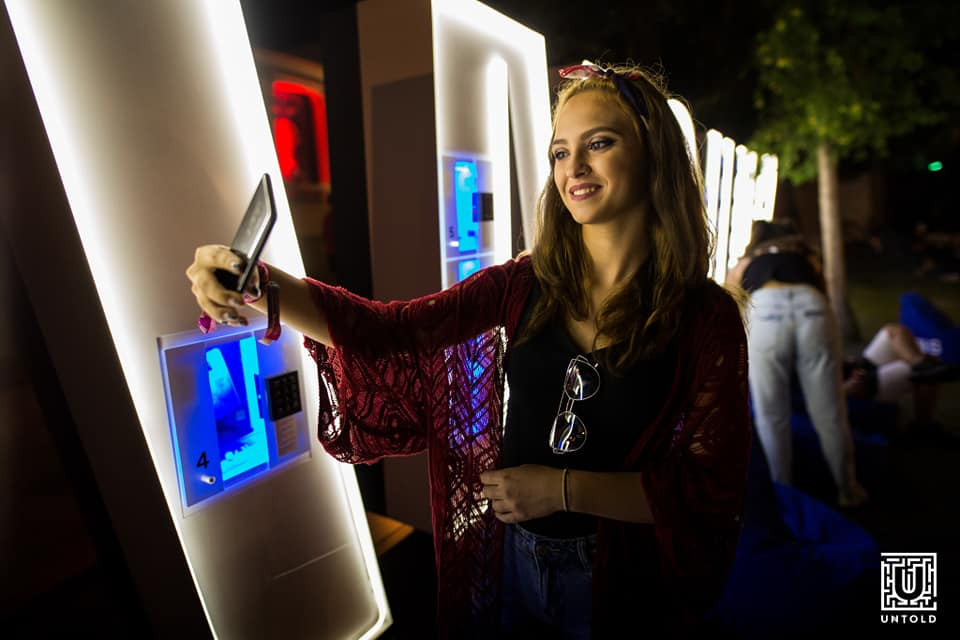 Campaniile si activarile Samsung desfasurate la cele 3 festivaluri partenere, pentru al doilea an consecutiv in aceasta formula, au inclus atat o componenta look & feel, amplificata de campanii si colaborari cu influenceri si micro-influenceri.
O serie de ambasadori oficiali Samsung - Samsung Epic Squad - i-au indemnat pe participanti sa #DoEpicShots in timpul festivalelor, printre ei numarandu-se Cristian Muntele (blogger si radio host), Dana Rogoz (fashion vlogger), Sinziana Iacob (fashion blogger), Octavian Graure (sneaker artist), Christina One (fotograf), Cristian Vasile (aka Igu, aka Bucuresti Optimist) sau Teo Rogobete (food blogger).
Cu sprijinul lor, activand peste 500.000 de participanti cumulati, harta verii 2018 si-a primit si albumul foto, de gasit pe Facebook si, mai ales, Instagram.