Kris Hoet is responsible with digital innovation both at Happiness and FCB Global, but in different ways. As co-founder and Chief Innovation Officer for Happiness, he's a lot more involved in client projects, while in the role of EVP Global Head of Innovation, he travels all over the world to spread the word and works of innovation throughout the network.
Kris started out his career on the digital side of things, working for a large Belgian cinema chain, Kinepolis Group, then leaving for Microsoft. After almost 5 years, during 2009, he was made redundant along with thousands other employees. He started sharing his situation on social media and that's how he ended up working for Duval Guillaume, handling all the digital strategy. In 2015, he made the leap to FCB Global, while also establishing FCB's Happiness, a creative connectivity agency focusing on human connection through content. 
When talking innovation, Kris emphasizes: it can only start with people trying to change how they do things, whether it's creatives, planners or marketers, either in their professional, or in their personal lives. Innovation can't be understood and brought on by people who haven't experienced what it means for themselves.
His presentation at the ADC Focus on Impact event, "Happiness is the Ultimate Rebellion" dealt with the prevailing sense of pessimism around us, an attitude that may be justified, but that's not doing any good. "Be optimistic or you won't play a role in the good things that can happen next", says Kris.
After checking in below, you could stay caught up with Kris through Warped, his inspirational newsletter that promises "your weekly dose of different" in terms of ideas, data, or digital trends.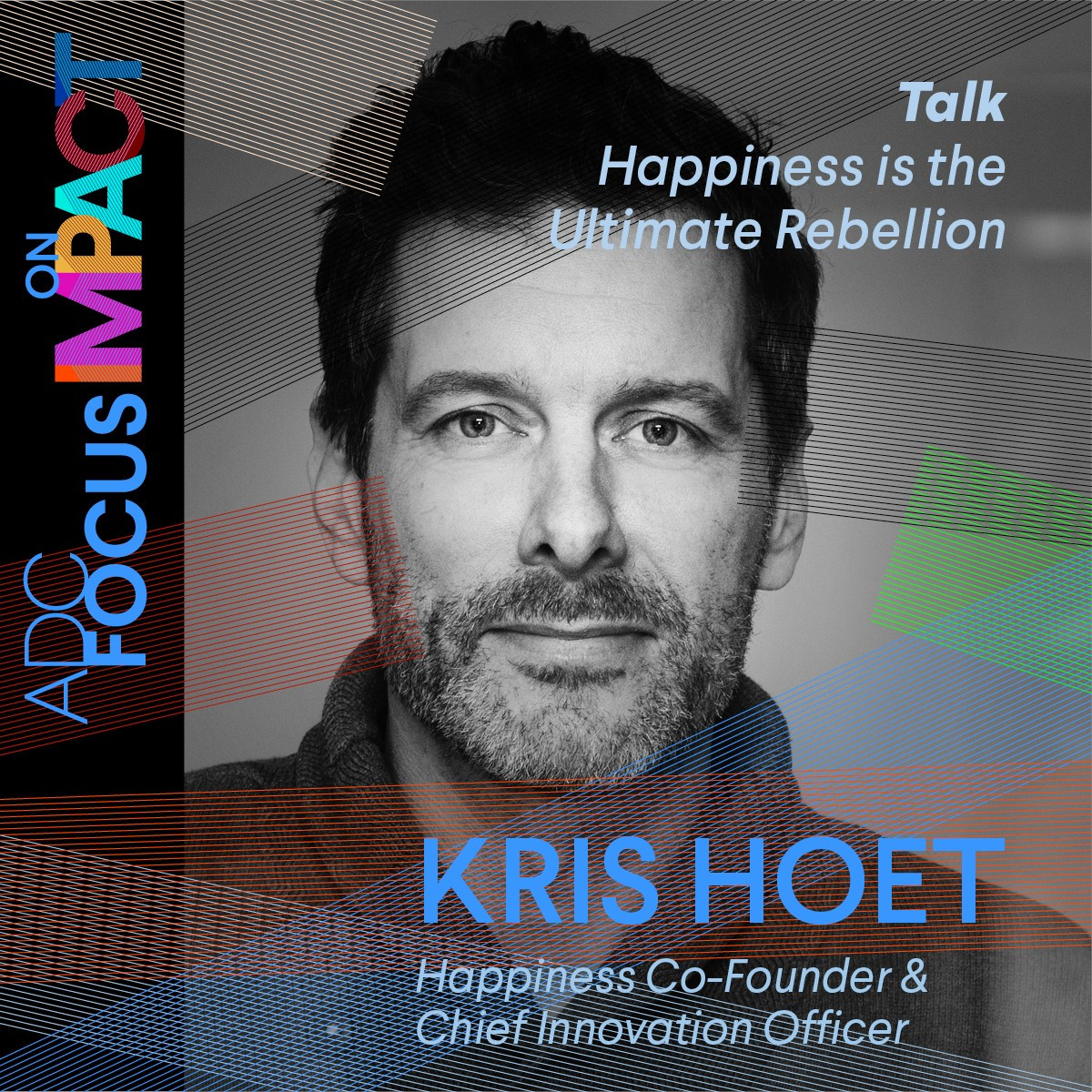 Versiunea in romana a interviului e chiar aici.
From the client side to agency work
I didn't do the switch on purpose - however, I advise everyone in my industry to try and find a way to experience both sides. After working as a marketer for more than 10 years, working with many agencies, both local and international, I had a good idea about what I wanted these agencies to do differently.
But then I started working in an agency and very quickly came to the realization that I had very little idea of the inner reality of an agency. And so that was pretty eye opening to me and it sure helps still today to look at situations, collaborations, meetings ... you name it from both sides, which improves the quality of the work.
A "creative connectivity" agency
When Geoffrey, Karen and myself became partners at Happiness, we did make some changes to the organization that resulted in the creative connectivity agency.
We see there are probably plenty of agencies that look at advertising from a connectivity point of view, but as fond believers in the power of creativity, we don't think that's enough and so we will always look at creative ways to make those human connections better, more fun, easier ... you name it.
And with the vast amount of opportunities in connecting & engaging with people, we also see the growing need for an exponential amount of content and we organize ourselves to be capable of delivering on that.
Where innovation/transformation is most needed in the ad world
I believe it's needed everywhere. And I believe it always starts with what you do yourself. With all of the things around us changing at an accelerating pace, we need to organize ourselves differentely to be able to cope with that – the only real constant here is the change itself.
So everything we do and the way we do it needs to be looked at in terms of seeing how we could possible transform it to still be relevant and/or be the best possible application of change. And I fundamentally believe that you can not apply this – not as a marketer, planner, creative ... you name it – when you don't try to find ways to innovate and find ways to change in your own life or job.
You cannot understand how to make it happen for the broader topic - the briefing, the company - if you never experienced what it means for yourself. And that is what drives me forward.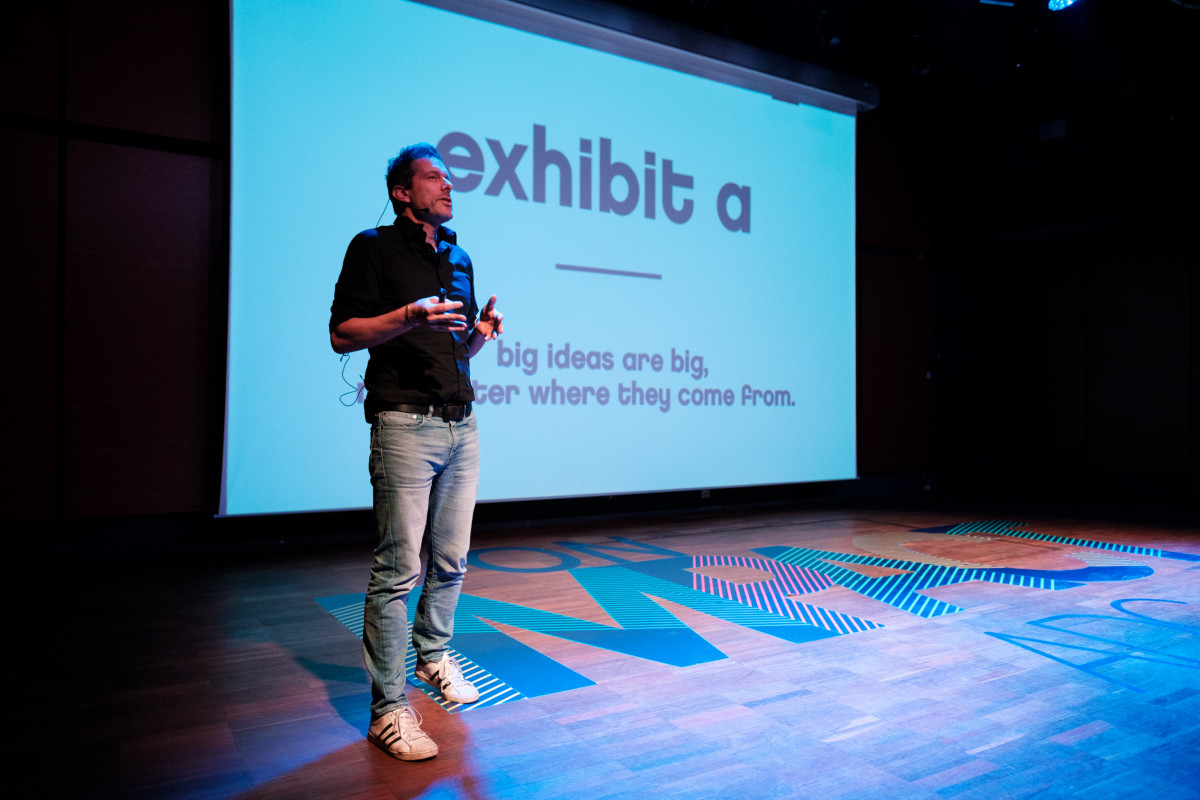 Innovation-responsible at Happiness & FCB
I don't think there's a typical day really. First of all, thanks to the double role, there's a difference in the work I do for both companies. For Happiness it will be a bit more hands on, working on client projects that are closely linked to digital & innovation or often thinking about and experimenting with our own transformation as an agency.
While in the global role for FCB I will be working with – and, therefore, often travel to – our agencies all around the world and their clients on projects that relate to that. Whether it's training, inspiration sessions, workshops, project work, ... hardly any day goes by without something happening that I haven't done before.
Effects of tech on the creative product
I see the evolution from the ad side of things but that's not my core interest, because at lot of is is translating what we did offline into online. What really interests me is what all of it is doing to human behavior; we want to find new ways to understand and tap into that behavior with fresh new ideas.
That means you might do something that is not technological at all, but that makes total sense today, as it's something people started doing due to some new tech in their life. That's where it becomes really interesting. I'll let others focus more on adtech and things like that.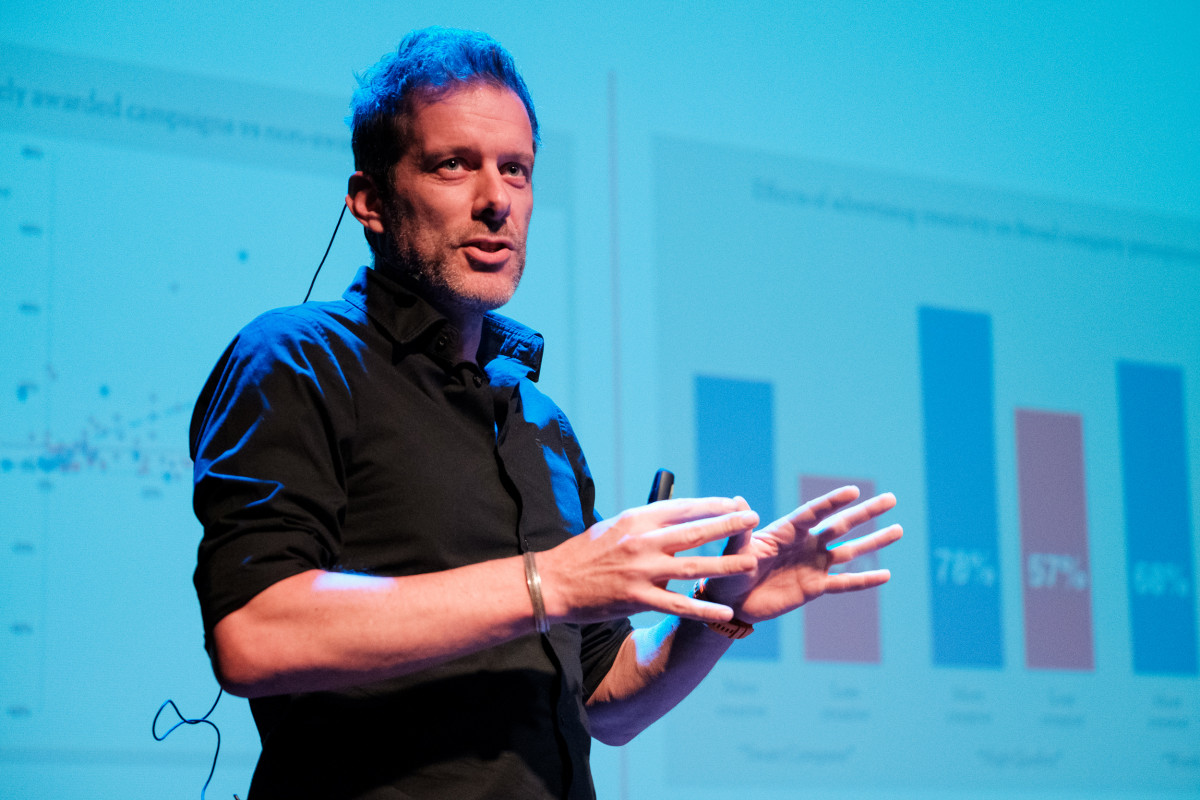 Curatorial criteria
In all the things I curated or have curated – whether it's my weekly email or the last 2 editions of the ADC*E Festival – there have been a few things important to me.
I want it to be about something, to stand for something. So especially with the events, we will put quite a bit of time in defining what that should be each year. And I want it to have an idea in there as well, you don't want things just to be right they also have to be interesting. And then, last but not least, stick to the theme, make sure it's coherent. Don't go after the popular things, let's not get pursuaded about clickbait or whatever. Stick to your thing. And that doesn't mean you can't evolve, but you want to protect those values that are core to the concept.
We've had speakers outlined for the festival in both years that would have been great, but that we couln't really match to the theme, so we decided not to ask them.
Advertising's greatest challenge nowadays
To find it's relevance again. For agencies to steer away from older revenue models and believe in the value of creativity to make a difference towards consumers.
"Happiness is the Ultimate Rebellion" @ ADC*RO Focus on Impact
I can only hope the audience enjoyed the presentation. Key messaging was about positivism & creativity. We're way too pessimistic when we look at the world and our lives; however, first of all, the world is probably in a better shape than ever. Even with all the shit going and - and especially towards all the bad things happening - it takes a positive mind to find ways to positively change things.
So be optimistic or you won't play a role in the good things that can happen next. And believe in creativity, believe in how it is a force multiplier for everything that you do.