A black woman. That's how Sheree Atcheson introduces herself. She's 26 and is a Tech Business Consultant at Deloitte. She started Women Who Code in Great Britain in 2013, an organisation which fights against gender inequalities in the industry. She has also founded another social project, I Am Lanka. Sheree stands for gender equality, inclusion and diversity.
"We are not here to dictate actions to people, I'm not here to be agressive, I'm here to tell them we can do this together", Sheree told us during a break at the Creativity4Better global conference, organised by IAA Romania. We spoke to her about feminism, fear, social inequalities, empowerment, money.
How do you change the world without screaming at it? Take it with you on a journey, says Sheree.
Who's afraid of feminism?
People who are afraid of feminism are people who don't fully understand what it is and what it represents. Feminism is about equality, about every person having the ability to be their best self, by levelling the playfield and making it fair.
I have met women who are afraid of feminism and that's because of the negative conotations that people associate with the word. People associate feminism with the disliking of men or the belief women are better than men.
Like I said, feminism is about equality and fairness. Personally, I can't understand how some people wouldn't want everybody to have the same opportunities. That's a very twisted view of the world.
What stops women
There's a lot of things that stop women from doing what they want to do. We don't have the same privileges and the same platforms as the majority of the leaders. Statistics show the majority of leaders are all men. And that's not ok. It also means men are associated with success.
We have to break the wall and show that you don't have to be white and male, you can be anything, coming from different backgrounds and having different abilities.
Being a leader is about how you work and empower people and how you do business, it's not about how you use the system. The system is broken and we can't keep telling people to lean in, trying to fit in a broken system.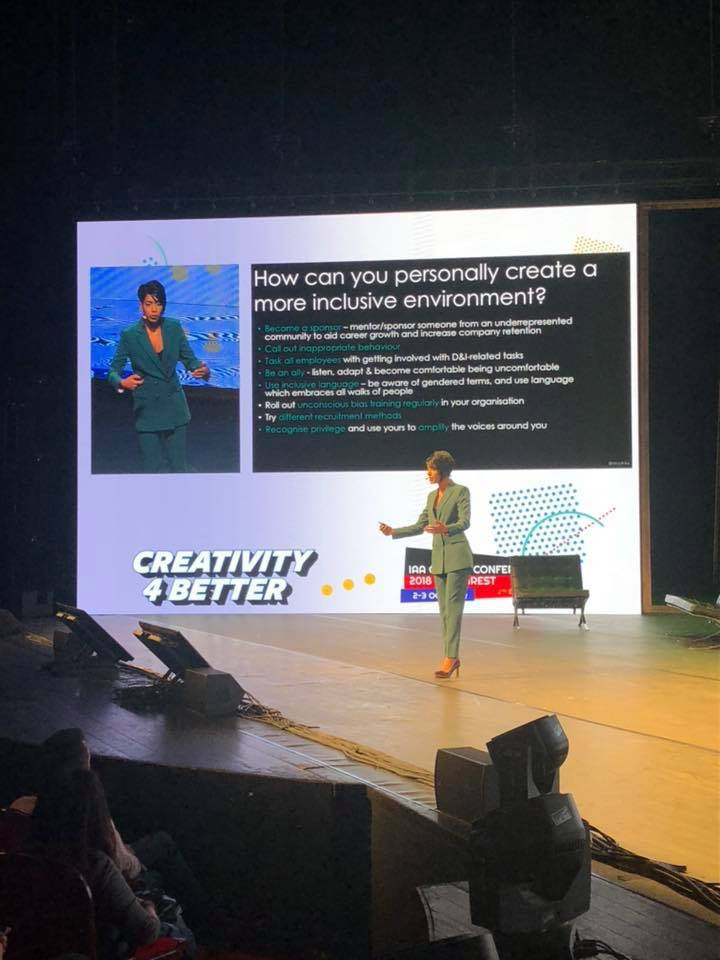 Whether we like it or not, leadership is held up by men. And men have a huge power to inflect this industry. This is not an 'us versus them' scenario, it's an 'everybody' scenario, and we need to make people understand the real benefits of diversity and inclusion in business.
Statistics show revenue is up in companies with inclusion practices and gender diversity. We have to make them understand the benefits. And call out unprofessional behaviour. I do that regularly. I'm not here to sit back and say I love what  everybody is doing because I don't. 
We need to engage all the demographics and make them understand this is not a thing we should be doing because we are all humans, but because business benefits from a diverse and inclusive environment.
I had reactions like 'why are we doing this, this works ok, we met our targets and made a lot of money'. And I say: 'yes, but you can make more money'. 
It's about taking these people on a journey. We are not here to dictate to people, I am not here to be agressive, because you don't embrace different people with backgrounds, I'm here to say 'what can we do together? look what I can show you, let's try it'.
Empowering campaigns
Empowerment is a very powerful tool. I exclusively identify as female, person of colour, I have a very unique background and I am certainly a leader. I do all this great stuff and I think I'm paving the way for others. And that empowers people to see: oh, she can do that, I can do that.
There is an issue with unauthentic campaigns and I think that embracing diversity is on everyone's tongue. People know they can use that to their advantage. And of course we should. If we openly embrace diversity for the greater good and increase business - two birds, one stone. If you are doing it just to make money, there is something missing there.