Pentru al V-lea an consecutiv, Ziua Publicității se întoarce cu perspective fresh din industrie și profesioniști gata să le discute pe 30 mai, la Cinema Elvire Popesco. Această ediție își propune să culeagă și să dea mai departe idei de succes, să înțeleagă modul în care s-au născut și s-au dezvoltat cele mai bune campanii, evenimente şi platforme media la care ne raportăm astăzi, oferind o viziune de culise.
Direct din spatele cortinei vin să vorbească deopotrivă reprezentanți ai agențiilor și companiilor Jazz Communication, Leo Burnett România & Telekom România, KFC România & MRM // McCann România. Vor contura împreună o discuție amplă despre echipe și procese de lucru, așa cum le-au experimentat și parcurs în activitatea lor, ca în final să înțelegem un pic mai mult despre rețetele unei campanii de succes.
ECHIPA JAZZ COMMUNICATION
Ascultăm insight-uri de la Jazz Communication prin Andreea Ghenoiu (Creative Director) și Alecsandra Roman (Head of Planning) despre Magia din spatele Magicului. Acestea vor împărtăşi lucruri mai puțin cunoscute despre una dintre cele mai de impact campanii din România: #împreunăpentrumagichome. De la o prezentare în ppt. s-a ajuns  la o campanie care a spart toate bulele și a adus românii împreună. Campania a câștigat un leu de argint la Cannes şi Grand Effie în 2018. De asemenea, Jazz este prima agenție independentă care a obținut un leu de aur la Cannes cu proiectul Oprește Barbaria, Salvează Ciocârlia, care a schimbat legea vânătorii, cu 0 buget.
ECHIPA LEO BURNETT ROMÂNIA & TELEKOM ROMÂNIA
Din culisele mix-urilor fericite între client și agenție, vin să vorbească Victor Stroe (Associate Director & Head of Strategy @Leo Burnett) și Ruxandra Rău (Director Brand & Communication Strategy, @Telekom). Descoperim prin poveștile lor cum construim și ne aliniem unii altora într-o industrie în care sinergiile corecte pot conduce la cele mai frumoase și eficiente campanii, deconstruind o serie de proiecte de succes definitorii pentru creșterea brand-ului.
ECHIPA KFC ROMÂNIA & MRM // MCCANN ROMÂNIA
Echipele KFC & MRM//McCANN se alătură discuției despre echipe de lucru și proiecte de succes, oferind un exemplu în care digitalul și producția răspund unor insight-uri reale, prezente și atent documentate. Tina Crețu și Gina Zgubea (Senior Digital Marketing Managers @KFC), împreună cu prietenii de la MRM, vorbesc despre cum au reușit să deschidă un dialog despre fenomenul online-offline prin cele două seriale lansate pe platforma KFC Social Entertainment: Social Me & RANDOM.
Programul evenimentului este următorul:
9:00 – 10:00 Registration & Networking
10:00 – 11:00 Panel Talk 1
11:00 – 12:00 Panel Talk 2
12:00 – 12:30 Lunch Break
12:30 – 13:15 Panel Talk 3
13:15 – 14:00 Panel Talk 4
14:00 – 15:00 Networking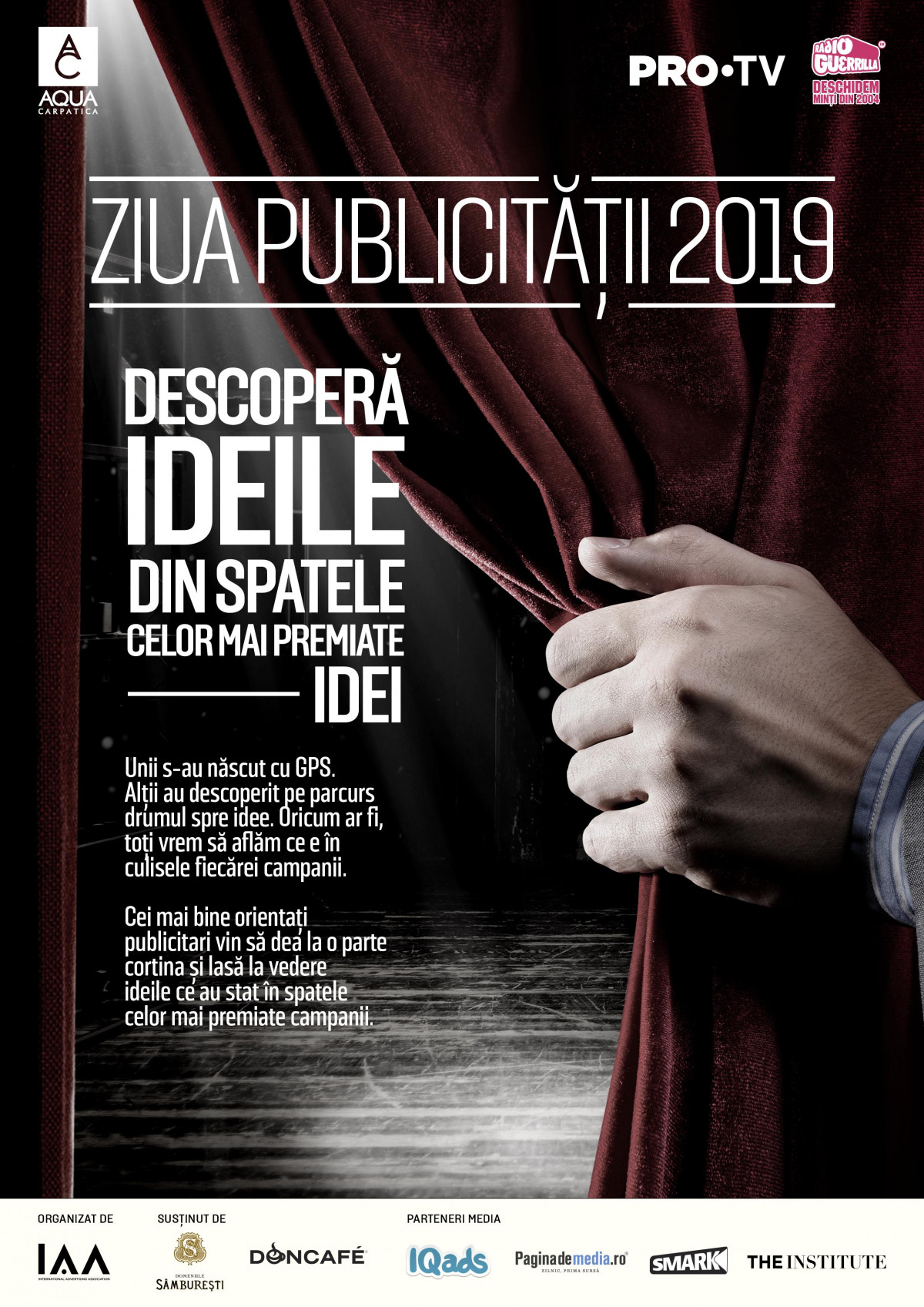 Înregistrările se fac online.
"Ziua Publicității" este prezentat de AQUA Carpatica, organizat cu sprijinul PRO TV şi Philip Morris International.
Parteneri: Domeniile Sâmburesti, Doncafé, KFC şi Miller.
Partener media special: RADIO GUERRILLA
Parteneri media: IQads, SMARK, Paginademedia.ro şi The Institute.