Pentru al 17-lea an consecutiv, The Alternative School a căutat cei mai strălucitori, talentați, muncitori și pasionați tineri creativi care să reprezinte România la Eurobest Integrated Competition, desfășurat online, luna aceasta.
După 3 săptămâni de întâlniri creative intense, Roxana Păduraru și Monica Casangiu (Upsole) și Andreea Călărașu & Irina Șerbulea (Shenanigans) sunt câștigătoarele oficiale ale competiției locale The Alternative School x Eurobest și își vor dovedi în curând abilitățile la Eurobest European Creativity Festival.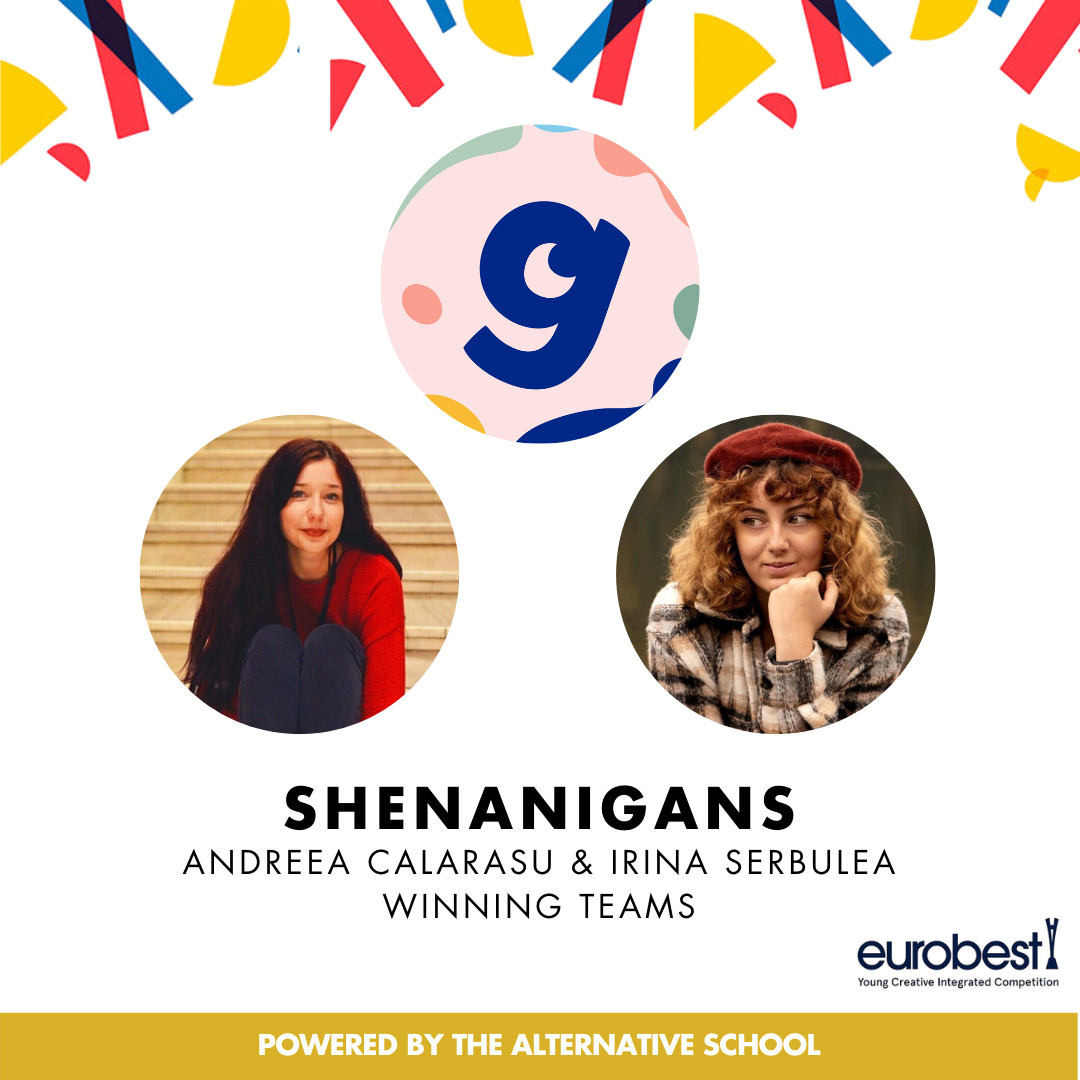 Dedicat persoanelor cu vârsta sub 30 de ani din toate domeniile creativității (marketing, branding, film și discipline legate de comunicare), acest training intensiv s-a axat pe perspective culturale și internaționale în design creativ, digital, strategii de campanie, VR, tehnologie și noi media și conținut premiat merita vazut.
27 de participanți au avut șansa de a lucra pe briefuri concentrate pe integrarea creativității în sistemul educațional și soluționarea problemelor înrădăcinate cultural, situații de conflict și inegalitate.
În drumul spre succes, li s-au alăturat experți creativi internaționali precum Maged Farrag (Digital Guru @ 5dVR, Cairo), Filip Gonzacenco & Daniel Groh (Publicis Paris), Valeria Dubinina (Red Apple Festival Moscow), Isabella Branisteanu (Thinkegic), Hovhannes Margaryan & Tigran Gegorgyan (The Doping Creative Agency Armenia), Bahia Shehab (Artist, Social Activist & Professor of Design @The American University of Cairo) și Teodora Migdalovici (Love & LOBBY Founder).
La evaluarea lucrării finale a participanților, s-au alăturat și Alexandra Bombita (GMP), Andrei Chirisi (Three / Next), Meltem Karateke (IMI Conferences) și Vera Gavrila (Produsul Anului).