Oculta Mondială, filiala Sector 7 HUB, mulțumește pentru cele cinci fragmente de monolit primite pe adresa redacției.
Surse din cadrul departamentului de recepție și manipulare marfă sugerează că în ziua de 16 decembrie 2020, în timp ce se anunțau live rezultatele festivalului IAB Mixx Awards România, la adresa unuia dintre membrii Sector 7 au fost livrate în secret (filmat live și public) 5 fragmente din monoliții celebri care au împânzit lumea și au creat o pătură de mister în mințile multor oameni cu inteligență debordantă.
Oculta Mondială și-a asumat deja acești monoliți, în special pe cel amplasat în România. Așa cum își asumă prin prezentul comunicat și fragmentele în formă de trofeu pe care le-am recepționat. Se pare că acestea au fost primite ca recompensă pentru campania creată de Sector 7 pentru clientul nostru Catmobile.ro: "Nu știm! Noi doar punem întrebări!" din toamna anului 2020.
Sunt acestea cu adevărat fragmente de monolit? Sunt trofee? Nu știm! Noi doar punem întrebări!
Dar asemănările nu pot fi o coincidență!
Surse din industria reptiliană de advertising și marketing spun că aceste fragmente sunt, în fapt, trofee IAB Mixx Awards, reprezentând:
Best MIXX Award – campania cu cele mai multe premii la categoriile la care a fost înscrisă
The Spiciest Influencer Marketing Award
The Most Flavored Integrated Advertising Campaign
The Most Appetising Video Advertising Campaign
The Juiciest Brand Advertising Campaign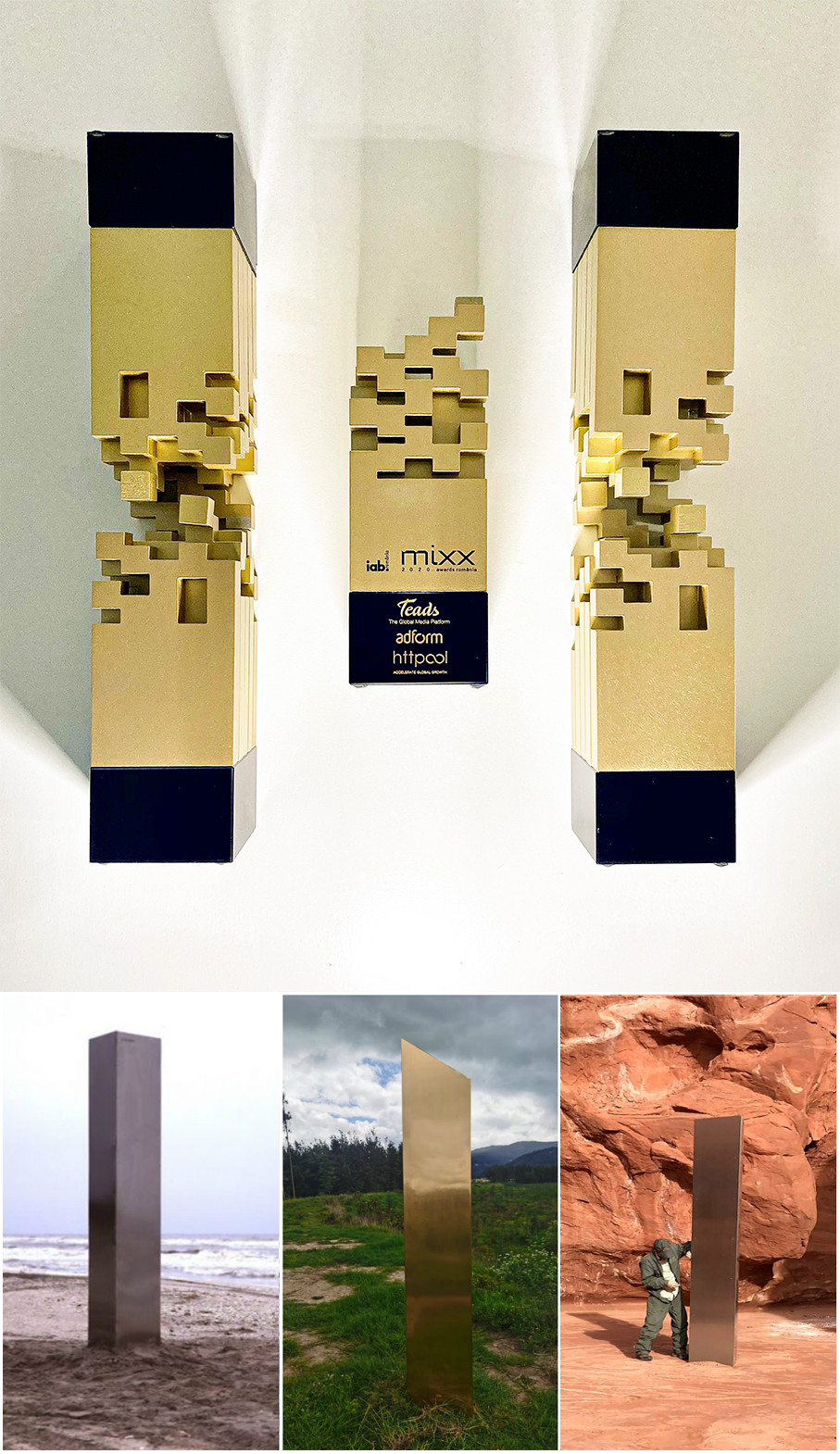 Vrem cumva prin prezenta ca reprezentanții Sector 7 HUB să le mulțumească tuturor celor care au fost implicați în proiect și ne-au ajutat să arătăm încă o dată că se poate face și altfel de publicitate – una de care publicul să se îndrăgostească și să devină parte naturală din pop-cultura românească?
Nu știm! Noi doar punem întrebări!