The Sound of Art to Come Records, casa de discuri din Transilvania, prezintă Transglobal Underground Meets Lil Obeah, single-urile Copii și Timpul.
Cu mare onoare, vă prezentăm single-urile Copii și Timpul, de pe primul album lansat de Sound of Art to Come - Lil Obeah din Transilvania, produse de Tim Whelan & Hamid Mantu aka Transglobal Underground, și masterizat de Marius Costache de la Studio148.
Avem o ediție foarte limitată de viniluri pentru colecționarii de muzică. Precomenzile sunt acum disponibile pe Diggers Factory.
Doar 200 de exemplare numerotate vor fi presate în luna mai.
"Fără Transglobal Underground, piesele de pe LP-ul Lil Obeah din Transilvania nu ar fi căpătat profunzime socio-politică. Tim și Hami au oferit cântecelor și versiunilor mele o rădăcină care oferă context și semnificație în peisajul estului European. Fără cunoștințele lor despre această zonă și inventivitatea lor tipică, acestor cântece le-ar fi lipsit o poezie întunecată balcanică specială, condimentată cu bas teluric și explozii de cumbia, canzonete italiene și chanson francez, plus sunete plunderfonice.", Obeah.
Artistul Lil Obeah lucrează cu profesioniști în domeniul muzical, de la producătorul bucureștean Marius Costache de la Studio148 la artiști internaționali precum Nick Dubulah/ Dub Colossus, Transglobal Underground și Dreadsquad. Remixurile sale includ artiști locali Tony Baboon, Oigăn & Ana Ularu și nume internaționale precum Dubmatix și Prince Fatty, dar și trupe fictive precum Reefah Madniss din Berlin.
Rădăcinile lui Lil Obeah sunt trupe foarte eclectice și proiectele din trecut - Crowd Control, The Shape of Moombhaton și Tunesinnaourheads. Lil Obeah este inspirat de cele mai ciudate sunete românești, de la dub experimental la reggae-dub tradițional cu influențe ska și folk-rock, muzică lansată lângă Marea Neagră din 1988 până în prezent.
Colectivul de global electronic fusion din Londra, Transglobal Underground, s-a aliat transilvăneanului Lil Obeah de la casa de discuri Sound of Art to Come. Tim Whelan și Hamid Mantu au format un colectiv muzical specializat în fuziunea stilurilor muzicale occidentale, asiatice, balcanice și africane. Din 1991 au lansat muzică ce intră în categoria worldbeat, dub, dancehall, acid house, drum 'n' bass, fuziune orientală, bhangra, funk și hip-hop.
Primele patru albume au avut-o pe Natacha Atlas ca solist principal, iar single-ul de debut "Temple Head", difuzat constant de John Peel, este încă un imn definitoriu al anilor '90. În 2008 au câștigat premiul BBC Radio 3 pentru world music, după lansarea celui de-al șaptelea album, Moonshout.
Formată de Hamid Mantu, Count Dubulah și Tim Whelan în 1990, formația s-a extins într-un colectiv de colaboratori muzicali, creând călătorii eclectice cu fiecare album lansat: Dream of 100 Nations, International Times, Psychic Karaoke, Impossible Broadcasting și chiar colaborări cu grupul folcloric albanez Fanfara Tirana Meets Transglobal Underground - Kabatronics. Cel mai nou album, "A Gathering of Strangers" este un proiect paneuropean înregistrat la Londra, Praga, Budapesta și Sofia.
Inspirați de ultimul lor album, lansat la casa de discuri Mule Satellite, discul Walls Have Ears, muzicienii au format o alianță pentru a produce albumul Lil Obeah din Transylvania și viitorul disc Lil Obeah In Dub.
Ambii proveniți din vestul Londrei, Tim Whelan și Hamid Mantu au fost membri ai formației britanice Furniture și cântaseră împreună în grupul experimental de art-punk psihedelic Transmitters. Legătura lor cu România și Transilvania a început în epoca lui Ceaușescu, când trupa Furniture a avut un turneu în țara comunistă în 1988 și au concertat în marile orașe precum Cluj, Brașov, Sibiu și București.
Toate colajele care ilustrează albumul Lil Obeah From Transylvania și catalogul Sound of Art to Come sunt realizate de artista română, Cristiana Bucureci. Cristiana a debutat cu arta colajului în 2015, prin seria Loud Blood Youth, în colaborare cu o trupă locală de electro-fusion. Colajele ei sunt un pașaport către o dimensiune futurist-decorativă, fiind realizate în tehnici mixte, atât digitale, cât și cut & paste. Cristiana a expus la Tel Aviv, Romanian Design Week, București, Timișoara, Cluj și Iași. Portofoliul ei este pe instagram.com/cristiana_bucureci.
Expoziție și Audiție Oficială a albumului Lil Obeah From Transylvania cu toate colajele Cristianei Bucureci la cafeneaua AM.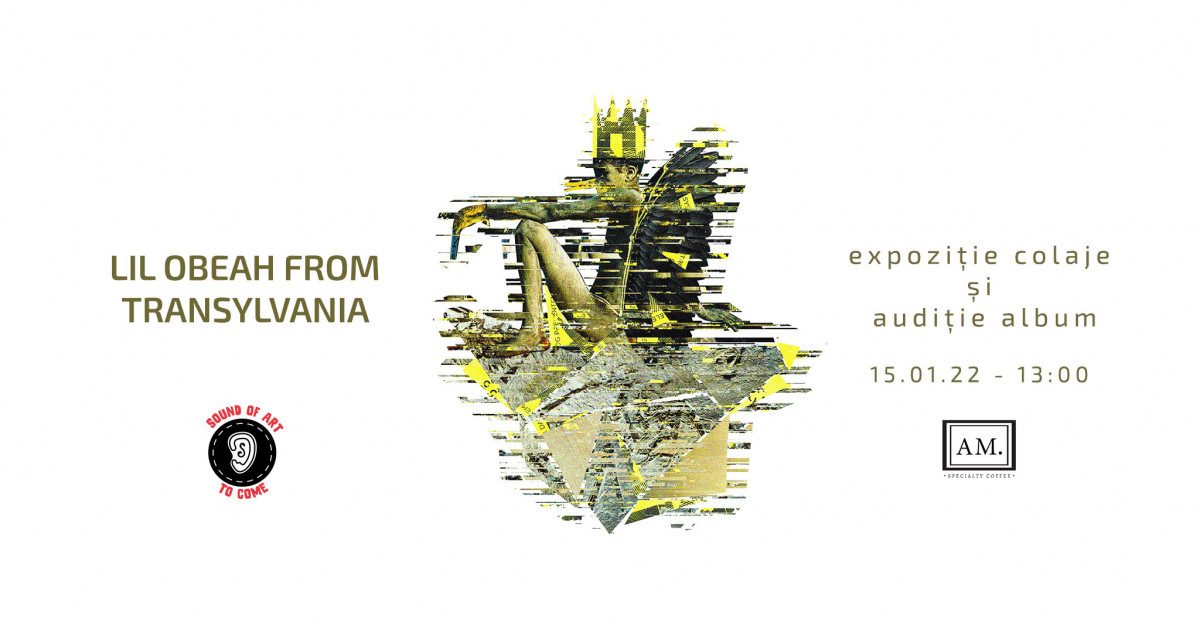 Credite:
Lil Obeah - voce, concepte
Transglobal Underground - producție, mixare și masterizare
Horseman - tobe
Tim Whelan – claviaturi, sunete
Hamid Mantu – percuție, sunete
Invitat special Marian Șerban Feraru – țambal
Cristiana Bucureci – voci, colaje și art direction
Toate vocile Cristianei Bucureci înregistrate de Marius Costache la Studio148
Mulțumiri speciale lui Stanciu "Punct" Daniel (voce Obeah)
Mulțumiri speciale lui Nick Page Dubulah aka Dub Colossus
Versuri și melodie Mircea Baniciu
Masterizat de Marius Costache la Studio148
Numai bine din Transilvania.