"Din Bristol în Japonia, de la Londra la Wroclaw până în Transilvania. Una dintre melodiile mele preferate vreodată este imnul anti-consumist Citizen Zombie scris de Mark Stewart, legenda bristoliană care a lansata muzică alături de The Maffia și The Pop Group la case de discuri precum On-U Sound, Mute, Y Records, Rough Trade, Freaks R Us, Future Noise, Soul Jazz și care a influențat trupe precum Massive Attack, Nine Inch Nails și Nick Cave & The Bad Seeds. Așadar, era firesc să plătim un tribut de voodoo transilvănean către inițiatori - Audio Active pentru versiunea lor de pe albumul Apollo Choco produs de Adrian Sherwood, The Pop Group de pe discul produs de Paul Epworth și juxtapunerea culturală dintre Ghetto Priest și fenomenul polonez Positive Thursdays in DUB produsă de Rafal Konert. Versiunea noastră este un remix autorizat al variantei poloneze, cu Marius Costache în formă de invidiat, transmițând din Studioul 148. Colaboratorul Lee Scratch Perry, artistul Peter Harris a creat o versiune uimitoare reimaginată binecuvântată chiar de tatăl fondator, Mark Stewart. Mulțumesc pentru această ciocnire a titanilor!", Obeah.
The Sound of Art to Come Records este o casă de discuri din Transilvania, care găzduiește Dub, proscriși de muzică electronică și experimentală și nonconformiști exploratori. Adânc în inima Carpaților, SoAC transmite din dimensiunea The Shape of Dub to Come. Labelul curatoriază, colează și remixează Duppy dubs și Duppy Riddims inspirate de coloanele sonore jamaicane pentru filme de groază.
După zece ani de muzică eclectică, muzicianul fantomă dub din România s-a acordat la o altă frecvență creând Lil Obeah din Transilvania. Când vine vorba de sunetul său, el îl definește ca dub duppy dintr-un univers paralel. Obeah colaborează cu profesioniști din domeniul muzicii, de la producătorul bucureștean Marius Costache de la Studio148 la vedete internaționale precum Dub Colossus, Transglobal Underground și Dreadsquad. Remixurile sale includ artiști locali precum Tony Baboon, Oigăn și Ana Ularu și branduri de dub și reggae precum Dubmatix, Dub Pistols, Prince Fatty și Denise Sherwood, dar și trupe fictive precum Reefah Madniss din Berlin.
Ghetto Priest este unul dintre cei mai extravaganți și creativi artiști din scena muzicală londoneză și tipic comunității din care provine, este un muzician în largul său cu multiple viziuni muzicale. El este african / caraibian și irlandez, asiatic și englez.
Născut și crescut în partea de est a Londrei din părinți afro-caraibieni, el face muzică reggae, dub și experimentală de peste trei decenii. El a fost un pilon al On-U Sound Records, unde a început ca vocalist și percuționist pentru trupa African Head Charge.
Ghetto Priest a lansat albumul de debut aclamat de critici Vulture Culture, produs de Adrian Sherwood și trei piese: "Rise Up", "Masters Of Deception" și "Visionary" au fost folosite pe coloana sonoră a filmului Johnny Was. Ghetto Priest și Adrian Sherwood au fost invitați de renumitul artist scoțian Graham Fagen să facă un remake al celebrei melodii a poetului din secolul al XVII-lea, Robert Burns, "Slaves Lament", care să fie folosită pentru expoziția de artă "Mâini curate, inimi pure" de la Glasgow Tramway și o apariție la renumita Bienală de la Veneția.
Din 2004, Ghetto Priest colaborează cu Asian Dub Foundation. El este unul din membrii de bază și în turneele la nivel mondial, unde captivează cu prezența sa scenică vocală și mistică. În timpul invaziei Irakului, Asian Dub Foundation a lansat un album intitulat TANK, pe care Ghetto Priest a contribuit nenumărate compoziții.
Cel mai recent album al lui Ghetto Priest este LP-ul "Big People Music", continuarea discului său din 2017, "Every Man For Every Man". Ideea pentru acest LP a început sub titlul "Cântece pentru tatăl meu". Din amintirile din copilărie ale melodiilor favorite ale tatălui său albumul prezintă versiuni ale clasicilor: Nat King Cole, Dean Martin, Slim Smith, Ken Boothe și Aaron Neville. Episcopul Dub-ului, Adrian Sherwood a binecuvântat proiectul cu titlul "Big People Music", o recunoaștere puternică pentru acele melodii care au umplut multe gospodării ale emigranților din Caraibe și care au ecou și în generațiile următoare.
Ghetto Priest s-a alăturat anul trecut trupei din Wrocław, Positive Thursdays in DUB, pentru a înregistra versiunea unei melodiei clasice a celei mai bune trupe post-punk din Bristol, The Pop Group – Citizen Zombie. Versurile și mesajul ascuțit anti-consumist au fost scrise de instigatorul dada Mark Stewart în urmă cu trei decenii și sunt foarte actuale în zilele actuale de pandemie. Ghetto Priest și Positive Thursdays in DUB au creat cântecul de protest perfect, o contemplare a societății moderne și motto-ul său:
"Mai mult, cumpără mai mult, nu opri niciodată TV, nu gândi, nu pune întrebări, respectă regulile! "
De câte ori auzi aceste cuvinte în viața ta? Sistemul programează societatea în acest fel. Lumea este plină de dezinformări și știri false și oamenii sunt hrăniți de reclame și hrăniți de hipercapitalismul care ne înconjoară în viața de zi cu zi. De câte ori te-ai întrebat dacă ești înconjurat de zombi?
Muzicienii polonezi:
Sebastian Pachecki – trompetă, flugelhorn
Robert Kamalski – saxofon
Rafał Konert – percuții, sample-uri, fx
Marcin Świdziński – claviaturi
Maciek Wolański – bass electric
Piotr Knapik – tobe
Piotr Pac-Pomarnacki – sunet
Voce de Ghetto Priest
Versuri de Mark Stewart
Muzica de The Pop Group, re-aranjament de Positive Thursdays in DUB
Înregistrat la Jinx Rec. Studio, Wrocław, Poland.
Inginer de sunet: Piotr Pac-Pomarnacki
Mixat la Capitol Music Theatre Studio, Wrocław Poland de Piotr Pac-Pomarnacki și Rafał Konert
Masterizare: Stone Sound Studio, Żywiec, Poland
Remix de Marius Costache & Lil Obeah la Studio148
Percuție adițională de Marius Costache
Marș stradal de Obeah
Re-imagining de Peter Harris (voce, bass electric, chitară electrică)
Colaj de Cristiana Bucureci
Binecuvântat de Mark Stewart
Numai bine din Transylvania.
"Un alt material discografic uimitor de la The Sound of Art to Come, care devin rapid una dintre cele mai muncitoare case de discuri din jur! Citizen Zombie este un cântec întunecat și înecat în Dub, din inima Transilvaniei către inimile și urechile noastre prin Wroclaw/ Polonia și Londra.", Andy Ahmad-Cooke of Music Galaxy Radio.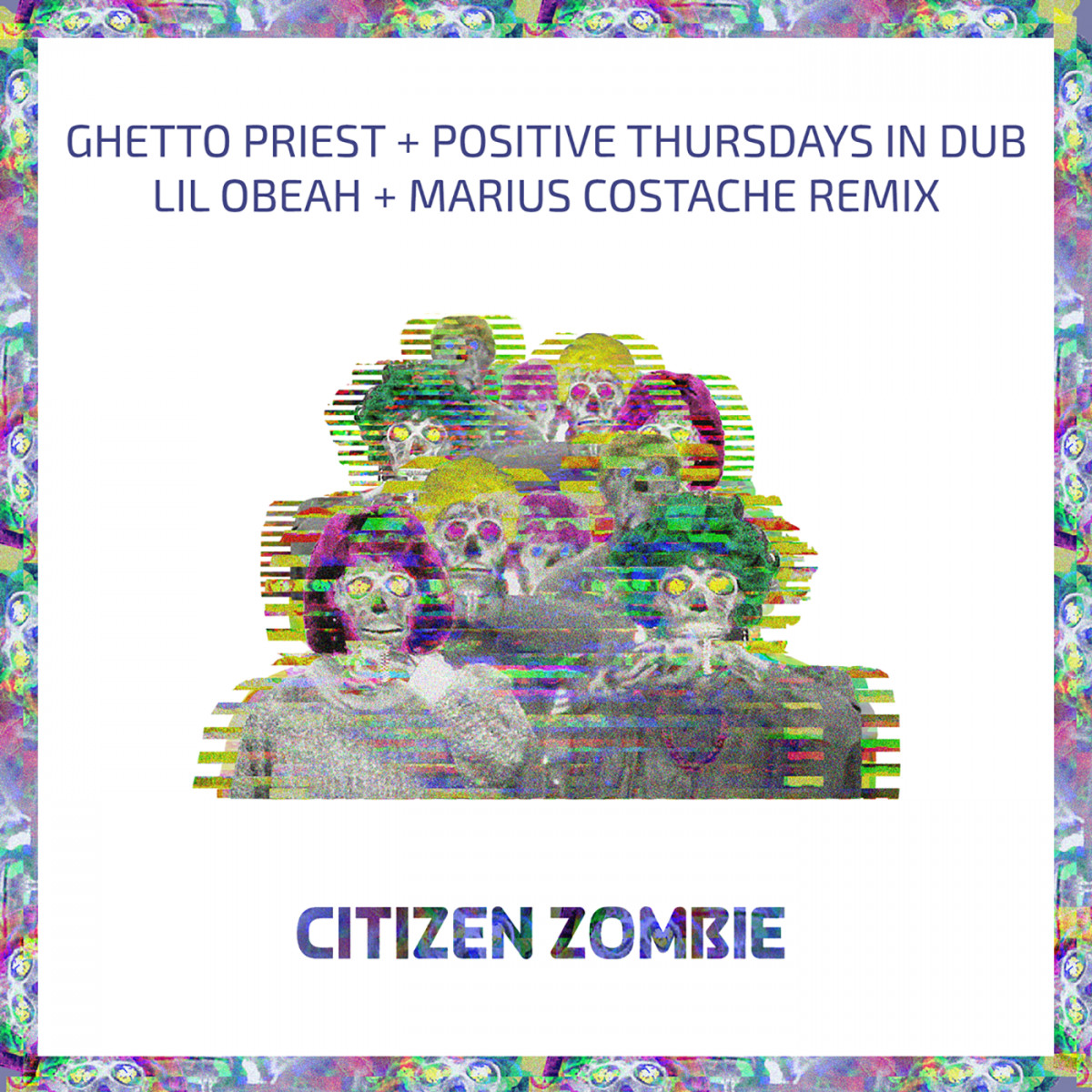 Tags: Ghetto Priest, Transylvania, Dub, Riddim, Marius Costache, film soundtrack, horror, Romania, Positive Thursdays in Dub, Poland dub, Wroclaw, Rafal Konert, Peter Harris, Mark Stewart
Mark Stewart, Rafal Konert, Marius Costache, Ghetto Priest, Wroclaw, Peter Harris, Positive Thursdays in DUB