We are fascinated by machines, yet we fear them. Similarly, we look at art with curious eyes, but sometimes feel overwhelmed by its meaning. The two worlds collide in Sougwen Chung's work in a way that brings more clarity to both. The Chinese-born, Canadian-raised artist has been exploring new forms of creativity and of combining art, science, and technology for a decade. Her work reinterprets traditional mediums and strives to show that humans and machines are not separate, but rather intertwined in creation and agency.
With a background in art and music, Sougwen Chung became interested in working with robots and started developing, sometimes from scratch, the technology that allows her to collaborate with machines in creating art and, in the process, uncover how computers and humans interact. Through her work, she hopes to help others develop their own rituals and practices around using technology and understanding the evolving world.
Sougwen Chung opened last year's NOVA Festival with her performance-lecture "Seeing Double- Bridging dualities with relational intelligence". We had a chance to sit down with her and discuss her performance-lecture, work, and vision for the future.
The "Seeing Double" Performance-Lecture
My performance-lecture called "Seeing Double" is a relatively new format. There's so much about the work that I love to speak about, and there's such a rich narration around it. It combines the story of what I do with what I actually do in a cinematic way.
I work with robots, artificial intelligence, and machine learning in my art practice to think about new forms of creativity and new ways of combining art, science, and technology. A lot of what I'm sharing in my performance-lecture is discussing that journey, sharing my vision for how I see that growing in the future, asking some questions, and engaging with the audience.
Creativity: Human vs. Machine
There are a lot of misconceptions about how we think about machine learning and creativity. I find the practice and the process of working with these new tools incredibly provocative. And I do explore the realm of creativity, as do all artists and all practitioners working with tools or exploring their creative output. Creativity is often attributed to something like painting, but I think engineering and technological development can be just as creative.
That being said, there's a lot about this idea of machine creativity that is alluring because it feels separate from us when in reality it's a lot more intertwined. My performance-lecture is called "Seeing Double" because not only is the human eye and the machine eye seeing in two different types of ways but there's a lot of layered vision and creativity that goes into something like an artificial intelligence system. But whatever forms of creativity we're exploring, they're not separate from us. They co-evolve our ideas of what creativity can be. And that's the exciting thing for me about developing this field.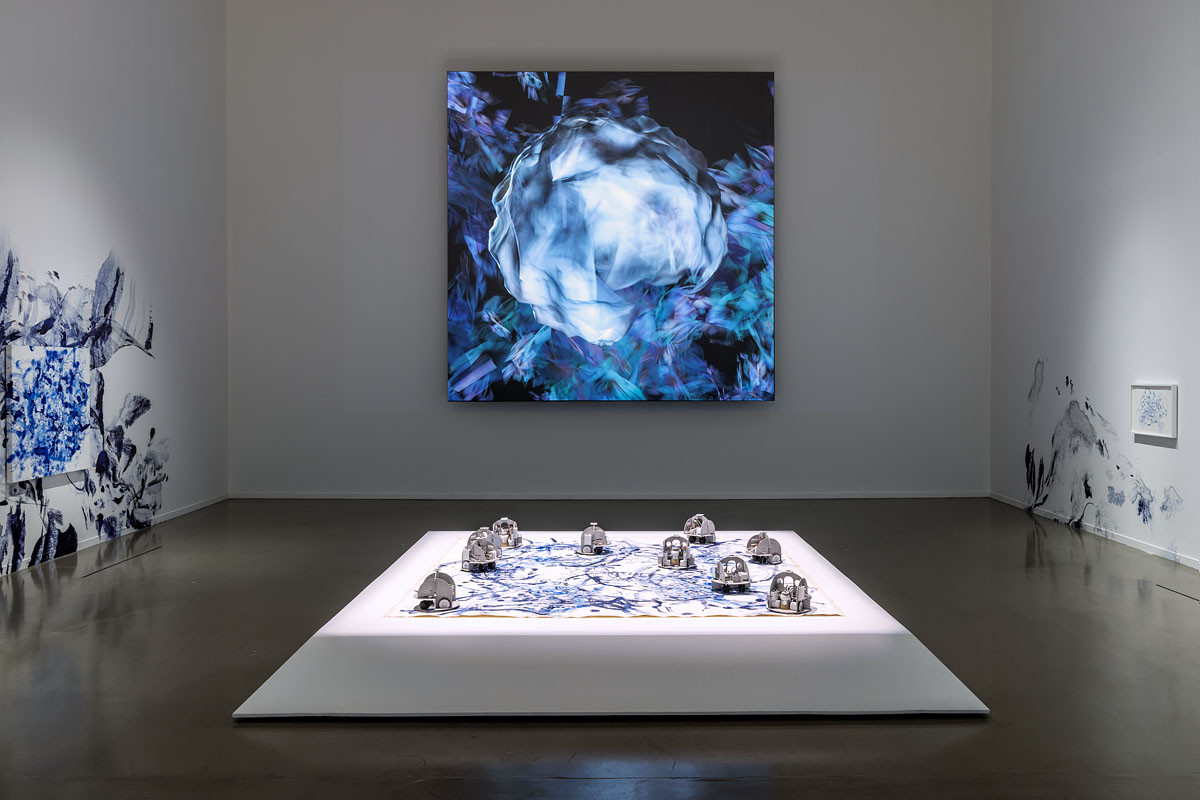 Sougwen Chung's works in The Imitation Game: Visual Culture in the Age of Artificial Intelligence, exhibition at the Vancouver Art Gallery, 2022. Photo: Ian Lefebvre.
A False Separation
The human capacity to anthropomorphise is fascinating. There's a history in the technological development of machines automating human behaviour and using a tool to replace human action. This is prevalent in factories, for example, where machines take over the human action of workers. But I'm interested in a way of using, designing, and building these systems that intertwine our agency. So neither is replaced.
There's a lot of exciting work happening in the fields of generative AI and GPT-3 language-based prompts that create visual images. In that way, it changes our notion of how we build images. We now have the capacity to create images through language, and we're still trying to figure out what that means and how we should be using it ethically. That's an interesting example of how humans are creative versus replacing the need for human actors at scale.
There's a lot to still explore and unpack about marrying not only technology and technological innovation, but technology and tradition. For me, that's the exciting aspect of it. It's not synthesising a cello or a drawn line and making it so that you no longer need to play an instrument or draw a line. It's about changing the nature of that line and finding new ways to approach these traditional mediums.
If we make a false separation, then we're relinquishing our creativity and power in a way that's not necessary. It's way more interesting when we bring about the historical legacy of a craft or practice. For me, it's bringing people who grew up drawing into this new space in which they feel there's a type of inclusion and dialogue within these older tools, not an erasure.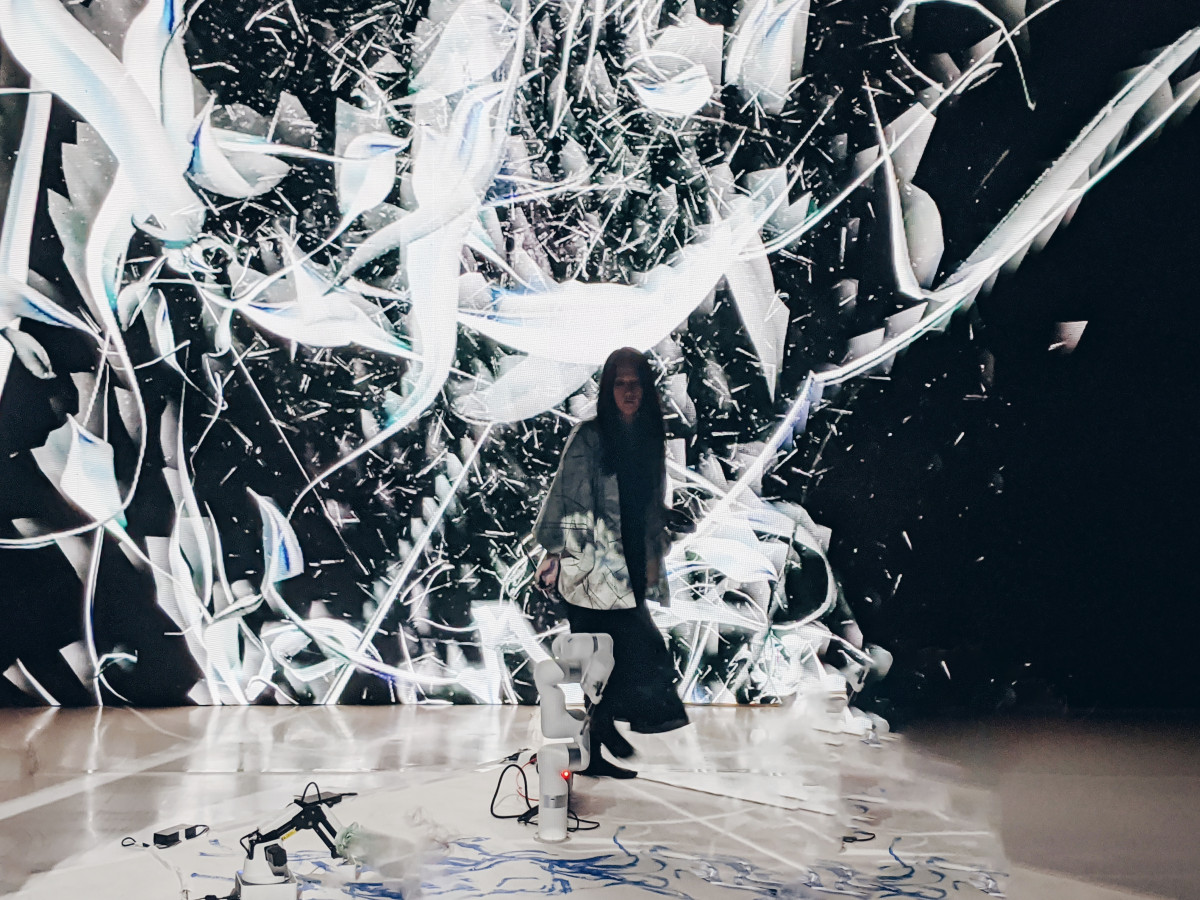 Sougwen Chung, Exquisite Corpus performance with D.O.U.G._4, Greek National Opera in Athens, 2020.
Art-Body Connection
Over the past few years, there's been a lot going on for us all, there's been a lot of change, and I've been thinking about how to move that forward and explore that in my practice.
I've been working with my biofeedback as almost a type of drawing intention, continuing to move away from this idea of the perfect image, but also thinking about our human creative intentions and how to break that apart. Because, as we know, image generation techniques are creating a type of visualisation of human intention that changes our relationship with the image. I'm moving towards the idea that we can draw with our meditative states and our brain waves to create forms of art more connected to our physical bodies.
Over the past few years, there's been so much about grounding and staying in a state that responds to some of the aspects of how the world is changing. That could make a person quite fearful, obviously referencing the pandemic, and feeling the real fragility of that. With the recent generations of robots, I've exploring biofeedback and meditation. Maybe because I have a background as a musician as well, the idea of creativity and what it means to be creative is to inhabit the space of it. That is more about the process of making than the finished image.
A lot of what I do and a lot of how I think about performance is about creating the process or the model of interaction. And then everything's just a big question mark from there, which I think makes it exciting to see.
I have so many friends now that are interested in ceramics, and the field of ceramics is just incredible right now. I think it's because it's the opposite of working with software. It's so tactile and we forget that as human animals, we need tactility and we need to be able to use all those senses. And those are some interesting creative challenges and spaces to be in that are endlessly inspiring for me.
Background in a Nutshell
My father is an opera singer, and my mother is a computer programmer, so I was lucky to have both the space of music and art and of coding and technology from a young age. I had my violin and the computer. That drove a lot of my interest in hybridising the two and from there developing in those ways.
I became interested in working with robots when I was spending time at MIT Media Lab. As a researcher, I'd been working as an interactive artist and a coder for a while and I felt like the frame of the screen was something that was always there with the work. But I felt a bit stifled in that I missed the tactility of an instrument. So I thought about what it would be like to draw in space with the tools I was building and decided to pursue robotics from there and built my first robot.
I work with other collaborators, like Bell Labs researcher Larry O'Gorman and his computer vision system to think about different ways of working with the city. For the last generation, I built a multi-robotic system and designed it to respond to my brainwaves. It's as much a collaborative process with the robotic units as with the technological systems that I'm sometimes building from scratch. There's a lot of bespoke development and research that goes into the process.
Next Steps
Over the past two years now, I've been growing a studio with a small team. We're interested in exploring what these ideas mean collectively, and how we can steward other artists, collaborators, and practitioners to think about ways they can build their own technologies and their narratives with technology, in a way that foregrounds hybridity and relational intelligence. I think we're ready to share and build more community with some of the ideas that we're engaged in.
Sometimes there's so much fear around using technology. That can feel quite paralysing because it's a very uncertain world these days. But I found a lot of grounding through the artwork and the practice of making it and sharing it. And I'm excited about a future in which people feel like they have their rituals and practices they can build in response to some developments in the world they want and don't want to see.