Cum am auzit de Super Bowl, ne-am dus cu gandul la o bucatica amuzanta de xkcd, anume: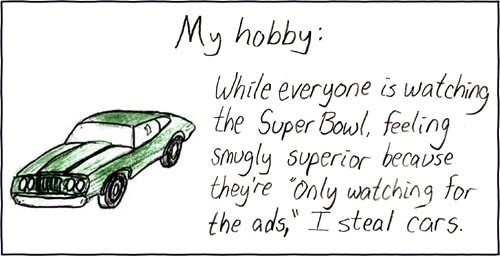 La noi, poate ar fi o sansa in timpul vreunui meci de fotbal cu echipa nationala. Totusi, nici la americani ideea nu prea mai e prolifica. E foarte posibil sa fii prins cu mata-n sac, caci aproape toate ad-urile pentru Super Bowl au inceput sa fie lansate pe YouTube cu ceva timp inainte de meci.
Brandurile vor plati extrem de multi bani pentru fiece secunda de transmisiune a spotului/spoturilor lor pe timpul Super Bowl-ului; ce au ales sa scoata in fata cateva dintre ele: Snickers a facut o parodie dupa The Brady Bunch; T-Mobile defileaza cu o Kim Kardashian autoironica; McDonald's introduce sistemul de plata prin afectiune; Budweiser a revenit cu povestea catelului pierdut; Dove defineste puterea masculina 'adevarata'; Toyota, Mercedes, KIA si BMW... In fine, vedeti mai jos ce-au facut. Aici voiam sa va aduc - am strans intr-un loc reclamele care vor fi difuzate in timpul Super Bowl-ului si cateva dintre teaserele celor inca nedezvaluite.

[UPDATE] Opriti totul, avem acces din YouTube la toate spoturile difuzate pe parcursul Super Bowl-ului, desfasurat pe 1 februarie. Sa le vedem:
Coca-Cola - #MakeItHappy
Old Spice - This Beard
Esurance - Sorta Your Mom
Skittles - Settle It
 Loctite - Positive Feelings
Chevrolet - What Would You Do?
Nationwide - Invisible Mindy Kaling
Nationwide - Say My Name, Walter White
 Lexus NX - Make Some Noise
Lexus - RC
Avocados From Mexico - #FirstDraftEver
 Doritos - Middle Seat
Doritos - When Pigs Fly
T-Mobile - One-Upped
Microsoft - Braylon O`Neill
Microsoft - Empowering Us All
Squarespace - DreamingWithJeff.com
Weight Watchers - All You Can Eat
Weather Tech - America at Work
Fiat 500X - Little Blue Pill
Nationwide - The Boy Who Couldn't Wait to Grow Up
Sprint - Super Apology
Discover - Surprise Scream
Skechers - Pete Rose
Toyota - My Bold Dad
Geico - Push It
Dodge - #DodgeWisdom
Jublia - 'Tackle It'
Budweiser - Brewed the Hard Way
Jeep - This Land Is Your Land


Snickers - The Brady Bunch
McDonald's - Pay With Lovin
Toyota - How Great I Am
 T-Mobile - #KimsDataStash
NO MORE  - I'd like to order a pizza
Budweiser - Lost Dog
Bud Light - Real Life Pac Man
Priceline - Know A Guy
Mophie - All-Powerless
KIA - The Perfect Getaway 
GrubHub - Because Burrito!
Dove - #RealStrength
Victoria's Secret - Let the Real Games Begin
Carls Jr. - Too Hot for TV
Wix.com - #ItsThatEasy
Jack in the Box - Legendary
BMW - Bryant Gumbel & Katie Couric 
Mountain Dew - It All Starts with a Kick
Mercedes-Benz - Fable
Gieco - Who Giot The Swag Now
Teasere
Skittles - It Will Be Settled
Friskies - Dear Kitten: Regarding the Big Game
Pizza Hut - Tony Romo & Rex Ryan
Mindy Kaling - Invisible
Squarespace - Jeff Bridges