Sa nu va sperie ploaia, va garantam ca s-a oprit: am verificat din cel putin cinci surse de incredere. N-am ajuns chiar la Romica Jurca, dar internetul zice ca e oficial: va puteti distra bine-mersi la ADfel 2015 si astazi, in a patra zi a evenimentului.
In spatiu, seara arata asa: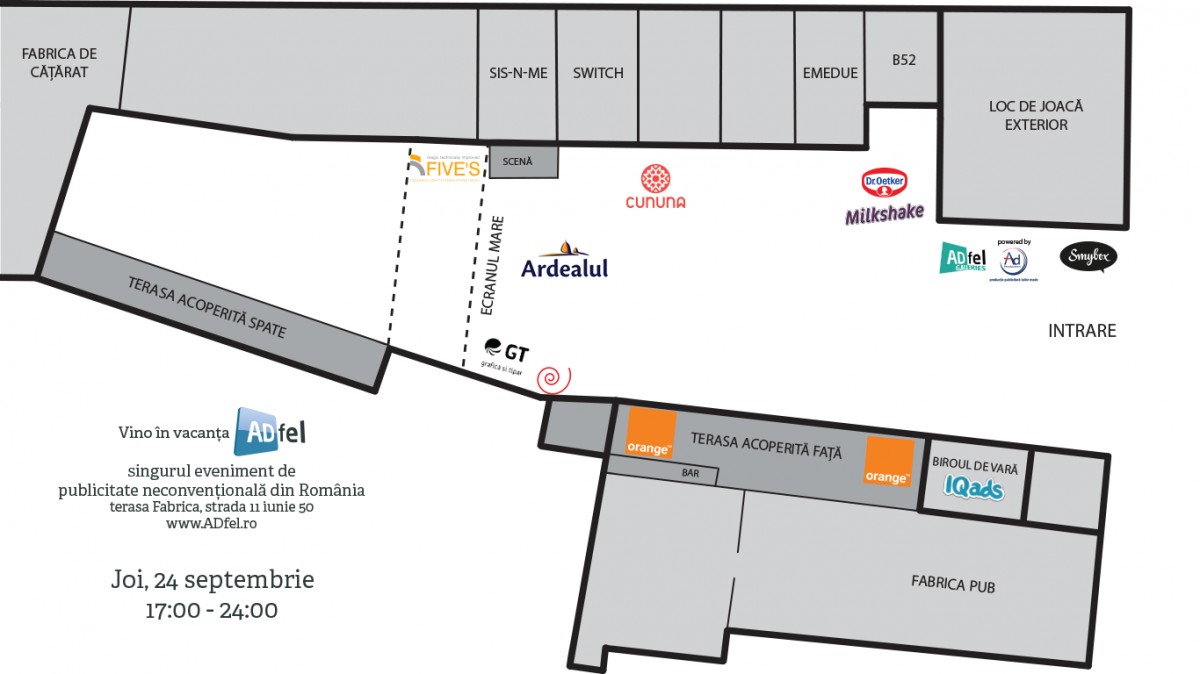 In timp, incepem la 18.00 si terminam cand va plictisiti de activari neconventionale. Pariem ca niciodata?
In cuvinte putine, cat sa va starnim curiozitatea, seara va arata asa:
Branduri prezente la ADfel - 18.00 - 23.00
Orange
Portret de Familie
Stress'o'Metrul
alte surprize
La ADfel, Orange te ajuta sa dai mana cu mana cu prietenii si tehnologie, dar si sa-ti testezi memoria sau nivelul de stres prin activarile la care te invita toata saptamana.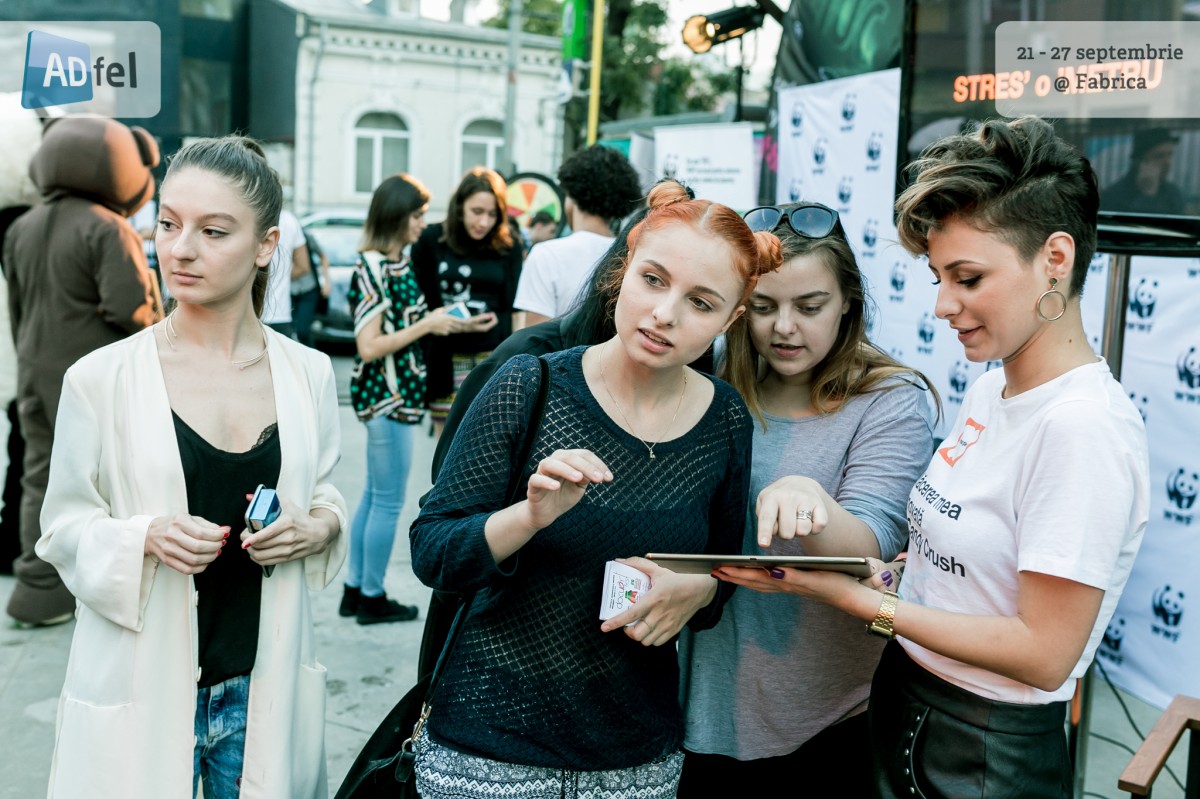 Credit: Miluta Flueras
Milkshake by Dr. Oetker
The Shaky Challenge
Pentru prima seara la ADfel 2015, Milkshake de la Dr. Oetker vine sa-ti testeze rezistenta la distractie: ne indoim ca o sa poti refuza provocarea de a-ti prepara un milkshake neconventional. Cum? Trebuie sa veniti sa vedeti ce v-am pregatit in cltul The Shaky Challenge:
Grand Spoof by Ardealul
Incepand cu ora 21.00, continuam seara cu proiectiile Grand Spoof by Ardealul: vedeti cele mai bune 13 lucrari pe care le vom premia, multe hohote de ras mai tarziu.
Cununa
Casa Cununa
Masa Cununa
Cununa pentru cei care (cred ca) merita
Daca te simti neapreciat, Cununa te fericeste si-ti pune pe cap o cununa adevarata, cu tot cu o ceremonie si-un piedestal, printr-o activare graitoare de la sine: Cununa pentru cei care (cred ca) merita. Asaza-te si la masa lor, pregatita cu la fel de multa migala ca si produsele cu care se mandresc. 
Five's
How to Turn Events into Performing Arts
Five's te invita la un demo de lumini, de unde sa pleci cu idei: cum sa-ti faci evenimentele sa sune si sa arate mai bine, fie ca esti agentie, client sau participant.
Activitati ADfel - 18.00 - 23.00
Smybox
Photobooth ADfel
Zambeste, click, poza instant, amintire pe hartie, recuzita personalizata: conceptul Smybox e departe de cel al unei cabine foto traditionale. Bine te-ai pozat in lumea magica Smybox!
ADfel Projection
Proiectia de reclame a serii
O ora de reclame misto, pe ecranele din terasa.
ADfel Galleries
Galeria neconventionalelor romanesti
Traditie a evenimentului, ADfel Galleries te intampina si anul acesta cu studiile de caz ale campaniilor afara-din-cutie ce-au vazut lumina zilei in perioada in 2014 si 2015.
Despre ADfel
De zece ani, copilul neconventional al IQads intretine setea de publicitate altfel a publicului bucurestean. Singurul eveniment de branded entertainment din Romania, ADfel creeaza un playground in care brandurile si agentiile creative interactioneaza cu publicul. In cele 9 editii de pana acum, peste 100 de branduri si organizatii au venit cu peste 400 de idei implementate pentru mai mult de 7.000 de participanti pe an.