GMP Advertising se numara printre castigatorii primei editii a festivalului international Ad Black Sea, cu doua campanii: "Veteranii Depresiei", derulata in parteneriat cu TVR, si "Cu totii gresim. Noi si platim", promotia neconventionala cu care Westwood, marca a DOMO SRL, a cucerit piata de retail in aceasta vara.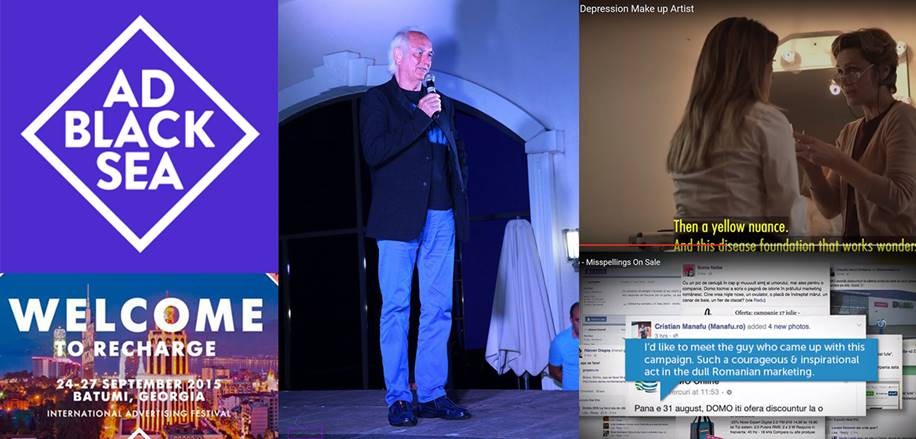 Veteranii Depresiei a obtinut argint la categoria Best Video Content, unde a participat cu spotul The Depression Makeup Artist Film, in timp ce campania "Cu totii gresim. Noi si platim" a obtinut bronz la categoria Best Idea, in fata unui juriu condus de Michael Conrad, presedintele Berlin School of Creative Leadership.
Veteranii Depresiei este o campanie derulata in parteneriat cu TVR care si-a propus sa scoata aceasta afectiune din randul subiectelor tabu.
"Cu totii gresim. Noi si platim" este campania promotionala pentru brandul Westwood, care se regaseste exclusiv in magazinele Domo SRL.
"Cred cu tarie ca ceea ce vinde este o idee noua, simpla, dar care are puterea sa schimbe ceva pentru consumator in mai bine, sa-l ajute cu adevarat, sa-i usureze viata, sa-l scape de probleme. Sa-l faca sa se gandeasca – cum de n-am stiut asta pana acum!", a spus Kim Kolner (CEO DOMO SRL).
GMP Advertising a fost short-listata cu cele doua campanii pentru Volkswagen: Long Distance Love si Know When to Stop.
Festivalul Ad Black Sea se afla la prima editie si este organizat de Association of Communication Agencies of Georgia in colaborare cu All-Ukrainian Advertising Coalition. Debutul sau in industria de advertising se bucura de succes, festivalul adunand 386 de inscrieri din 14 tari, printre care: Georgia, Ucraina, Russia, Romania, Belarus, Bulgaria, Kazakhstan, Turcia sau Suedia.