Recent incheiata, campania ,,Upgrade de vara'' isi trimite castigatorul intr-o vacanta perfecta unde vrea el, demonstrand ca poti avea parte de o vacanta de neuitat si, in acelasi timp, de o viata financiara relaxata, cu ING Credit Card si ING Bazar.
N-a fost nevoie de un studiu realizat de cercetatorii britanici, nici de sondaje de opinie: e lucru stiut ca vara ,,vacanta'' e pe buzele tuturor: unde mergem, cu cine mergem, cand ar fi cel mai bine sa plecam. Sa fie munte, sa fie mare, sa fie o destinatie in care n-am mai fost pana acum? Mergem la relaxare sau facem un weekend prelungit de sporturi extreme? Oricare ar fi in final raspunsul, cu totii ne dorim ca vacanta sa fie PERFECTA, daca nu cel putin mai reusita decat cea de anul trecut.
Cum experienta ne-a aratat ca intrebarea imediat urmatoare e ,,oare imi ajung banii?'', iar acest pas se pune de multe ori in calea fericirii noastre, ING si SeniorHyper ne-au indemnat sa facem un exercitiu: sa ne jucam cu "leutii" in asa fel incat sa facem upgrade-uri la vacanta fara sa depasim suma alocata. Ca in viata reala, bugetul a fost limitat.
"O vacanta la... Sovata, sa zicem, nu se compara cu una la Predeal, care nu se compara cu una la Navodari (ba... se compara), care nu se compara cu una la Praga, care nu se compara cu una la Disneyland. Nimic nu se compara cu vacanta la Disneyland! Cred ca din ganduri din astea a iesit "Upgrade de vara". Pana la urma, cu totii vrem sa ne upgradam si ce inceput e mai bun ca o vacanta?!", povesteste Vasile Alboiu (Chief Creative Officer) despre ideea de la baza campaniei.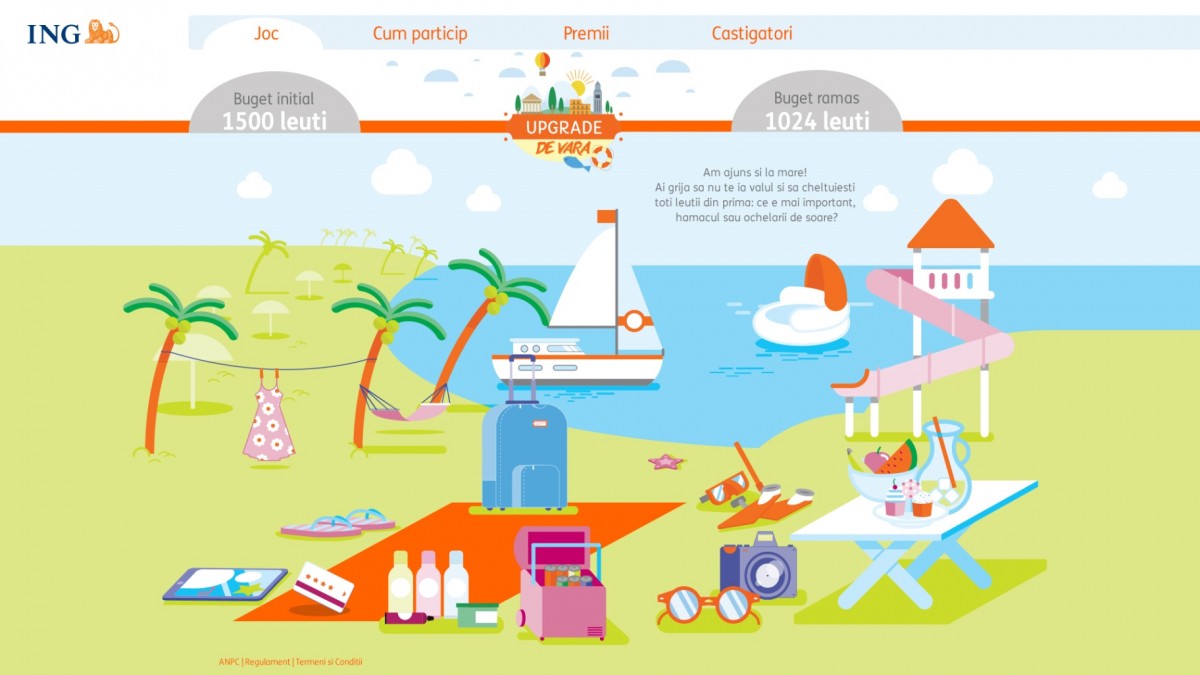 Concret, aplicatia ,,Upgrade de vara'' a pus userii fata in fata cu 3 ,,oferte'' de vacanta - la mare, la munte si un city break – pe care acestia, pornind de la un buget fictiv, le-au putut upgrada dupa bunul plac, la pret intreg sau redus, daca alegeau ING Credit Card sau ING Bazar. Inlocuind, de exemplu, aparatul foto de antepenultima generatie cu unul profesionist, cortul cu o cabana la poalele muntelui sau barcuta cu vasle cu un iaht cochet, fiecare participant si-a putut crea vacanta perfecta pentru el.
In linie cu conceptul campaniei, pe pagina ING Web Cafe au fost organizate concursuri la care userii puteau castiga selfie stick-uri pe care sa le ia cu ei in concediu. In acelasi timp, aplicatia a fost sustinuta de o serie de posturi pe Timeline cu hashtag-ul #acasainvacanta, care le-au dat fanilor sfaturi si sugestii despre activitati si evenimente cu care isi pot upgrada vara fara sa-si goleasca buzunarele.
Echipele
Din partea ING au contribuit Dana Gretcu (Digital Marketing Manager), Dana Maria Stefan  (Senior Marketing Officer Marketing&Communication Department) si Cristina Micu (Head of Marketing and Customer Strategy).
Echipa care a dat nastere acestui proiect este formata din: Vasile Alboiu (Chief Creative Officer), Christiana Zodila (Copywriter), Laurentiu Stere (Art Director), Eduard Felegeanu (Illustrator), Nicoleta Stanciu (Account Manger), Valentin Nenu (Account Director), Madalina Barbu (Account Director) si Catalin Ungureanu (Project Manager)