Pasaaa, suuuuut si ……pizzaaaa! Chemam pe teren toti iubitorii de fotbal si de pizza si le oferim un motiv in plus sa se bucure de Campionatul European.
Pentru perioada meciurilor, Jerry's Pizza alaturi de Tribal Worldwide Romania au creat o pizza cat se poate de altfel. The Half-Time Pizza aduce arome inspirate de meciul principal al zilei intr-un singur teren, adica pe o singura pizza. Combinatia se schimba in fiecare zi, in functie de tarile care joaca in cel mai asteptat meci al zilei. O noua zi cu meci, o noua pizza – editia speciala Half-Time Pizza poate fi comandata pana la finalul campionatului.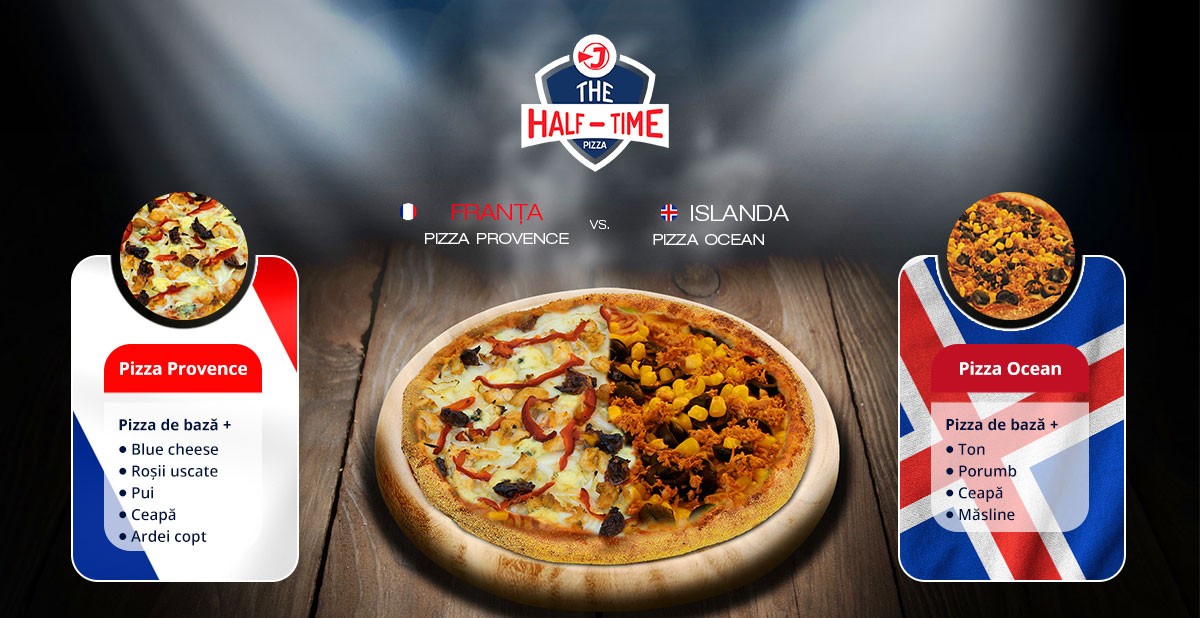 Componenta de produs special este dublata de o campanie puternica in mediul digital, cu o serie de ajustari aduse strategiei de social media si o campanie media care foloseste Programmatic display ads pentru a expune mesajul The Half-Time Pizza publicului potrivit.
Activarea de social media pune in prim-plan faptul ca pizza este mereu mai buna atunci cand o imparti cu cei apropiati. Pentru a le oferi si prietenilor din lista de Facebook sansa de a lua o pizza acasa, utilizatorii pot da si share unei felii din site pe social media.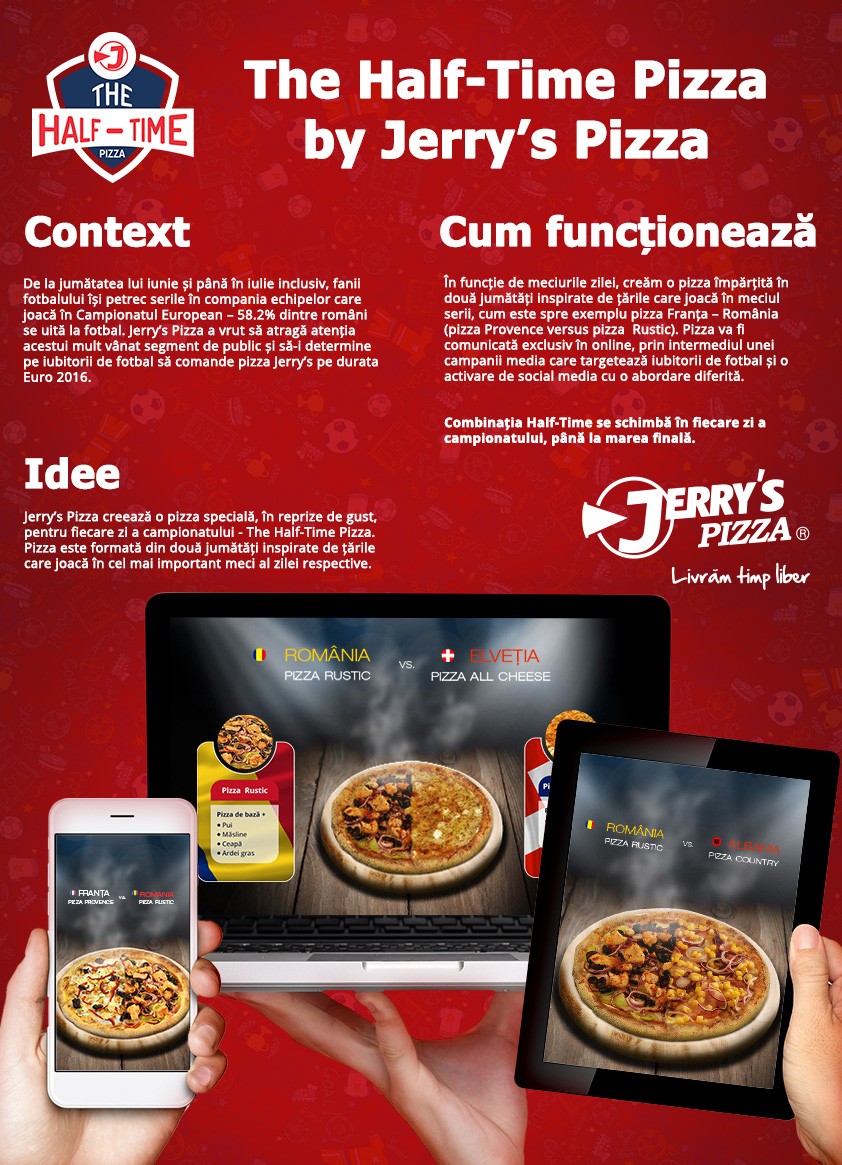 "Intr-o perioada in care toate brandurile incearca sa atraga atentia suporterilor, desi livrarile de pizza si fotbalul sunt doua lucruri care merg mana-n mana, simteam totusi ca aveam nevoie de ceva "un pic altfel" pentru a iesi in evidenta. De aceea, ideea inaintata proactiv de catre Tribal Worldwide Romania s-a potrivit la fix. Este simpla, inovatoare si inspirata de pasiunea pentru fotbal si pentru pizza. Este exact ceea ce cautam pentru a fi in mintea suporterilor, dar si "la usa lor" exact cu ceea ce au nevoie la momentul meciului - o pizza inspirata de meciul serii respective.", a declarat Gabriela Dauteuil (Marketing Manager Jerry's Pizza).
"Ne-am bucurat cand echipa Jerry's Pizza a primit cu entuziasm ideea The Half-Time Pizza si ne-a ajutat sa o ducem la capat exact asa cum ne-am imaginat-o, de la logistica implicata la felul in care ideea prinde forma in social media. Este o idee cu o strategie bine gandita, menita sa atraga atentia unui target foarte greu de prins in aceasta perioada, insa curajul brandului va fi rasplatit pe masura, iar rezultatele se vor vedea imediat.", adauga Cora Diaconescu (Head of Digital Tribal Worldwide Romania).
Pe langa mobilizarea digitala, The Half-Time Pizza a ajuns si la bloggeri, unde a marcat un 'GOOOOOOOOOOOL' la capitolul gust – bloggerii au primit cate o cutie speciala de pizza, cutie care surprinde perfect spiritul celor mai infocate meciuri.
The Half-Time Pizza marcheaza inceputul parteneriatului digital intre Tribal Worldwide Romania si Jerry's Pizza.