In primul rand, trebuie sa te prezinti la datorie. Indiferent cum te simti in ziua unui concurs de gatit, te ridici din pat, te imbraci si te prezinti. Deja te numeri printre curajosi. Mai departe, iti trebuie doar un flow clar, rabdare netarmurita, concentrare mai ceva ca la birou si obligatoriu o portie de dragoste de asezat printre randuri in farfuria care vrei sa te reprezinte. Astea sunt lectiile primei editii a Cupei Marketerilor la Gatit by Lidl, sustinuta de Electrolux si plasata in aer liber la Gradina Eden. Dar nu va mai tinem cu teoria, trecem la partea practica.
Ce au gustat juratii in Finala 
Finalistii nostri, alesi dupa punctajele obtinute in calificari, au gatit ieri in doua serii. Le luam pe rand.
PepperCo (Pepco + Geometry Global) au lucrat foarte bine in echipa, ca de obicei, demonstrand chimia pe care doar experienta Cupelor anterioare o poate construi. Capodopera lor: un desert pe baza de lamaie care a primit aplauzele juriului inaintea oricarui comentariu.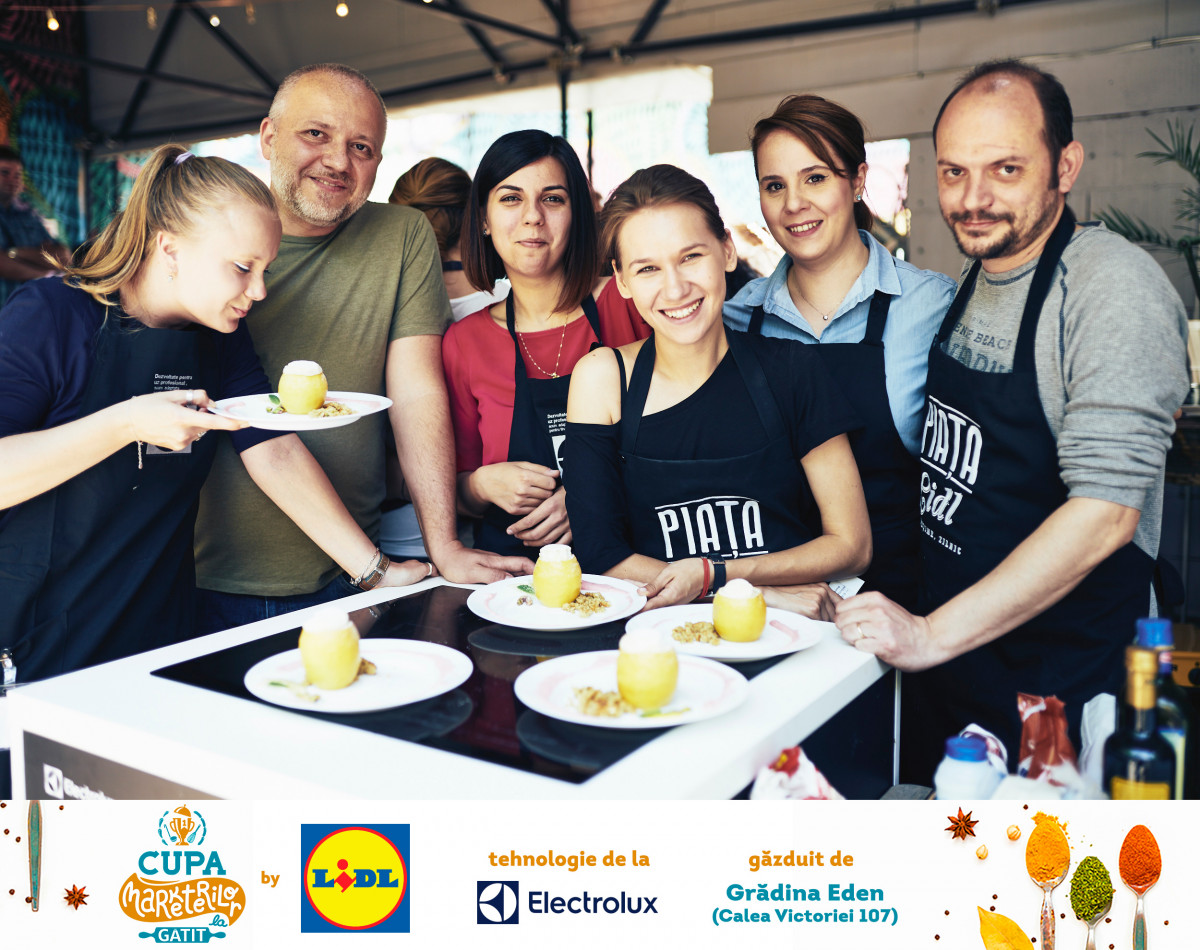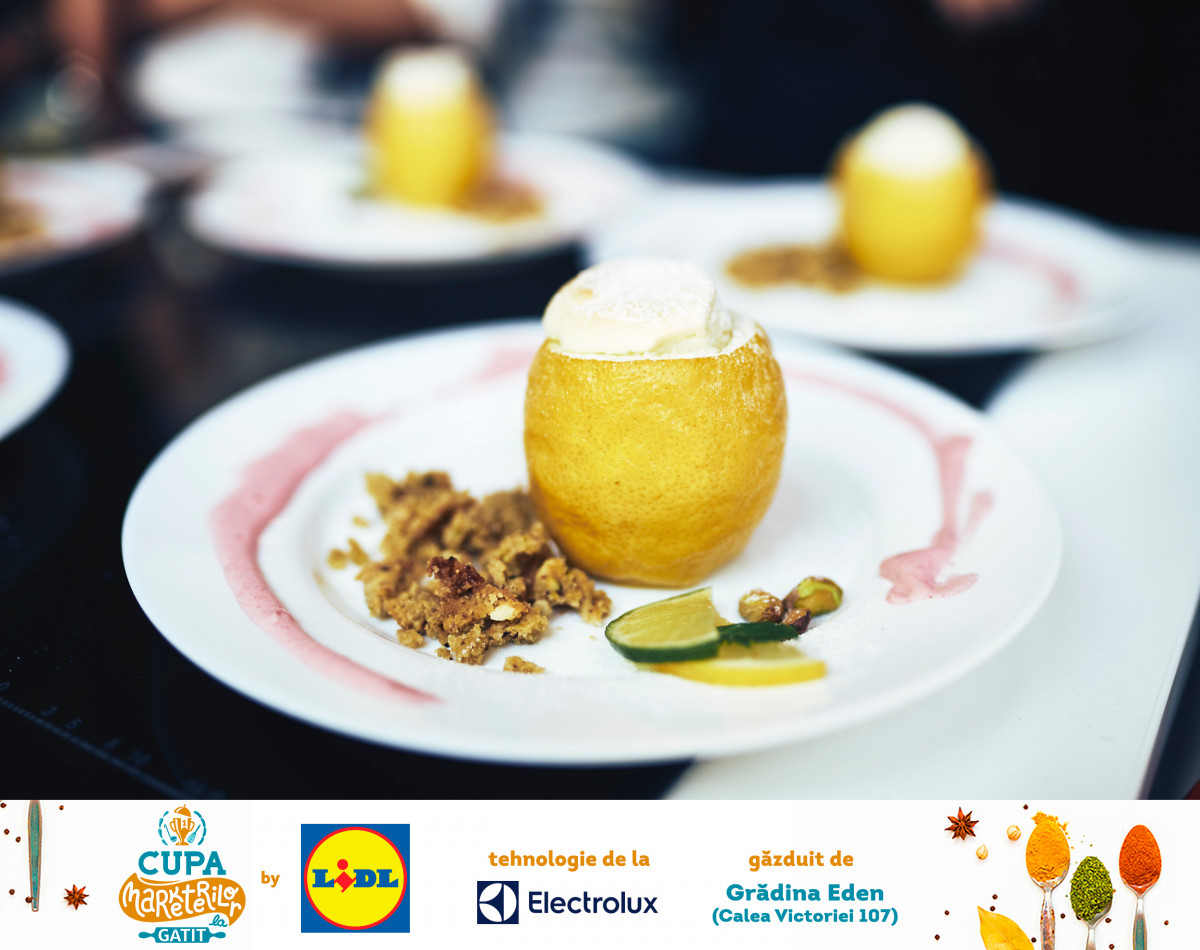 Frezuitii (Frez) au imbatat un vitel cu vin fara prea multe retineri si l-au transferat pe-o farfurie;  brieful le spunea sa gateasca singurul fel de mancare care i-ar putea salva de sub rapoarte si mail-uri. Are sens.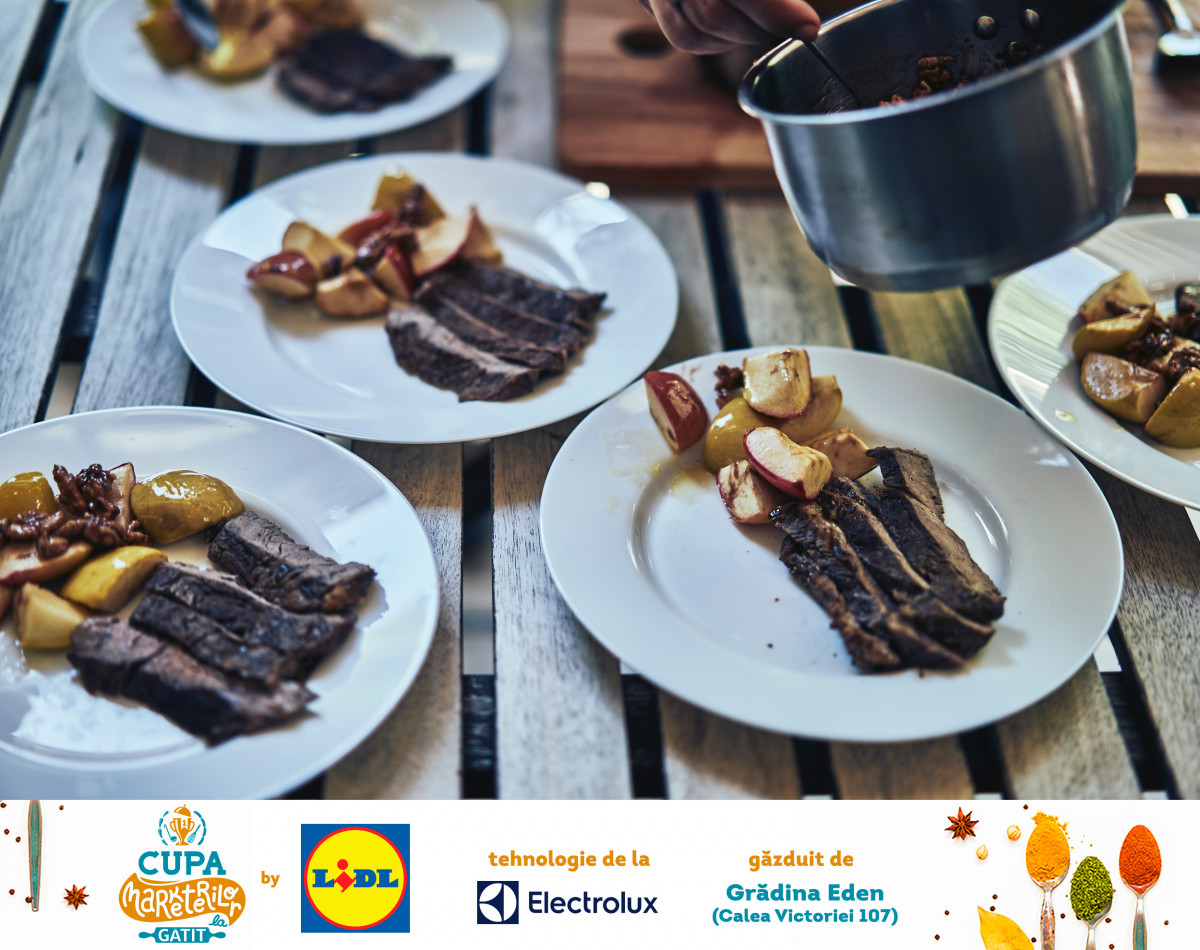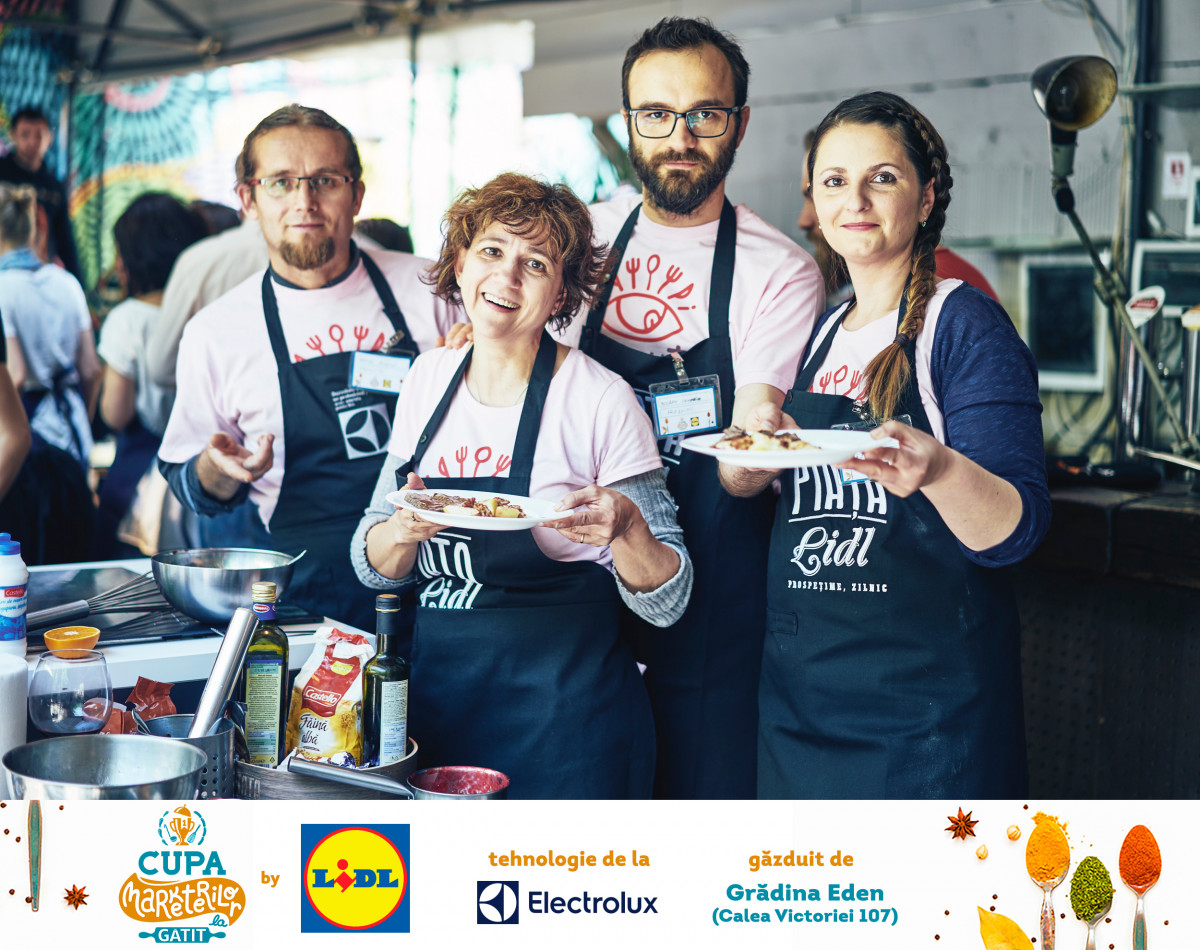 Chefele la cuvinte (Antena Group) au primit un brief care spunea ceva de tipul: gateste ceva care sa seteze relatia de colaborare a unui nou sef de departament de marketing cu viitorii subalterni. Au ales un dish de baza, caruia i-au adaugat un twist: o supa de ceapa combinata cu peste.
Verdictul: felicitari pentru efort si curaj, gusturile nu prea se imbinau insa asa bine (citam juriul, de gustat n-am apucat).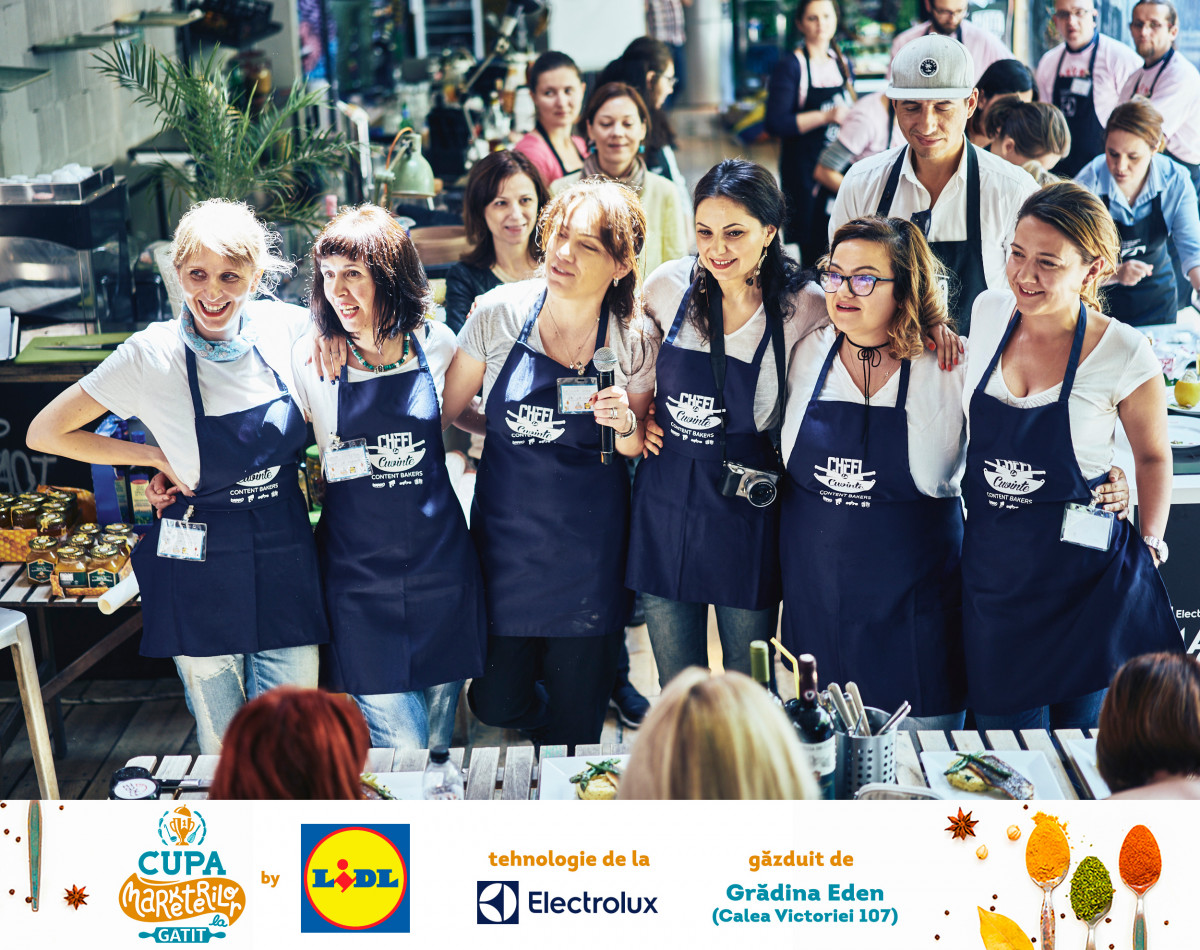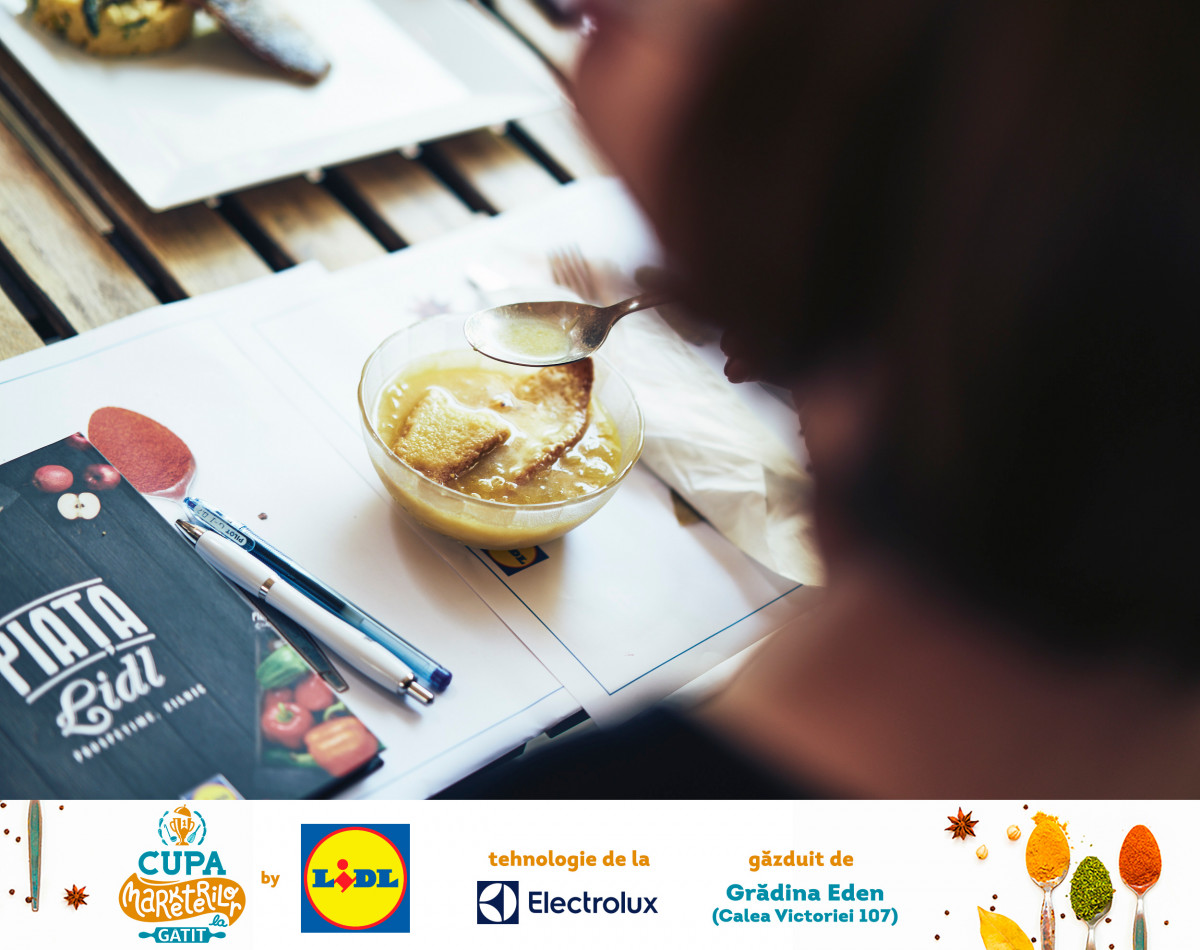 [Pauza publicitara] Se putea intampla oricui: uneori, agitatia devine prea mult, chiar si la o competitie de gatit unde vii mai degraba sa razi decat sa castigi. In aceste momente, aveai optiunea sa evadezi de la bancul de gatit spre un bar cu smoothie-uri fresh pregatite pe loc cu materii prime din #PiataLidl.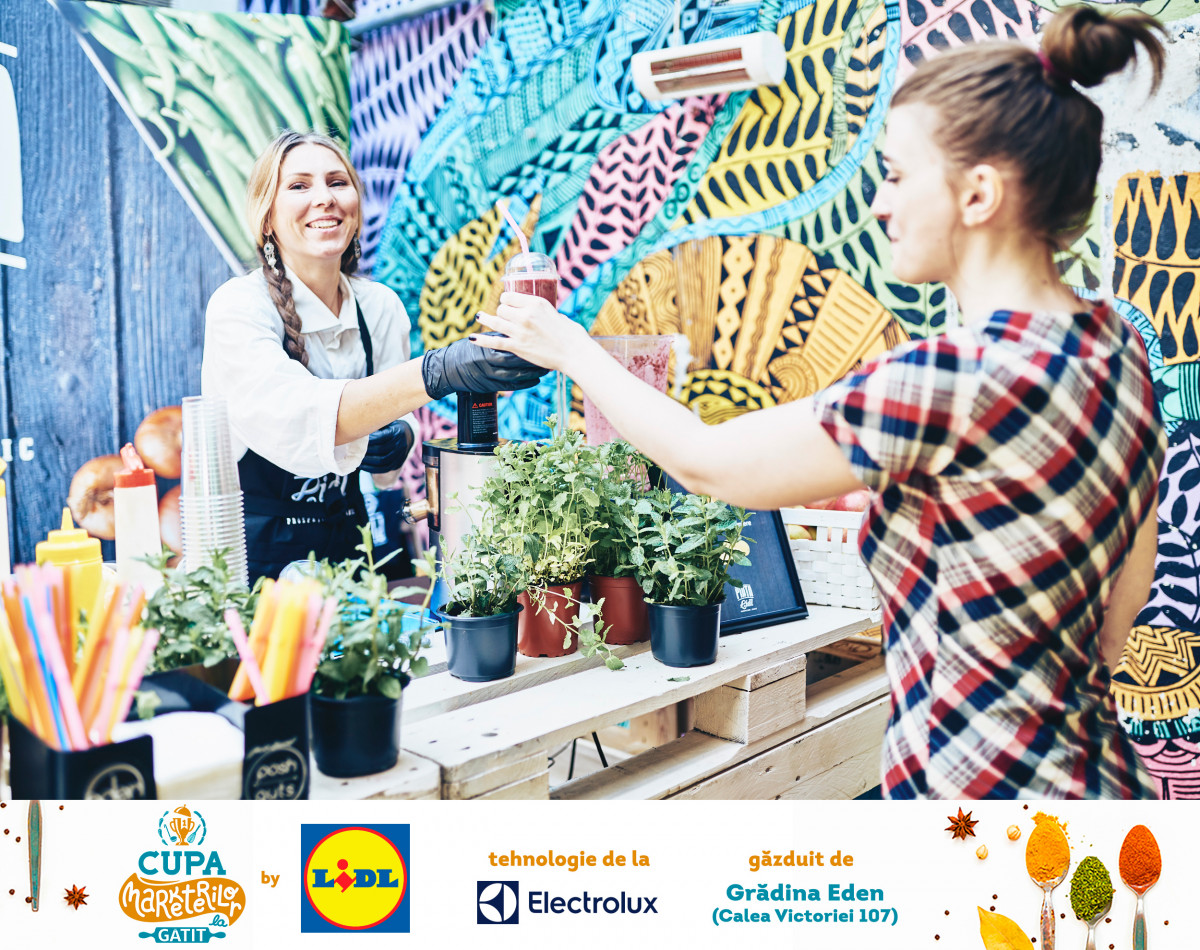 A doua serie i-a adus la statiile de gatit pe ultimii 3 dintre finalisti, dar nu si cei din urma, dupa cum vom vedea la prezentarea podiumului.
Under-cooks with Better Looks (World Class Romania), echipa participanta pentru prima data la o competitie de gatit, ai carei membri nu se cunoasteau dinainte, au gatit viguros un dish bazat pe fructe de mare. Spoiler alert: la jurizare, s-au auzit cuvintele "revelatia acestei competitii".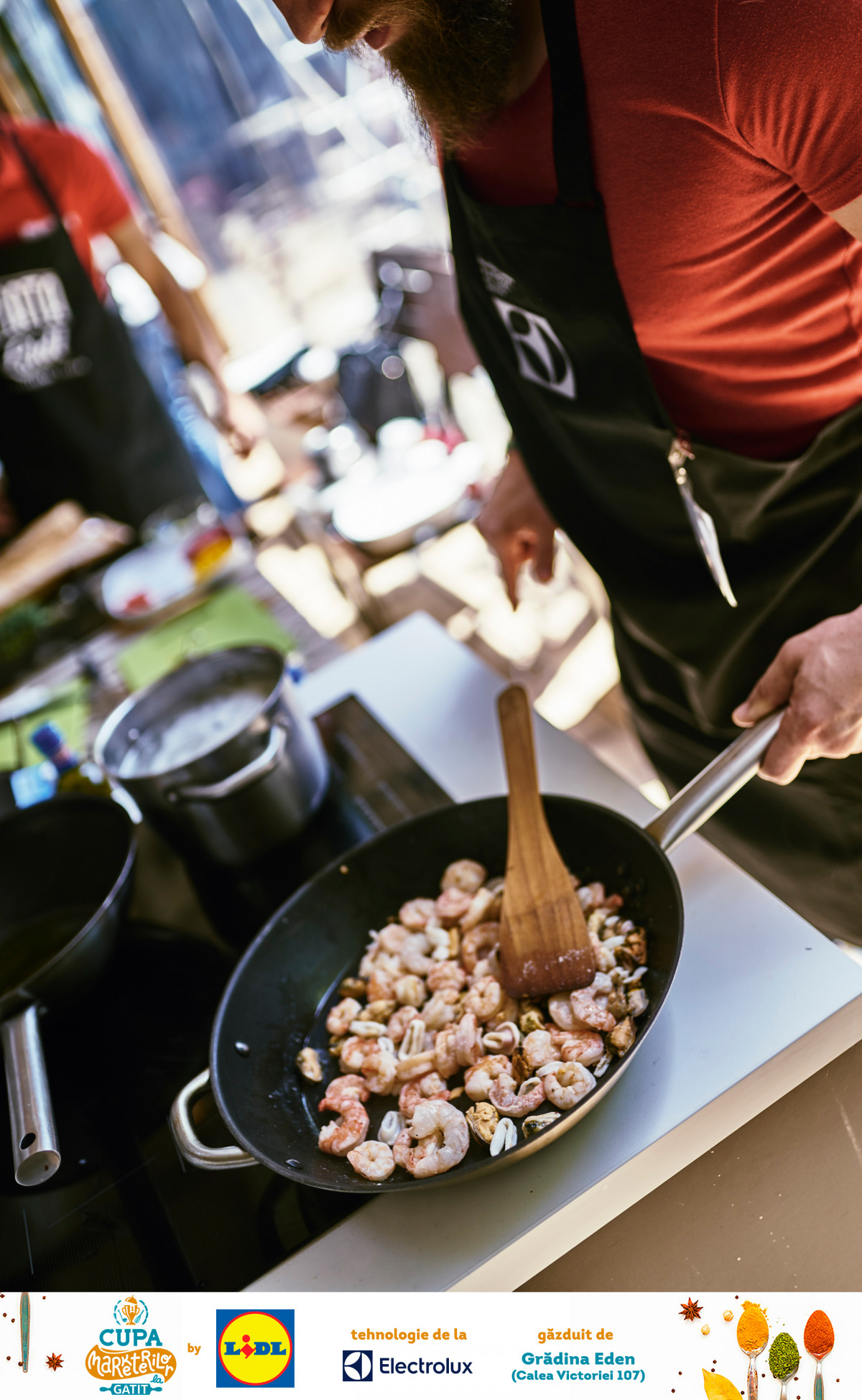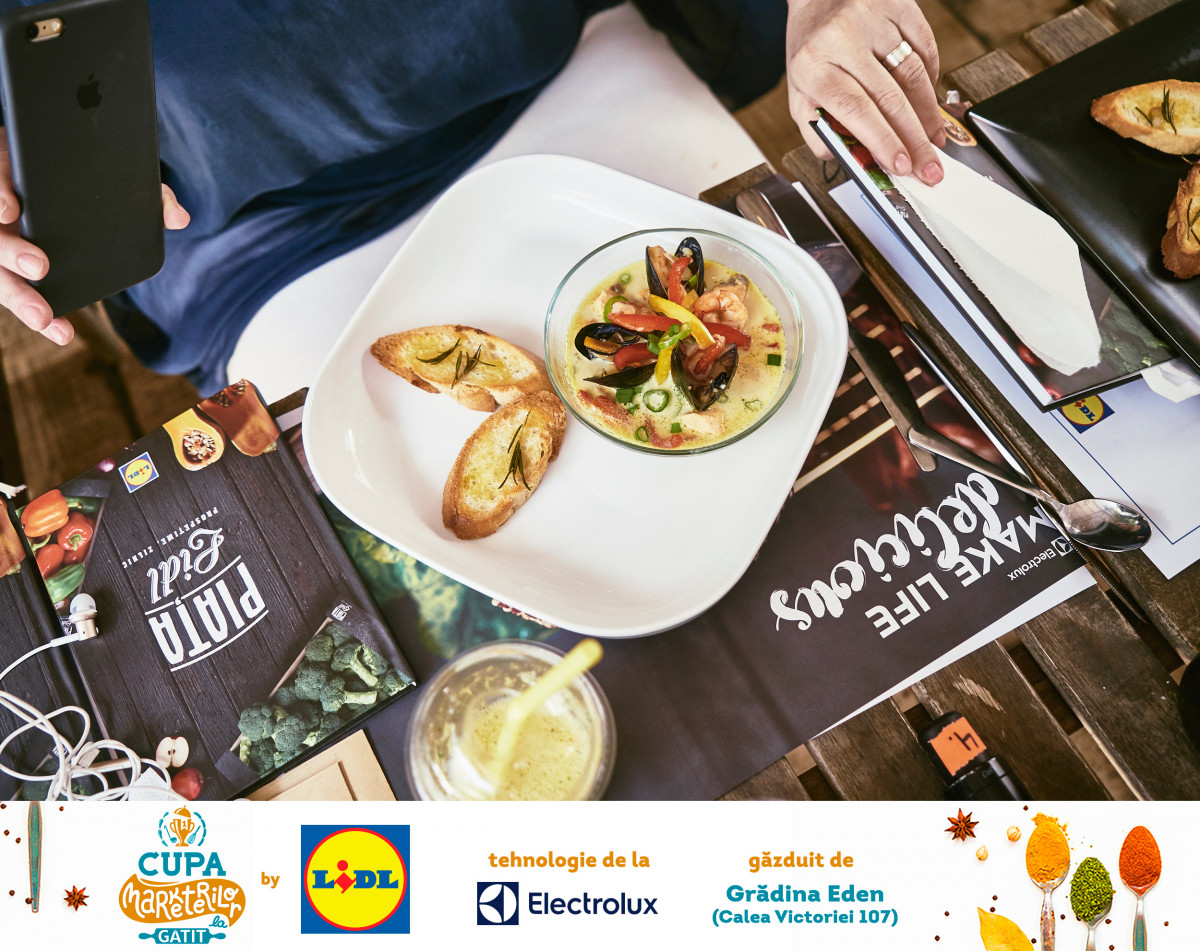 Echipa Alfredo (Alfredo) a primit si o porecla in decursul Cupei Marketerilor la Gatit by Lidl, dar nu s-au suparat. Juratii i-au numit "Pescarii", toate dish-urile lor bazandu-se pe retete cu peste. Daca vorbim de felul preparat in Finala, pestelui i-a revenit alaturi si niste sparanghel gatit la perfectie (cine stie cunoaste).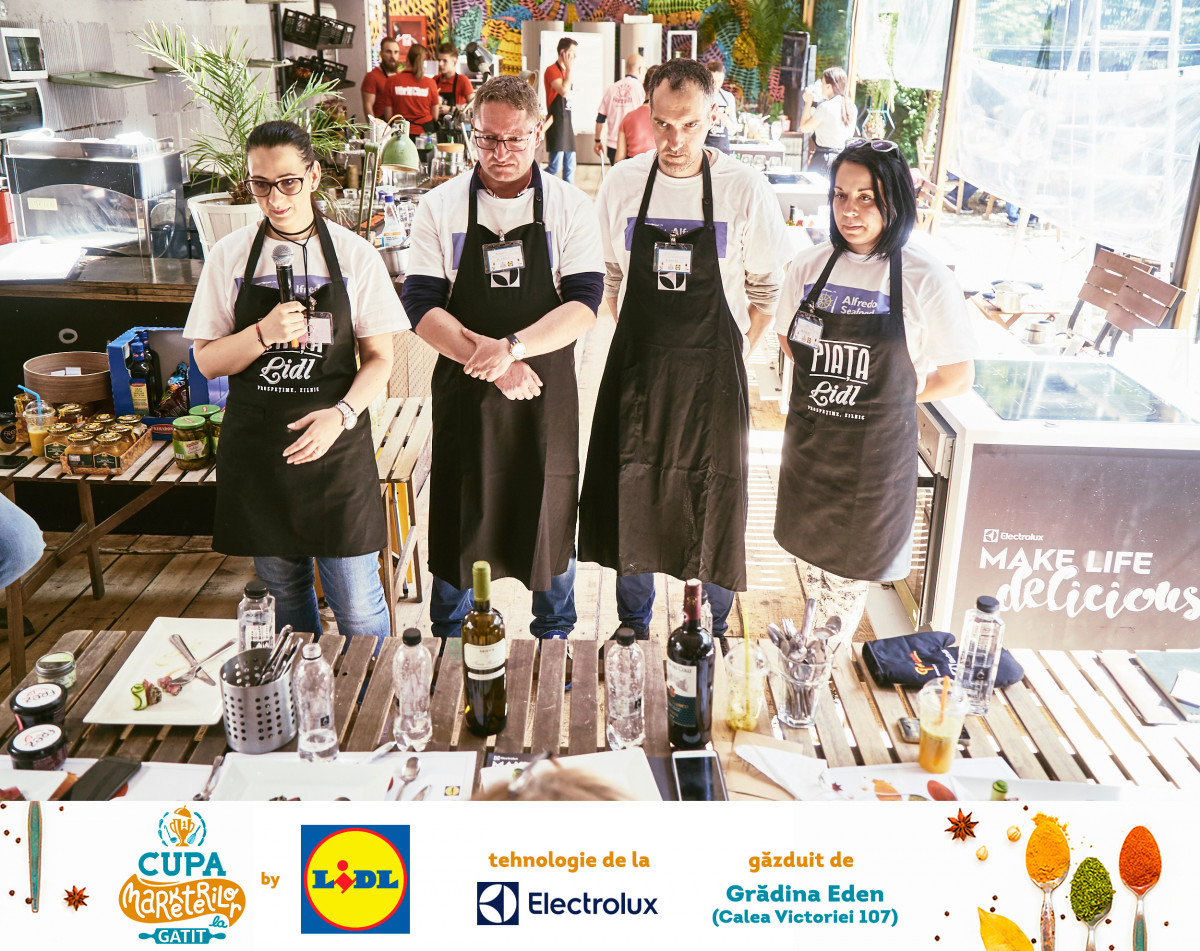 Cocktail Wizards (Cocktail Holidays) pareau la un moment dat putin ingrijorati  Dar a intervenit in schema Chef Alex Cirtu (asa cum ar fi facut pentru oricare dintre participanti) si pana la urma totul a iesit cum vedeti mai jos (splen-did).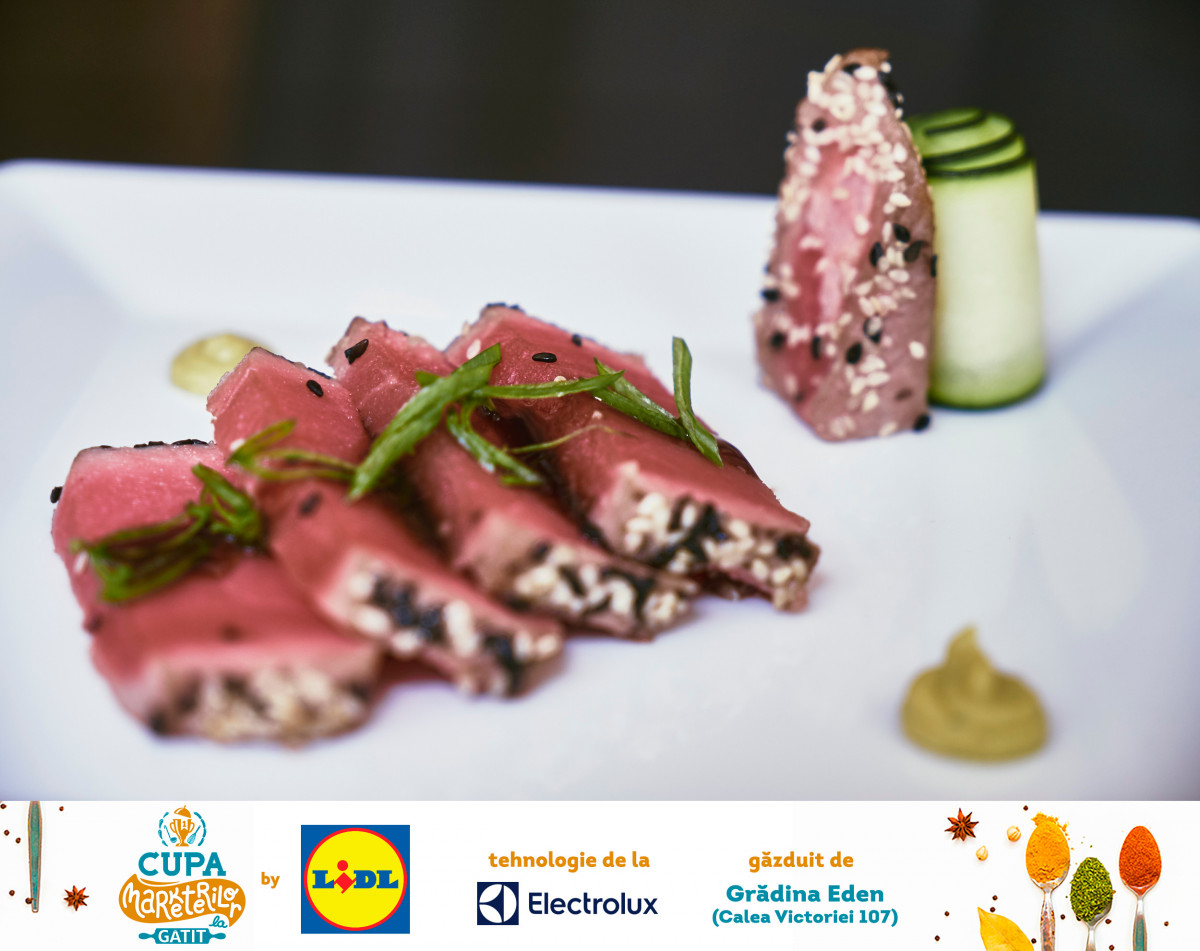 Campionii primei editii a Cupei Marketerilor la Gatit by Lidl
Si gata ne-a fost cu truda in bucatarie, acum urma deliberarea finala si acordarea premiilor. N-o sa va povestim in ce fel s-a deliberat, daca au fost sa nu neintelegeri, daca vreun jurat avea sau nu preferati si daca facea advocacy pentru ei in fata celorlalti membri ai juriului. Va dam direct rezultatul acestor lupte de putere.
Pe primul loc, campioni absoluti, o echipa care si-a format chimia in bucatarie direct la eveniment, Under-cooks with Better Looks. Principalul dish cu care au impresionat juriul in prima zi a fost pe baza de vanata si iaurt, iar rezultatul va intra in meniul vegetarian LifeBox, dupa cum a anuntat Alex Cirtu.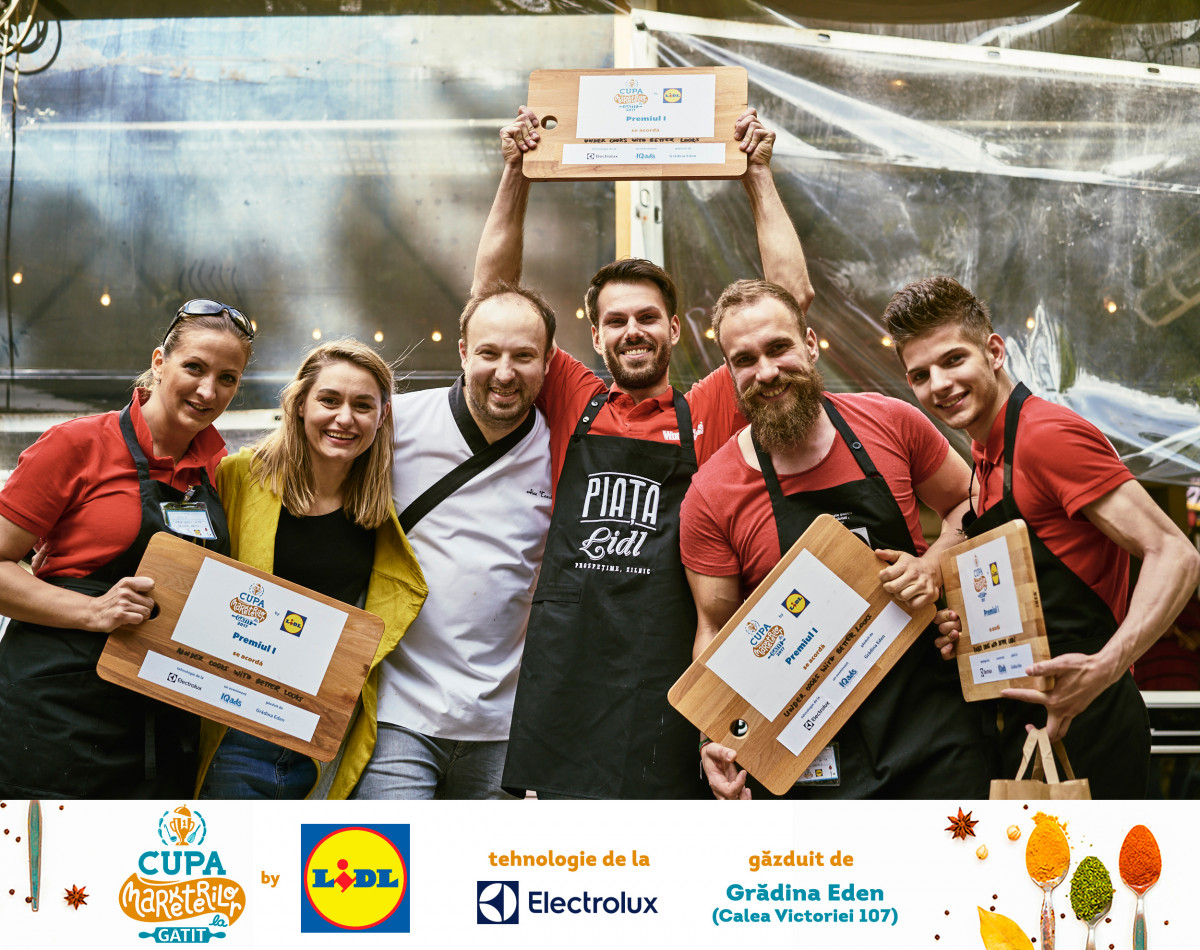 In continuare, premianti au fost PepperCo, o echipa care ne-a vizitat la Cupele Agentiilor sub o alta identitate (#CuDeToate) si care nu se afla la distanta foarte mare de primul loc nici de data asta. Overachieveri, ce sa le faci? Ii premiezi si gata.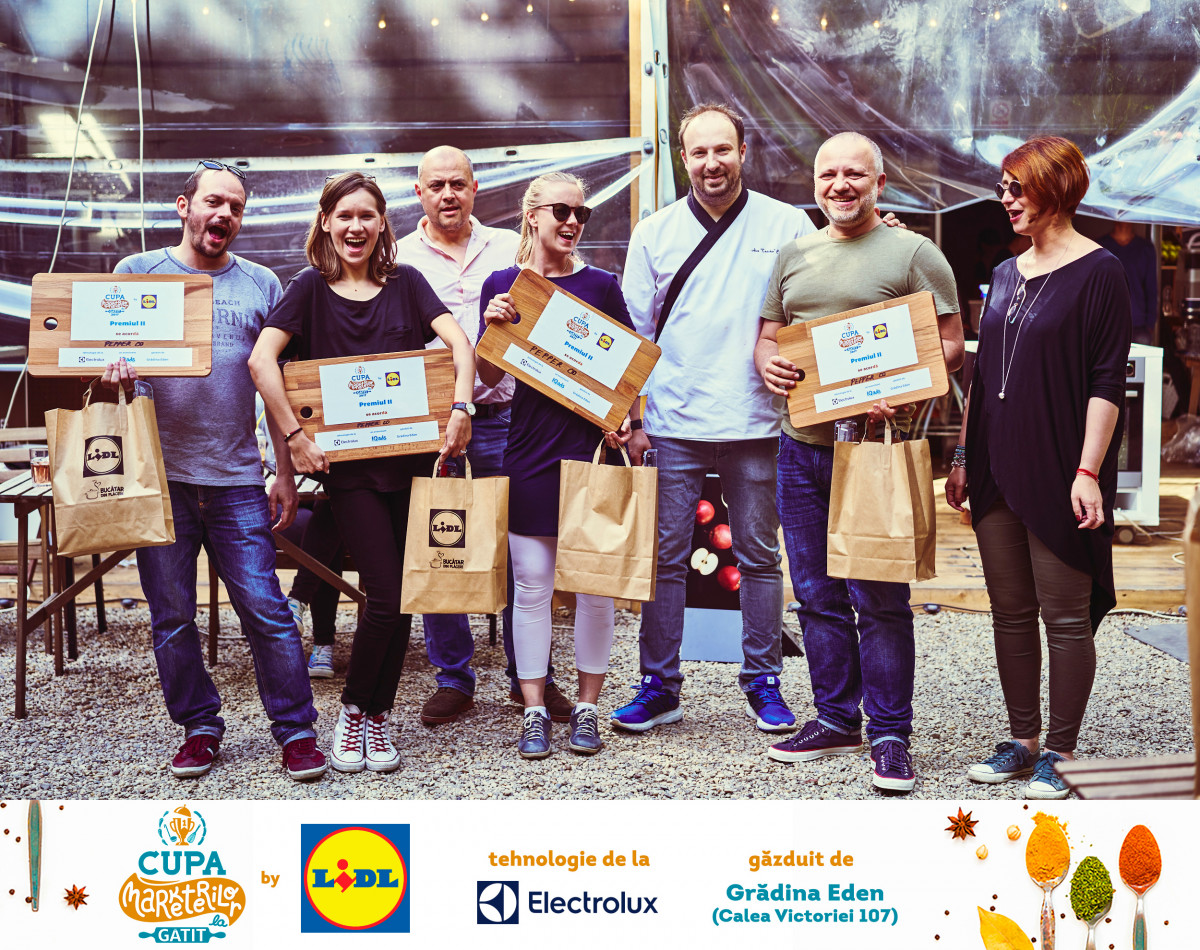 Pe locul al treilea s-au clasat Pescarii, aka echipa Alfredo (Alfredo).  Spuneau ca nu se asteptau sa ajunga pana aici, dar iata culmile nebanuite pe care te ridica dish-urile pe baza de peste gatit corect.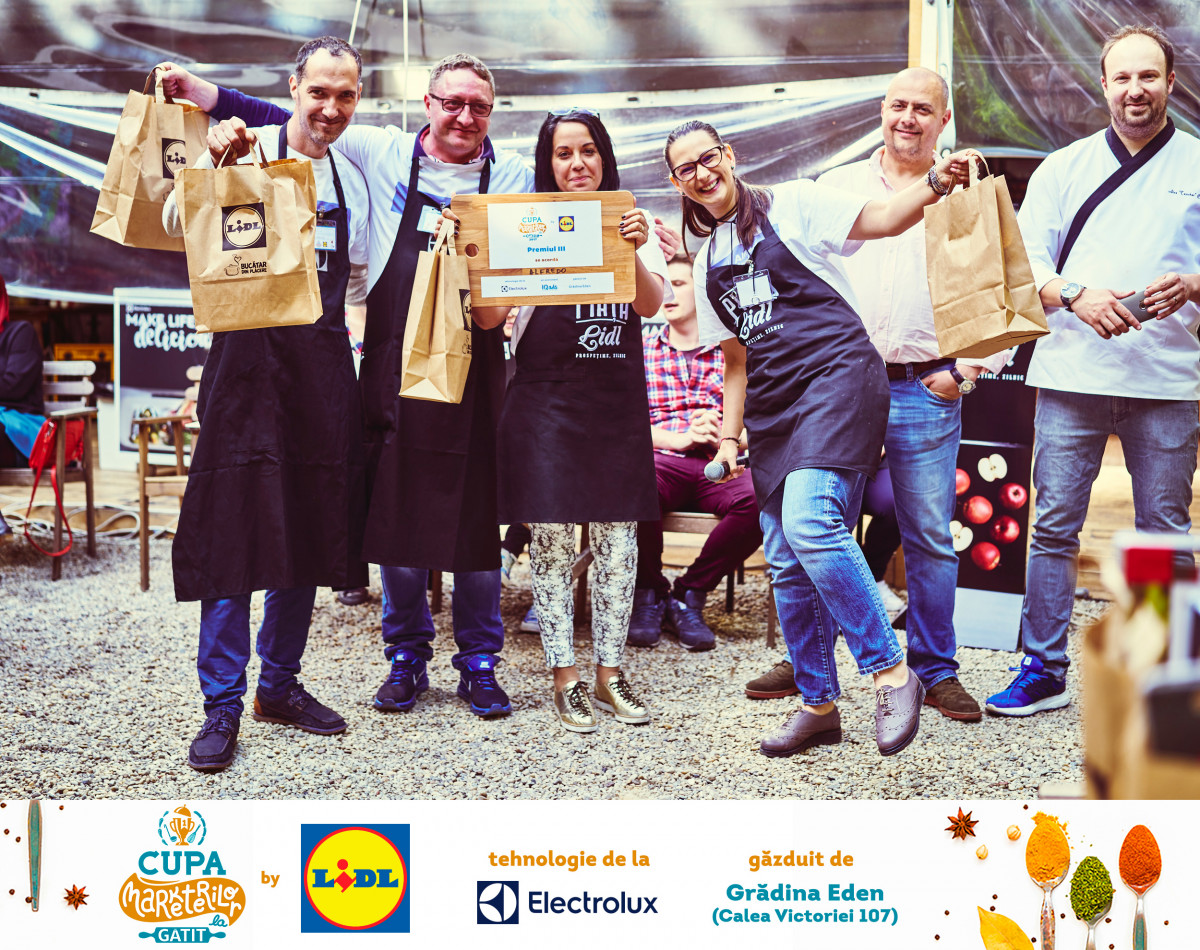 A urmat podiumul Electrolux, nu foarte diferit de scorurile obtinute overall de catre echipe; reamintim ca punctajul pentru proba speciala #MakeLifeDelicious avea ca prioritatea creativitatea dish-urilor preparate dupa briefurile trase la sorti de pe parcursul competitiei.
Astfel, pe locul I au iesit cei 4 Under-cooks with better looks (World Class), pe locul al II-lea s-au clasat PepperCo (Pepco + Geometry Global), iar pe locul al III-lea i-am avut pe cei de la Cocktail Wizards (Cocktail Holidays).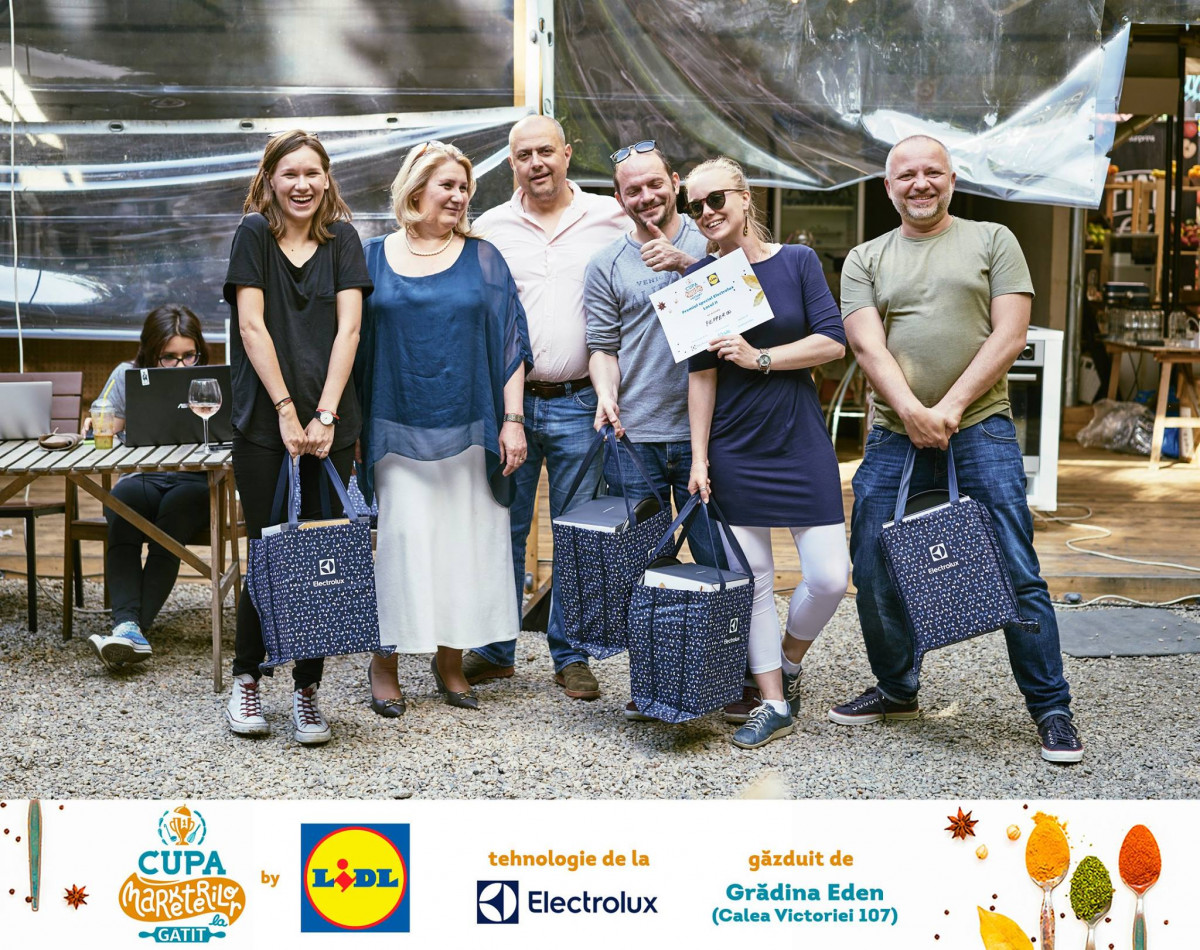 Am oferit si cateva premii speciale IQads, intre care amintim: premiul pentru "Cel mai aprig detectiv de condimente" a fost acordat echipei Cocktail Wizards si, in special, lui Francesco Terragni, ale carui cautari in mirodenii erau foarte vizibile pe sortul de bucatarie.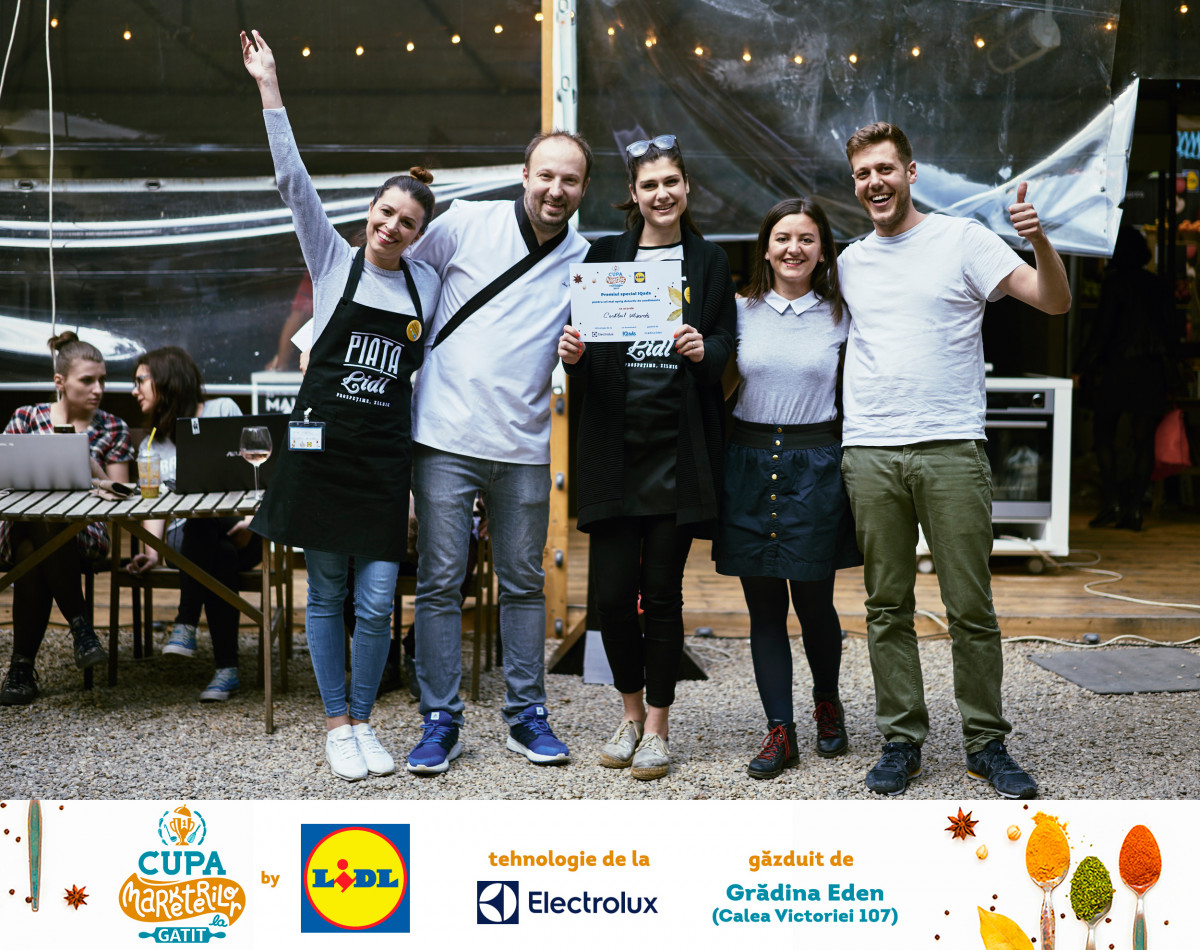 Au mai fost si premiile pentru "Cea mai albastra culoare de rosie", revenit echipei Chefs din Tara lui Andrei (Petrom) pentru indrazneala de a gati cu sfecla rosie; "Echipa care a facut cu biciu' minunea" a fost Chefi la cuvinte, pentru alaturarea pestelui cu supa de ceapa; premiul pentru "Cea mai aroganta dar eleganta propunere papilara" a fost acordat echipei Chez Vola.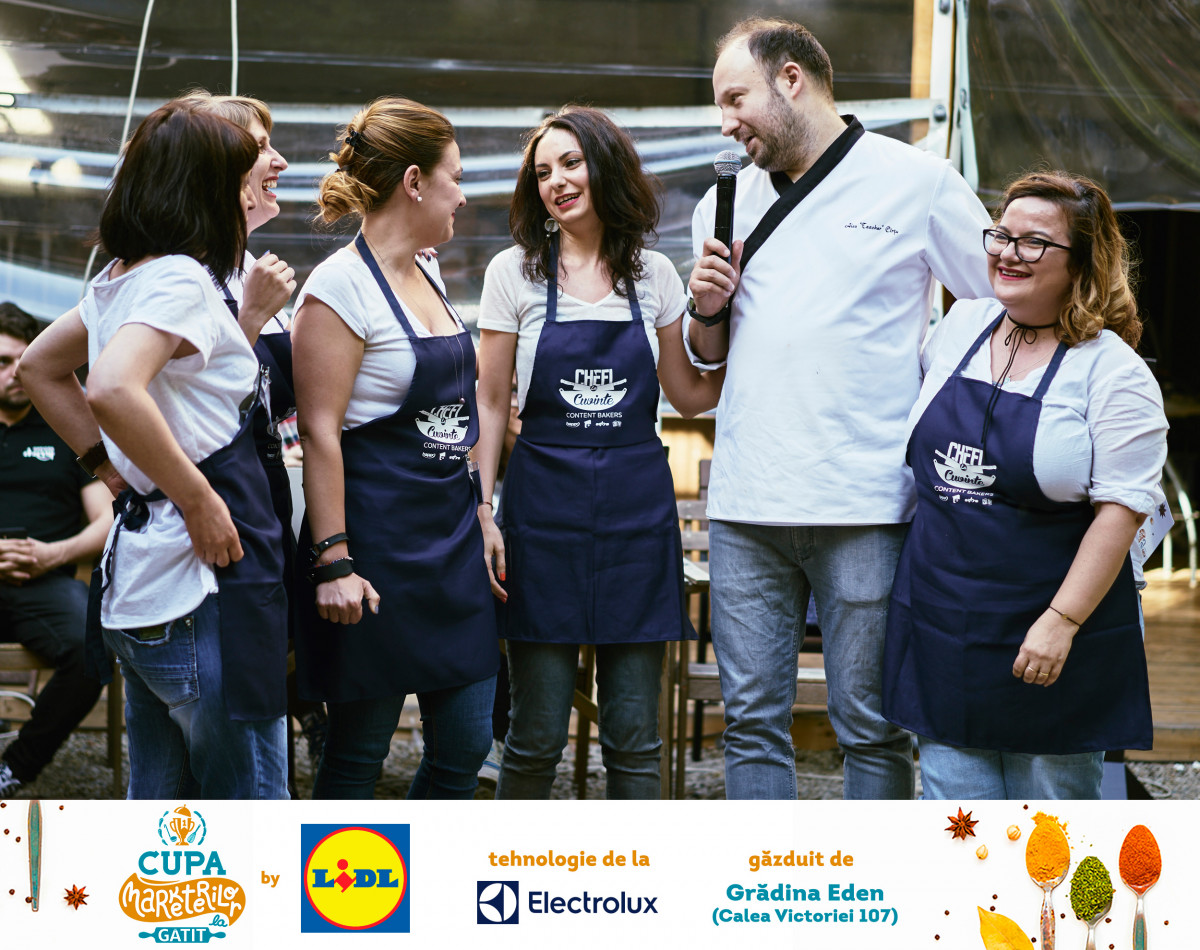 Asa s-a gatit si castigat la prima editie a Cupei Marketerilor la Gatit by Lidl. Gradina Eden a fost generoasa cu noi, vremea a vrut sa ne incurce pe la inceput, dar si-a revenit, iar juratii si participantii au fost exemplari. 
Acum, pana la anul, va lasam cu o vedere de final. #fieca bucataria sa va prinda si sa nu va mai dea drumul.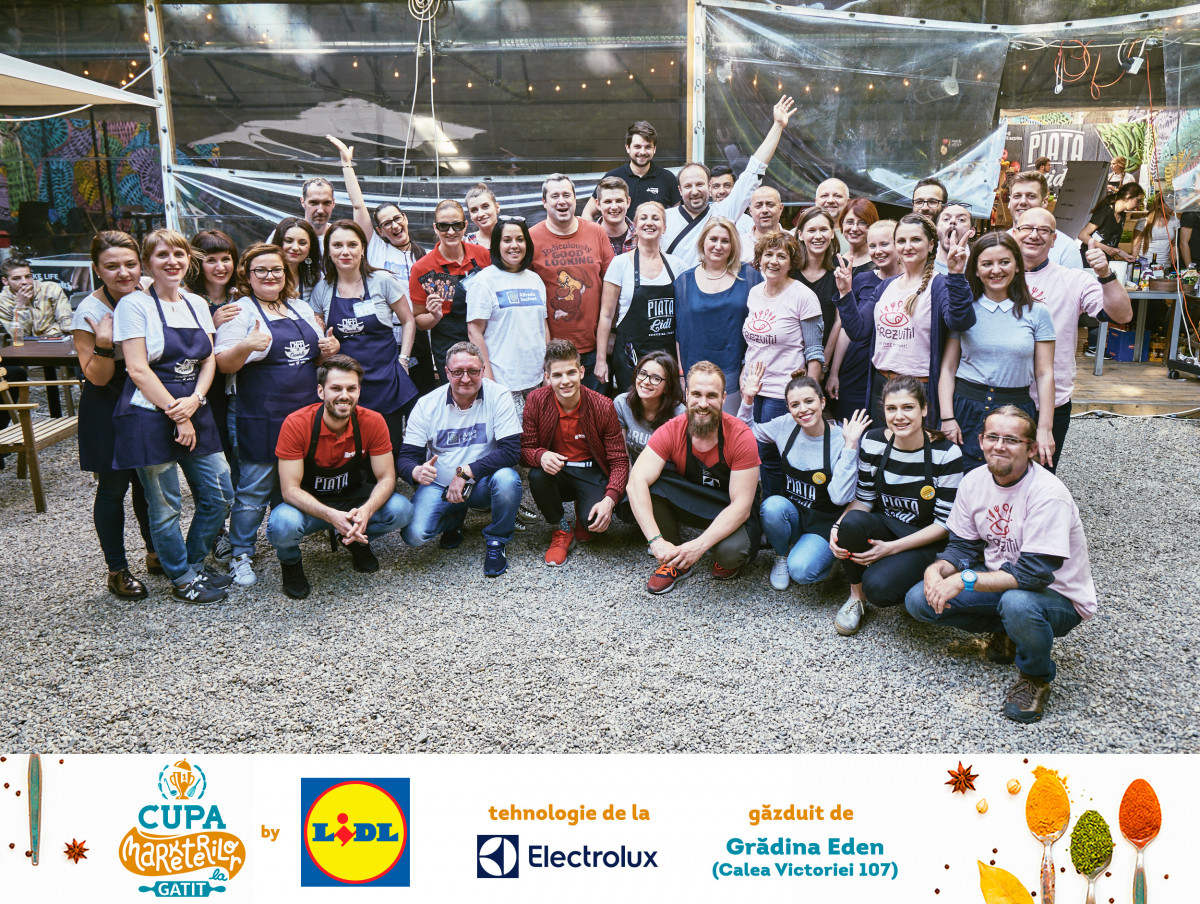 Partenerii evenimentului
Despre Lidl
Lidl este prezent in 30 de tari din toata lumea si opereaza aproximativ 10.000 de magazine si peste 140 de centre logistice in 27 de tari din Europa. Lidl are aproximativ 215.000 de angajati. Dinamismul in implementarea de zi cu zi, taria care deriva din asta si corectitudinea in interactiunea cu celalalt caracterizeaza munca la Lidl, indiferent de granite. De aceea, Lidl a fost desemnat Top Employer la nivel european, precum si national, in Romania, Germania, Italia, Grecia, Polonia, Slovenia si Slovacia.   
Despre Electrolux
Cu aproape 100 de ani de experienta in realizarea echipamentelor profesionale pentru cei mai buni bucatari profesionisti din Europa, Electrolux aduce excelenta culinara atat in cele mai renumite bucatarii ale lumii, cat si in casele utilizatorilor.
Platforma "Make Life Delicious" transforma bucataria intr-un hub social, plin de vitalitate, deschis celor care considera creativitatea ca fiind cel mai important atribut gastronomic. Rutina zilnica se transforma acum in explorarea de noi posibilitati culinare, simpla pregatire a mesei se transpune in crearea unei ambiante speciale, iar gatitul devine o adevarata experienta sociala, "Make Life Delicious" fiind sursa de creatie culinara unde gusturile sunt imbogatite cu ajutorul echipamentelor si tehnicilor recomandate de Electrolux.