Bucharest based creative leadership consultants Brainovate have undergone a complete rebrand after 10 years on the Central European market. As Brainovate was introducing a new team and an ever expanding list of client services they felt it was right to shake things up with a new creative partner at such a crucial time. 
Founder of Brainovate Irishman Oliver Perkins says that it made sense to hand over the rebranding project to a company from his home town of Belfast:
"We chose Young Creative because they understood my cultural reference point and they offered a complete, end-to-end service, from idea generation through to brand, video and web creation. Moreover we found Young Creative take pride in doing things with a difference. And if you check out their work www.darrenyoungcreative.com, you'll find that that is why they call themselves Difference Makers. They help create, highlight and promote what makes a company different from the competition."
And although "Young" by name and at heart, Creative Director Darren Young brings over 20 years of international award-winning experience, including working at the BBC's London creative agency, to clients worldwide. His high profile promotional campaigns in Ireland, UK, USA and Australia brought him international recognition with 11 industry awards, so it wasn't really patriotism that prompted Oliver to commission Young Creative. Moreover, they'll continue to work with their trusted local agencies as they roll out the ever evolving new brand.
Young Creative worked closely with Oliver's team to develop the new value proposition or "Difference" as they call it.
Revealing the leader within, now clearly communicates the benefit of Brainovate's programs that focus on revealing their client's inner potential. Their new circular icon reflects this thinking and puts the client at the heart of all of Brainovate's services.
The result is an entirely new, more contemporary look that unravels throughout their new dynamic, structured website.
As part of the new rebranding process, Brainovate are planning a showcase event coupled with the launch of a new training programme, "Let's rock leadership" in Bucharest on 23rd September. "Made in Belfast" is one off night of acoustic rock music by UK punk legends Henry Cluney from Stiff Little Fingers and Aiden Murtagh from Protex. It's an invitation only event and details of how you can get on the guest list can be found on www.brainovate.com.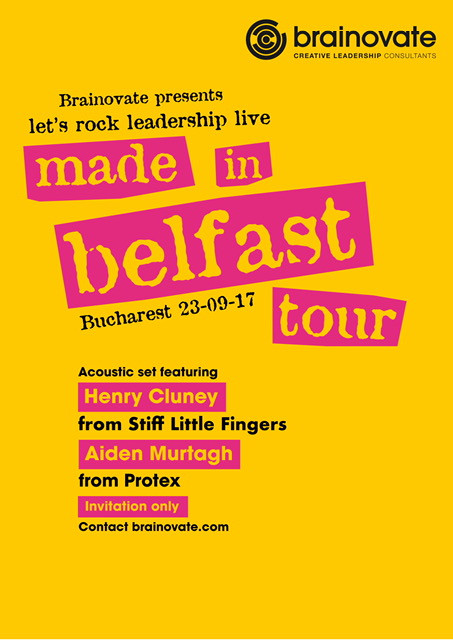 [ro version]
Compania de creative leadership training Brainovate, rebrand cu agentia irlandeza Young Creative
Compania de training și consultanță în creative leadership Brainovate a trecut printr-ul proces complet de rebranding după 10 ani de activitate pe piața central-europeană. Cu o echipă nouă și o listă tot mai complexă de servicii, a fost un pas firesc pentru Brainovate să se reinventeze într-un moment atât de important în evoluția lor.
Fondatorul Brainovate, irlandezul Oliver Perkins, spune că i-a plăcut ideea de a preda acest proiect de rebranding unei agenții din orașul său natal, Belfast:
"Am ales Young Creative pentru că mi-au înțeles originile culturale, punctul de vedere și oferă servicii complete, de la idee, la brand, creație video și dezvoltare web. În plus, știam că Young Creative au o filisofie de a face lucrurile diferit. Și dacă aruncați un ochi peste portofoliul lor www.darrenyoungcreative.com, veți vedea de ce își spun <difference makers>. Te ajută să înțelegi, să scoți în evidență și să promovezi exact ce te diferențiază de competiție."
Deși tineri prin nume și spirit, directorul de creație Darren Young vine în spate cu 20 de ani de experiență și premii internaționale, inclusiv colaborări cu agenția BBC din Londra. Campaniile lui promoționale de anvergură din Irlanda, UK, SUA și Australia i-au adus recunoaștere internațională și 11 premii ale industriei, așa că Oliver n-a fost condus tocmai de patriotism când a ales parteneriatul cu ei. În plus, Brainovate continuă colaborarea cu agențiile locale pentru promovarea  și dezvoltarea brandului. 
Young Creative a lucrat îndeaproape cu echipa lui Oliver pentru a defini un nou motto care să facă diferența.
"Descoperă liderul din interior" (Discover the leader within) comunică foarte clar beneficiile programelor Brainovate, construite în jurul clientului și a potențialului său interior. Noul logo circular reflectă această gândire și plasează clientul în centrul serviciilor Brainovate. Rezultatul este un brand cu totul nou, cu un aer contemporan care se revelează în cadrul unui website dinamic, structurat.
Ca parte a procesului de rebranding, Brainovate planifică un eveniment care susține și lansarea unui nou program, "Let's rock leadership", pe 23 septembrie. "Made in Belfast" este o noapte de rock acustic, cu legendele britanice Henry Cluney de la Stiff Little Lingers și Aiden Murtagh de la Protex. Accesul la eveniment se face numai pe bază de invitație, iar detalii despre cum vă puteți regăsi pe lista de invitați găsiți pe site-ul lor www.brainovate.com.