E joi, e inca prea dimineata, e aproape iarna. Si, cel mai important, e aproape FIBRA.
Mai sunt fix 7 zile pana ne vom intalni pe holul Hotelului Caro, pana vom sta in sala ascultand dezbaterile pregatite in cadrul conferintelor FIBRA de anul asta si pana cand cele mai creative campanii romanesti din ultimul an si jumatate isi vor primi recunoasterea. Si premiile.
Deja parca se aud castigatorii anuntati, discursurile de multumire si ropotele de aplauze. Dar cei 8 jurati internationali nu vin doar sa noteze campaniile agentiilor si brandurilor din Romania, ci si lucrarile tinerilor creativi care au inscris la Young FIBRA, competitie de creatie al carui brief pe bune a fost asigurat de Telekom Romania.
Dupa aproape 2 luni de inscrieri, ne-am ales cu 43 de lucrari. Din pacate, 11 dintre ele au fost descalificate pentru nerespectarea Regulamentului. Celelalte lucrari, insa, ne-au convins ca viitoarea generatie de publicitari este pe drumul al mai bun la capitolul imaginatie si creativitate.
Dar trebuia sa aflam si care lucrare e pe brief si care nu. Astfel, dupa ce votul publicului a luat sfarsit, juriul profesionist - format din Oana Ioja (Brand & Communication Expert), Andra Miulescu (Brand & Communication Specialist) si Ciprian Postelnicu (Supervisor Media) din partea Telekom, si Alin Marghidanu (Group Creative Director) si Victor Stroe (Head of Strategy and Associate Director) din partea Leo Burnett - a intrat in actiune. Dupa ce au fost acordate notele si au fost facute mediile, am ajuns la primul cel-mai-asteptat-moment al competitiei Young FIBRA: shoooooortlistuuul.
Acestea sunt cele 10 lucrari, cele mai bune si cele mai notate - caci ele urmeaza sa treaca si prin mainile celor 8 jurati FIBRA:
Apostol Iulian-Andrei, Ciocoiu Alin si Marinescu Ioana: Esti ceea ce iubesti!

Florin-Cristian Stoian: Nomad Urban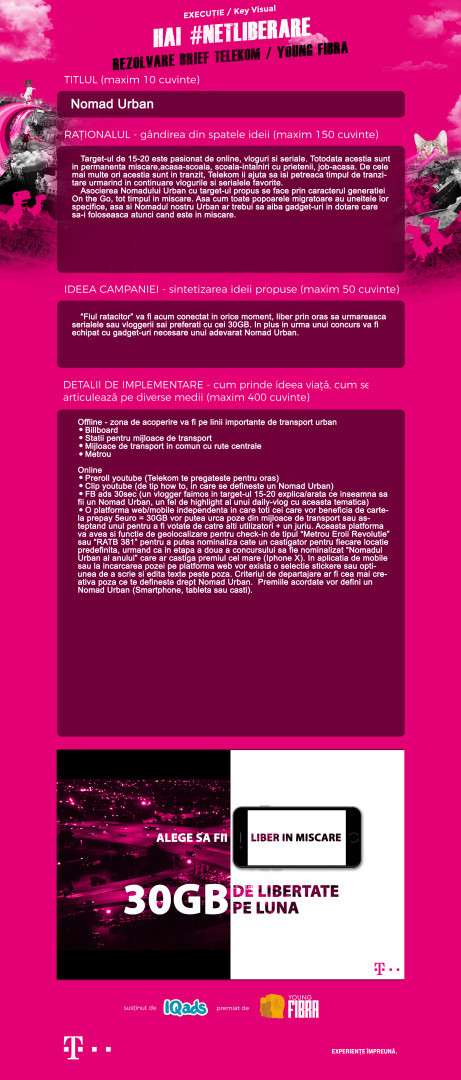 Ana Rinderu si Adina Popescu: Digitalopedia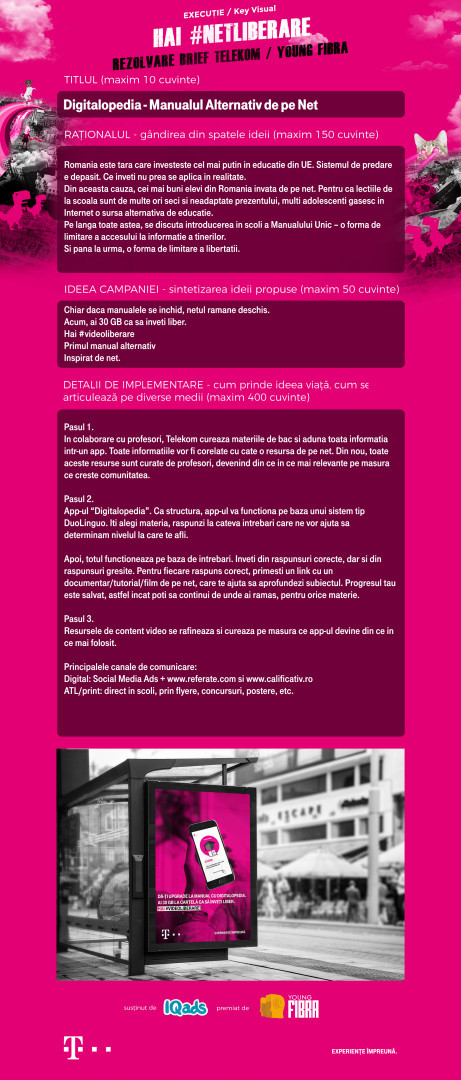 La Gala Premiilor FIBRA, care se intampla pe 17 noiembrie de la 19.30, vom afla cine sunt cei trei creativi si/sau echipe creative care vor primi aplauzele viitorilor colegi de agentie si premiile in valoare de 3.000 de euro. Sa nu lipsiti.