WHISKY FEST 2017 dezvăluie lista finală de etichete ce vor fi prezente în festival și se mândrește cu o selecție aparte de rarități și produse speciale, de la whisky taiwanez sau indian, până la cel mai scump whisky vândut vreodată în lume, potrivit Guinness World Records.
WHISKY FEST va avea loc la Casa Presei, Sala de Marmură, în perioada 17 - 19 noiembrie 2017, fiind un eveniment dedicat în întregime uneia dintre cele mai apreciate băuturi ale tuturor timpurilor - whiskyul. De asemenea, este pentru prima oară în România când o selecție atât de cuprinzătoare de etichete se reunește sub egida unui singur eveniment. Ediția din acest an se mândrește cu mai multe etichete față de cea de anul trecut și participarea a patru importatori în plus.
Mai jos va prezentăm o selecție din vedetele festivalului:
THE MACALLAN M este rezultatul colaborării dintre trei maeștrii - Fabien Baron, Lalique și The Macallan – care au avut un obiectiv unic, acela de a crea cel mai sofisticat whisky din lume, într-un decantor de cristal creat special, ce exudă frumusețe și expresivitate, la fiecare privire. Potrivit Guinness World Records, cea mai scumpă sticlă de whisky vândută vreodată la o licitație este Macallan M Decanter-Constantine. Sticla avea 6 litri și a fost vândută la prețul de 628,000 dolari, la casa de licitații Sotheby din Hong Kong, în data de 23 ianuarie 2014. La Whisky Fest, The Macallan M va fi prezent într-un recipient mai mic, dar cu nimic mai puțin special.
Pentru prima oară la Whisky Fest, MOONSHINE a fost la origine o băutură alcoolică distilată, produsă de obicei ilicit, fără autorizație guvernamentală. Recent, băutura a fost legalizată în majoritatea tărilor și a devenit o adevărată operă de artă. Legală în Statele Unite din doar 2010, moonshine-ul a fost definit ca un whisky incolor și nematurat.  Și nimic nu e mai bun pentru cu cei care iubesc drumul bătătorit cu motociletele Harley-Davidson decât Road House Customs Moonshine, una din multele etichete de moonshine prezentă în festival. Acest blend special este puternic și fin, un început perfect pentru povestirile de după călătorii. Are 51,5 de grade și este creat cu respect pentru Motorul Harley-Davidson 103. Este moonshine-ul care celebrează drumețiile cu Harley Davidson.
AMRUT este un brand de single malt indian, produs de Amrut Distilleries și lansat în 2004 la Glasgow, Scoția. Este primul whisky single malt produs în India, iar numele de Amrut este un cuvânt din vechea sansctrită care poate fi tradus ca "nectar al zeilor".
KAVALAN este distileria care a adăugat Taiwanul pe harta țărilor producătoare de whisky premium. Cunoscute pentru caracteristica aromatică inconfundabilă de fructe tropicale, whisky-urile Kavalan au câștigat numeroase premii și medalii prestigioase. Înfințată în 2005 de către Tien-Tsai Lee, distileria poartă numele vechi al provinciei Yi-Lan în care este situată, în nord-estul Taiwanului. Sursa de apă pură și climatul cu aer curat al acestei insule subtropicale sunt ideale pentru producția de whisky. Whisky Fest invită degustătorii de băuturi exotice să încerce mai multe sortimente din acest whisky din Taiwan.
Iată și etichetele:
1792 10 Y.O.
Aberlour 12 Y.O.
Amrut
Ancnoc 12 Y.O.
Ancnoc 16 Y.O.
Ardbeg 10 Y.O.
Ardbeg Corryvreckan
Ardbeg Uigeadail
Ardmore
Arran 10 Y.O.
Arran 14 Y.O.
Arran Lochranza Reserve
Auchnagie Classic
Benchmark 8 4 Y.O.
Balblair 2005
Bruichladdich Classic Laddie
Buffalo Trace 8 Y.O.
Caol Ila 12 Y.O.
Cardhu 12 Y.O.
Cardhu Gold Reserve
Chivas Regal 12 Y.O.
Chivas Regal 18 Y.O.
Chivas Extra
Chivas Ultis
Clynelish 14 Y.O.
Connemara
Dalaruan Classic
Dalmore 12 Y.O.
Dalmore 15 Y.O.
Dalmore 18 Y.O.
Dalmore Cigar Malt
Dalmore King Alexander
Dalwhinnie 15 Y.O.
Dimple 15 Y.O.
Gerston Classic
Glen Elgin 12 Y.O.
Glen Moray 12 Y.O.
Glengoyne 10 Y.O.
Glengoyne 12 Y.O.
Glengoyne 17 Y.O.
Glengoyne 21 Y.O.
Glenfarclas 12 Y.O.
Glenfarclas 105
Glenkinchie 12 Y.O.
Glenlivet Founder
Glenlivet 15 Y.O
Glenmorangie 10 Y.O.
Glenmorangie D'OR
Glenmorangie Extreme Rare New Range Whisky 18 Y.O
Glenmorangie Lasanta
Glenmorangie Ruban
Highland Park 12 Y.O
Highland Park 18 Y.O
Irishman
Irishman Founders Reserve
Isle Of Arran Distillers
J&B Reserve 15 Y.O.
Jameson Black Barrel
Jameson Caskmates
Jericho Classic
Jim Beam Black
Jim Beam Devil's Cut
Jim Beam Double Oak
Jim Beam Signature Craft
Johnnie Walker Black Label
Johnnie Walker Blue Label
Johnnie Walker Double Black
Johnnie Walker Gold Label
Johnnie Walker Green Label
Johnnie Walker Platinum
Johnnie Walker Swing
Jura 10 Y.O.
Jura 16 Y.O.
Jura Boutique Barrel 1996
Jura Prophecy
Jura Superstition
Kavalan Classic
Kavalan Concertmaster Port Cask Finish
Kavalan Ex – Bourbon Oak
Kavalan Ex-Sherry Oak
Kavalan King Car Whisky
Kavalan Podium
Kilbeggan
Label 5
Lagavulin 16 Y.O.
Laphroaig 10 Y.O.
Laphroaig Quarter Cask
Lossit Classic
Maker's Mark
Oban 14 Y.O.
Octomore 7.1
Ole Smoky Apple Pie
Ole Smoky Blue Flame
Ole Smoky Cherries
Ole Smoky Harley Davidson
Ole Smoky Hunch Punch
Ole Smoky White Lightnin'
Old Pulteney 12 Y.O.
Old Pulteney 17 Y.O.
Port Charlote
Redbreast 12 YO
Redbreast 15 YO
Robert Burns Blended Scotch
Robert Burns Malt
Royal Lochnagar 12 Y.O.
Scapa Skiren
Singleton Of Dufftown 12 Y.O.
Singleton Of Dufftown Tailfire
Stratheden Classic
Strathisla
Syndicate 58/6 12 Y.O
Talisker 10 Y.O.
Talisker 25 Y.O.
Talisker Storm
Tamnavulin
The Famous Grouse
The Macallan Amber
The Macallan M
The Macallan No. 6
The Macallan Rare Cask
The Macallan Reflexion
The Macallan Sienna
Towiemore
Writer's Tears
Bilete
Biletele și abonamentele se pot cumpăra din Rețeaua IaBilet.ro.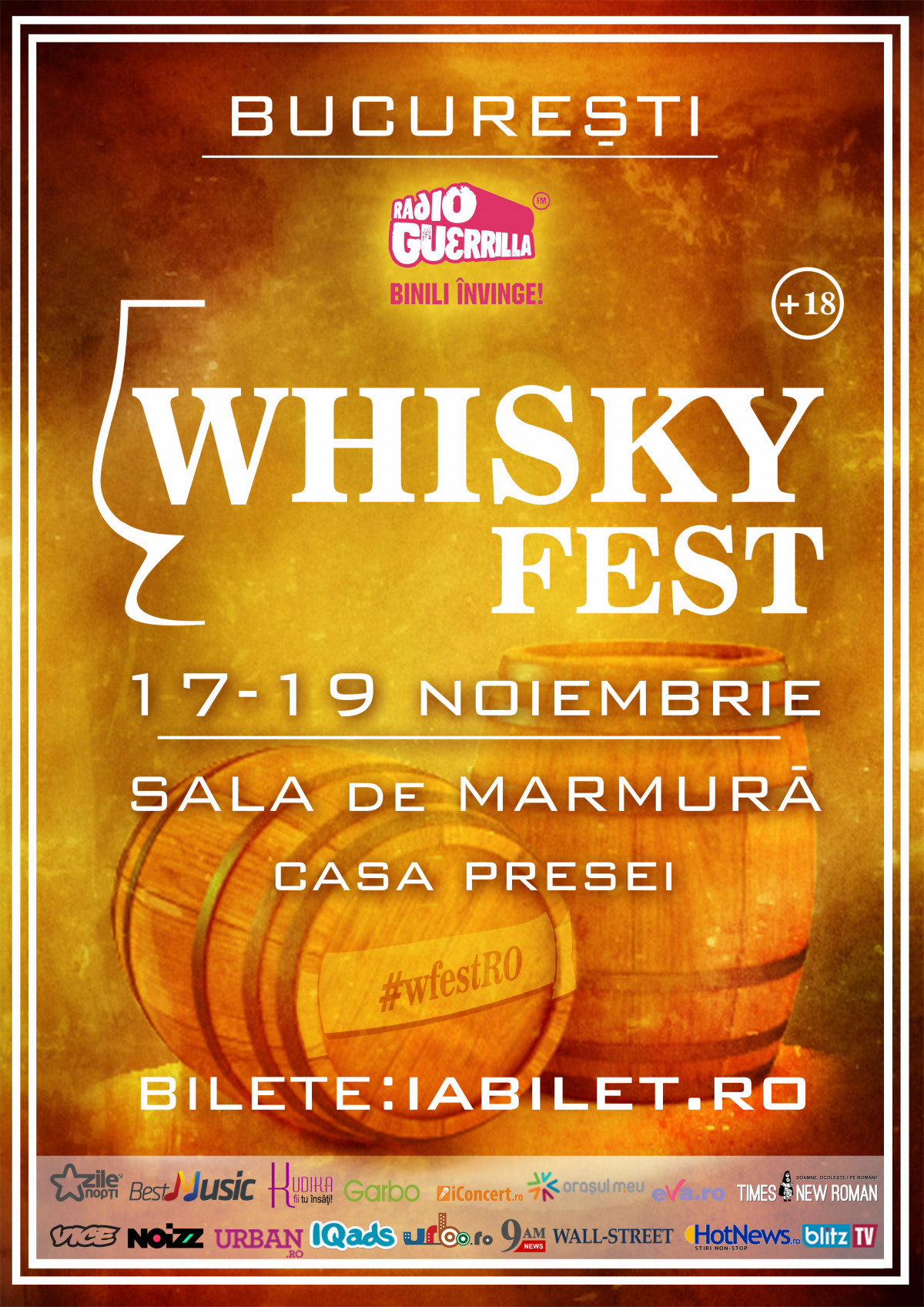 Whisky Fest 2017 este un eveniment organizat de The Whisky Club și Mixtopia Live Pro Events.
Eveniment exclusiv 18+, ținuta recomandată fiind smart casual.
Eveniment degustat de Radio Guerrilla