Aici, în sfera lucrurilor false de tot felul, e greu de navigat. Acum vreo săptămână vorbeam de trolling suprarealist cu Edward Norton bătut la metrou. Anul trecut, Cațavencii inventau un autor și îl publicau în România literară. În fine, experimentele sunt în continuă desfășurare și oamenii inventează tot felul de lucruri, din motive multiple: trolling, amuzament, crez artistic, timp liber, curiozitate antropologică, interese politice. Adăugăm încă unul: publicitate.
Cu două săptămâni înainte de Super Bowl, pe internet apăreau trailere care anunțau refacerea filmului australian din 1986, Crocodile Dundee, sub titlul: Dundee: The Son of a Legend Returns Home. În el își făceau apariția actori ca Danny McBride, Chris Hemsworth, Hugh Jackman, Margot Robbie, Russell Crowe, Isla Fisher sau Liam Hemsworth.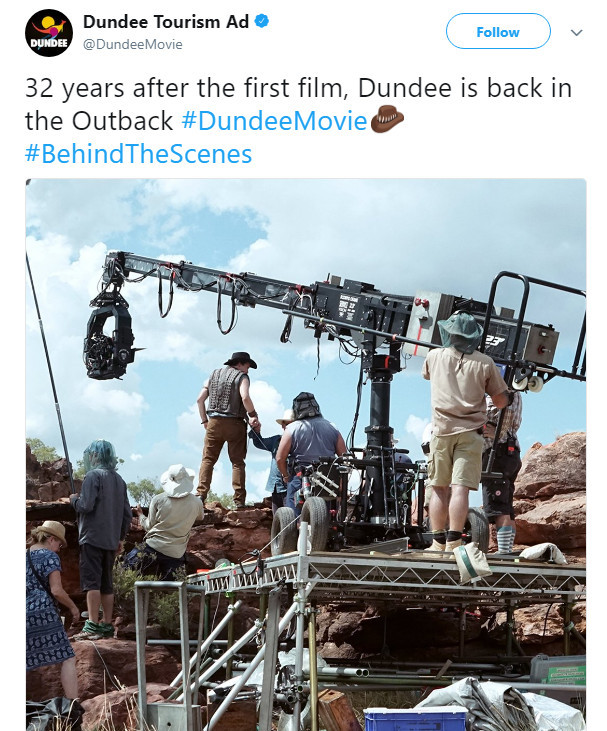 Au apărut poze de la filmări pe Twitter și un site oficial - unde era numită compania de producție, Rimfire Films, care a produs și filmul original. 
Apoi a urmat anunțul: haha, era doar o campanie de promovare făcută de Tourism Australia. De SuperBowl, un spot începea cu trailerul fals al filmului, iar apoi Chris Hemsworth spunea adevărul: Nu voiam decât să atragem americanii în vizită în Australia. 
Campania, cu un buget de 27 de milioane de dolari, a fost creată de Droga5.