PRIME România organizează anual singurul târg de joburi și internshipuri din domeniul Comunicării, Relațiilor Publice și Publicității. Evenimentul se va desfășura la Galeria Events (strada Ion Minulescu, nr. 70-74) în zilele de 9 și 10 mai, între orele 12:00 – 18:00. În cadrul celor două zile, 18 agenții din domeniu vor veni ca expozanți la târg pentru a le oferi studenților posibilitatea de a aplica pentru un internship sau job.
Fiind la a 10-a ediție anul acesta, evenimentul se va desfășura în jurul unui concept unic: SUPEREROI! După cum spune și headline-ul Your CV – your superpower, PR&Ad Fair va aduce această superputere chiar la târg! Dacă studenții nu și-au adus CV-ul de acasă, noi îi vom ajuta să își creeze unul pe loc. Apoi, vor putea aplica la agențiile prezente pentru jobul mult dorit.
În cadrul târgului vor fi prezente agențiile: Minio, Vertify, Pastel, Creionetica, Touch Communications, Graffiti PR, Smite, Screen Native, Clock Advertising, Atelier Sapte, LinksPR, Pi2 PR, Dolphin Communication, Caracteristic, Catalyst, Re7consulting, CV30, SOS Satele Copiilor.
Participarea la târg nu percepe taxă, iar în cadrul celor două zile vor exista tombole, premii, concursuri și activități ce vor transforma căutarea unui job într-o experiență de neuitat. De altfel, aceștia vor avea ocazia de a participa la două conferințe dedicate domeniului. Între orele 14:00 și 15:30 îi vom avea invitați pe Alex Coteț și Denisa Sima, pentru a le vorbi studenților despre lumea Advertisingului și despre cum să fii fashion la birou. La final va exista o sesiune de Q&A, unde studenții le pot adresa întrebări speakerilor și pot afla și mai multe informații despre domeniul în care vor să activeze.
PR&Ad Fair dorește să rezolve problema experienței pe care o întâlnesc studenții și absolvenții în momentul în care doresc să se angajeze. Astfel, ei au ocazia să interacționeze direct cu viitorii angajatori. De-a lungul anilor, evenimentul s-a bucurat de un număr de aproximativ 4.000 de participanți entuziaști, dornici să evolueze, să își atingă obiectivele și să devină unii dintre cei mai buni specialiști în domeniul Comunicării și al Relațiilor Publice.
Evenimentul PR&Ad Fair 2018 se bucură de sponsorizare din partea Galeria Events, Xerox, Diverta, Taraba cu Poze, Captive Escape Room, Boromir, 5 to go, Fabrica de sandvișuri, Donutino, Rewine, Grădina cu Filme, Hard Rock Cafe, Minimizer, Adebo, Signum, Lanyard și este susținut cu ajutorul partenerilor media  IQool, IQads, Advertising4U, PRwave, Stiri.ong, Iubesc Studenția, GoingOut, VinSiEu.ro, Ctrl-D, SMARK, The Institute.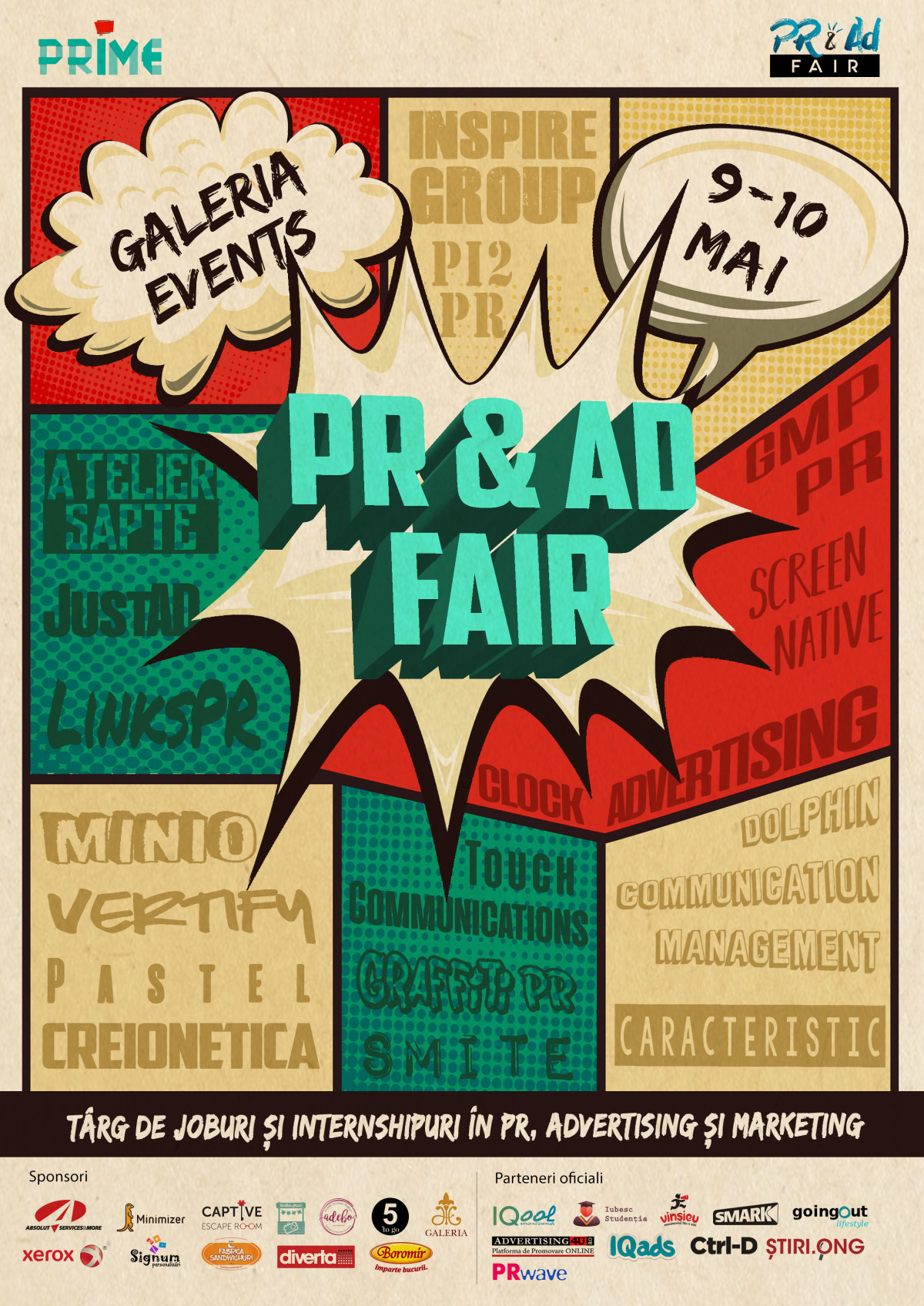 PRIME România este singura asociaţie studenţească de Relaţii Publice și Comunicare din ţară. Experienţa PRIME înseamnă comunicare strategică, o echipă unită și 21 ani de evenimente pentru studenţii pasionaţi de comunicare.
Misiunea PRIME România este de oferi studenților pasionați de Relații Publice și Comunicare șansa de a pune în practică informațiile și cunostințele dobândite la facultate și de a facilita legătura cu specialiștii din domenii precum PR, Comunicare și Advertising.