Pe 22 septembrie, Mindscape Studio va reprezenta România în cadrul competiției internaționale de video mapping, iMapp Bucharest 2018, cu lucrarea AZI - COPILUL TIMPULUI, un spectacol vizual inedit în cadrul căruia vom urma călătoria unui tânăr erou, în trei lumi fantastice: una albastră, una galbenă și una roșie. 
Pentru prima oară în istoria festivalului, un număr de 10 echipe internaț­ionale au fost alese pentru a participa în finala iMapp Bucharest 2018, în urma unui open call lansat în luna mai a acestui an. Echipele au fost provocate să conceapă lucrări folosindu-se de culorile steagului na­țional, evenimente și figuri marcante din istoria României, cu accent pe o perspectivă artistică și mai puț­in pe una documentară.
Piața Constituției din București va fi animată de unul dintre cele mai mari spectacole de video mapping din lume, iar fațada Palatului Parlamentului, cu o suprafață aproximativă de 23.000 m², va fi transformată într-o pânză uriașă colorată.
Fiind parte din echipa care a creat Legenda lui Bucur, video mapping-ul câștigător al Premiului Publicului din cadrul iMapp Bucharest 2015, Mindscape Studio revine în competiție, după prezența în 2016 cu lucrarea We Are Them, cu povestea unui tânăr erou, AZI - COPILUL TIMPULUI, și călătoriile lui prin trei lumi fantastice.
The Legend of Bucur – Public Choice Award at iMapp Bucharest 2015
În seara evenimentului va putea fi votată lucrarea preferată, cu ajutorul unui vot prin SMS, după ce vor fi proiectate toate cele 10 lucrări din competiție.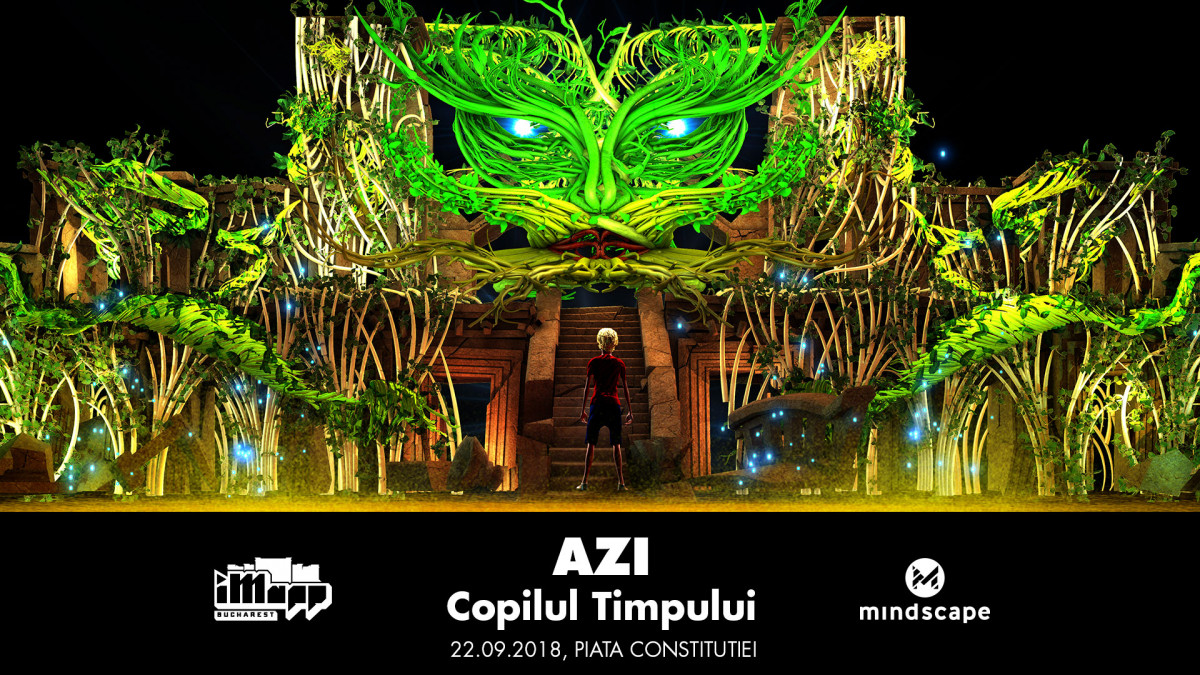 Mindscape Studio se numără printre puținii creatori români care îmbină tehnologia cu arta pentru a crea adevărate opere multimedia ale actualității, participând la festivaluri de profil precum Festival of Lights Berlin, Spotlight - Festivalul Internațional al Luminii, Noaptea Albă a Bucureștiului, UNTOLD și transformând în realitate proiectele experimentale ale agențiilor de publicitate, cum a fost Samsung Developer Conference 2016 care a avut loc în Statele Unite ale Americii, creațiile Mindscape Studio fiind prezente în San Francisco și New York, dar și conferința Brand Minds 2018 de la București, summitul anului pentru afaceri central și est europene.
Mindscape Studio este un studio multimedia specializat in solutii tehnologice creative: video mapping, design vizual pentru evenimente și concerte, instalații interactive. Acesta acoperă toată gama de servicii de la consultanță la creație, de la planificare la implementare a proiectelor.