La ADfel 2013, Petrom a rasplatit performanta prin doua momente neconventionale pe care nu trebuie sa le fi ratat daca ati fost pe terasa de la Fabrica intre 12 si 18 august. Prima dintre ele este Meniul Performantei, o editie speciala a meniului si asa special din Fabrica, valabila doar pe durata ADfel, care ne-a furnizat startere de conversatii, dar si informatii despre performanta, la fiecare comanda facuta.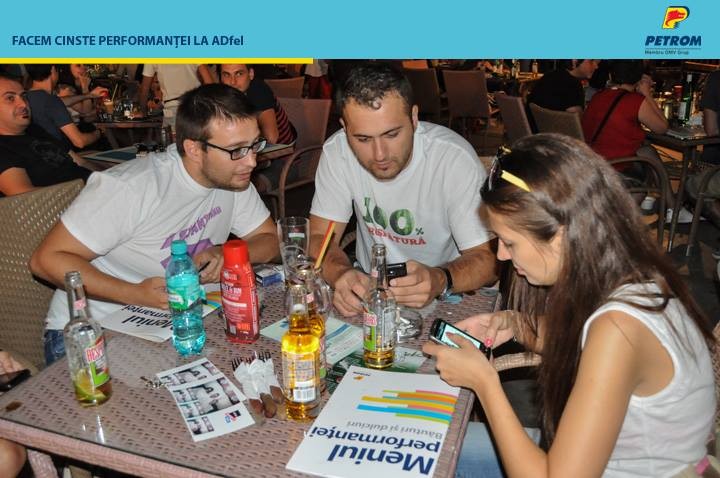 Pentru ca de cele mai multe ori asteptarea de la terasa este plictisitoare, Petrom s-a gandit sa o transforme intr-o ocazie de a afla lucruri noi. Fiecare pret din Meniul Performantei a fost legat cu dibacie de o performanta romaneasca. Meniul neconventional a adus un twist placut conversatiei care a atins noi performante.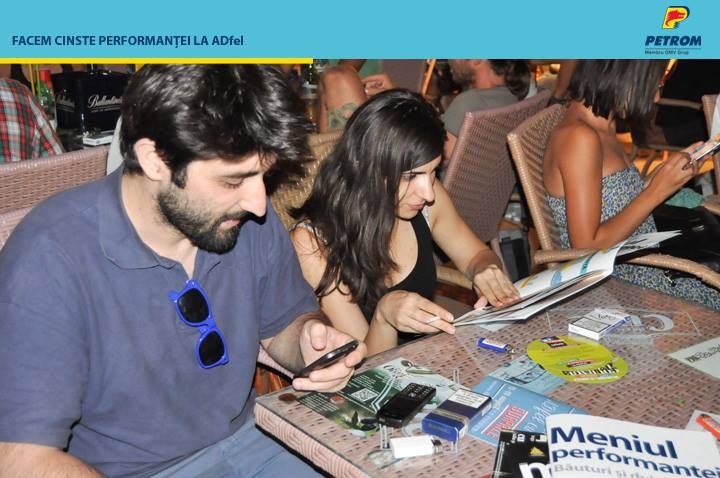 Cea de-a doua participare Petrom la ADfel 2013 a fost quizul despre performanta, desfasurat miercuri, vineri si sambata. Zumzetul oamenilor de pe terasa a fost intrerupt in fiecare dintre cele trei zile, de la ora 21, de vocea care a anuntat quiz-ul Petrom. Toata lumea si-a atintit ochii spre ecranele din jur, si-a scos telefoanele si a privit derularea filmuletelor ilustrate de Noper, asteptand primele intrebari.
Si pentru ca performanta merita sarbatorita, in fiecare dintre cele trei seri, Petrom a oferit cinci voucher in valoare de 100 de lei pentru cinstit prietenii de la terasa, celor care au raspuns corect la intrebarile despre advertising, literatura, arhitectura, film si muzica.
Gasiti pe Facebook mai multe fotografii cu Meniul Performantei si cu quiz-ul Petrom.
Activarea Petrom a fost creata si implementata de Leo Burnett.
Echipele implicate in proiect sunt:
Din partea Leo Burnett: Irina Becher (Creative Director), Andreea Ghenoiu (Senior Copywriter), Ioana Avram (Senior Art Director), Petronela Ionescu (Brand Communication Director), Alexandra Patarlageanu (Brand Communication Executive), Vlad Vrinceanu (Junior Copywriter).
Din partea Petrom: Iliana Stanculet (Corporate Brand Manager Petrom, Communications & Sustainability Department) si Madalina Samosca (Corporate Branding & Advertising, Communications & Sustainability Department).
Din partea IQads: Marin Preda (Business Developer), Monica Dudau (Senior Project Manager), Cristi Avram (Senior Project Manager), Corina Pirva (Project Manager), Emil Truta (Junior Project Manager), Sonia Ardelean (Coordinating Editor), Anca Pantus (Editor), Ionut Maxim (Editor), Mihaela Craciunescu (Editor), Ioana Mihai (Project Manager), Diana Gandila (Audio Video Coordinator), Livia Plamadeala (Graphic Designer), Bogdan Grigore (Photographer).
Petrom este unul dintre brandurile care au adus spiritul neconventionalului in cadrul ADfel. Evenimentul de branded entertainment este organizat de IQads si a avut loc pe terasa Fabrica (Str. 11 Iunie, nr. 50), Bucuresti, intre 12-18 august. Pe Facebook.com/IQads si pe IQads.ro au fost prezentate detalii despre programul fiecarei seri din cadrul evenimentului.
Partenerii media ai evenimentului sunt 24-FUN, Metropotam, Catavencii, Orasul Meu, 220.ro,Tataia, All Hollow, VICE, HipMag.ro, Times New Roman, Revista de Povestiri, Mixtopia, Realitatea.net, The Institute, SUB25, Money, BestJobs, The Chronicle si Radio Guerrilla. ADfel este organizat cu sprijinul Euromedia, Trade Media, 360Revolution, Carturesti, Elevate, MVcom si AdProduction.