Petrom a avut grija ca oamenii veniti la editia de anul acesta la ADfel sa nu se plictiseasca nicio secunda cat stau la masa. Cum? A personalizat meniul de la Fabrica, adaugandu-i o varianta proprie, Meniul Performantei, plin de informatii interesante despre inovatie si excelenta, care au stat la baza conversatiilor de la mesele de pe terasa.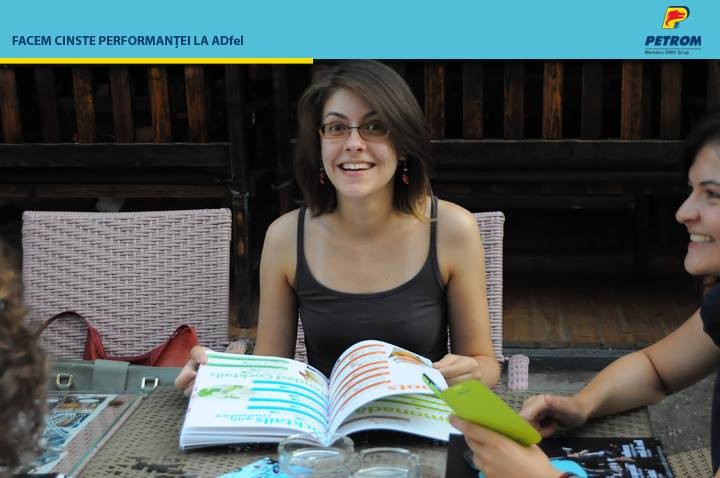 Subiectele de discutie despre mari romani au fost legate atent cu bunatatile din meniu, astfel ca fiecare comanda de pe terasa a devenit un prilej bun de discutie despre realizarile conationalilor nostri.
Daca nu ati fost acolo si nu ati citit Meniul Performantei, trebuie sa stiti ca, de exemplu, atunci cand cineva isi comanda o portie de Clatite Siciliene care costa 9 lei, afla si ca la Olimpiada de la Londra, nu de la Sicilia, Romania a castigat nici mai mult, nici mai putin de 9 medalii stralucitoare.
Cui ii era tare sete si-si comanda o limonada de fructe la un litru, cu 22 de lei, afla ca Octavian Bellu a obtinut de-a lungul carierei foarte multe medalii, dintre care 22 sunt de argint, la Europenele pentru juniori.
Sau daca, dupa lasarea serii, cineva incerca un shot Kamikaze, inainte sa-l dea pe gat, afla ca 7, suma pe care a platit-o pentru bautura, este si numarul de medalii de aur obtinute de echipa Romaniei la Concursul International de Proiecte INFOMatrix.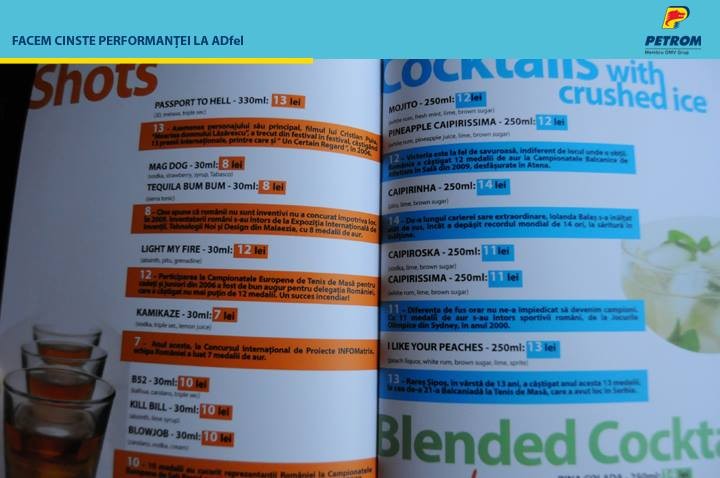 Vedeti pe pagina de Facebook IQads mai multe fotografii cu Meniul Performantei.
Activarea Petrom a fost creata si implementata de Leo Burnett.
Echipele implicate in proiect sunt:
Din partea Leo Burnett: Irina Becher (Creative Director), Andreea Ghenoiu (Senior Copywriter), Ioana Avram (Senior Art Director), Petronela Ionescu (Brand Communication Director), Alexandra Patarlageanu (Brand Communication Executive), Vlad Vrinceanu (Junior Copywriter).
Din partea Petrom: Iliana Stanculet (Corporate Brand Manager Petrom, Communications & Sustainability Department) si Madalina Samosca (Corporate Branding & Advertising, Communications & Sustainability Department).
Din partea IQads: Marin Preda (Business Developer), Monica Dudau (Senior Project Manager), Cristi Avram (Senior Project Manager), Corina Pirva (Project Manager), Emil Truta (Junior Project Manager), Sonia Ardelean (Coordinating Editor), Anca Pantus (Editor), Ionut Maxim (Editor), Mihaela Craciunescu (Editor), Ioana Mihai (Project Manager), Diana Gandila (Audio Video Coordinator), Livia Plamadeala (Graphic Designer), Bogdan Grigore (Photographer).
Petrom este unul dintre brandurile care au adus spiritul neconventionalului in cadrul ADfel. Evenimentul de branded entertainment este organizat de IQads si a avut loc pe terasa Fabrica (Str. 11 Iunie, nr. 50, Bucuresti, intre 12-18 august. Pe Facebook.com/IQads si pe IQads.ro au fost prezentate detalii despre programul fiecarei seri din cadrul evenimentului.
Partenerii media ai evenimentului sunt 24-FUN, Metropotam, Catavencii, Orasul Meu, 220.ro,Tataia, All Hollow, VICE, HipMag.ro, Times New Roman, Revista de Povestiri, Mixtopia, Realitatea.net, The Institute, SUB25, Money, BestJobs, The Chronicle si Radio Guerrilla. ADfel este organizat cu sprijinul Euromedia, Trade Media, 360Revolution, Carturesti, Elevate, MVcom si AdProduction.