ADAM Like a parcat in miljocul saptamanii, si miercuri si joi, la Fabrica. A dat "check in" la cel mai mare eveniment de publicitate neconventionala, le-a propus invitatilor un altfel de LIKE si a printat sute de poze. Pe principiul "ai dat like, deci esti pe facebook", toate pozele au fost incarcate pe pagina oficiala de facebook OPEL Romania, iar prin tragere la sorti oricine a dat like poate castiga un weekend cu ADAM, oriunde. Tragerea la sorti va avea loc pe 16 septembrie, iar toti cei care vor sa se inscrie in cursa trebuie sa completeze formularul de concurs pana la finalul lunii august, accesand o aplicatie OPEL ADAM LIKE. Activarea face parte din campania de promovare a noului model Opel ADAM, semnata G2 Romania.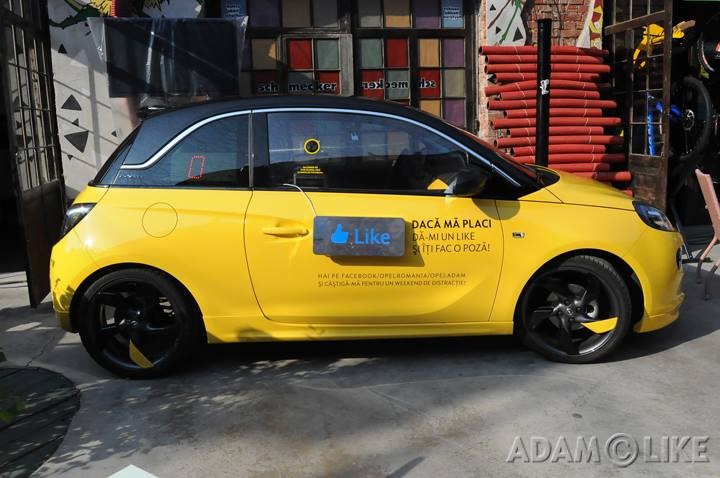 Cine e ADAM Like?
Opel ADAM, partener de drum cu design personalizabil in mii de feluri, a primit cateva accesorii in plus: un buton "Like", o camera foto si un counter digital. Mecanismul a fost gandit astfel incat dupa ce te-ai fixat in dreptul camerei si ai apasat "Like", poza se va printa in 30 de secunde, va iesi prin geamul masinii si va fi incarcata in scurt timp intr-un album special creat pe pagina de facebook OPEL Romania.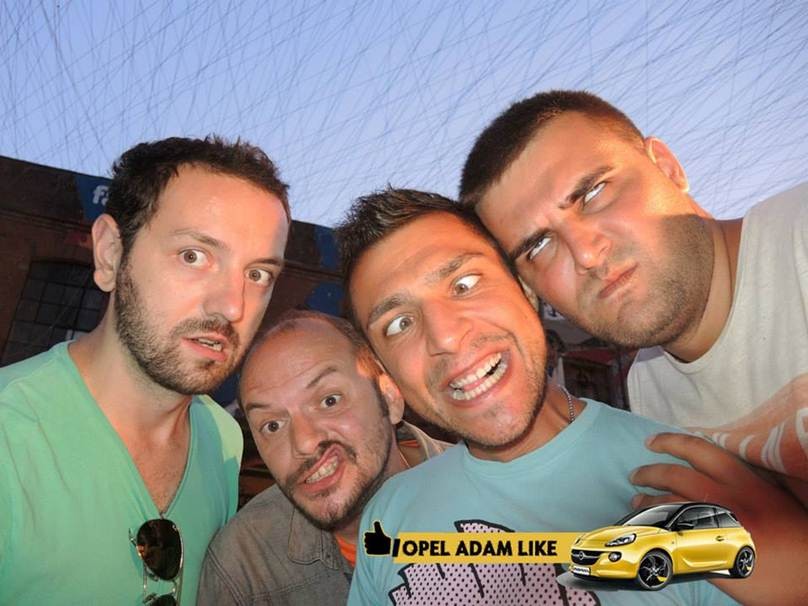 ADAM Like a pornit la drum din luna iulie si parcheaza in diverse zone de distractie din Bucuresti si de la mare, pregatit de interactiune. Luna asta a dat "check-in" la ADfel si fara indoiala s-a simtit in largul lui printre sute de publicitari si oameni cool, a primit like dupa like si a printat funny faces pe banda rulanta. Poti "stalk-ui" cele  doua zile de ADfel vazute prin ADAM Like chiar aici. In iulie, ADAM Like s-a bronzat pe plaja La Crema din Mamaia, a interactionat la ADfel iar toata luna august asculta muzica buna la Poiana Urbana. Detalii despre noile locuri vor fi anuntate pe pagina oficiala de facebook Opel Romania.
Activarea Opel a fost creata si implementata de G2.
Din partea G2, au dat primii "like": Mihai Fetcu (Creative Director), Bogdan Teodorescu (Senior Art Director) si Marius Matei (Senior Copywriter), Radu Constantinescu (Senior Copywriter), Stefan Vasilachi (Head of Art) Arpad Fekete (Senior Art Director), Stefan Vasilachi (Head of Art), Radu Glont (Account Director), Patricia Arbanas (Senior Account Manager), Nicoleta Dima (Account Manager), Stefan Vasilachi (Head of Art), Roxana Cerchez (Social Media Strategist), Mihai Draghici (Production Manager).
Din partea IQads: Marin Preda (Business Developer), Monica Dudau (Senior Project Manager), Cristi Avram (Senior Project Manager), Corina Pirva (Project Manager), Emil Truta (Junior Project Manager), Sonia Ardelean (Coordinating Editor), Anca Pantus (Editor), Ionut Maxim (Editor), Mihaela Craciunescu (Editor), Ioana Mihai (Project Manager), Diana Gandila (Audio Video Coordinator), Livia Plamadeala (Graphic Designer), Bogdan Grigore (Photographer).
G2 Romania, parte a grupului WPP, este o agentie de publicitate care ofera servicii integrate de comunicare, livrand experiente pentru consumatori, utilizatori si cumparatori. Echipa G2 Romania numara peste 140 de specialisti in shopper marketing, digital, CRM, promotii, branding, evenimente, activari HoReCa. Printre conturile aflate in portofoliul agentiei se numara British American Tobacco, Procter&Gamble, Vodafone, ASIROM, eMag, Opel, Ivatherm, GlakoSmithKline, ABSOLUT Vodka,  Avon, Titan Loulis, Pfizer, Emirates, New Yorker.