Saptamana trecuta, de miercuri pana vineri, a avut loc prima editie a Cupei Agentiilor la Gatit FLORIOL, o competitie cu materiale publicitare oferite de VERLA si aromata de Coseli, care i-a adus fata in fata in bucatariile Kuxa Studio pe cei mai creativi dintre bucatari si pe cei mai bucatari dintre creativi.
Castigatorii titlului de Agentia Anului la Gatit sunt cei de la Starcom cu echipa Dregatori la Cratita. Echipa castigatoare s-a calificat in finala cu preparatul "Adancata City" si povestea lui, iar la proba de desert din finala au impresionat juriul cu prajitura "Toamna boierilor", preparat care a luat si Premiul special Coseli pentru cel mai aromat desert.
Premiul II in competitie a fost luat de catre Geometry Global prin echipa de bucatari "Cu de toate". Acestia au obtinut nota 8.77 cu un desert denumit in spirit creativ "Tarta inflacarata cu pere ostenite in vin si vulcani de zahar ars". Razvan Ludu, de asemenea parte din echipa Geometry Global, a primit si Premiul special KUXA STUDIO pentru cel mai talentat bucatar.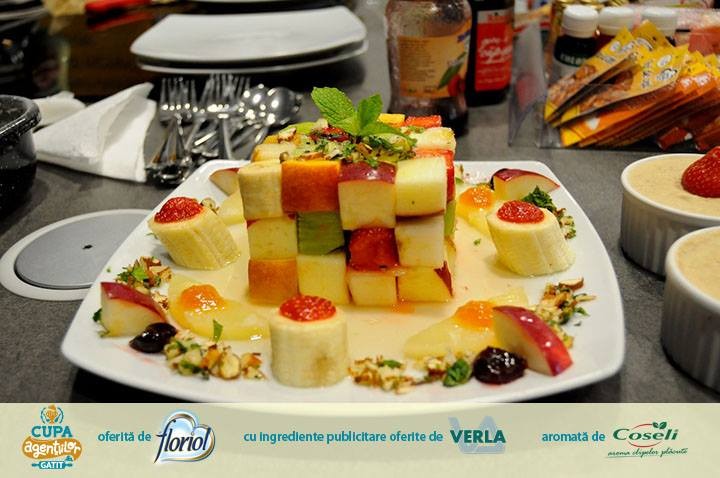 Premiul III a ajuns la Jam Session in the Kitchen, echipa celor de la Jazz Comunication, dupa ce au indulcit juriul cu "Gem session", gemul fiind ingredientul surpriza al probei. Aceeasi echipa a castigat si Premiul special FLORIOL pentru cea mai creativa echipa dupa ce au construit la fiecare proba cate un cub Rubik format din diverse ingrediente, in functie de tematica primita.
Voluntari pentru Idei si Proiecte a castigat Premiul IV, echipa Voluntare in Prajiturit remarcandu-se prin desertul "Haos de ciocolata". Toate echipele clasate pe primele patru locuri au mai primit cate un premiu de incurajare culinara constand in carti de bucate din partea Sian Books – parte a Editurii All.
Dupa clasamentul primelor 4 echipe care au participat in finala, au urmat premiile speciale oferite de Floriol, Verla si Coseli. Premiul special FLORIOL pentru teamwork a fost acordat celor de SeniorHyper si preparatului lor "Thaisex" – singurii care s-au aventurat sa gateasca o supa orientala.
Leo Gourmet, reprezentantii Leo Burnett, au fost premiati cu Premiul special FLORIOL pentru cea mai frumoasa farfurie dupa ce au gatit un "Piept de curcan umplut pe pat de mousse de morcovi cu unt de arahide".
Premiul special FLORIOL pentru cel mai ingenios nume de preparat a revenit echipei Avocat.net, dupa ce au starnit rasete cu preparatul lor – "Splendoare de porc in iarba".
Institute, The Chefs au impresionat cu tartele lor sarate si au primit Premiul special FLORIOL pentru cel mai gustos preparat cu Institute, The Tarts. Cei de la Wave Division (The Sorcerers), dupa ce au primit un brief ceva mai exotic, au reusit sa ia Premiul special FLORIOL pentru cea mai interesanta combinatie de ingrediente cu reteta de "Pui Malala".
Premiul special VERLA pentru cel mai creativ design de sort a revenit celor de la Interactions, reprezentati de echipa Lean Mean Cooking Machine, care au avut fiecare un design unic pe fiecare sort, adaptate si la profilul agentiei. Competitia de sorturi poate fi vazuta aici.
Competitia de logo-uri s-a incheiat cu un Premiu pentru cel mai creativ logo, premiu meritat de catre cei de la Spoon Media, cu echipa Delicii in lingura. Toate logo-urile echipelor inscrise pot fi vazute aici.
Floriol a oferit tuturor participantilor cate un kit de premiu, care sa ii incurajeze la gatit. Cei de la VERLA au fost responsabili pentru pufii branded cu logo-ul fiecarei agentii participante, care urmeaza sa ajunga chiar in lounge-urile din agentii si pentru foto panelul cu bucatari, unde toate echipele si nu numai, si-au facut poze. Coseli, partenerul aromat al Cupei, a pregatit prajituri delicioase din produsele lor pentru toti cei prezenti in fiecare zi a competitiei, iar la final a indulcit plecarea tuturor cu produse Coseli.
Alte premii au fost oferite atat pe parcursul competitiei, cat si la final de catre gustos.ro, prin reprezentantul juriului Stela Cristea. Primele doua zile de calificari, gustos.ro a oferit cateva premii celor la inceput de drum culinar cu titlul "Don't quit your day job", iar in finala celor care doar au nevoie de perfectionare, cu titlul "Quit your day job! Become a chef!".
De asemenea, la eveniment au fost prezenti si cei de la RoboFun care au adus prima orga muzicala de intrumente de gatit si cate un premiu de participare pentru fiecare echipa, premiu care a constat intr-o tigaie ce afiseaza in timp real numarul de like-uri de pe pagina de Facebook a agentiei.
Cupa Agentiilor la Gatit FLORIOL este un eveniment marca IQads si Mixtopia.
Despre Floriol
Floriol are grija de sanatatea ta si iti incurajeaza apetitul pentru o viata activa si o dieta echilibrata. Starea generala de bine incepe in bucatarie, dar pe cat de valoroasa este o alimentatie sanatoasa, pe atat de important este sa faci cat mai multa miscare si sa te implici in cat mai multe activitati sportive.
Despre VERLA
VERLA a oferit o mostra din materialele sale la Cupa Agentiilor la Gatit FLORIOL si a demonstrat publicitarilor ca poate sustine cu solutii cele mai creative idei, prezentandu-le de aceasta data integrate la tot pasul in Cupa in timp ce restul participantilor se luptau pentru titlul de Agentia Anului la Gatit.