DDB si Tribal Worldwide Romania, agentii membre ale grupului de comunicare The Group, anunta lansarea campaniei promotionale "Castiga masina din Insula Zaharului Brun!" dezvoltata pentru brandul Margaritar Brun de Mauritius.
Campania este dezvoltata in jurul a doua subconcepte care urmaresc consolidarea atributelor distinctive ale brandului, "drumul zaharului" si "originea zaharului" si are la baza un mecanism inovator, sustinut de microsite-ul insula-zaharului-brun.ro.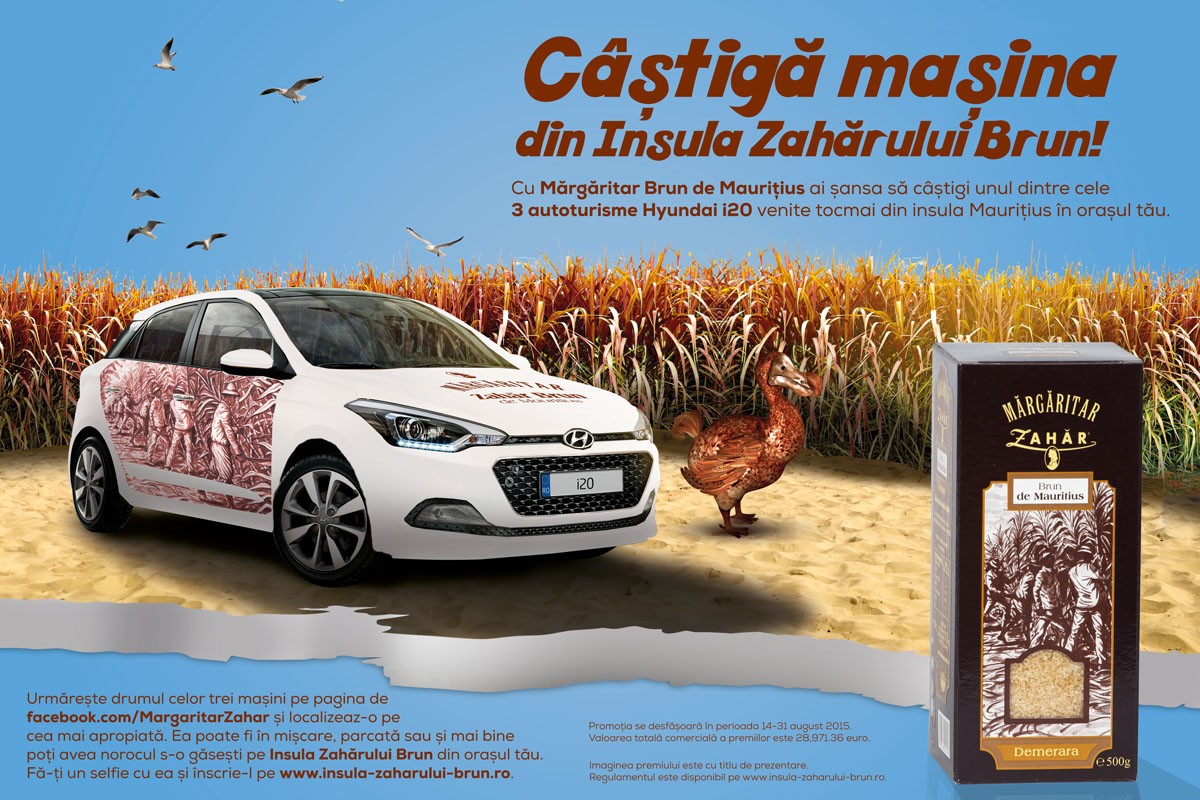 Unul dintre lucrurile prin care se diferentiaza zaharul brun de celelalte tipuri de zahar este provenienta. Astfel, in 9 orase mari din Romania va fi plasata cate o replica a insulei Mauritius denumita metaforic "Insula zaharului brun".
Fiecare mini-insula va avea in centru cate o masina oficiala a campaniei, care de altfel, va fi si premiul cel mare pentru trei cei mai norocosi participanti. Asadar, zaharul brun, originar din Mauritius, vine de departe si aduce premii importante, trei masini Hyundai I20, care sa permita si consumatorilor sa calatoreasca acolo unde doresc.
Incepand cu data de 14 august si pana pe 31 august, competitorii se pot inscrie in concurs daca urmaresc traseul "masinilor de zahar" pe microsite-ul insula-zaharului-brun.ro. 3 masini branduite vor calatori prin tara pe un traseu pre-stabilit si se vor opri in orasele mari. Localizarea prin GPS live a masinilor din caravana si urmarirea lor in timp real pe site-ul de promotie constituie o mecanica simpla si inovatoare, care conecteaza in mod natural mediul online cu cel offline.
"Credem in crearea unei povesti in miscare cu ajutorul diferentierii fata de alte produse capitalizand pe originile exotice si autentice, dar de asemenea si prin utilizarea punctelor de contact direct cu consumatorul, precum si implementarea unui mecanism simplu, care sa il implice activ. Astfel, am venit in intampinarea clientului cu o solutie care sa ii consolideze pozitia de lider", spune Blanka Horvath (Account Manager, DDB Romania).
"Conceptul creativ si declinarile dezvoltate de DDB si Tribal Worldwide completeaza in mod inedit povestea brandului si o aduc mai aproape de consumatorul final. Este un proiect la care am rezonat din prima clipa si care imi doresc sa implice un numar cat mai mare de consumatori ai brandului Margaritar Brun de Mauritius", declara Sorin Soroceanu (Head of Sales and Marketing, AGRANA Romania).
Campania intergrata este comunicata printr-un mix ce cuprinde: TV, radio, online si print.
Infiintata in 1998, Agrana Romania S.A, are in prezent aproximativ 600 angajati si detine doua fabrici de zahar, in Roman si Buzau. Principala activitate a companiei consta in producerea si comercializarea zaharului. Agrana Romania este membra a grupului AGRANA, companie austriaca cu expunere internationala, lider pe piata zaharului.
The Group este lider al industriei de comunicare din Romania si include agentii specializate in servicii de creatie, media, branding, relatii publice, productie, marketing experiential si evenimente speciale.