Bonduelle si New Age Media semneaza un parteneriat pentru a comunica gama de legume congelate Vapeur, deja pregatite la aburi, in jurul celui mai nou film despre arta gastronomica – "Burnt/Super Chef" – in intreaga retea Cinema City.
Bonduelle se asociaza pe plan local cu noua productie distribuita de Forum Film Romania, care il prezinta pe Bradley Cooper in rolul unui dificil, dar stralucit chef, si a carei premiera va avea loc pe 23 octombrie. Astfel, primii 25.000 de spectatori care achizitioneaza bilete pentru "Burnt/Super Chef" in reteaua Cinema City vor avea ocazia sa exerseze acasa doua dintre retetele originale din film, cu ajutorul flyerelor-retetar Bonduelle ce vor fi distribuite la casierie in momentul cumpararii biletului. Bonduelle va fi prezent si pe materialele de promovare ale filmului.
In plus, spotul Bonduelle Vapeur va fi difuzat pe ecranele din reteaua Cinema City.
"Unul dintre avantajele majore pe care cinematograful le ofera, ca mediu de comunicare, este posibilitatea unei foarte bune targetari a publicului. Parteneriatul dintre Bonduelle si un film despre lumea gastronomiei reprezinta o asociere naturala, spectatorii "Burnt/Super Chef" suprapunandu-se cu targetul produselor Bonduelle – public tanar, urban, activ, cu venituri medii si peste medie, care apreciaza preparatele savuroase. Faptul ca brandul este unul vesel si jucaus este cu atat mai potrivit marelui ecran.", a declarat Raluca Demetriade, Director de Vanzari al New Age Media Romania.

"Anul acesta Bonduelle intra in cinema! Asocierea cu filmul Burnt/Super Chef aduce un aer proaspat in strategia de comunicare. Povestea intriganta a filmului si audienta se potrivesc cu pozitionarea Bonduelle in Romania! Ne dorim ca filmul sa fie o inspiratie culinara pentru publicul larg si preparatele sofisticate din film, demne de celebrele stele Michelin, sa provoace curiozitate si spectatorii care vizioneaza filmul chiar sa incerce sa le prepare acasa. Puteti gati ca-n filme si nu este deloc atat de greu!", a adaugat Monica Rosu, Head of Marketing and Communications Bonduelle Balkans, Ukraine, Caucasus, Middle Asia.
Poster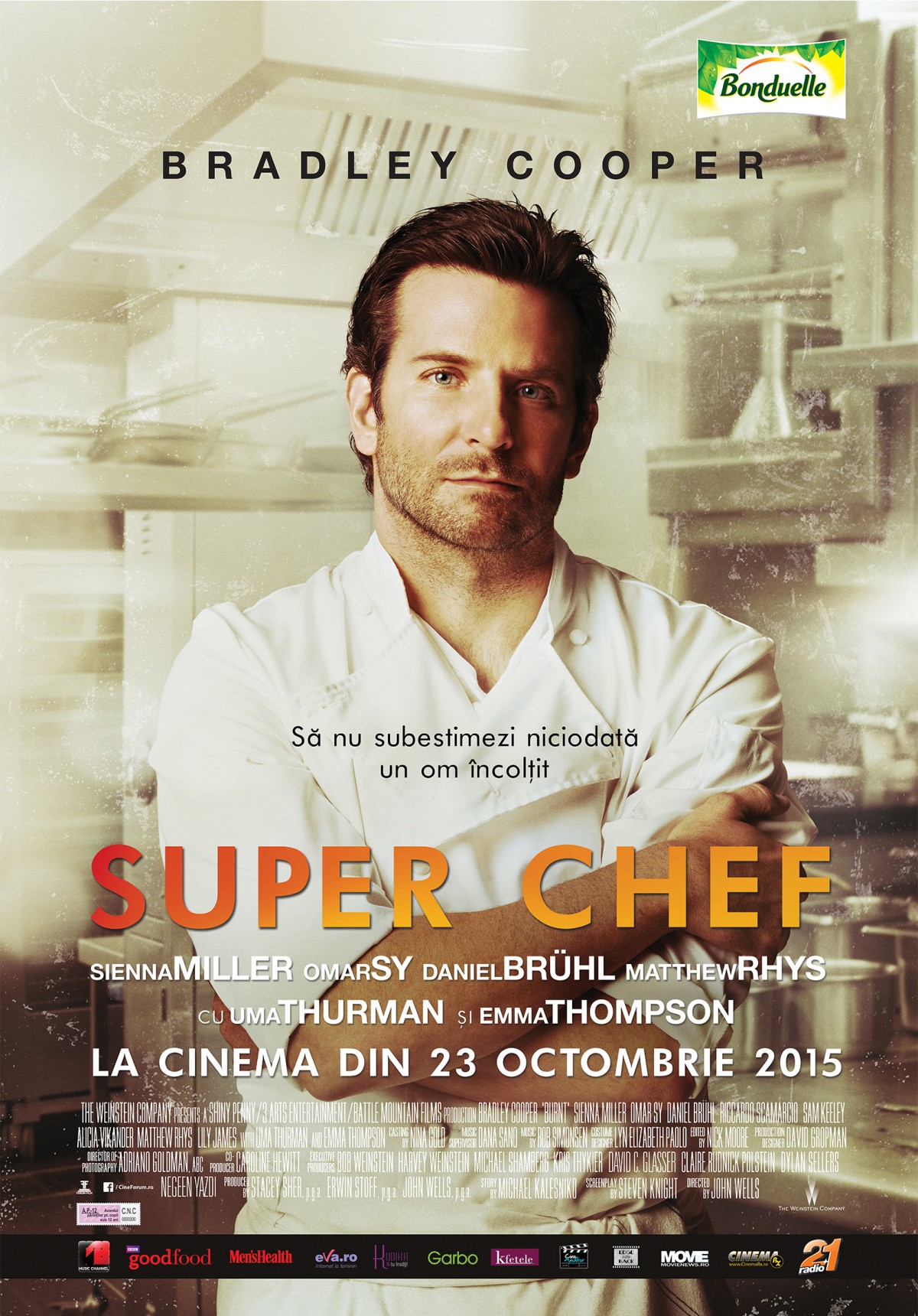 Echipa care a participat la realizarea campaniei:
Din partea New Age Media Romania, regia de media a retelei Cinema City: Diana Popescu, Sales Executive
Din partea Bonduelle: Monica Rosu, Head of Marketing and Communications Balkans, Ukraine, Caucasus, Middle Asia si Roxana Nanescu, Brand Manager Balkans.  
Din partea Forum Film Romania: Andreea Zidaru, General Manager; Patricia Calugaru, Marketing Coordinator
Din partea Media Investment: Diana Polici, Media Executive