După înscrierea celor nouă echipe de studenți pasionați de publicitate, Festivalul Concurs de Strategie Publicitară și Relații Publice – team ADventure, trece la următoarea etapă, Conferința. Evenimentul va avea loc pe data de 17  noiembrie, în Sala Dublei Alegeri la Muzeul Unirii, începând cu ora 10:00.
În acest an, detalii din culisele publicității vor fi oferite de patru specialiști în domeniu. Aceștia vor prezenta informații prețioase atât echipelor participante, cât și celorlalți pasionați de publicitate:
Ioana Dobrinescu a urmat cursurile școlii IAA, este licențiată în Comunicare. În prezent este Strategic Planner la GMP Advertising. Ioana își va concentra discursul asupra modului de gândire strategic.
Karla Georgescu, cea mai tânără persoană din echipa Publicis, a luat mai multe premii la concursurile din domeniu și, în prezent, este Art Director la Publicis. La Conferință, Karla ne va povesti despre creativitate, alături de colega sa, Ruxandra.
Ruxandra Drilea a terminat Publicitate la SNSPA în anul 2014, este Young European Creative of the Year și, în prezent, este Copywriter la Publicis.
Flavian Cristea, Digital Strategist la Grapefruit, o agenție de digital User Experience, ne va dezvălui detalii despre viața Marketingului din România, focusându-se totodată și pe aspecte importante din account management și user experience.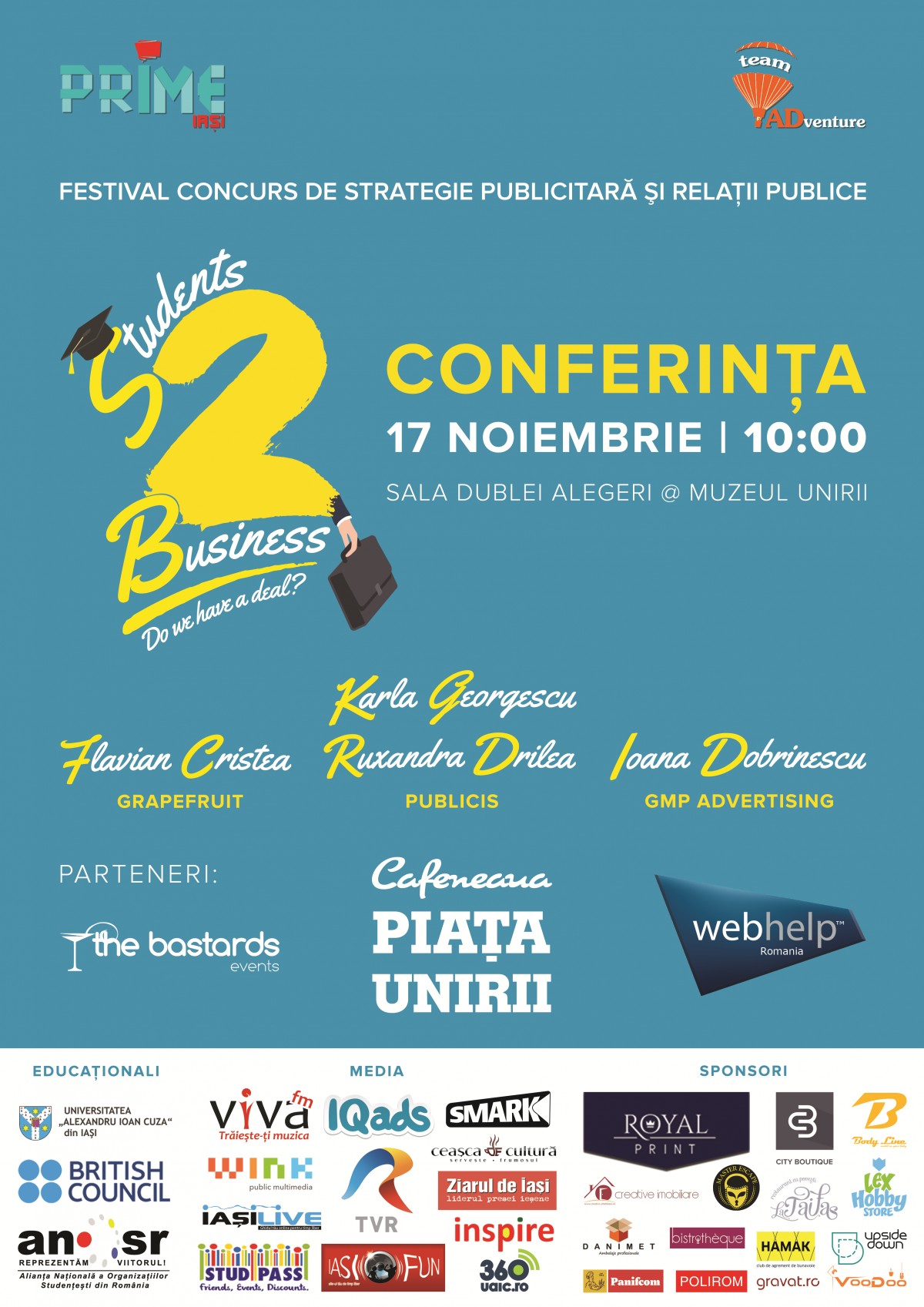 Obiectivele de marketing și de comunicare cu care vor trebui să jongleze echipele participante sunt câteva dintre provocările pe care clientii Cafeneaua Piața Unirii, The Bastards Events și Webhelp România le-au propus pentru realizarea campaniilor de publicitate. team ADventure le oferă șansa studenților de a simula viața într-o agenție de publicitate, având ocazia de a lucra pe briefuri reale oferite de clienți. Orice pasionat de publicitate este așteptat cu drag!