Condusă cu profesionalism și multă pasiune, compania Land of Web și-a extins activitatea în București, pentru a fi mai aproape de partenerii din media și publicitate.
Land of Web se adresează segmentului partenerilor premium care își doresc de la o agenție web mai mult decât dezvoltarea unui proiect online, ci și posibilitatea de a oferi clienților lor un anumit know-how despre felul în care pot implementa un anumit proiect în afacerea lor.
Tărâmul internetului se extinde
Cu sute de proiecte în portofoliu și zeci de proiecte în derulare, Land of Web a reușit prin deschiderea unui punct de lucru în București (pe lângă cel din Iași) să aducă un plus semnificativ în colaborarea cu actualii și viitorii parteneri.
"Land of Web urmărește să realizeze, cu fiecare proiect, o legătură de colaborare cât mai strânsă cu fiecare partener în parte, bazată pe performanță și profesionalism", susține Iustin Vadana (managing partner Land of Web).
Land Of Web construiește, alături de partenerii săi, proiecte web și mobile care oferă utilizatorului experiențe inedite. Entuziasmul, umorul, buna dispoziție - sunt calități care definesc oamenii din spatele companiei Land of Web. Dezvoltatorii noștri web jonglează cu umor și o minte deschisă printre tehnologii precum HTML5, PHP 7.X, CSS3, JS sau jQuery, iar dezvoltatorii pentru partea de aplicații mobile continuă să facă magii cu proiectele lor pentru Android și iOS.
Vrei să ne cunoști? Hai pe la noi!
Fie că ești deja partenerul nostru, sau urmează să devii, te așteptăm la o discuție și un ceai pe Str. Sirenelor Nr. 91. Credem că cele mai bune soluții apar atunci când există un schimb de idei și experiență.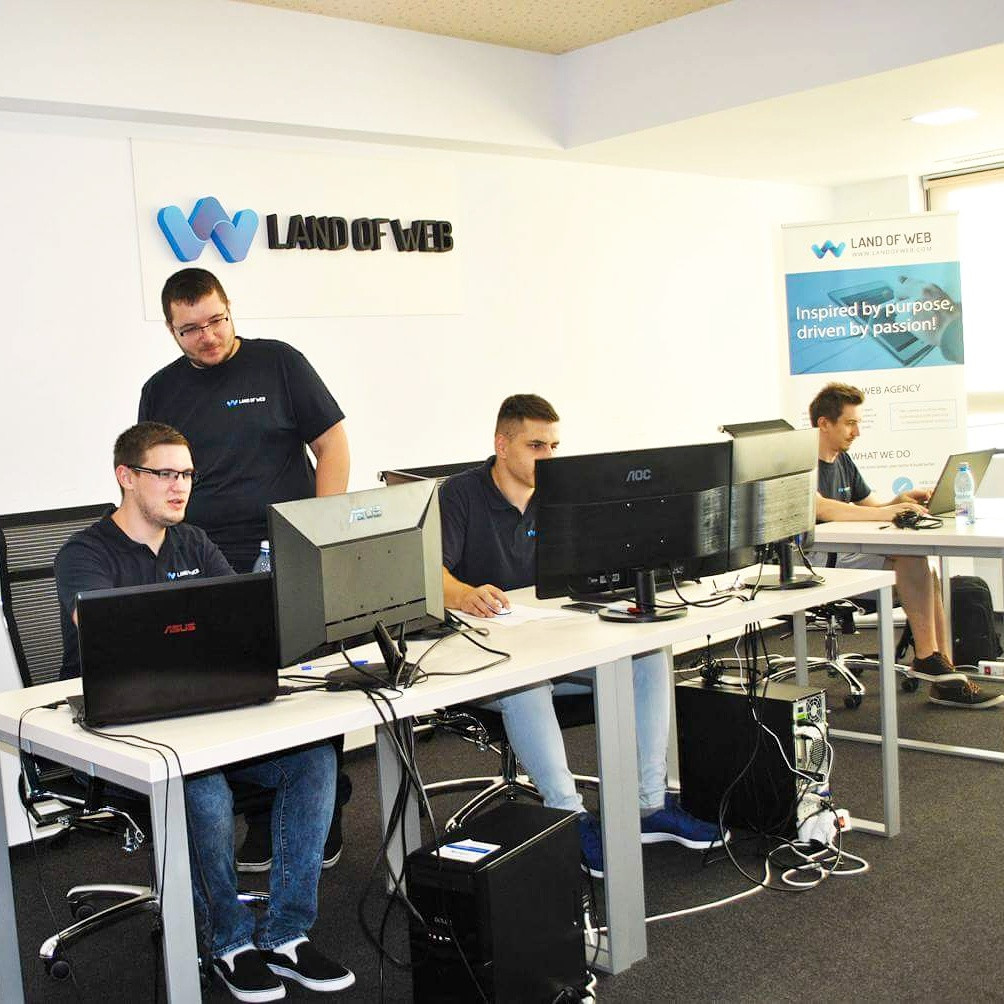 Câteva dintre atracțiile noii locatii:
Cafea și conversații inspirante cu vedere la "ocean";
Super gustări pe terasa de 30 mp;
Planificarea și implementarea, la altitudine, a proiectelor demne de cele mai importante premii ale industriei.
Până în prezent, compania Land of Web a fost implicată în proiecte din întreaga lume. În România și în Elveția colaborează cu cele mai importante agenții digitale alături de instituții, organizații și companii, cum ar fi Advanced Ideas, School of Management Fribourg - Elveția, Regiconia Internațional, Clusterul Bio Danubius, Clusterul Tracia Land, și agenții precum: Kinecto, Leo Burnett, Spada, Tempo Advertising, McCann PR, The Geeks, AdvancedIdeas, Loopaa, Chapter 4, The Geeks, Outbox, The Mansion Advertising, Smite, V8 Interactive, Green Pixel, Centrade, Tuio Social Media, Pastel si Tribal Worldwide.