Dr. Brené Brown is the expert on daring leadership speaking at BRAND MINDS 2019.
Besides Dr. Brené Brown, other four of World's Top Experts will be joining the stage at BRAND MINDS 2019:
✔ Yuval Noah Harari - World's Top Bestselling Author
✔ Grant Cardone - World's Top Sales Experts
✔ Robert Cialdini - World's Top Psychologist
✔ Hitendra Wadhwa - Award-Winning Leadership Professor
✔ One Guest-Star Speaker to be announced
Don't miss the chance to see all of them LIVE and catch the EARLY BRAND PACKAGE! Hurry up because the prices will go up on 2nd of November.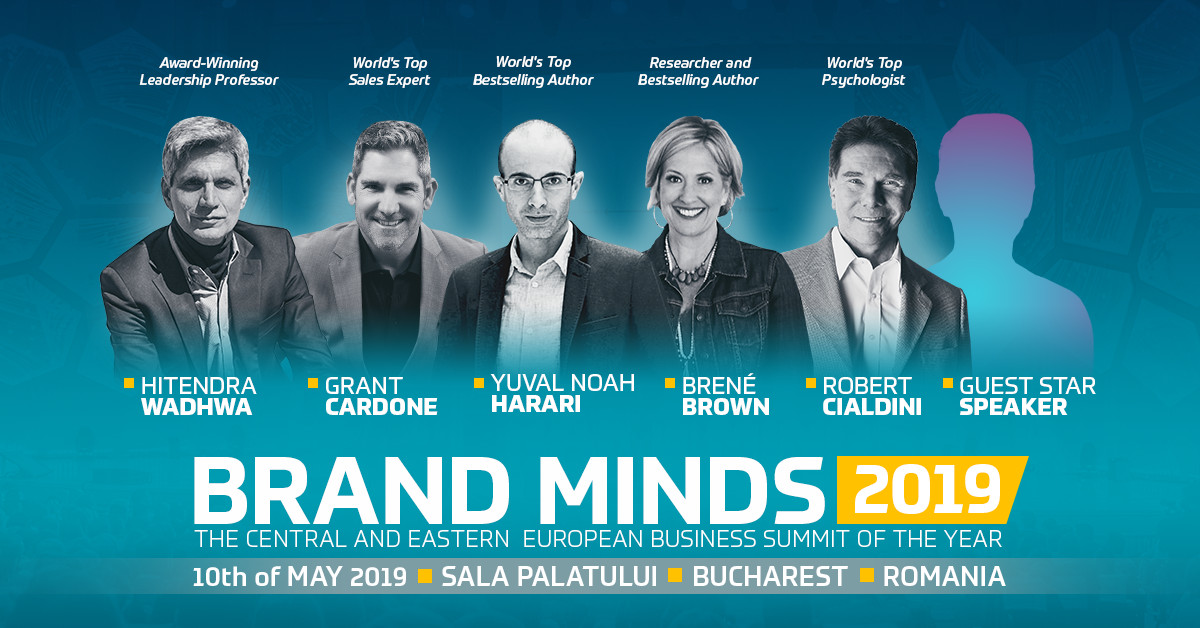 Dr. Brown is a #worldchanger supporting leaders to be successful through authenticity.
20 years of Research Experience
Dr. Brené Brown is a professor at the University of Houston, a qualitative researcher, Doctor of Philosophy in Social Work, storyteller, author and public speaker. As a qualitative researcher, she spent the past 20 years interviewing people and listening to their stories, studying courage, vulnerability, shame and empathy.
Best-selling author
Her 4 best-selling books outline her research:
1. The Gifts of Imperfection: Letting Go of Who We Think We Should Be and Embracing Who We Are
2. Daring Greatly: How the Courage to Be Vulnerable Transforms the Way We Live, Love, Parent, and Lead
3. Rising Strong: The Reckoning. The Rumble. The Revolution.
4. Braving the Wilderness: The Quest for True Belonging and the Courage to Stand Alone
Her NEW BOOK entitled Dare to Lead: Bold Work. Tough Conversations. Whole Hearts is set to come out in October 2018.
Brené Brown is an Oprah-approved author.
Dr. Brené Brown's TED Talk has received 35 million views
Brené's TED talk – The Power of Vulnerability – is one of the Top 5 Most viewed TED talks in the world with over 35 million views.
Numerous Teaching Awards
She has received numerous teaching awards including the Graduate College of Social Work's Outstanding Faculty Award. 
Houston Woman Magazine voted Dr. Brown one of Houston's most influential women of 2009.
In 2016, the Huffington Foundation honored Dr. Brown by pledging $2 million over four years to fund the Brené Brown Endowed Chair in the Graduate College of Social Work at the University of Houston.
Book tickets NOW to see Brené Brown LIVE on 10th of May, at BRAND MINDS 2019.