Tu ce faci când se apropie pitch-ul? Care sunt "regulile de aur" pe care le urmezi, pentru a te asigura că participi la un pitch (aproape) perfect?
Fie că lucrezi pentru client sau pentru agenție, ai nevoie de criterii bine stabilite și relevante atunci când îți alegi următorul partener de business.
Pentru că sunt atât de multe dos and don'ts de luat în calcul atunci când vine vorba de un pitch, Jon Steel, cel mai bun Strategic Planner din lume, vine pe 22 aprilie la The Perfect Pitch Conference by IAA să ne prezinte cele mai simple metode care dau roade în gândirea, structurarea, dar și câștigarea unui pitch.
Cu zeci de ani experiență în industrie, dar și două bestseller-uri scrise, foarte apreciate în marcom, Truth, lies and advertising" & "Perfect Pitch: The Art of Selling Ideas and Winning New Business", Jon Steel ne va ghida în procesul dorit de toată lumea, și anume cum să susții un pitch perfect.
Vom trece pe rând alături de Jon prin toate etapele unui pitch:
* To pitch or not to pitch?
* Selectarea shortlist-ului
* Prima impresie lăsată
* Merită să ne vedem și a doua oară?
* Brief-ul!
* Pregătirea pitch-ului
* Dezvoltarea ideilor
* Antrenarea și persuadarea audienței
* Evaluarea pitch-ului
Evenimentul va fi moderat de trei personalități din industria de marcom din România, reprezentând fiecare o parte implicată într-un pitch:
CLIENTUL - Nicoleta Mihăilescu - Senior Director Commercial Operations and Analytics & Insights @Procter & Gamble South East Europe;
STRATEGUL - Ștefan Chirițescu – Chief Strategy Office @McCann Romania;
CREATIVUL - Valentin Suciu – Creative Partner @Jazz.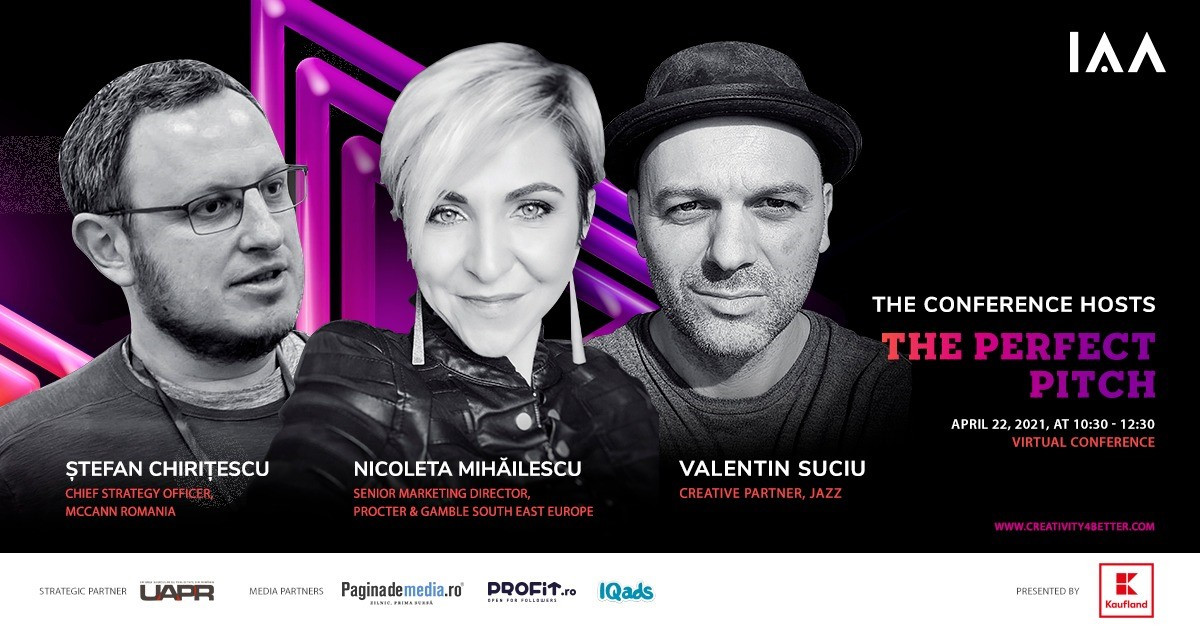 Ladies and... Advertising : ), pe 22 aprilie, de la 10.30, ne vedem cu Jon Steel într-o conferință pe care niciun marcom aficionados nu trebuie să o rateze.
În finalul conferinței va exista o sesiune deschisă Q&A, unde îl poți întreba pe Jon orice ai nevoie să știi în plus despre pitch-ul perfect.
Mulțumiri partenerilor noștri:
Presenting Partner: Kaufland
Strategic Partner: UAPR 
Media Partners: Pagina de media, Profit.ro, IQads
Cum te poți înregistra?
Înregistrarea se face prin trimiterea unui mail către adresa ruxandra.radu@iaa.ro.
Cost participare: 45 Euro pentru membrii IAA, 65 Euro pentru non-membri.