Gala de Premiere Internetics 2021, un proiect inițiat de The Institute și susținut de UniCredit Bank, are loc marți, 23 noiembrie, de la 19:30, și sărbătorește acțiunile din digitalul românesc printr-un eveniment exclusiv online, ce este completat de un program de discuții aflat sub umbrela temei celei de-a XXI-a ediții: PIONEERING THE FUTURE.
În cadrul Galei vor fi premiate cele mai bune campanii de branding, marketing și advertising prezente în ultimul an în plan local dintre cele peste 130 înscrise în competiție. În misiunea sa de a susține și celebra comunicarea digitală, festivalul își propune prin ediția actuală să deschidă o conversație despre viitorul industriilor creative și a modului în care noile tehnologii transformă comunicarea, punând sub lupă tehnologia blockchain și principiile care îi stau la bază.
Evenimentul de premiere, ce începe la 19:30 pe pagina de Facebook Internetics, este precedat de un panel de discuții online. Sub tema PIONEERING THE FUTURE, participanții sunt invitați să urmărească două formate de conversație transmise, de asemenea, live pe pagina de Facebook Internetics, și să se alăture celor 5 profesioniști creativi care vor împărtăși propriile credințe și cunoștințe despre viitorul industriei.
Primul dialog tratează impactul noilor tehnologii, căutând direcții și modalități de orientare în era digitală din perspectiva lui Hugo Veiga, președintele juriului Internetics 2021 și Global Chief Creative Officer la AKQA São Paulo. Interviul este condus de Matei Psatta, co-founder TPS Engage, platforma pentru advertising eficient de OOH digital care a conectat peste 300.000 de billboard-uri în toată lume. Discuția 21 Questions with Hugo Veiga poate fi urmărită de la orele 16:00.
Cel de-al doilea dialog este o invitație pentru public de a cunoaște două dintre creatoarele de NFT-uri din România. Se vor alătura discuției Tammy Lovin, designer și artist digital, și Wanda Hutira, art director, ilustratoare și creatoare de obiect, două prezențe active în scena locală de NFT. Vor vorbi despre extinderea artei digitale și a rolurilor creatorilor și cumpărătorilor într-o discuție moderată de curiozitățile lansate de Silviu Faiăr, cel mai mare streamer român în prezent și fost strateg publicitar. Meet the Pioneers. NFT Creators are here to stay (?) debutează la orele 17:00.
De la 19:30, Gala de Premiere invită toți participanții să ia parte la o convenție care definește procesul de exchange al crypto monedelor prin introducerea propriilor monede noi: Project și Glory, reprezentând lucrările înscrise în competiție, respectiv premiile. În rețeaua Internetics se află 138 de projects care trec prin evaluarea Validator Nodes – juriu format din 72 de specialiști în marcomm, researcheri, specialiști în media și publishing și consultanți de marketing.
Gala va fi prezentată de Andi Moisescu, căruia i se vor alătura invitați speciali pe parcursul serii, prin transmisiune live și în studio. Atât evenimentul de premiere, cât și discuțiile vor putea fi urmărite online în 23 noiembrie pe pagina de Facebook Internetics.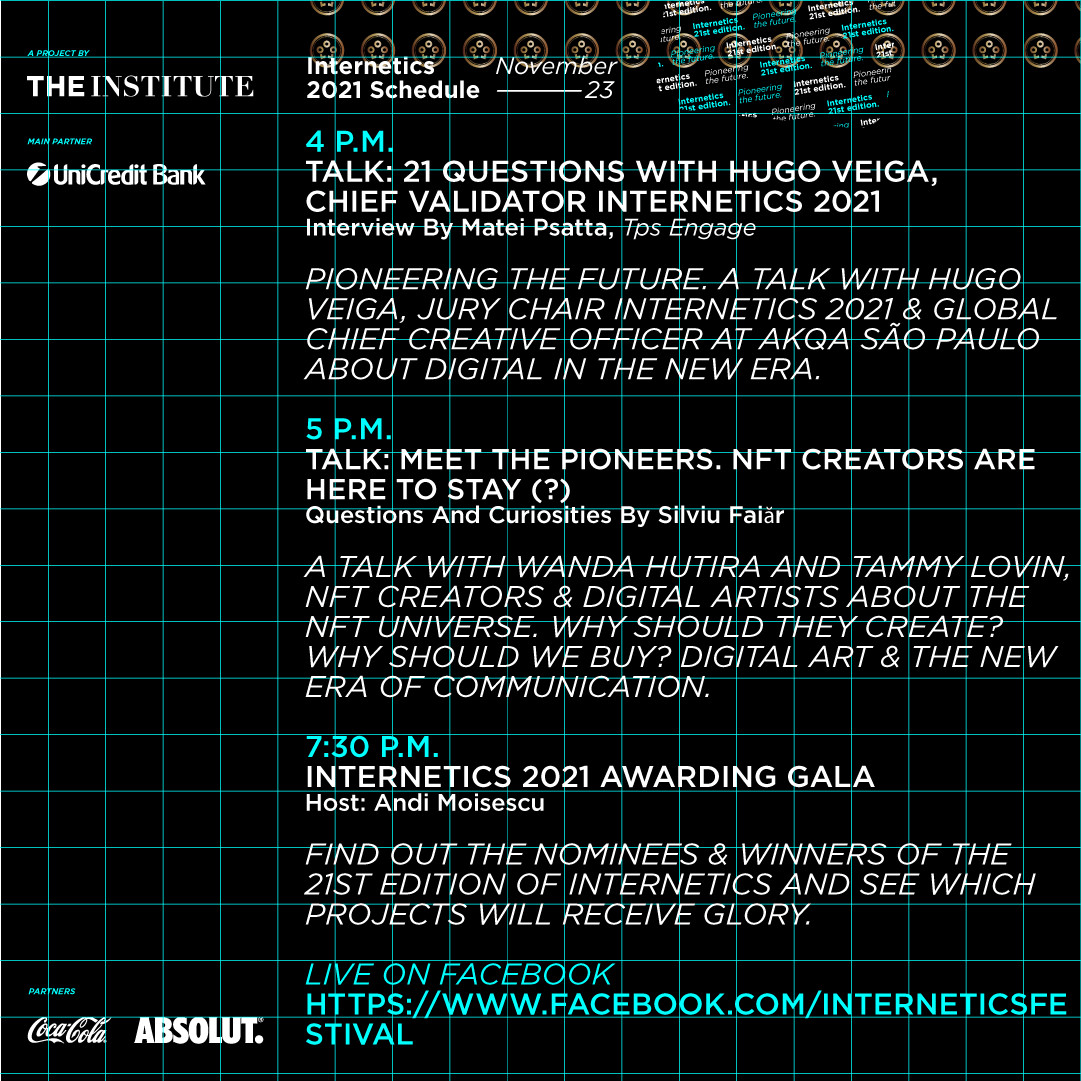 INTERNETICS 2021 SCHEDULE // November 23
4 P.M.:  TALK: 21 questions with Hugo Veiga, Chief Validator Internetics 2021
Interview by Matei Psatta, TPS Engage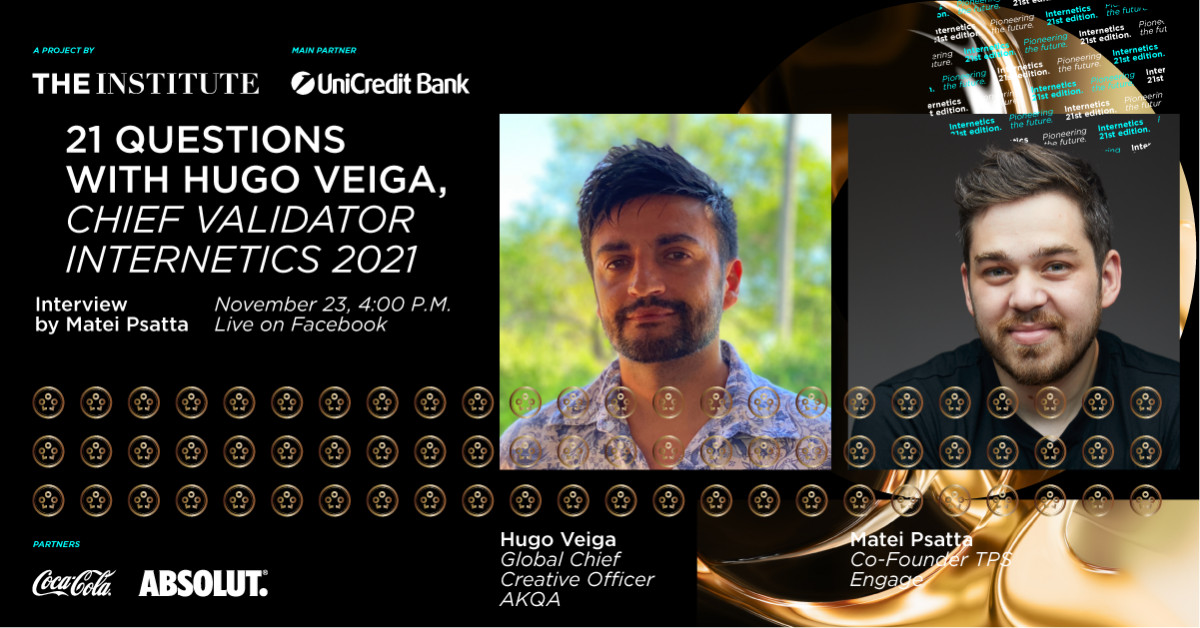 5 P.M.: TALK: Meet the Pioneers. NFT Creators are here to stay (?)
With Wanda Hutira and Tammy Lovin. Questions and curiosities by Silviu Faiăr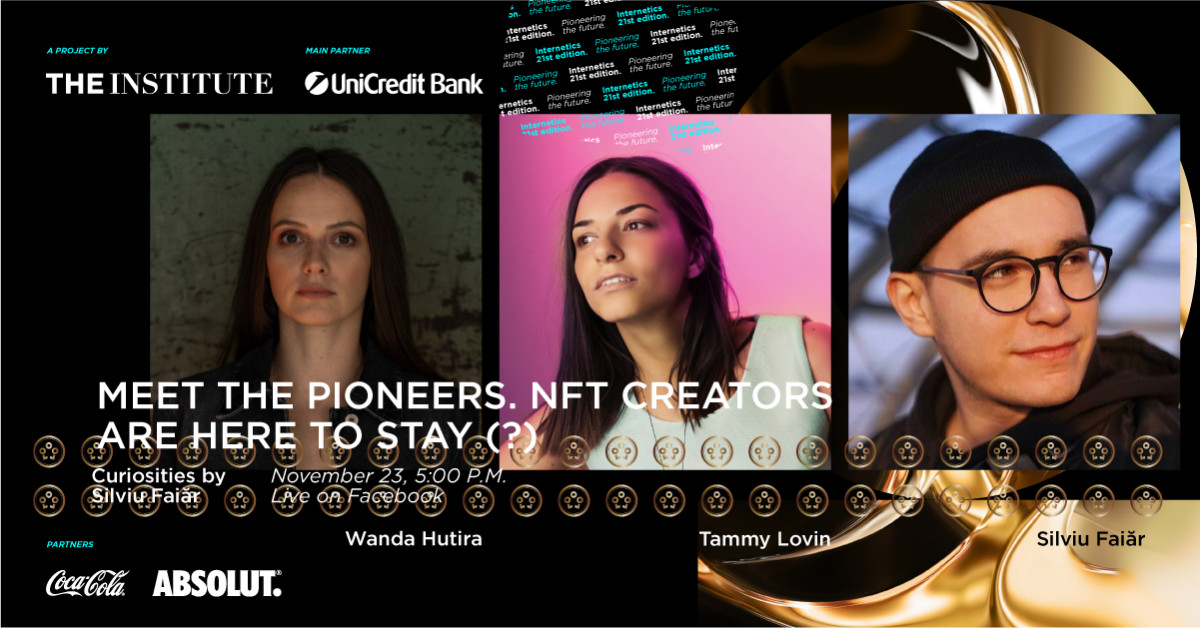 7:30 P.M.: INTERNETICS 2021 AWARDING GALA
Host: Andi Moisescu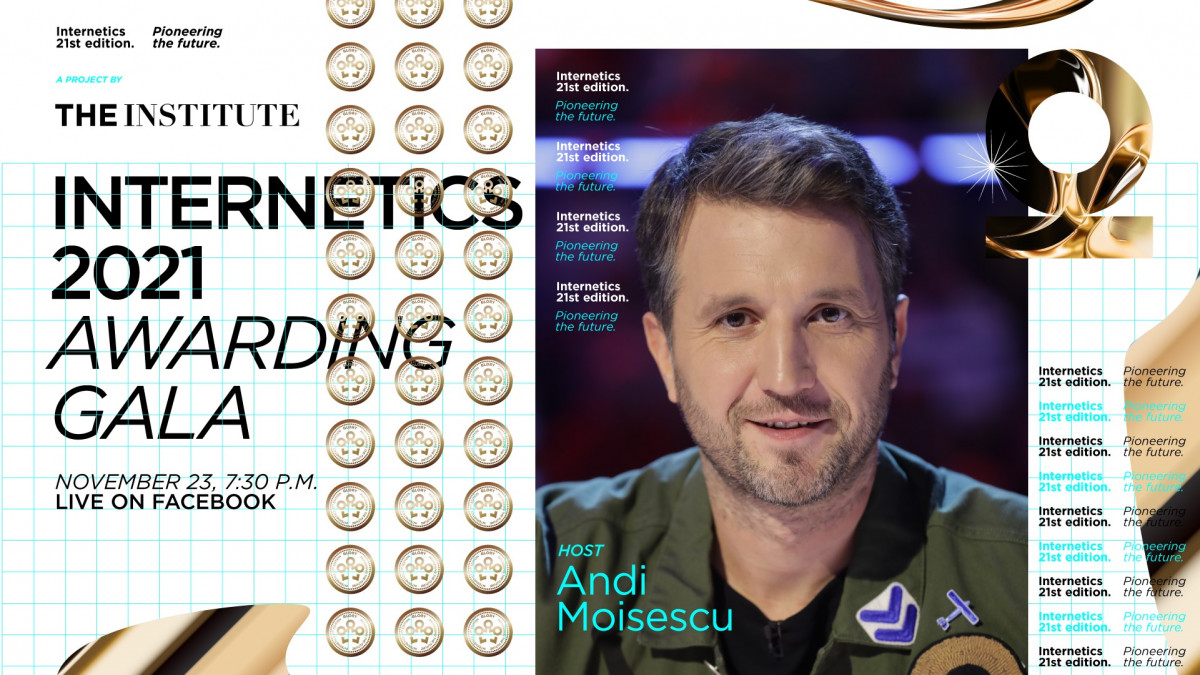 Parteneri Internetics 2021:
Un proiect: The Institute
Partener Principal: UniCredit Bank
Parteneri: Coca-Cola, Absolut, YouTube
Parteneri media: Biz, IQads, SMARK, Paginademedia.ro, spotmedia.ro
Creaţie: ACME Industries