De la inceputul pandemiei, am observat cu totii un interes crescut al romanilor pentru educatia financiara. Daca pana acum ideea ca lumea s-ar putea opri intr-o clipa parea doar o idee ca-n filme, incepand cu 2020, a devenit o posibilitate. Cei care au fost prinsi fara rezerve financiare au fost speriati de impactul pe care il poate avea perioada COVID-19 (54% dintre romani au prioritizat cheltuielile de zi cu zi, au vanat produsele la reducere si au amanat achizitiile medii spre mari, cum ar fi vacantele, device-urile, electrocasnicele (conform unui studiu GWI – "Coronavirus Research" din iulie 2020). Pentru ceilalti a fost o confirmare a deciziei de a economisi.
In acelasi timp, numarul de tranzactii cu cardul a inregistrat o crestere semnificativa.
Iata care sunt motivele:
· a crescut numarul de comenzi online, ceea ce a adus cu sine o crestere a platilor cu cardul;
· in offline, atentia la igiena personala a condus catre utilizarea cat mai rara a platilor cu cash.
Insa mai exista un motiv relativ recent, din 2021, pentru care romanii si-au schimbat un obicei: un anumit brand a facut eforturi constante si sustinute pentru a genera cresterea numarului de tranzactii.
Platile facute cu cardul au fost dintotdeauna simple.
De ce au avut o adoptie lenta pana in acest punct?
Pentru sectorul financiar, credibilitatea are o importanta maxima; pentru mult timp, credibilitatea a fost un atribut: fie construit in sucursale (interactiune care s-a diminuat considerabil), fie asociat mediilor de comunicare traditionale, astfel ca, in context pandemic, bancile au simtit nevoia sa comunice mai intens. Insa, nu peste mult timp, piata a realizat, cel putin in cazul comunicarii prin presa, faptul ca interactiunea cu consumatorii era destul de rece si impersonala, iar increderea incepea sa scada.
In perioada 2020-2021, tot sectorul finaciar s-a orientat catre zona de plati cu cardul, insa doar cateva branduri si-au alocat resurse si timp pentru a face educatie.
"In tot anul 2021, atentia noastra a fost indreptata catre dezvoltarea si intarirea pilonului de educatie financiara. Sub aceasta umbrela, am dezvoltat mesaje in jurul beneficiilor platilor cu cardul. Doar printr-o abordare onesta, orientata catre nevoile consumatorilor, poti genera schimbari de comportament pe termen lung. Ca in fiecare an, am dezvoltat programe alaturi de partenerii nostri (banci, comercianti), insa am avut atentia si dedicarea de a imbraca intreaga comunicare intr-un layer educational, ceea ce poate parea in afara normei (mesajul poate fi considerat diluat).
Ce ne-a motivat? Ne-am ascultat consumatorii si am inteles ca romanii au nevoie de "de ce" inainte de "ce".. When you have the why, you do the what".
Ioana Vieru, Brand & Product Marketing Manager - VISA
"E o reala placere sa tinem sub observatie domeniul financiar cu ajutorul Digital Health Index si al subscorurilor acestuia. Cu acest tool, aflam in timp real la ce reactioneaza cel mai bine consumatorii, le aflam barierele, punctele sensibile si actionam intocmai. Cum a zis si Ioana, relatiile tranzactionale au puterea de a oferi peak-uri temporare oricarui brand de finance, insa componenta de educare creeaza familiaritate, apropiere si aduce efecte pe termen lung".
Alexandra Caciur, Head of Data & Business Intelligence – DIGITAS ROMANIA
Sa ne uitam, spre exemplu, la zona de earned media:
Digital Power Score (sub-scor al DHI) ne arata interesul generat de un brand in cautarile online. VISA reuseste sa tina sus acest indicator tocmai datorita componentei de educare always ON si a inovatiei ce depasesc storytelling-ul clasic (ex. spoturi la TV), inovatii ce impacteaza direct viata de zi zi a romanilor (ex. plata contactless in autobuze si tramvaie).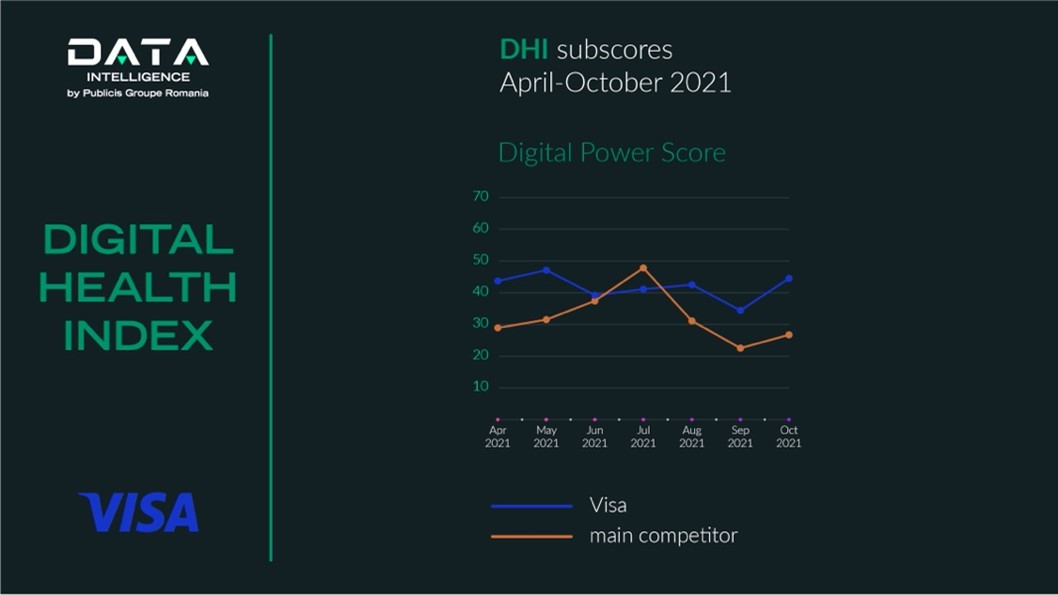 Digital Health Index, un instrument propriu de masurare a sanatatii brandurilor in digital, este creat special pentru a pune la dispozitia brandurilor, in timp real, informatii relevante despre starea acestora – de la radiografierea lor si a concurentei, pana la diverse predictii in scopul luarii celor mai bune decizii de business. AICI, liderii de categorie in Auto, Banci, Retail, Telecom, Farmacii, Clinici, Soft Drinks, DYI si CSD pentru 2021