Pana la FIBRA, CARO le avea (aproape) pe toate: istorie de distilerie in timpul perioadei comuniste (vezi terasa intitulata Glucoza Bar), arhitectura interbelica (fatada originala din anii 1930), oaza de verdeata cu podulet pentru sezonul primavara-vara, crama pentru toamna-iarna si altele despre care stiu ei mai bine sa va spuna.
Ce vrem noi sa spunem e ca, odata cu venirea festivalului dedicat creativitatii locale, resortul cu al sau hotel au cunoscut un alt anotimp, al creativitatii. Care s-a intamplat indiferent de vreme, caci anul trecut a si plouat, a fost si soare. Dar a fost inspiratie. Venita tocmai de la Droga5 (Statele Unite), Wieden+Kennedy si 72andSunny (Olanda), KARPAT (Turcia), DAVID The Agency (Brazilia), apple tree communications (Spania), HEAVY (Danemarca) si Ruskin+Hunt (Serbia).
Am avut 8 jurati (internationali, din agentii independente) care s-au cunoscut, au jurizat timp de 2 zile nu mai putin de 371 de campanii inscrise. S-au imprietenit intre ei, cu noi si cu mai toti prezenti. Intr-atat incat am avut 2 sesiuni de karaoke in lobby-ul CARO, cu instrumentalul de la pian asigurat de Kevin Brady (Executive Creative Director, Droga5). Iar obiectivul editiei de anul acesta sta in sesiuni sporadice de cantari a capella, cu o serie de jurati la fel de internationali ca primii, prezidati de Casey Rand (Group Creative Director, Droga5).
Dar nu in timpul Conferintelor FIBRA, care vor avea loc pe 16 si 17 noiembrie; de preferat, nici la Gala de premiere din seara de 17. (Desi cate-o interpretare muzicala pe scena din partea catorva castigatori n-ar strica neaparat; apropo, am mai facut odata ceva de genul asta.)
Asa ca anotimpul creativitatii de la CARO are loc anul acesta in noiembrie, la a doua editie a Premiilor FIBRA. Nu mai ramane decat sa ne vedem pe acolo (adica pe Barbu Vacarescu 164).
"Sunt foarte bucuros ca m-am alaturat unei echipe care m-a molipsit de entuziasmul ei inca din primele zile ale lunii iunie 2017. Cunosc foarte bine creativitatea colegilor nostri din agentiile de publicitate, rolul crucial pe care-l au in pregatirea unui eveniment pe care clientul (din ce in ce mai pretentios, cum este si normal!) si-l doreste mereu la superlativ.

La CARO, agentiile vor gasi acel fundament pe care creativitatea poate construi: vointa de autodepasire a unui grup de profesionisti care vorbesc aceeasi limba. Va invitam sa descoperiti impreuna cu noi, semnificatiile sloganului CARO: A Pleasure To Please – placerea de a darui!", spune Calin Diaconu (Marketing Manager, Caro Hotel Bucharest).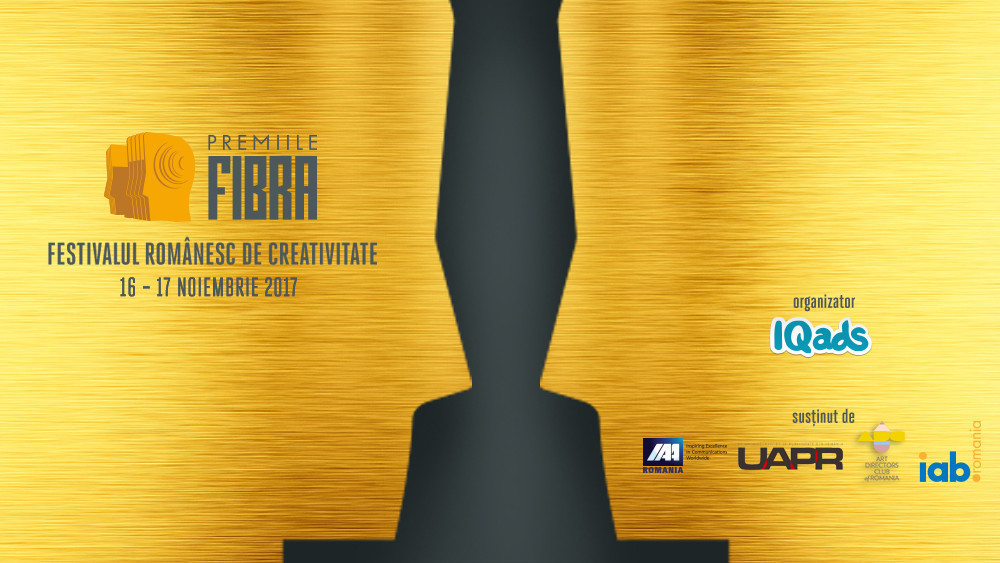 Premiile FIBRA reprezinta un demers local necesar pentru a seta nivelul profesionalismului din marcomul autohton si, totodata, pentru a-i sustine dezvoltarea. Prin intermediul Premiilor FIBRA recunoastem, incurajam si premiem valoarea creativitatii locale si readucem entuziasmul si curajul la masa dezbaterilor creative.
Festivalul este organizat de IQads, platforma media dedicata industriilor creative din Romania.