Cea de-a XVI-a ediție Effie își continuă seria de evenimente Effie Talk
Cea de-a XVI-a ediție Effie își continuă seria de evenimente Effie Talk și invită specialiștii în marketing, creativii și strategic & media plannerii să participe la al doilea seminar Effie 2019: "Effie Talk: Measuring what matters in mobile world".
Evenimentul se va desfășura  marți, 19 martie, începând cu ora 10, la Institute, The Café – Str. Stirbei Voda, nr. 104-106.
"Effie Talk: Measuring what matters in mobile world", pleacă de la viziunea #effiethinking, prin care se urmărește susținerea unui model corect de marketing și de comunicare, cu o gândire strategică în spatele fiecărei componente de marketing, de la challenge și până la rezultate, totul spre a genera proiecte puternice care să crească piața de marcom din România.
Acest seminar este începutul colaborării dintre Effie România și Facebook și are rolul de a prezenta modalitatea eficientă prin care pot fi citite, analizate sau măsurate datele și rezultatele platformelor de Social Media, dar și felul în care s-au schimbat acestea în ultimii ani.
Invitatul special al acestui Effie Talk este Roxana Cerchez, Agency Solution Manager, CEE | Facebook.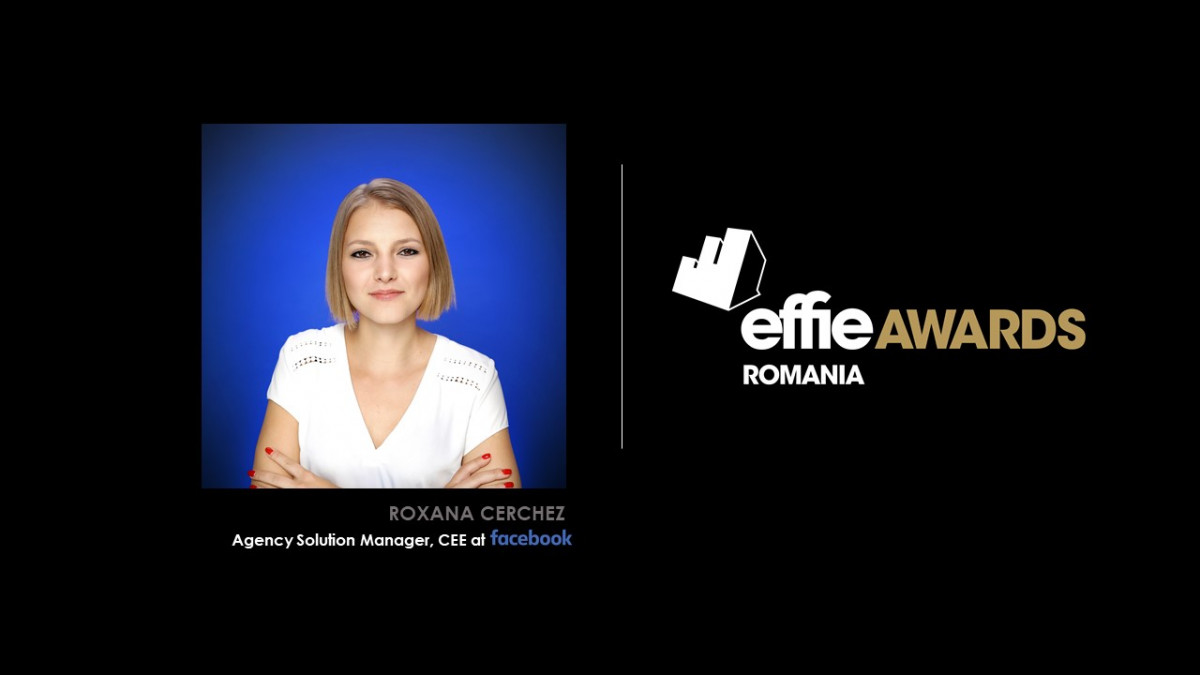 Prezentarea se va concentra asupra contextului de măsurare a digitalului și a ceea ce considerăm important și relevant de analizat în termeni de eficiență pe platforma Facebook și metodologie aplicată. Motivul îl reprezintă schimbările majore ale peisajului media care au creat intersecții complexe între felul în care sunt măsurate noile canale și dovedirea eficienței mixului de media. Odată cu schimbările suferite de noile canale media, au apărut și noi grile de măsurare a acestora.
Roxana Cerchez lucrează de mai bine de 9 ani în Digital Marketing și a avut întotdeauna alături echipe multiculturale sau care acționau în diferite domenii de business. Cu o gândire analitică și o pasiune constantă pentru dezvoltare, reușește să își pună în aplicare metodic cunoștințele despre platformele de ad serving precum Facebook, Facebook Insights, Google Adwords, Google Analytics sau DoubleClick.
În a doua parte a întâlnirii, Victor Stroe - Head of Strategy and Associate Director | Leo Burnett & Presedintele Comitetului de Organizare Effie 2019- va susține o prezentare de proiecte digitally oriented și câștigătoare Effie, care folosesc tool-urile puse la dispoziție de platformele de social media drept canal principal în comunicarea întregii campanii.
Intrarea este liberă, cu confirmare înainte.