E viață pe net. În câte moduri se poate spune propoziția aceasta scurtă și adevărată. Cu năduf sau ironie, cu disperare sau încântare, zâmbind sau pur și simplu ca o observație a unui martor indiferent. Dar nu mai există martori indiferenți ai internetului. Cu toții suntem acolo, trăim. Deci da, e viață pe net. Dar e viață și în oraș. Mai ales când zidurile lui încep să vorbească cu trecătorii.
Acum două săptămâni, o mișcare creatoare își arăta primele semne urbane. #rebelswithacause începeau o nouă legendă urbană și dădeau primele tag-uri prin oraș, promisiuni ale unor surprize viitoare. Prima lucrare poate fi văzută deja în București și e spectaculoasă. A fost realizată de Sweet Damage Crew și curată de One Night Gallery, se numește E VIAȚĂ PE NET și constituie primul mural din seria #rebelswithacause, realizat cu vopsea eco care purifică aerul.
Când arta inspiră, orașul respiră
Să respirăm, la propriu, street art de calitate. Se poate cu EcoGraffiti // #rebelswithacause, care și-au propus să coloreze Bucureștiul și să îi imprime o forță creatoare prin graffiti-uri care purifică aerul. Inițiativa are în plan șase murale care să îmbogățească orașul prin culoare, ritm și perspectivă și să ne amintească, în feluri inovatoare, că arta poate fi aproape, atâta timp cât ne oprim să o privim.
1.000 de metri pătrați de ziduri vor fi transformați în opere de artă de Sweet Damage Crew, în parteneriat cu One Night Gallery, în cadrul campaniei "Eco Graffiti / Rebels with a Cause", susținută de glo™. Artiștii vor folosi exclusiv materiale eco: 25% vopsea care purifică aerul, 75% vopsea ecologică, mușchi verde și lămpi cu încărcare solară. Fiecare pictură murală va avea capacitatea de purificare a circa 4 copaci maturi, cu frunziș des.
Primul mural din serie, E VIAȚĂ PE NET reprezintă un selfie ambiguu, care sugerează dorința constantă a oamenilor din prezent de a se exprima și de a se valida prin imagine, nevoia lor de a trăi pe internet, dar și de a evada în oraș.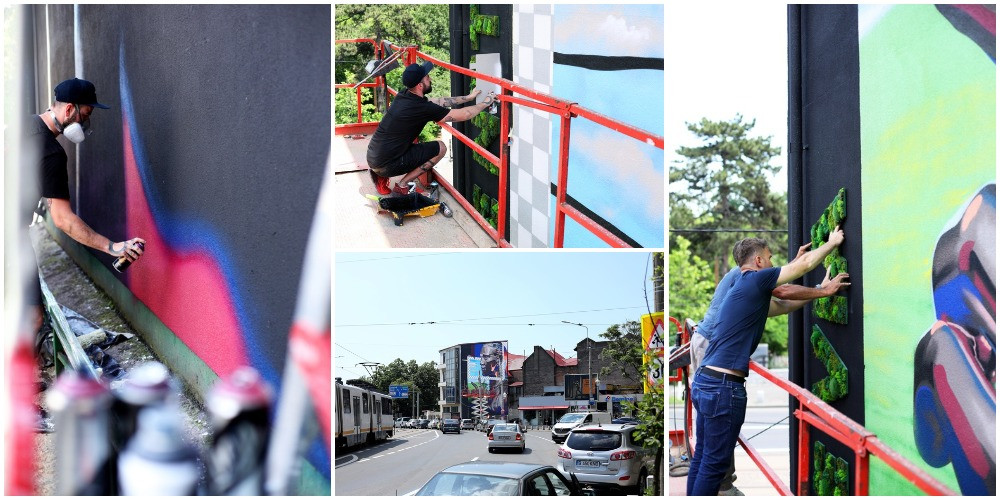 "Am abordat o ambiguitate asumată, așadar: Compozitional similar unui selfie, personajul androgin și fără rasă trage șnurul unui balon cu heliu (sugerat subtil) pe o câmpie fictivă (peisajul celebru al windows) iar portretul său este încadrat într-o fereastră sau ecran (dreptunghi sau pătrat similar cu cel al pozelor de profil) sugerat grafic prin caroiajul de asemenea celebru al spațiului gol în arta digitală, așadar lucrarea reprezintă foarte clar brief-ul prin relația analog & digital, prin ce apare într-un selfie și ce nu.

Am ocolit conștient elemente predictibile ale ceea ce ar sugera clar "internetul" din motive estetice și poetice, asta fiind cea mai importantă misiune a proiectului defapt. Arta este comunicarea extazului."

Descoperă primul Eco Graffiti din seria #rebelswithacause, E Viață pe Net în București, strada Șerban Vodă nr.278

Așa cum anunțau și în manifestul de teasing, Rebels with a cause consituie o inițiativă menită să susțină tinerii artiști. Înseamnă revoltă din aceea bună și necesară, libertatea de a experimenta, dar și responsabilitate.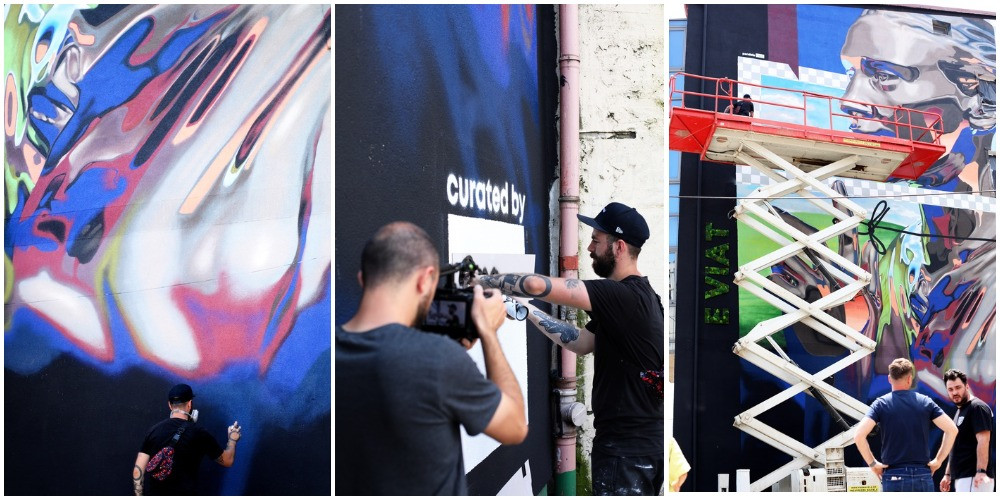 Obiectivul campaniei este crearea unui cadru cât mai viu și dinamic de expunere a artei în spațiul public al orașului și al comunității, prin transformarea spațiilor gri și amorțite în experiențe artistice vii și colorate. Lucrările realizate în cadrul proiectului Eco Graffiti vor fi disponibile pe pagina de Instagram @glo_romania. Inna, Speak, Cătălin Bordea și Macanache suțin și ei inițiativa Eco Graffiti: ei au revendicat clădiri din oraș, scriind primul capitol din noua legendă urbană "Rebels with a Cause".
"Eco Graffiti înseamnă pasiune pentru artă și grijă pentru mediu, o călătorie inițiată de glo pentru a reda orașul comunității, într-un moment în care ne este atât de dor să fim din nou împreună. Iar vopseaua purificatoare folosită pentru realizarea picturilor murale este încă o dovadă că tehnologia ne poate schimba viața în bine, reducând riscurile la care ne expunem în fiecare zi", a declarat Alina Câmpanu, senior manager glo în cadrul British American Tobacco România.
Rebels with a cause este o inițiativă amplă ce susține comunitatea artistică din România prin diferite proiecte menite să genereze noi perspective și sensuri, sub umbrela #breakbinary. In proiectul Eco Graffiti participă un grup de artiști creatori de conținut graffiti, care vor crea într-un stil #breakbinary, îmbinând concepte care pot fi considerate opuse dar împreună formează opere de artă, o expoziție publică de graffiti și plante, ilustrații extravagante și vopsea ecologică, instalații grandioase și aer curat.
Să privim, deci, să ne bucurăm & să inspirăm. Sau, cum spun cei de la #rebelswithacause: glo with the flow & stay tuned, pentru că arta stradală ia cu asalt orașul. Nimeni Celebru, Tânăr cu Experiență, Singur cu Tine, Filtru Însuți și FOMO să-mi fie dor sunt numele următoarelor lucrări din serie.
Urmează, în curând, un nou mural pe străzile din București în fața căruia să ne oprim și să ne amintim să respirăm puțin.
(18+) glo™ este un produs cu potențial de risc redus destinat consumatorilor adulți de produse din tutun sau nicotină.