Săptămâna aceasta, pe 10 și 11 noiembrie are loc online, pe platforma MyConnector.ro, cea de-a 10-a ediție GoTech World (anterior denumit Internet & Mobile World).
Evenimentul va fi deschis miercuri, 10 noiembrie, orele 10:00, de către Octavian Oprea, Președintele Autorității pentru Digitalizarea României, Sabin Sărmaș, Președinte al Comisiei de IT și Comunicații din Camera Deputatilor și Răzvan Sighinaș, CIO ING Bank România pe Scena Principală. Pe Scena Cybersecurity sesiunile din 11 noiembrie vor fi deschise la orele 10:00, de către Mircea Geoană, Secretar General Adjunct NATO.
Digitalizarea afacerilor, robotică, haine inteligente, inginerie neuronală, curierat cu drone sau mașini conectate la tehnologie fac parte din Agenda GoTech World 2021
Ca în fiecare toamnă, timp de două zile, GoTech World, devine cel mai important HUB tehnologic din regiune, reunind anul acesta pe cele 9 scene virtuale, 130 dintre cei mai cunoscuți speakeri și experți internaționali în diverse domenii de business ce vor susține conferințe, workshop-uri și panel-uri despre cele mai noi tendințe în ceea ce privește digitalizarea afacerilor, realitatea virtuală, ingineria neuronală, hainele inteligente, printarea 3D, creatorii de conținut și comunitățile online, mixul dintre comerțul online și in-store, noile provocări pentru Ransomware, optimizare Java, integrarea Kubernetes cu DevOps.
Printre speakerii internaționali ce vor fi prezenți în cadrul evenimentului se numără:
Morten Bonde, Motivational speaker, Autor și Creative la LEGO Group;
Howard Newton, Profesor de Neuroștiință Computațională la Universitatea Oxford;
Aldo Lele, Regional Sustainability Manager IKEA;
Scott Lyons, Tech, Commercial & Strategic Partnerships la Ford;
Stuart Clark, Senior Technical Leader & Senior Developer Advocate la CISCO;
Purna Virji, Senior Evangelist, Content Solutions la Linkedin;
Sameer Sharma, Global GM (Smart Cities & Transportation) IOT Solutions la Intel;
Charl van der Walt, Global Head of Security Research la Orange Cyberdefence;
Haiyan Zhang, Chief of Staff, Xbox (Microsoft Gaming);
Gunnar Grosch, Senior Developer Advocate la AWS; David Cuen, Director of Content Communities la Booking.com;
Dan Kaufman, Senior Director of Engineering Head of Advanced Technology and Products la Google
Steve Jarrett, Global Head of Data and AI la Orange.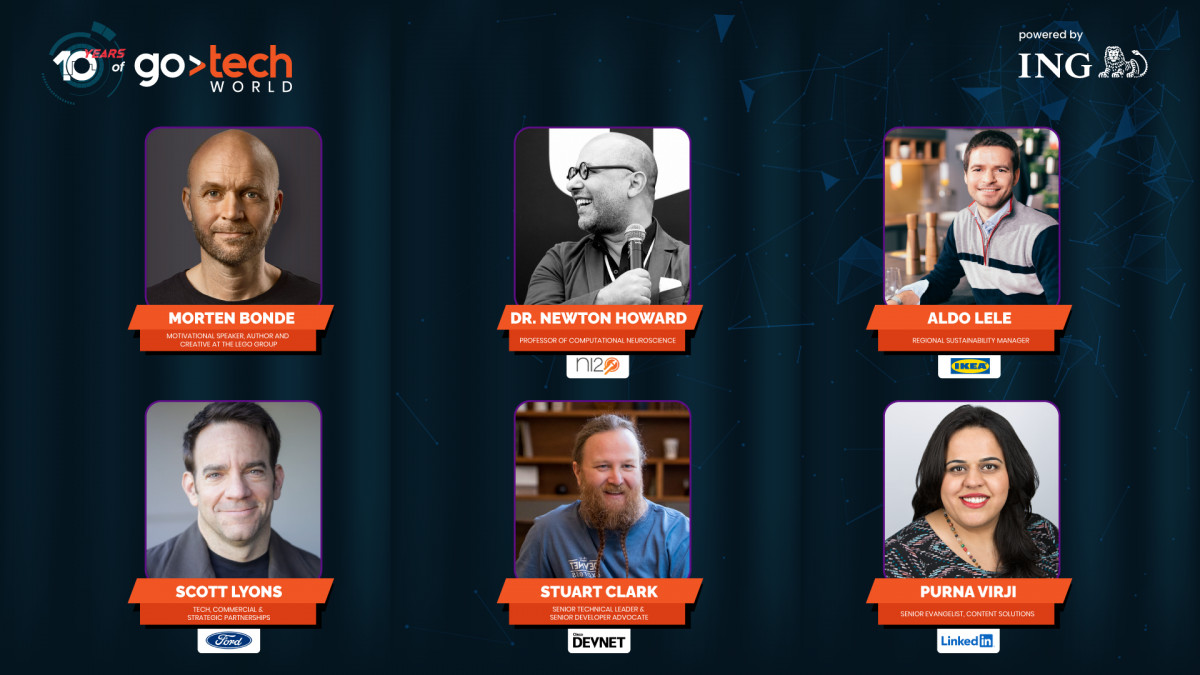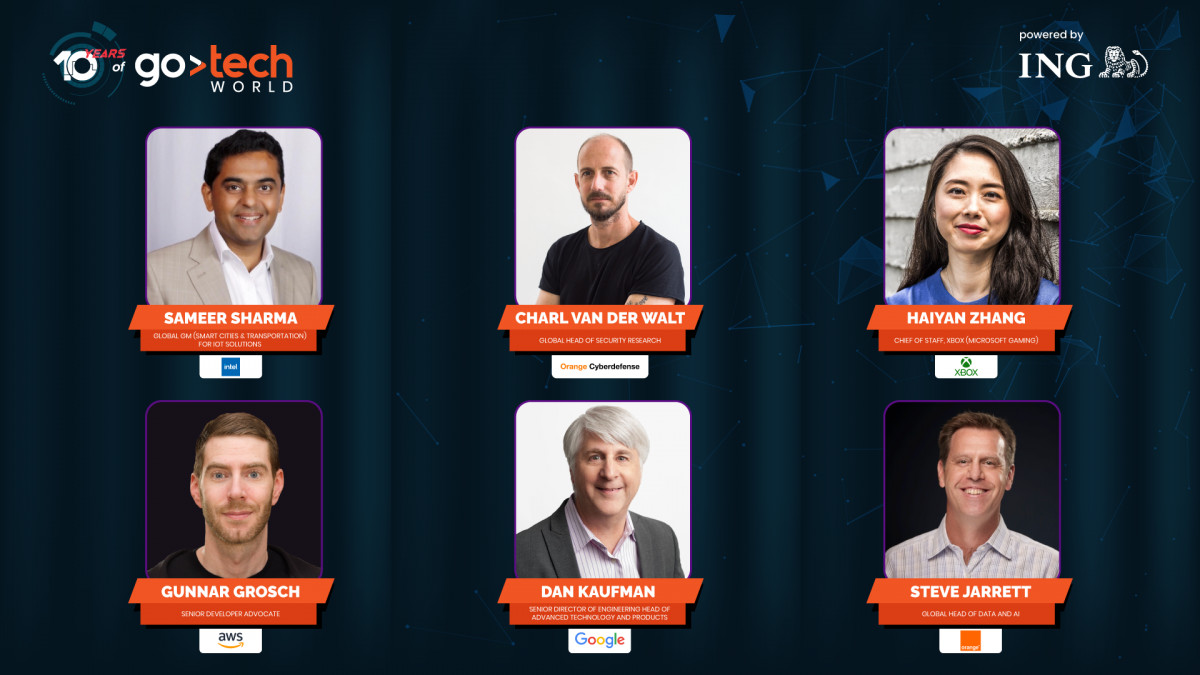 Pe cele 9 scene virtuale vor urca, de asemenea, printre cei mai apreciați experți și specialiști reprezentanți ai partenerilor locali, din diverse domenii de business, precum:
Răzvan Sighinaș, CIO ING Bank România,
Cristi Movilă, Eastern Europe General Manager & EMEA SVP VTEX,
Bogdan Ivașcu, Country Manager ASUS România,
Adrian Floarea, CEO certSIGN,
Martin Borrett, IBM Distinguished Engineer, CTO IBM Security EMEA,
Laura Grigore, IT Director for Ubisoft's People Technologies Stream, Ubisoft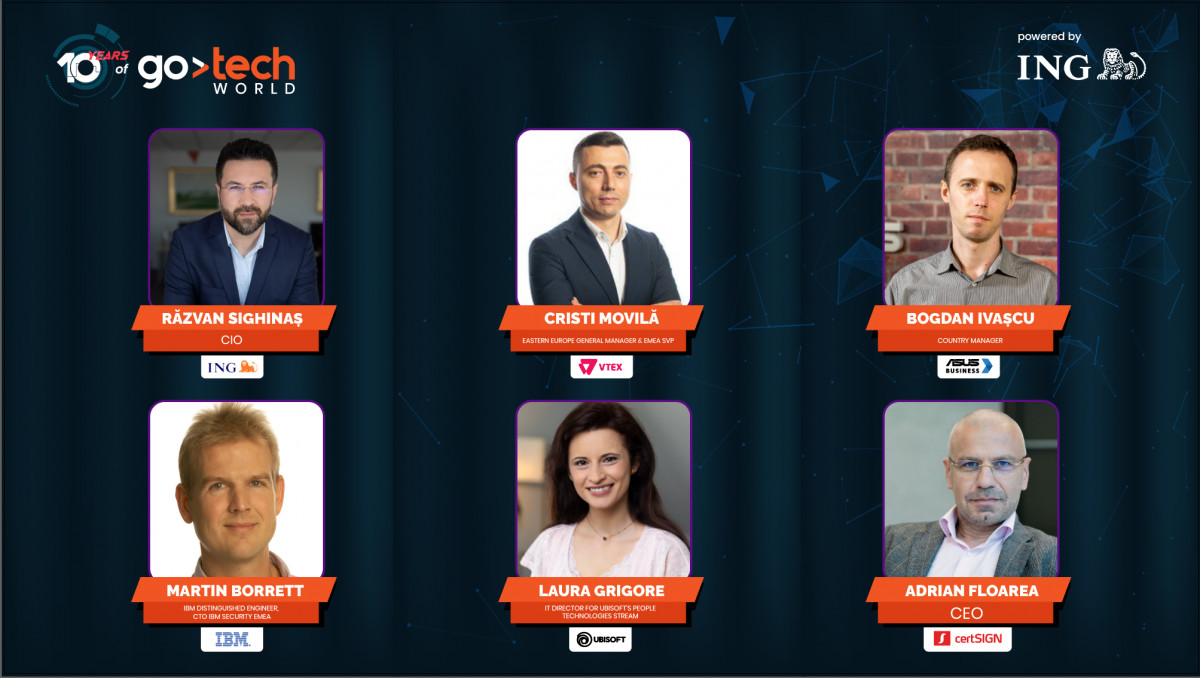 Servicii de plată online Open Banking, cele mai noi platforme integrate de E-commerce, concepte din Gaming adaptate la diverse domenii de business, soluții de Management al contractelor și Registratură electronică, în Zona Expozițională.
În cadrul Zonei Expoziționale, 60 dintre cele mai importante companii IT&Digital, Digital Marketing, Gaming, Retail sau Auto își vor prezenta cele mai noi soluții și programe ce contribuie semnificativ la digitalizarea și automatizarea afacerilor, indiferent de domeniul de activitate.
La eveniment sunt înregistrați peste 15.000 de profesioniști din diverse domenii și verticale de business care, precum în cazul unui eveniment Live vor putea interacționa și vor putea face networking cu ajutorul instrumentelor platformei MyConnector: chat-uri interactive publice și private, schimb de cărți de vizită și un sistem de întâlniri video.         
Noutatea ediției aniversare, Scena Smart City
O nouate a acestei ediții este lansarea Scenei Smart City.
Așadar, pe lângă cele opt scene deja consacrate (Main Stage, E-Business&Digital Marketing, IT Ops, Cybersecurity, Java, DevOps, Retail & E-Commerce și Business Transformation), pe noua scenă vor fi abordate subiecte de actualitate în domeniul orașelor inteligente, precum: mijloacele și sistemele inteligente de transport public și privat din cadrul marilor orașe, subiect abordat atât la nivel global, cât și local; energia regenerabilă din cadrul orașelor (construcții, rețeaua energetică, utilități, reziliență); mobilitatea urbană vs dezvoltarea durabilă a orașelor SMART; cum poate îmbunătăți viața comunității un oraș SMART, sau cum pot schimba tehnologia și automatizarea, în mai bine, sistemul operațiunilor civice (iluminatul public, distribuția de apă curentă, colectarea deșeurilor, intervențiile de urgență).
Participarea la GoTech World se face pe baza unui bilet de acces.
În funcție de beneficiile pe care le primește un participant, există trei categorii de bilete: Standard Pass (49 EUR), Standard+ Pass (99 EUR) și PRO Pass (119 EUR).
Organizatorul GoTechWorld este UNIVERSUM Events, iar Partenerul Principal al evenimentului este ING Bank România.
Partenerii evenimentului sunt:
Main Partner: ING Bank România
Business Transformation Stage Partner: Dell
Cybersecurity Stage: certSIGN
IT OPS Stage: Trencadis
E-Business & Digital Marketing Stage: VTEX
Retail & E-commerce Stage: Carrefour
DevOps Stage: Ubisoft
Java Stage: Cognizant Softvision
Smart City Stage: ASUS
DATA & AI Networking Partner: Orange Services
Java Networking Partner: EPAM Systems
Innovation Networking Partner: Salesforce
Analytics & Tech Solutions Partner: Luxoft
Developement Solutions: Verifone
Tech & Entertaiment: Electronic Arts Romania
Cybersecutity Networking: IBM
Retail Solutions Networking Partner: Comax
Digital Transformers: E.ON, Cegeka, Thales, Bigstep, RBC - Romanian Business Consult, Endava, Wolf Theiss, FOTC, SoftOne, Smart Fintech, Konica Minolta, LSEG, ESET, R-Systems, eSolutions, NNDKP, Asseco, Orange Business Services, White Image, Systematic
Smart City Stage curated by: Asociația Română pentru Smart City
Car Partner: Renault
Experience Partner: IQOS
Water Partner: Borsec
Parteneri media: România Liberă, Cariere, HR Manager, Cațavencii, The Recursive, Blitz TV, Cocor Media Channel, Pheonix Media, hotnews.ro, wall-steet.ro, IQads, iqool.ro, PRWave, marketingfocus.ro, retail-fmcg.ro, newsbucuresti.ro, start-up.ro, softlead.ro, romaniaresponsabila.ro, ambasadasustenabilitatii.ro, greennews.ro, weinvent.ro
UNIVERSUM este o companie construită în jurul conceptului de arhitectură de evenimente corporate cu o experiență de peste 10 ani în România, aflându-se printre cele mai mari companii din acest domeniu. 
UNIVERSUM deține sub umbrela sa un întreg ecosistem de soluții pentru companii. De la organizarea team buildingurilor recunoscute internațional, evenimente la scară largă precum: conferințe, competiții sportive, lansări de produse și festivaluri, la soluții software complete, dedicate organizării de evenimente.
Virtualized este prima expo-conferință virtuală din România, compusă din o serie de evenimente online, care au la bază tematici întâlnite deja la Bucharest Tech Week și GoTech World. În cadrul evenimentelor se abordează în timp real provocările cu care se confruntă specialiștii din mediul de afaceri și se oferă soluții rapide. 
Bucharest Tech Week reprezintă festivalul manifest care se desfășoară de cinci ani în România și care reunește profesioniștii și pasionații de tehnologie. 
GoTech World (anterior denumit Internet & Mobile World) este cea mai amplă expo-conferință și,casa economiei digitale din Europa Centrală și de Est", în care profesioniștii din întreaga regiune au acces la soluții tech B2B, insight-uri pe diferite arii digitale și o oportunitate de networking. 
Târgul Imobiliarium Universitate reunește pe parcursul celor 3 zile peste 50 de proiecte rezidențiale noi din Bucuresti si imprejurimi.
MyConnector este o platformă fexibilă care permite organizarea de evenimente, conferințe și expoziții online, dar și interacțiunile live între participanți.