Tribal Worldwide împreună cu Samusocial din România, organizația non-guvernamentală ce are ca misiune salvarea persoanelor fară adăpost din București, lansează proiectul Real life estate ce își propune strângerea de fonduri așa încât cei fară adăpost să aibă o iarnă mai ușoară.
"În contextul scăderii temperaturii și al supra-aglomerării centrelor de adăpost, oamenii străzii sunt puși în fața unor situații foarte dificile, fiind nevoiți să își trăiască viața în spații improvizate sub cerul liber.  Pentru aceștia căutam soluții astfel încât să îi ajutam să treacă mai ușor peste anotimpul rece.", spune Sabina Nicolae, Director Executiv Samusocial din România.
Lipsa locuințelor pentru oamenii străzii vine în contradicție directă cu piață imobiliară în creștere din țară. Această observație a fost de altfel și cea care a inspirat crearea platformei Real life estate – prima agenție imobiliară care pune la închiriat spațiile improvizate în care locuiesc persoanele fără adăpost.
"Pentru noi este un proiect de suflet. După ce am ascultat poveștile câtorva dintre cei ce au ajuns pe stradă, am hotărât că, trebuie să facem ceva așa încât să-i ajutăm să treacă mai ușor măcar peste iarnă. Și unde să facem asta dacă nu pe platformele acestea atât de la modă unde pare că suntem toți prezenți cu un scroll constant după următoarea achiziție imobiliară: site-urile și grupurile de Facebook unde se închiriază și se cumpără apartamente sau case. Sperăm sincer să reușim prin această campanie să sensibilizăm oamenii, astfel încât să și doneze pentru persoanele mai puțin norocoase,", spune Simina Zidaru, Deputy Managing Director.
Folosindu-ne de comportamentul existent de window shopping pe site-uri și grupuri de închiriere / vânzare apartamente, am scris anunțurile inspirate de cele deja existente și am postat o poză din zona în care se află adăpostul improvizat. În prima instanță, cei ce deschid anunțul vor vedea view-ul pe care îl au aceste spații locative, care de cele mai multe ori e spectaculos, ultracentral, pentru ca mai apoi să se întâmple dezvăluirea adevăratei locuințe.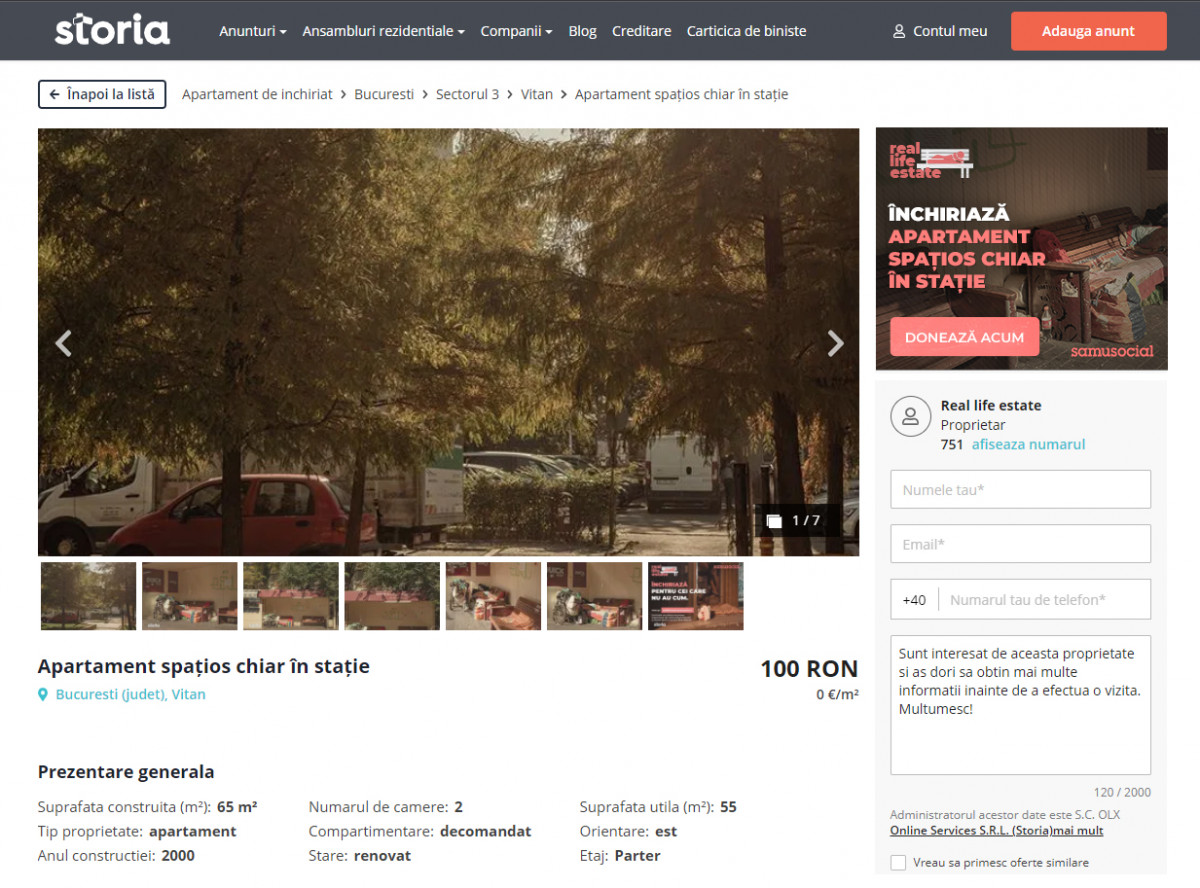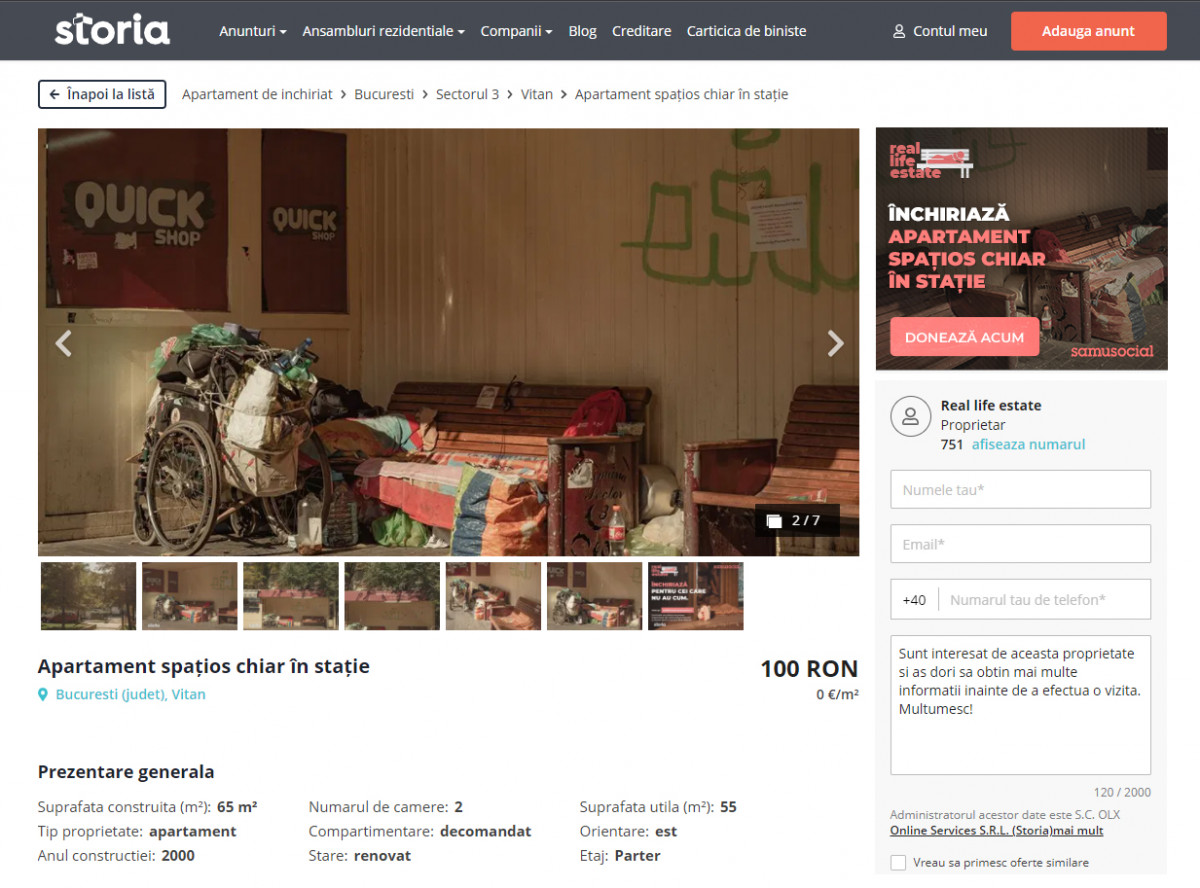 Oricine poate închiria spațiul în schimbul unei donații. În funcție de numărul de zile selectat se modifică valoarea donației. De asemenea, cei care vor dona sume mai mari de 100 de lei vor primi un print fizic al spațiului pe care l-au închiriat, print semnat de Adi Bulboacă.
Parteneriatul dintre Tribal Worldwide și Samusocial din România a pornit odată cu acest proiect și ne dorim să continue pe viitor, cu alte inițiative de ajutor. Întreaga campanie a fost realizată pro bono de către întreaga echipă implicată: Adi Bulboacă, Media Investment, SudEst Production, Storia.ro si OLX Imobiliare.
Tribal Worldwide România este agenția de creație digitală membră The Group.
The Group este lider al industriei de comunicare din România și include agenții specializate în servicii de creație, media, digital, branding, relații publice, producție, marketing experiențial și evenimente speciale.
Credits:
Tribal:
Simina Zidaru – Deputy Managing Director & Creative Director
Mădălina Pop și Ionuț Raicu – Senior Creatives
Andreea Apostoliu – Head of Social Media
Claudiu Ioniță – Social Media Manager
Bianca Vișinescu – Social Media Executive
Marie-Claire Borcan – Influencers Manager
Ruxandra ​Popescu – Client Service Director
Alexandra Mesaroș – Account Manager
Andrei Soare – Development Director
Roxana Memetea – Managing Partner
Samusocial:
Sabina Nicolae - Director Executiv Samusocial
Andrei Crăciun - Responsabil comunicare