Accompanied by a cup of Yorkshire tea, Will Rust (Executive Creative Director, Ogilvy Group Czech Republic) opened a window for us in order to have a quick look at his office (where, if you look carefully, you could identify one of the agency's clients – Clavin Plus, a sexual stimulant for which Will showed us one of their latest works), guided us through his favorite ad campaigns and shared opinions about what's spectacular and what's frustrating about working in advertising.
Don't expect him to lay out diplomas because he doesn't believe in them. Actually, on his LinkedIn profile he has been listed as a University of Life student since 1976. He left the educational system early and got hired in advertising, an industry filled with never-quite-the-same ups and downs, when he was 17 years old.
The last award on his wishlist is the coveted D&AD. A combination between a born creative and a skilled manager, he brought Ogilvy Chech Republic at the top of Czech Republic's advertising agencies and Ogilvy Ukraine on the first position in Europe's Effie Effectiveness Index in 2012. All in all, a guy you want to know more about.
I grew up on the streets of Stoke Newington, Dalston, North London, England. You may have heard of this area as the birthplace of the recent London riots. Lovely part of town.
I can tell you exactly what I dreamed of becoming because I found this question in a kid's book that I wrote in when I was about 4 years old. The answer just says "FOOTBALL" in big capital letters.
I used to race BMX for a team called the Vikings. I was number 6, East Anglia. I made it to the quarter-finals of the national championships when I was seven. It all went downhill from there though.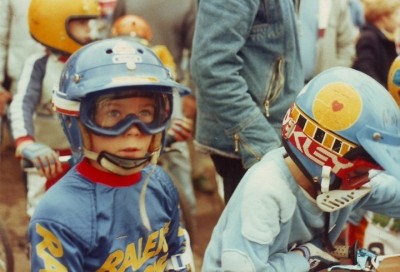 I never made it to highschool. In primary school (age 8) I set fire to my classroom and was suspended. It wasn't entirely intentional. I left the education system one year later and never went back. I didn't go to college. I started in film production at the age of 15 and advertising properly two years later.
I followed my father into the business. Actually he was so busy when I grew up that just about the only chance I had to spend time with him was during his work. I loved every minute of it. He used to take me to shoots, post-production facilities, studios, and this was back in the 80's – advertising was a magical industry back then.
My current relationship status with advertising: It's complicated. I love the work but sometimes I'm too possessive, obsessive, jealous. Not a great boyfriend to the business, but I refuse to let the relationship die. The business is my rather submissive and down-trodden long-term partner. What a fantastic relationship!
It's been said a thousand times, but the great thing about working in advertising is that every day brings something new. I've never seen any business which involves such diversity as advertising.
Working here wasn't always great. I've been at Ogilvy agencies for almost ten years now, it's only really been good for the last three or four years. I think what's good about it now is that our global management really (yes, really and genuinely) wants to make our creative work the best it can possibly be. The current philosophy is that if the work is good the business will come. Currently it's working. Long may it last.
I don't believe in brainstorming and I hate the term. It suggests that 80% of the time spent at work people are not coming up with ideas, then suddenly they think: "Fuck! We have an internal in 3 hours and nothing to show! Quick, let's go grab a latte and maybe something will come". I prefer to encourage a perpetually creative environment. A bit like the way that kids interact in playschool when they're about 4 or 5 years old. Always looking, always asking, always building something or knocking something down.
The most important thing on my desk is the box of Yorkshire tea. I can't live without it.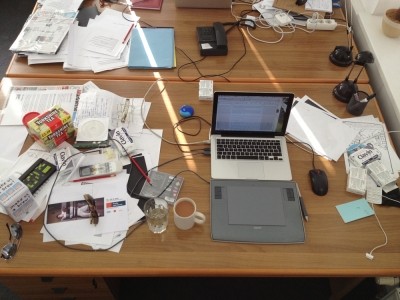 My favorite places to fish insights from are my kids, my friends outside advertising and my own head.
Great creative campaigns have in common nothing but greatness. You can't categorise that, you just know it when you see it. If there was a rule for it it wouldn't be great.
The best clients are the ones that pay their agencies on time and trust them to work on their behalf in the field. The worst clients are the ones that try to control the creative process yet hold the agency responsible for the outcome.
I feel most frustrated when I know that something good will not happen. It's a horrible feeling. In every project there are scores of reasons why something can go wrong or not happen or get screwed up – and they usually do. So I guess I feel most frustrated most of the time. I'm a bit of a perfectionist.
In my opinion, the best ad campaigns ever are:
TVC: The Guardian – Points of View. This was the first example I ever saw of an absolutely perfect demonstration of what makes a brand good. John Webster made it.
The second piece is also by him: John Smith's Campaign. No, not the one you know, the old one with the two Yorkshiremen. Back in the day before the word "campaignability" was used to make every ad for a specific brand have the same message, this was a wonderfully diverse series of commercials written and directed (again) by John Webster, Creative Director of London Agency BMP (which would later become DDB London). The only thing that connects the ads are the two actors and their characters. Every single spot was a completely original thought about the beer and social aspects around it.
Online: Swedish Postal Service – Forever Young. This is a few years old now (the Swedish are that far ahead when it comes to digital) but this is a charming and brilliant example of how an old company can rejuvenate itself and its image by touching peoples emotion. The nicest thing about it is that it uses a rather irrelevant central antihero – and is thus even more memorable. The entire project also sells a service and is utterly relevant. Wish I'd done it.
Print: Boddingtons – The Cream of Manchester. It's really difficult to choose here because there are hundreds of print ads I love. It's my favourite medium. I've chosen this one because of the effect it had. It probably looks a bit lame in 2012, but when this campaign from BBH London launched in the early 90's it was remarkable for two reasons. Firstly, nobody had ever done such a great ad with an enormous product in the middle of it. It used what is now quite a common method of campaigning by adapting the visual to represent different messages rather than the copy or content. Secondly, nobody in the UK liked a big creamy head on their beer – and instead of avoiding that rather unfortunate feature in their advertising, they focused on it and turned Boddingtons into one of the largest bitter brands in the UK. Brave and brilliant.
Ambient: Hans Brinker Budget Hotel, Amsterdam. I'm a big fan of reverse psychology and disruptive marketing techniques. The work produced by the bizarre agency Kessels Kramer of Amsterdam is a great example of continuously remodelling a brand within this frame. Lateral thinking like "Accidentally eco-friendly", "Pay for a bed you won't use" and "Free Wi-Fi if you can work out the neighbour's password" always makes me smile.
Brand Communication: Bud Light – Real Men of Genius. Any campaign that is capable of producing over 100 executions (and yes, they're all funny) and winning two Cannes Grands Prix in consecutive years should be worth a mention. Bud Light regularly produces some of the best comedy in advertising, year after year (apart from the last few, it must be said) yet this is an absolute masterpiece of copywriting and brand advertising. I hate the beer, but I love the brand.
In my browser history you can find Facebook, Wikipedia, Pinterest, 9GAG, KeepVid, Youtube, HipsterRunoff, Forbes, Gmail, WELOVEAD, Guardian, Guardian Football, NUFC.com, Posterous, TheInspirationRoom, CreativityOnline, CreativeReview… that's about it.
The best piece of advice I ever received from someone in the industry is "illegitimi non carborundum" - Don't let the bastards get you down. My Dad told me that many times and it's kept me going all these years.