Ioana Sigarteu, Presedintele IAA Young Professionals Romania si Nicoleta Deliu, Presedinte Onorific IAA Young Professionals Romania, au fost premiate la categoria Young Leader, in cadrul Galei de premiere IAA Inspire Awards. Premiile au fost acordate pentru contributia deosebita adusa asociatiei IAA Young Professionals Romania, dar si pentru performantele obtinute in industria de marketing si comunicare la nivel global.
Pe 18 mai, la Londra, in cadrul evenimentului "IAA Leadership Forum: What's Coming Next? - Behind the Headlines", au fost decernate premiile IAA Inspire Awards, pentru doua categorii: IAA Champion si Young Leader.
Romania este tara cu cei mai multi castigatori pe scena IAA Inspire Awards. La categoria Young Leader au fost premiate Ioana Sigarteu (TotalSoft) si Nicoleta Deliu, (BCR, Erste Group), ambele din boardul de conducere al IAA Young Professionals Romania. La categoria IAA Champions, a fost premiat Felix Tataru, Senior VP IAA Global si Presedinte GMP Group.
"Ma bucur ca Romania a fost cea mai premiata tara, iar 2 premii au fost luate de Young Professionals Romania. Este o dovada ca avem un chapter activ, cu o echipa puternica si membri valorosi. Cred ca meritul este si al colegilor cu ajutorul carora am realizat proiecte interesante si care au avut un impact asupra comunitatii locale de tineri profesionisti in marketing si comunicare. Imi doresc sa avem castigatori din tara si in editia urmatoare care va avea loc in Dubai si sa pozitionam astfel si mai bine Romania pe harta performantei marketingului global." Ioana Sigarteu, Presedinte IAA Young Proessionals, Romania.

"Premiile de la Londra si, in general, pozitia pe care Romania o are in cadrul IAA Global arata ca disciplina si munca sustinuta pot face ca o tara cu o industrie de comunicare foarte tanara sa fie recunoscuta si pe plan international. Ma bucur ca am avut sansa sa fiu parte din echipa IAA Young Professionals Romania inca de la inceput, si sunt convinsa ca tinerii profesionisti in marcom de la noi din tara vor fi din ce in ce mai recunoscuti pe plan international daca isi vor mentine entuziasmul, curiozitatea si puterea de munca" Nicoleta Deliu, Presedinte Onorific IAA Young Professionals, Romania.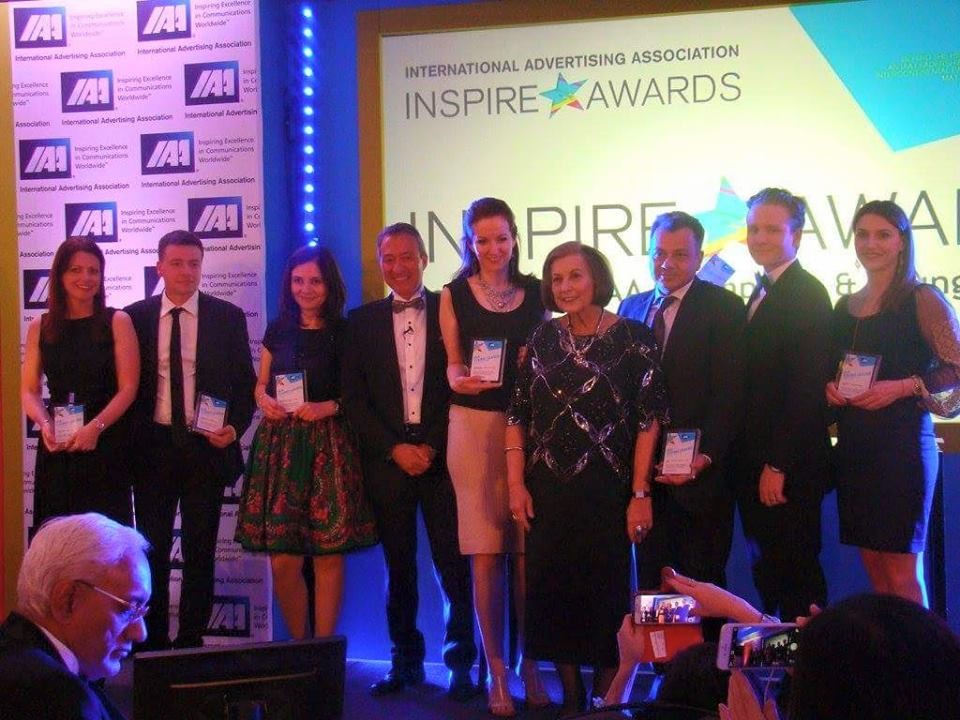 Evenimentul organizat de IAA Global a reunit nume importante ale industriei de marketing si comunicare din intreaga lume, gazduind peste 200 de participanti din 25 de tari. Gala de premiere a debutat cu decernarea premiilor Effie 2015 Global Awards, unde aurul s-a dus catre campania Always - #LikeaGirl, iar bronzul a fost luat de campania Good to be Bad (Jaguar) si Risk Everything (Nike Football).
Lista completa a castigatorilor:
Categoria Young Leader:
Katie Cawdery – Bloomberg LP, UK
Nicoleta Deliu – BCR, member of Erste Group, Romania
Djordje Jankovic – Leo Burnett, Serbia
Aleksandra Lacka – ZenithOptimedia, USA
Melhem A Rechdan – OMT, Lebanon
Daniel Richardson – Yahoo!7, Australia
Ioana Sigarteu – TotalSoft, Romania.
Categoria IAA Champion:
Bob Amberg – National Geographic Magazine, USA
Fredrik Borestrom – Odyssey – Phunware, UK
John Chacko – LeapEd Services Sdn Bhd, Malaysia
Lance de Masi – The American University in Dubai UAE
Joseph Ghossoub – G&Co. Developments, UAE
Michaela Huber – OMV AG, Austria
Rony Jazzar – IMagic group Lebanon
Takeshi Mori – Dentsu Inc. Japan
Sheba Nandkeolyar – MultiConnexions Australia
Ramesh Narayan – Canco Advertising Pvt Ltd. India
Fernando Ocana – Tapsa /Y&R, Spain
Srinivasan Swamy – R K SWAMY BBDO Pvt Ltd. India
Felix Tataru – GMP Group Romania.
Premiile IAA Inspire Awards au fost create pentru a recunoaste meritele membrilor IAA Global care au atins excelenta in leadership, au contribuit la dezvoltarea IAA si au inspirat industria de comunicare la nivel local, regional si global prin viziune, idei si servicii.