Dupa masa si rasplata. Raman in urma munti de farfurii murdare care ocupa intreaga chiuveta, vase pe care le infrunti in functie de stilul tau si care impart oamenii in mai multe categorii. O parte dintre ei sunt responsabili, trebuie sa spele vasele neaparat inainte sa se apuce de mancat, in timp ce altii reusesc sa uite de ele rapid si isi amintesc cand ameninta sa invadeze alte camere. Ar mai fi si cei care se folosesc de acest prilej ca sa viseze cu ochii deschisi sau cei care isi pun ordine in ganduri in timp ce inlatura grasimile, arsurile sau crustele de pe oale, tigai si tacamuri. Lista poate continua, cate case, atatea stiluri de spalat vase.
De la premisa ca fiecare spala vasele in stilul lui pleaca si cea mai recenta campanie pentru Pur, realizata alaturi de Tribal Worldwide Romania. Pentru a evidentia formula inovatoare Pur, care scoate grasimea, murdaria si arsurile de pe vase indiferent de momentul spalarii, chef Nicolai Tand a invitat in cadrul emisiunii sale online, Lumea lui Tand, 3 personalitati din online care sa vorbeasca despre ce inseamna sa speli vasele in stilul tau: Flick, Diana Dumitrescu si Radu F. Constantinescu. Felul principal al campaniei este componenta de video, in jurul careia se concentreaza intreaga idee.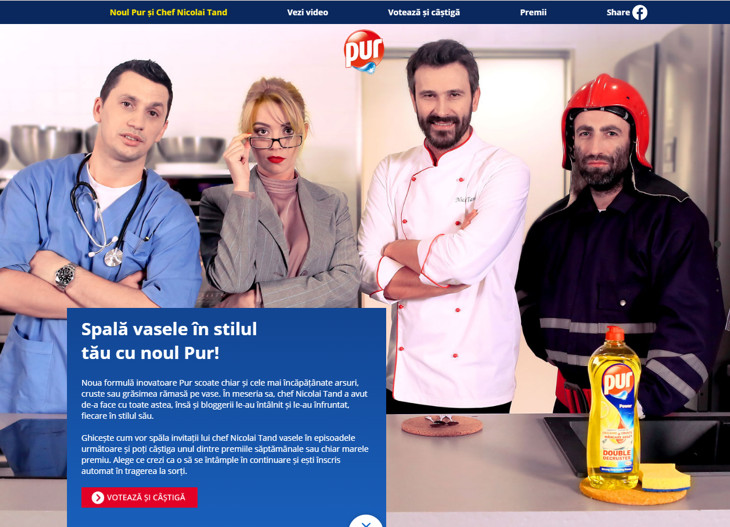 Razvan Bors, Brand Manager Pur: "Era un moment foarte important in existenta brandului Pur pe piata. Urma sa il relansam si aveam nevoie de o idee relevanta pentru mediul online care sa reflecte cat mai bine noua imagine a produsului. O idee care sa-l puna la loc de cinste si pe cel mai nou endorser de brand, chef Nicolai Tand. Si asa am ales agentia, care a inteles exact ce ne doream. Un concept amuzant, construit in jurul unei serii video, care sa demonstreze ca spalatul vaselor poate deveni o activitate usoara si distractiva. Si nu, nu am cerut virale . Apoi a urmat propriu-zis construirea campaniei, alegerea personajelor, scripturile, o filmare de o zi, montajul."

Laura Ionescu, Head of Copywriting Tribal Worldwide Romania: "Miza noastra creativa a fost una nobila, am vrut ca toata lumea sa spele vasele oricum ar vrea s-o faca, fara sa simta presiunea sociala – exagerare poetica. Ne-au iesit niste clipuri insightful, despre cat de amuzant poate sa devina spalatul vaselor atunci cand iti schimbi un pic perspectiva asupra lucrurilor."
Utilizatorii vor putea ghici pe www.noulpur.ro  stilul in care invitatii lui chef Nicolai Tand vor spala vasele in episoadele urmatoare pentru a castiga numeroasele premii din concurs.
Campania dureaza pana pe 2 ianuarie 2017.
Henkel opereaza la nivel global cu marci si tehnologii grupate in trei divizii: Laundry & Home Care, Beauty Care si Adhesive Technologies. Companie fondata in 1876, Henkel detine in prezent pozitii de lider global atat pe pietele de bunuri de larg consum, cat si pe cele industriale, printre cele mai importante marci numarandu-se Persil, Schwarzkopf si Loctite. Henkel are cca 47.000 de angajati la nivel global si a inregistrat in anul fiscal 2013 vanzari de 16,4 miliarde euro si un profit operational ajustat de 2,5 miliarde euro. Actiunile preferentiale Henkel sunt listate la bursa germana DAX.
Tribal Worldwide Romania este agentia de creatie digitala membra The Group.
The Group este lider al industriei de comunicare din Romania si include agentii specializate in servicii de creatie, media, digital, branding, relatii publice, productie, marketing experiential si evenimente speciale.