Trebuie să recunoaștem că, din când în când, cu toții ne verificăm horoscopul, chiar dacă doar pentru a ne asigura că am fost avertizați în cazul în care șeful va fi mai nervos la birou decât de obicei. Primăvara aceasta, previziunile astrologice s-au transformat în mesaje în nota clasică a Doamnei Stela și citite în cafeaua Seattle's Best Coffee de la KFC.
Pentru mulți dintre noi, o zi bună nu începe decât după savurarea cafelei, iar KFC și Golin au dorit să-i surprindă pe fanii brandului, cu ocazia lansării primului Coffee Corner KFC, și cu o porție matinală de râs. Astfel a luat naștere cea mai nouă campanie concepută de Golin pentru KFC.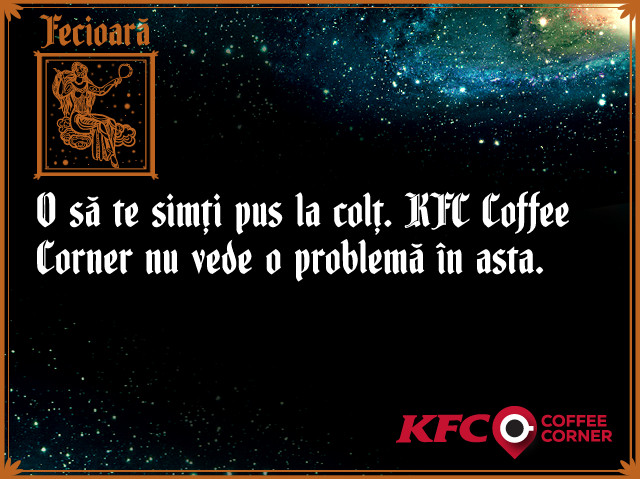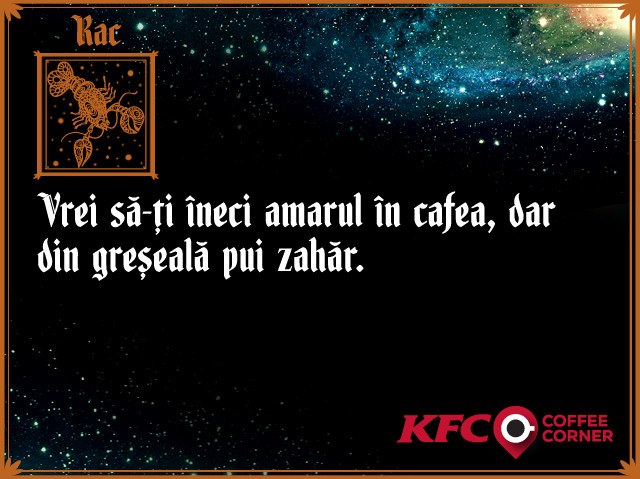 "Încă din primul moment în care am primit propunerea din partea agenției, am simțit că asocierea cu DoamnaStela.ro se potrivește perfect cu personalitatea brandului nostru, cu atât mai mult cu cât suntem primul brand care a colaborat cu această platformă. Am văzut potențialul în doza de umor din previziuni, în reprofilarea Doamnei Stela pentru a ghici și în cafea, dar și în crearea unui nou pretext pentru KFC să devină o sursă de inspirație pentru consumatorii săi. Toate au făcut ca această colaborare să ia naștere cu ocazia lansării primului KFC Coffee Corner localizat în Unirea Shopping Center din București", afirmă Gabriel Nenciu (Senior Brand Manager, KFC România).
"Am construit campania pornind de la două insight-uri despre consumatorul român: fascinația pentru mituri și dependența de cafea. Cele două, împreună cu o cantitate remarcabilă de umor, au rezultat într-o asociere creativă și o oportunitate de a crește notorietatea noii locații. De asemenea, am luat în considerare targetul tânăr căruia ne adresăm, dar și tone of voice-ul brandului, ajungând la 'previziunea' că această colaborare va livra rezultatele dorite", a adăugat Ana Filipescu (Manager, Consumer Division, Golin).
DoamnaStela.ro este un concept lansat în 2014 cu un personaj fictiv care oferă previziuni personalizate pentru fiecare zodie prin mesaje scurte şi pline de umor pe pagina de Facebook dedicată, precum şi pe site-ul doamnastela.ro.
Previziunile citite în cafea pentru fanii KFC sunt disponibile pe pagina de Facebook Doamna Stela, dar şi pe pagina de Facebook KFC România.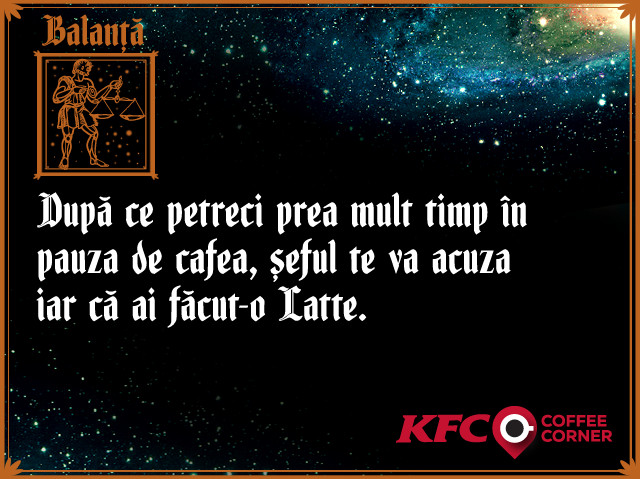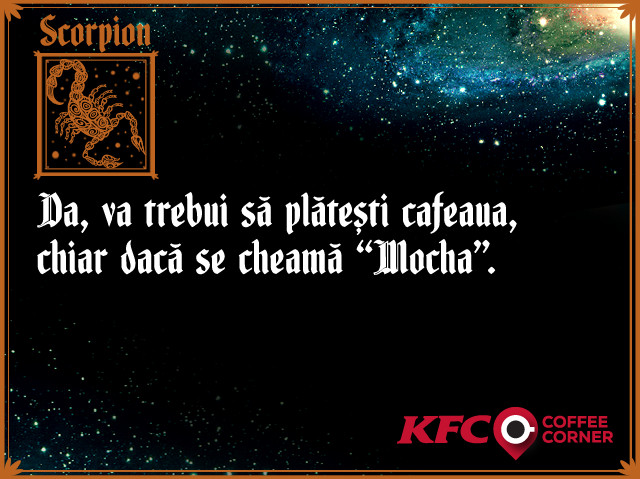 Echipele participante:
Din partea KFC s-au implicat în campanie Monica Eftimie (Chief Marketing Officer), Claudia Porojan (Senior Public Relations & CSR Manager), Gabriel Nenciu (Senior Brand Manager), Tina Crețu (Digital Manager).
Echipa Golin este formată din Irina Roncea (Head of Consumer Division), Ana Filipescu (Manager), Andra Petrescu (Media Associate), Mihai Stanciu (Senior Digital Manager), Bianca Stoica (Digital Associate) și Emanuel Olteanu (Digital Creative Associate).
Din partea Doamnastela.ro au participat Jupiter, Pluto și Marte.