Sincerity is key in this new chapter of advertising, says Stéphane Xiberras, President & CCO BETC France, Head of the Global Creative Council Havas Creative. The brands need to prove for what they are standing for and selling products is not enough. Stéphane talked about creativity and technology  at the Creativity4Better global conference, organised by IAA Romania in Bucharest this month. 
The brands, the big companies, they want to talks about themselves. But people don't give a shit. You have to talk with people about the things that they love, they care about. Not to talk about you. 
Stéphane started his career as a scriptwriter, notably for Canal+, and in 1999 he joined BETC as a Creative Director and later became President and Chief Creative Officer of BETC. Stéphane is also the inventor of CAI (Creative Artificial Intelligence), a unique software robot that creates ads and demonstrates the downsides of the industry.
During a break at the conference, we talked with Stéphane about this new era of creativity, about AI, social causes and how the new generations are changing the way brands communicate.
A new era of advertising 
There are two versions. A version is that we are at this turning point, The Big Resignation, The Lack of Purpose. And there is another version: we need creativity more than ever because it is super difficult to catch the attention of people right now. Without creativity, without something different, a french accent or whatever, you can't reach people. 
Maybe our industry, as we know it, the big networks etc, might rethink the way we work. 
Today, brands need to prove what they are saying. If you say: I'm fighting for women's rights. Ok, good, prove it. If brands are not able to prove it, no one will listen to them. 
How creativity changed
Now, creativity is more innovation than entertainment. 
For me, at first, creativity meant to change the world. With little things.
The big companies, industrial companies, they are supposed to sell things to people and not only good things, you know what I mean. It's a thing to be an advocate for brands and another to have the charm, the je ne sais quoi, not just to say Buy me!.
Creativity, for me, it's between art, craft and commerce. It's a form of art of selling things. 
20 years ago, I was like: what I am going to say? And today, the first thing is: what is the audience? Not what is the idea? But: what is the audience? And then think about the idea. But you have to think about the audience first. What they like, how they live. Totally different.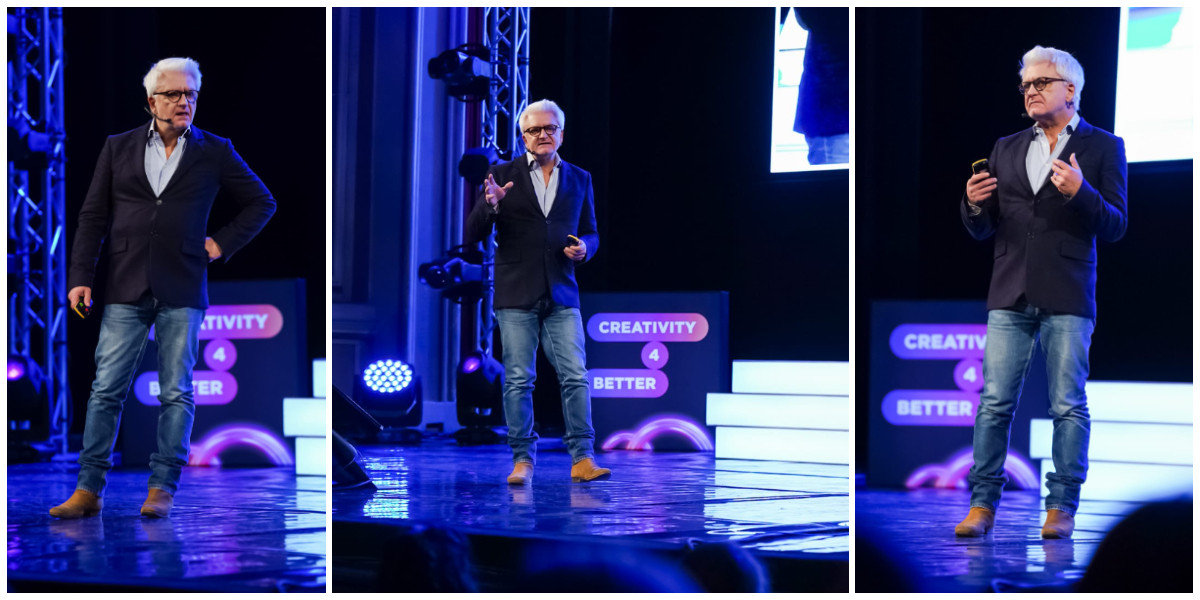 The new generations 
You have to listen to them very carefully and not think about them like that is Gen Z or Y or X. There are communities, different communities. A 20 year old can be very different from another 20 year old. 
The brands, the big companies, they want to talks about themselves. But we don't give a shit. You have to talk with people about the things that they love, they care about. Not to talk about you. 
I listen to the new generations. What I've learned is sincerity. If you are not sincere with them, you are dead. You cannot bulshit them. It's simple. They know all the tricks, they can see all the shit, from very very far. So sincerity is key. 
Then and now 
Nothing changed. We always talk about creme de la creme, but we are talking about 0,000001 of the production of the industry. The Cannes Lions etc blablabla. But can you imagine the sea of shit that we see in this industry every day, in Romania, France, in US. It's the same shit everywhere, let's face it. It's true. And they pay for that. And they think it is the best work ever. 
Yes, we had amazing commercials and we have amazing commercials today. No difference. 
The most interesting thing in Cannes is not the shortlist. But the longlist. Because when you see the longlist, you can see all the same ideas. It's terrible. 
Do you feel the pressure of the social causes?
Not enough. I think that our brands, in France, are not enough concerned about these problems. Diversity, inclusion. They are more interested in their products. Yes, of course, but if you want to continue to sell products, you have to consider the social aspect too. If you are not sincere about that, you should at least try to pretend.
The agency is the key. The purpose of our industry is key. What we are doing and for what. Imagine all the money we have and what we can do. It's a huge responsability. 
AI & creativity
AI is a tool. We can use AI to help creatives to be inspired. There are a lot of little things that machines can do. Editing, things like that, a little bit repetitive. The same thing again and again - a machine can do that. But at this stage, at this moment, humans are better at this game.