Acolo purtam discutii importante "cf-bn", acolo le trimitem melodii cu subinteles fetelor, acolo punem multi de ":))))))" si parantezele se impart in doua randuri si arata ca dracu', acolo scriem "mam" fara cratima si apoi corectam rapid cu o steluta "*m-am", acolo ne-am intrebat zilele astea "ce faci, fa, Doina?" si ne-am trimis poza aia cu Ponta si Dragnea in pluta carata de jandarmi versus Printii Marii Britanii care construiesc diguri plini de noroi, acolo nu deschidem o gramada de mesaje, desi ne arde curiozitatea, doar ca sa nu apara "seen at 18:45". 
Chat-ul de pe Facebook e calea spre lista aia de prieteni de cateva sute de oameni si drumul atat de apropiat spre brandurile noastre preferate, carora le dam like zilnic si care isi doresc loialitatea noastra completa, iubirea si poate si alte mesaje decat plangeri. "Salut X, sunteti niste dobitoci, am cumparat nu stiu ce de la voi si mi s-a stricat a doua zi *injuraturi*".  Raspunsurile la genul asta de mesaje il stim, cu siguranta. "Buna ziua, Va rugam sa ne indicati magazinul din care ati cumparat produsul X si sa il aduceti la service. Compania noastra vrea sa ofere servicii de calitate *mult PR*". Insa ce fac brandurile daca le intrebi pe Facebook ce e iubirea?
Am vrut sa aflam raspunsul la intrebari filosofice, poate absurde, vorbind cu brandurile romanesti pe Facebook. Cativa editori IQads si SMARK au ales sa-si creeze conturi false pentru acest demers, unii au preferat sa trimita mesaje de pe conturile lor. Am ales branduri aleatoriu, comunitati online mai mari sau mai mici, care ne plac sau nu ne plac. Unele ne-au raspuns pe subiect, altele total pe langa si am avut si cateva care nici nu ne-au bagat in seama. Despre cum e bine sa manageriezi situatii din astea, zicem noi, dragute, dar si altele, mai putin dragute, o sa aflam la Brands & Communities 2014, pe 7 si 8 mai, cand o sa vorbim cu multi experti despre branduri si comunitati, asa cum spune si numele evenimentului. Early bird mai e pana pe 25 aprilie.
Pana atunci, iata ce a iesit din experimentul nostru:
Raspunsuri care ne-au placut:
Incep cu KFC, care ar merita vreo doua-trei "<3": a fost dragut, a introdus elegant in discutie niste reclama pentru promotii si cateva produse, a facut rime si a dat dovada ca e interesata de interlocutor: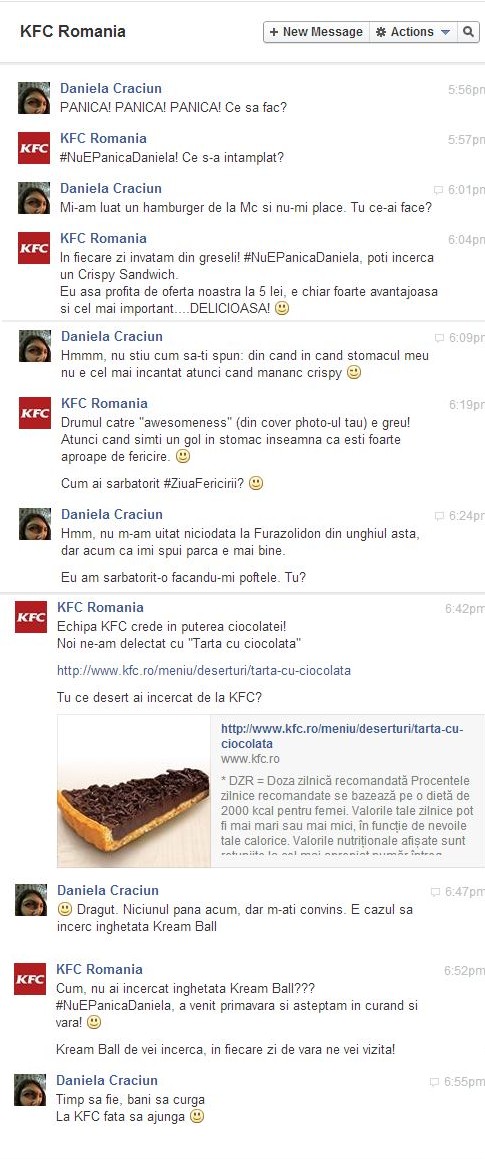 Renault a folosit sintagma "baby elephantel":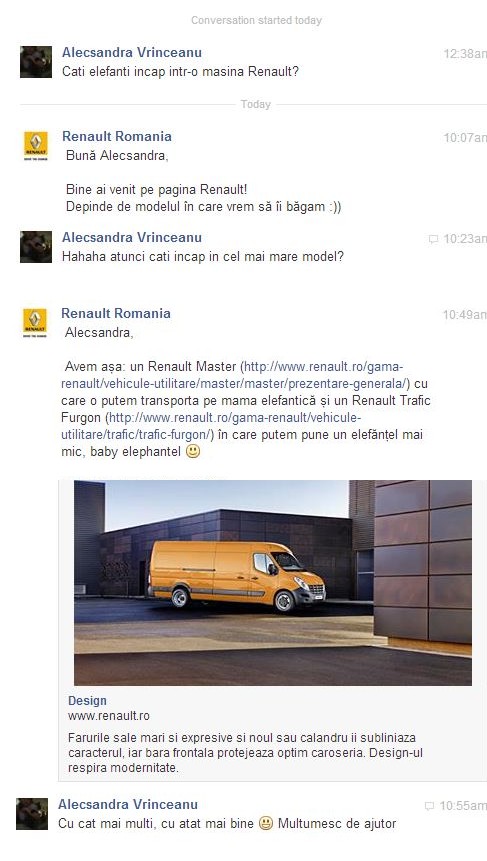 Nescafe slurp slurp, gulp gulp, inimioara: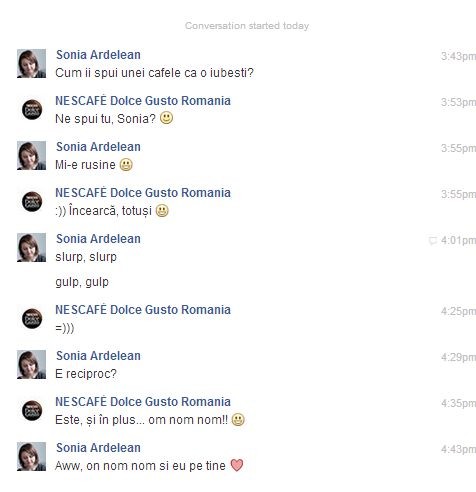 Porcul isteric de la Antrefrig nu e asa violent cum ne asteptam:

Am vrut sa ducem Cif in 50 Shades of Grey dar ei au dat-o in Sandra Brown: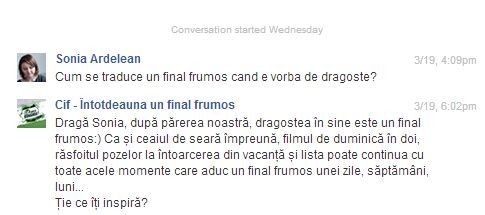 Vacuta Fulga ne-a facut sa spunem "awwwwwww":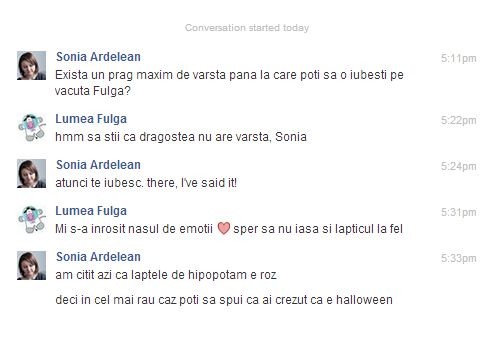 Palmolive Romania e atent. Uitati-va la data mesajelor: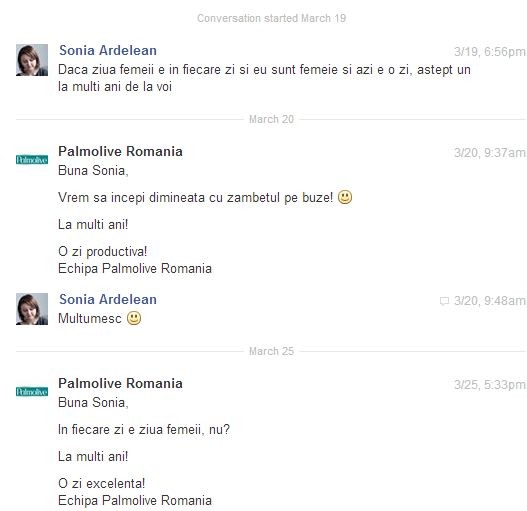 Casa Jurnalistului ruleaza fin:

Si SapteSeri au stiut onorabil cum se cheama cea de-a opta seara: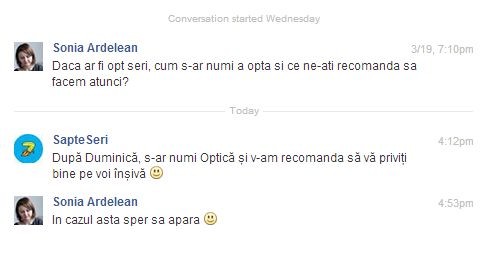 Raspunsuri care nu ne-au enervat ingrozitor, dar nici nu ne-au bucurat prea mult:
Pe bune, Doncafe? Toata lumea stie gluma asta: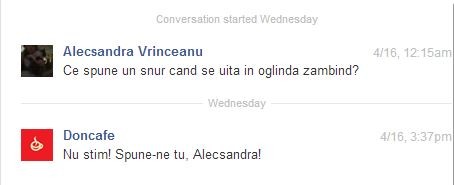 Doamne, Vodafone, ce serios esti: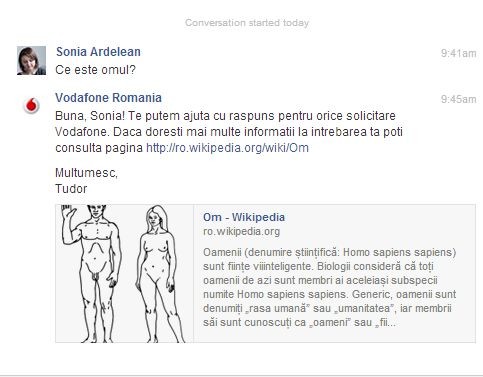 Raspunsuri care nu ne-au placut:
CoccolinoRomania e prietenul ala care nu se prinde niciodata la glume: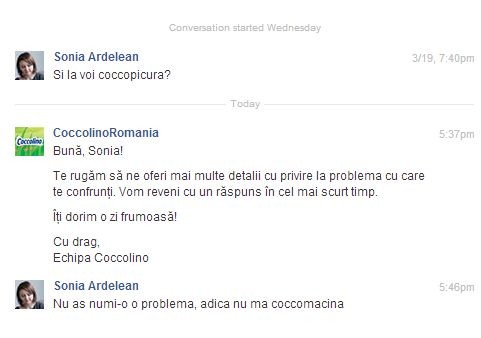 Tedi chiar nu are nimic pentru noi: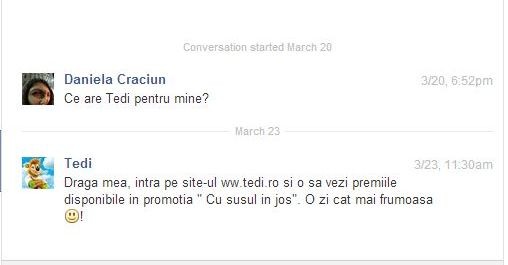 foodpanda pare ca nici macar nu a citit intrebarea: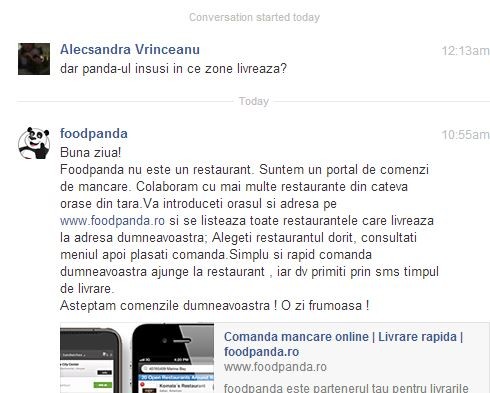 Si Ariel trece direct la subiect, nu are timp sa piarda vremea: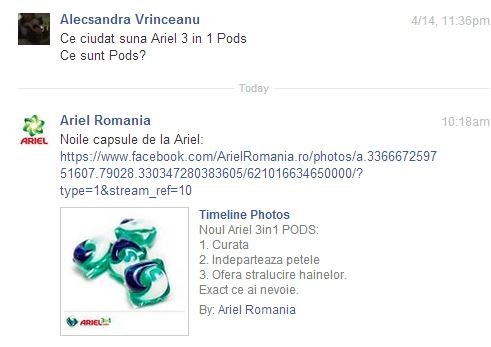 Ne-raspunsuri:
BMW nu are la inima elefantii:

Pe Hornbach Romania nu-l intereseaza flisele:

Activia nu vede nicio tristete in jur:

Mega Image, stim ca ai vazut mesajul:

Si pe Soferul Adrian Oprea de la Vodafone nu il lasa prietena sa raspunda la d'astea:

O mentiune speciala primeste Orbit, dar recunosc, si intrebarea a fost dificila:

In concluzie, "putine branduri e oameni, multe branduri e roboti".
Brands & Communities 2014 este un eveniment care face parte din seria SMARK KnowHow, antrenat de Ascendis, depozitat de Euroministorage si aromat de NESCAFE. Strategi ai datelor sunt Spoon.
Partenerii evenimentului sunt: IQads, Casa de traduceri, Agrafa, Forbes, Wall-Street, HotNews, Ziare.com, Business24, Magazinul Progresiv, Cariere, Piata, The Institute, IAA, UAPR, Catavencii, BestJobs, Zumzi, Port.ro, 24FUN, Itsy Bitsy, Radio Guerrilla.
SMARK este o marca a Blue Idea, alaturi de IQads, cel mai citit produs media in limba romana dedicat industriei de comunicare.