Lowe&Partners si ZIZIN deschid oficial sezonul vacantelor. Si, cum acestea devin adesea motive de neintelegere in cuplu, ZIZIN, asa cum ne-a obisnuit, rezolva cu umor orice situatie. ZIZIN si Lowe&Partners continua asadar sa aduca echilibru si pace in familie printr-un nou val de comunicare, construit in jurul unui nou spot TV si a unei promotii nationale. 
"Platforma creativa dezvoltata de Lowe&Partners pentru brandul nostru capata o noua interpretare in acest spot care arata, din nou, cum ZIZIN reuseste sa mentina echilibrul in familie, indiferent de context si situatie. Chiar si in vacanta! Ne bucuram sa vedem ca entuziasmul echipei Lowe&Partners este neschimbat, ca in prima zi :), lucru care se traduce in campanii memorabile si eficiente, care aduc rezultate excelente pentru brandul nostru", a declarat Laura Lazar (Chief Executive Officer, Apemin ZIZIN).
"Este visul oricarei agentii sa lucreze cu clienti atat de deschisi si curajosi, cum este ZIZIN. Ne bucuram de increderea echipei ZIZIN cu fiecare noua idee si suntem entuziasmati ca astazi ducem mai departe, intr-o noua etapa, un concept de care suntem foarte mandri: ZIZIN - Da cu Pace. Cu siguranta noul spot TV va inspira consumatorii ZIZIN sa gaseasca pacea chiar si in vacanta mult asteptata :)", spune Vasile Alboiu (Chief Creative Officer, Lowe Grup).
Noul spot TV ZIZIN este insotit de o campanie promotionala, ce se desfasoara intre 18 mai si 12 iulie. Aceasta invita consumatorii sa inscrie codul de sub capacul produselor ZIZIN participante prin SMS la 1749 sau pe site, pentru a avea sansa de a castiga pahare de colectie, seturi de genti sau marele premiu: o excursie pentru doi in Africa. Promotia va fi sustinuta prin comunicare TV, radio, outdoor, online si la punctul de vanzare.
La nivel conceptual, spotul imbina "insight-uri" din lumea umana cu personaje antagonice din lumea animala, iar realizarea efectiva a spotului a mers pe combinatia dintre filmare clasica si Computer Generated Imagery. Rezultatul a fost cel dorit: familia compusa din femeia-leoaica si barbatul-antilopa este echilibrata de apa minerala plata ZIZIN.
Noul spot de promovare ZIZIN
Vizualuri ale campaniei: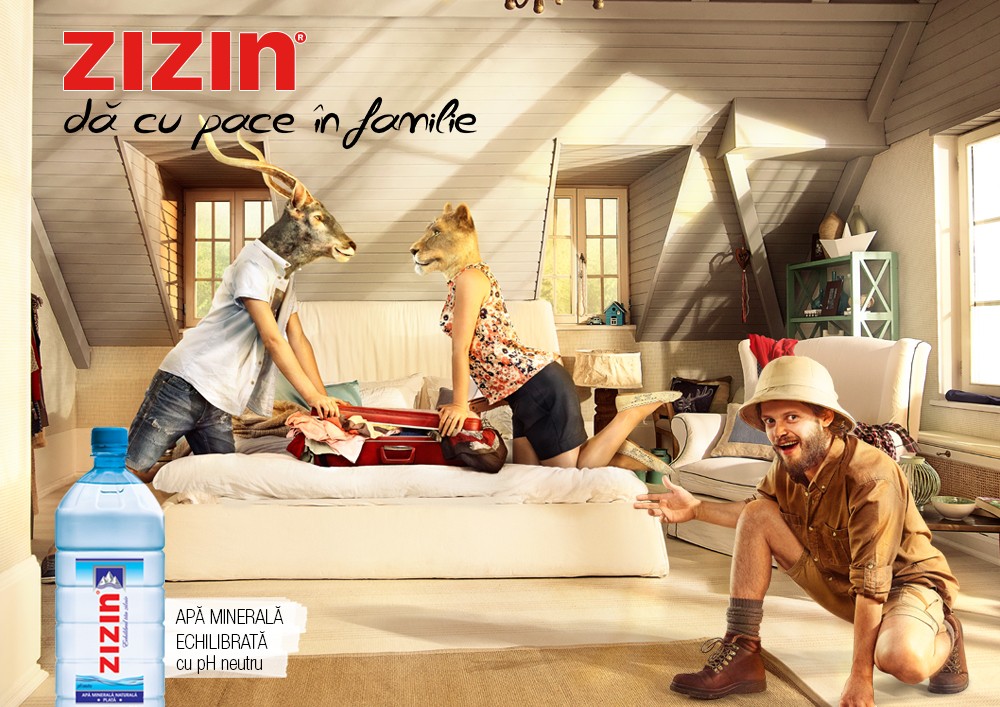 Echipele implicate:
Echipa ZIZIN este formata din: Laura Lazar (Chief Executive Officer), Laurentiu Lazar (President of the Board), Erhard Lorenz (Marketing Director), Georgiana Bogdan (Marketing & PR Specialist) si Mihai Parvulescu (Maketing Assistant).
Echipa Lowe&Partners este formata din: Vasile Alboiu (Chief Creative Officer), Manuela Gogu (Creative Director), Victor Oprisan (Senior Art Director), Andrei Munteanu (Senior Copywriter), Alina Balan (Client Service Director), Alina Floroian (Account Director) si Ilinca Nanoveanu (A /V Specialist).
Strategia media este semnata de echipa BPN Romania, alcatuita din: Bogdan Mincu (Media Integrator Manager), Valentina Chirica (Media Planner), Diana Oancea (Digital Media Manager), Iuliana Nechifor (Researcher).